Story Progress
Back to home
Delhi Capitals vs Royal Challengers Bangalore: IPL 2020 Live Cricket Score, Live Score Of Today's Match on NDTV Sports
Live Updates of Today Match between Delhi Capitals vs Royal Challengers Bangalore from Sheikh Zayed Stadium, Abu Dhabi. Check commentary and full scoreboard of the match.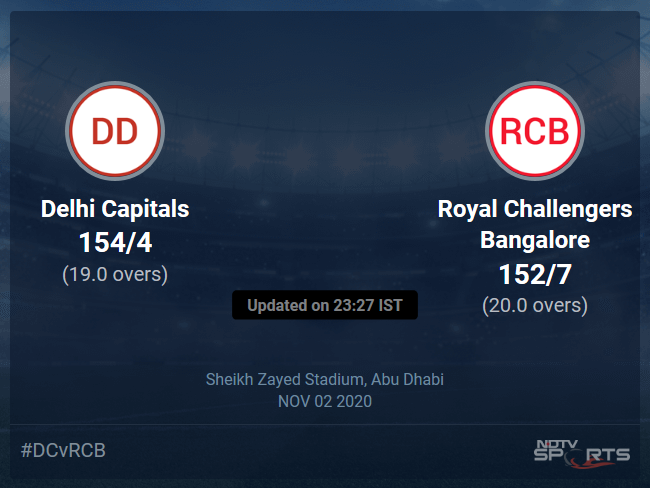 DC vs RCB Latest Score
A dedicated team of experts bring you live score, live cricket score, live match update on Sports.NDTV.com. After 19.0 overs, Delhi Capitals, chasing a target of 153, are 154/4. The live updates of Delhi Capitals vs Royal Challengers Bangalore scorecard is also available. It is the perfect platform to follow your favourite teams in Indian Premier League 2020. Keep a track on your favourite batsmen and bowlers through Indian Premier League 2020 today match, ball by ball commentary, Delhi Capitals vs Royal Challengers Bangalore, Delhi Capitals vs Royal Challengers Bangalore live score, Delhi Capitals vs Royal Challengers Bangalore scorecard. Follow the excitement of the Indian Premier League 2020 on Sports.NDTV.com as you can follow live match updates and live cricket score through our platform.
Right then, that caps off what would have been a near-close match, had Bangalore maybe gotten 10 or more runs on the board. Delhi's win means they have a fairly smoother road for their ambitions to the final, while Bangalore have to slog it out now, in the Eliminator and later in Qualifier 2. Who will be their opponent in the former? We will get to know that after the clash on Tuesday, 03 November 2020. The final league stage game sees Mumbai square off against Hyderabad in Sharjah. If the former wins, Bangalore would face Kolkata but if they lose, Kohli's men would face Hyderabad. The action for Match 56 begins at 1800 local (1400 GMT). Do tune in then and until then, take care and good night.
Anrich Nortje is named Player of the Match! Tells that it was an overall good performance from everyone. Says that the bowlers were feeling good coming into the game. On him bowling short, Nortje says that yorker would've been the obvious option but they changed it up and once they got the rhythm bowling the bouncer, they used it to their advantage and that additional pace helped them. Ends by saying that he is ready for the playoffs.
Shreyas Iyer, Delhi skipper, says that he is really proud of the performance. Says that they were not thinking about the run rate or anything else. Adds that they were really motivated out in the middle. Says that towards the end, the teams that were down on the points table changed things on the points table with their performance. Feels that his team did well to eventually get into the playoffs. Says that bowlers were up to the task in this game. Mentions that they worked out on their plans for the opposition batsman and it worked out for them. On their encounter against Mumbai, Iyer says that Mumbai are one of the best teams in the tournament but they will try to keep things simple against them and if they stick to their plans, results will fall for them.
Ajinkya Rahane is caught for a chat. Tells that Ricky told him that he will bat at no. 3. Says that he enjoyed the partnership with Dhawan. Adds that they were only talking about having the intent with the bat. Tells that all they were trying was playing proper cricketing shots. Mentions that he wanted to finish the game provided how the games have changed in this tournament. Is happy to eventually end on the right side of the line. Stay tuned for the presentations...
Bangalore skipper, Virat Kohli, says that it is a mixed feeling right now. Tells that the aim was to come and win the game but tells that they were informed about that 17.3-mark. Says that they have done well to deserve that spot in the playoffs. Says that they have an opportunity now. Adds that they need to be a bit braver with the bat and should get a better Powerplay with the ball. Is happy to get the chance to try and reach the final.
Earlier, after winning the toss, Delhi opted to bowl. They kept the screws tight throughout and restricted Bangalore to 152 for 7. That was never going to be enough on this surface and Iyer's men showed why it was so. A slight hiccup towards the end but given the iron-grip they gathered, it was not going to slip away. A thorough performance from Delhi. Stay tuned for presentation...
Bangalore started off on a horror note as they leaked a lot of boundaries, even after Shaw departed. They kept it a bit tight in the middle overs but Dhawan and Rahane were patiently stroking the 1s and 2s. Their bowlers did get a few wickets towards the end but pressure got the better of them later on. And that is how the game slipped away. Their star bowler, Chris Morris, bowled just 2 overs and went for nearly 10 in each. Ahmed got 2 and Sundar got 1 wicket and both were very tight in their 4 overs. Chahal bowled very well but could not get any wicket, on the big day. The rest were too expensive.
Delhi got off to a rocking start. They were finding the boundaries real quick. But then, Shaw fell for a low score, again. He was stroking well but just could not continue. But that was the lone major hiccup for Shreyas Iyer's men. The Dhawan-Rahane partnership largely swung it in Delhi's favour. After a 88-run partnership, Dhawan departed and there were a couple of wickets afterwards as well but given that the platform was set by Shikhar Dhawan and Ajinkya Rahane, Delhi coasted through safely with 6 balls to spare.
Delhi go through to the playoffs, IN THE SECOND SPOT! Yes, that means they got two shots at the cherry. This is an outstanding result for Delhi. The dugout is all smiles and are exchanging hugs. Bangalore are also going through, but they will feature in the eliminator, which means they need to go through 2 hurdles to get to the finals.
18.6 overs (4 Runs) EDGY FOUR! But it won't matter now! Delhi are into the playoffs. Short and outside off, Pant goes for the pull but gets a top edge. It flies over the keeper's head and into the third man fence. Delhi win by 6 wickets.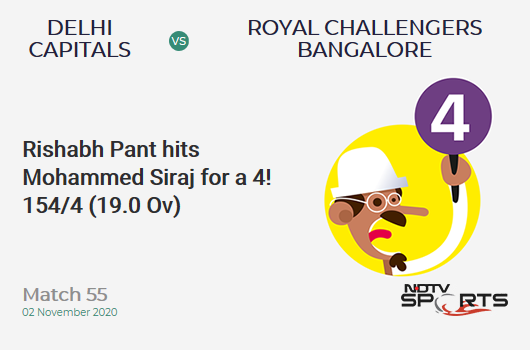 18.5 overs (0 Run) Short and just outside off, Pant looks to power it all the way on the leg side via a pull but gets an inside edge on the body.
18.4 overs (1 Run) Easy single! Full around off, stroked to long on for one by Stoinis. 150 is up for Delhi. Just 3 needed now.
18.3 overs (2 Runs) A couple now! Shortish and just outside off, Marcus strokes it wide of the sweeper cover fielder for a couple of runs.
18.3 overs (1 Run) WIDE! Pressure is on Siraj now! He slips this ball down the leg side. Stoinis misses his flick. Wided.
18.2 overs (6 Runs) SIX! Just over! Short and around off, Stoinis goes for the pull. Doesn't time it all too well but it goes over the leaping deep mid-wicket fielder. Chahal was the man there and he leaped as high as he could but the skipper is not pleased with the effort. If there was ever a pressure, it is now released.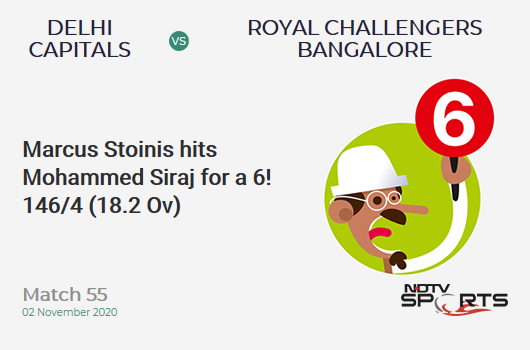 18.1 overs (1 Run) Short and around middle, Pant looks to pull but mistimes it towards square leg for one.
18.1 overs (1 Run) WIDE! Tries to go full and wide but ends up bowling it outside the guideline. Wided.
Bowling Change. Mohammed Siraj to bowl the penultimate over of the game. 2-0-13-1 from him so far.
17.6 overs (0 Run) Flatter and around off, pushed uppishly towards the cover fielder. Just 4 runs and a wicket from the over. 15 needed in 12 balls.
17.5 overs (1 Run) Flatter and around off, punched down to long off for one.
17.4 overs (0 Run) Huge appeal but not out says the umpire. It was for a LBW. Flatter and down the leg side, Rishabh looks to tuck it on the leg side but misses to get hit on the pads. A huge appeal from Washington Sundar, more out of desperation. But not given. It was angling down the leg side from around the wicket. By the way, with the game getting this deep, Bangalore have qualified for the Playoffs but if they do not win, they won't get the 2nd spot which is the most likelier result right now.
17.3 overs (1 Run) Flatter and around middle, it is tucked through mid-wicket for one.
The Hulk, Marcus Stoinis, makes his way to the middle.
17.2 overs (0 Run) OUT! TAKEN! Rahane falls. We have seen so many things in this season of the Indian T20 League. Are we in for a dramatic finish here? Flatter and around middle, Rahane tries to reverse lap it over short third man but it goes off the top edge. Dube comes a couple of steps forward to gobble it. A superb knock from Rahane ends in a timid way. 17 needed in 16 balls.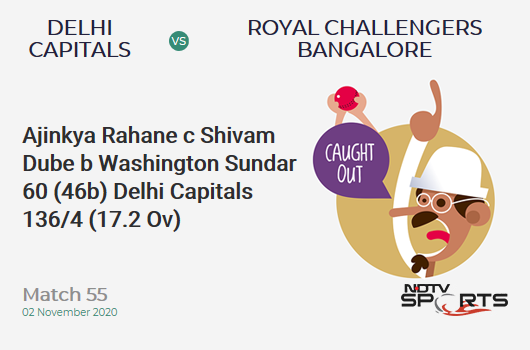 17.1 overs (2 Runs) Couple to begin the over. Flatter and around middle, Rahane pulls it to the right side of the deep mid-wicket fielder. Easy two.
Chahal is done for the day. Washington Sundar to bowl out. 3-0-20-0 are his figures till now.
16.6 overs (1 Run) Single to end the over. Full and on middle, it is flicked down to long on for one. Good spell from Shahbaz. 4-0-26-2 from him. Delhi just 19 away from a place in the playoffs.
16.5 overs (1 Run) Pant comes out of the crease, Ahmed bowls it wide. Pant reaches out and lifts it over extra cover for one.
16.4 overs (1 Run) Flatter and around off, Rahane tucks it towards the leg side and gets to the other end.
16.3 overs (1 Run) Tossed up and on middle, Pant calmly flicks it towards mid-wicket and gets to the other end.
Rishabh Pant is in now! Will he swing his blade and try to finish the game quickly?
16.2 overs (0 Run) OUT! CAUGHT! Iyer is livid with himself here. He is disappointed that he could not stay there till the end. But, is there a twist in the tale though? Shahbaz tosses this around off, Iyer comes down the track and looks to power it well over long on. But he does not get his timing right. Ends up giving an easy catch to Siraj at long on.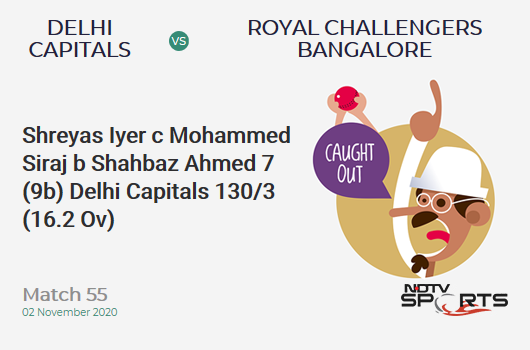 16.2 overs (1 Run) WIDE! Well outside off, way past the tramline, Shreyas lets it be.
16.1 overs (1 Run) A single. Outside off, Rahane chops it on the off side off the track. Takes a single.
DRINKS! Just 25 needed now! The game is more or less in the pocket of Delhi. Dhawan played his part. Rahane is playing a solid innings too. The Bangalore bowlers are looking clueless. The number 2 spot within the grasp of Dehi. Is there a twist left in this game?
15.6 overs (1 Run) A single to finish. Full and outside off, this one is driven to deep cover for a single. Delhi need just 25 runs in 24 balls.
15.5 overs (1 Run) Fuller and outside off, the Bandra lad drives it to long off for a single.
15.4 overs (1 Run) Fuller and around off, driven down to long on off the inner half for a single.
15.3 overs (2 Runs) On the shorter side on middle, Jinks times it nicely to the right of long on for an easy two runs.
15.2 overs (1 Run) Flatter on the pads, tucked to mid-wicket for a single.
15.1 overs (1 Run) Around off, pushed through point for a single.
Match Reports
Topics mentioned in this article