Story Progress
Back to home
Delhi Capitals vs Mumbai Indians: IPL 2020 Live Cricket Score, Live Score Of Today's Match on NDTV Sports
Live Updates of Today Match between Delhi Capitals vs Mumbai Indians from Dubai International Cricket Stadium, Dubai. Check commentary and full scoreboard of the match.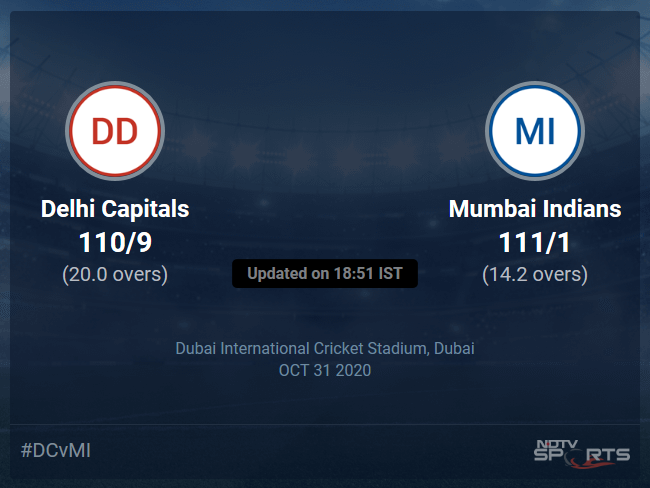 DC vs MI Latest Score
A dedicated team of experts bring you live score, live cricket score, live match update on Sports.NDTV.com. After 14.2 overs, Mumbai Indians, chasing a target of 111, are 111/1. The live updates of Delhi Capitals vs Mumbai Indians scorecard is also available. It is the perfect platform to follow your favourite teams in Indian Premier League 2020. Keep a track on your favourite batsmen and bowlers through Indian Premier League 2020 today match, ball by ball commentary, Delhi Capitals vs Mumbai Indians, Delhi Capitals vs Mumbai Indians live score, Delhi Capitals vs Mumbai Indians scorecard. Follow the excitement of the Indian Premier League 2020 on Sports.NDTV.com as you can follow live match updates and live cricket score through our platform.
Right then! That's all from this game. This victory makes sure that Mumbai end in the top 2 positions in the table. This loss for Delhi means that they need to win their next encounter if they want to make sure that they make the playoffs.
Ishan Kishan is awarded the Player of the Match award for his superb knock. He tells that it wasn't that easy as it looked as the ball wasn't coming onto the bat. Says that he just rotated the strike on the good balls and went after the bad balls. On him hitting big sixes, Kishan jokes and credits his mom for that. Says that he has worked hard on these big shots and that is helping him. Adds that his strength is on the leg side but he has been working hard to play on the off side as well. Mentions the name of Rahul Dravid and says that even he had told him to work on his off side game. Says he is happy to bat anywhere the management wants him to.
Mumbai skipper, Kieron Pollard, says that Boult has consistently given them wickets in the Powerplay. Tells that Bumrah did the job in the middle overs. Says that Bumrah wants to bowl in the Powerplay as well but adds he felt that he can use him in the latter half of the bat. On Kishan, he says that when he gets going, he goes big and he is happy for him and hopes he continues doing the same in the next few games. Tells that getting the chance to open has helped it really well. Feels he is learning daily and growing. On Rohit Sharma, Pollard says that he is getting better and he is working extremely hard. Ends by saying that he is happy to finish in the top 2 now.
Trent Boult is caught for a quick chat! Says that there was a bit of swing but it wasn't there for too long. Feels that it was a collective performance from the team. Adds that they never allowed the pressure to get off Delhi. Says that the wickets are getting better to bowl now. Ends by saying that he wants to take the momentum towards the business end of the tournament.
Delhi skipper, Shreyas Iyer, says that they failed to read the wicket and were not up to the mark from the start. Feels that wickets early on took the momentum away. Says that a lot of flaws to point to but adds that they want to back themselves. Tells that they needed a good start and reckons 150-160 should've been a good score. On their last game against Bangalore, Iyer says that they need to be fearless in their approach and they do not need to think about the future.
Earlier in the day, Mumbai were brilliant with the ball and they bundled Delhi out for a low score of 110. Trent Boult and Jasprit Bumrah were on fire with the ball and they both scalped 3 wickets each. They did not let Delhi into the game at any point. The batters of Delhi were nowhere to be found and Mumbai muscled them out of the game. This win sees Mumbai making sure that they end in the top 2 spots and this loss for Delhi means that their place in the playoffs is not confirmed and they will need to win their last game.
With just 110 runs to defend, you cannot point your fingers at the bowling by Delhi. It was a very low total to defend and in the end, they could not do enough to stop Mumbai from chasing this down. They did not pick up wickets early on in the innings to pile some pressure on the batters of Mumbai and there was not much that they could do after de Kock and Kishan got going. Overall, it was a poor performance by Delhi.
Even though the total was not a big one, starting off well was important and their openers de Kock and Kishan did just that. They started off slowly but kept increasing their tempo. They had a 50-plus stand and it was de Kock who fell unfortunately for Mumbai. Kishan was brilliant with the bat as he scored a very well made 72. It was then Kishan and Suryakumar Yadav who did well to wrap this game up. In the end, it was a very easy chase and win for Mumbai.
Well, Mumbai have made small work of this chase and it is Kishan's show with the bat that has made sure that there are no twists in the tale for Mumbai. They have wrapped the game up in some style and have won this game by 9 wickets and with 34 balls to spare. A very comprehensive victory for Mumbai.
14.2 overs (6 Runs) SIX! Kishan finishes things off in style! Brilliant use of the wrists. A full ball on middle, he uses the wrists and wallops it deep into the deep square leg fence. Mumbai win by 9 wickets.
14.1 overs (0 Run) Short and angled in, Kishan looks to pull but misses to get hit high on the pad.
Anrich Nortje is back into the attack.
13.6 overs (0 Run) Full and around off, Suryakumar drives it well but straight to the fielder.
13.5 overs (1 Run) Short and outside off, Kishan forces it to long off and gets to the other end. Victory just a maximum away.
13.4 overs (1 Run) One more single. Tossed up and on middle, Yadav shows no hurry and strokes it down to long off for a run.
13.3 overs (1 Run) Tossed up on the pads, played towards deep mid-wicket for one now by Kishan.
13.2 overs (6 Runs) SIX! Kishan wants to finish things quickly here. Gets a full ball right in front of his eyes and slogs it way over the deep square leg fence.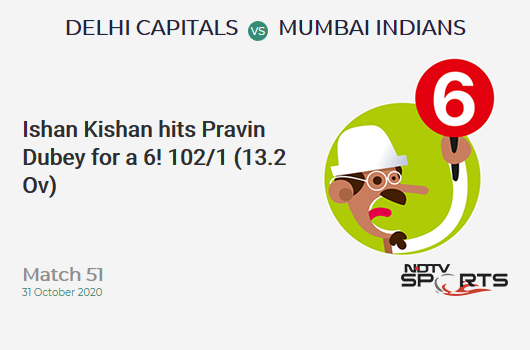 13.1 overs (1 Run) Full and around off, pushed to long on for an easy run.
Pravin Dubey is back on. 2-0-19-0 are his figures so far.
12.6 overs (1 Run) Full and around off, this one is eased through mid off for a run. Just 16 needed now. 4-0-18-0 from Ashwin. A good spell but Delhi needed wickets from him.
12.5 overs (0 Run) Full and around off, driven straight to the cover fielder.
12.4 overs (2 Runs) Short and wide outside off, Yadav punches it wide of the sweeper cover fielder for a couple of runs.
12.3 overs (1 Run) On middle, this time it is stroked through mid on for a single.
12.2 overs (4 Runs) FOUR! Take that! This man is in supreme touch. Tossed up and around off and middle, Kishan skips out of the crease and slams it past the bowler and into the long off fence.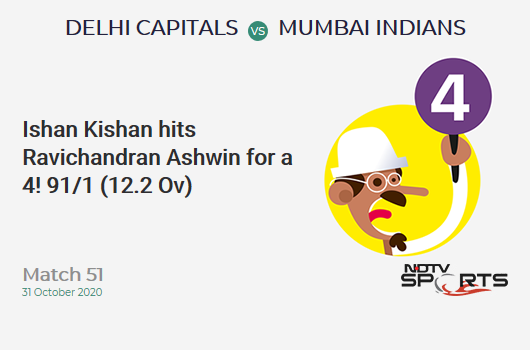 12.1 overs (2 Runs) Shortish and on middle, Kishan paddles it wide of the fine leg fielder and before the fielder can get to the ball, a couple of runs for Kishan.
11.6 overs (2 Runs) Back of a length delivery around off, Yadav works this through the cover-point region to collect two runs to end the over. 26 required now in 48 balls.
11.5 overs (0 Run) Good length delivery around off, Suryakumar blocks this one to the off side.
11.4 overs (1 Run) Back of a length ball on middle, Kishan pulls this one to the deep square leg region for a single.
11.3 overs (0 Run) A dot this time around as Kishan pushes this to the cover region.
11.2 overs (2 Runs) FIFTY FOR KISHAN! He gets it in just 37 deliveries! Great innings so far! On a good length around off, Kishan makes some room and lofts this over the cover region and will collect two runs.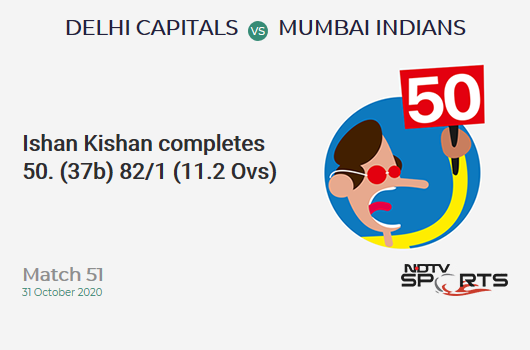 11.1 overs (6 Runs) SIX! What a shot! Against Rabada nonetheless! On a good length around off, Kishan lofts this one over the extra cover region for a biggie.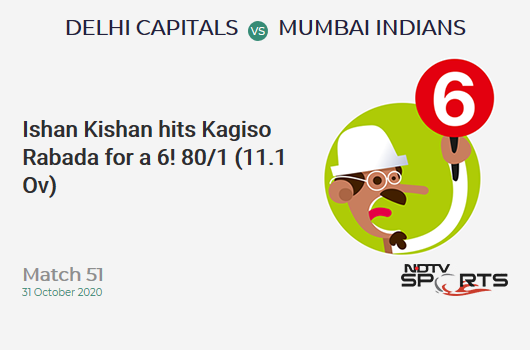 10.6 overs (4 Runs) FOUR! That was so cheeky by Suryakumar! Wonderful shot! He is continuing his from from the previous game! On a shorter length on middle, Yadav upper cuts this over the keeper and it goes past the ropes at third man. A good way to end that over.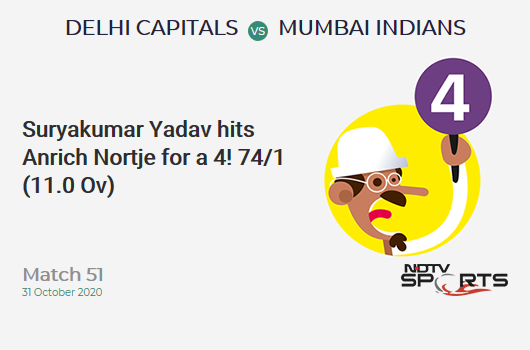 10.5 overs (0 Run) A dot this time around. Back of a length ball around middle, Yadav pulls this one but it is straight to the man at square leg.
10.4 overs (1 Run) Short of a good length ball around off, Kishan tucks this to the square leg region to give the strike to Suryakumar.
10.3 overs (1 Run) Yadav is off the mark straightaway! On a good length on middle, Yadav works this towards mid on for a single.
Suryakumar Yadav is in at no. 3.
10.2 overs (0 Run) OUT! TIMBER! Unfortunate for de Kock but Delhi do not care! They needed to break this stand and they have done just that! It is de Kock's country-man Anrich Nortje who has removed him! Back of a length delivery around off, de Kock waited for this one and wanted to work this late to the third man region, but it come off the lower part of his bat and went onto hit the stumps.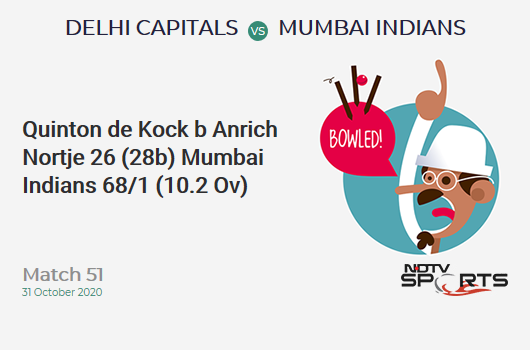 10.1 overs (0 Run) On a good length around off, de Kock pushes this to the man at point.
Change in bowling. Anrich Nortje returns. 1-0-13-0 from him so far.
Match Reports
Topics mentioned in this article