Story Progress
Back to home
Chennai Super Kings vs Kolkata Knight Riders: IPL 2020 Live Cricket Score, Live Score Of Today's Match on NDTV Sports
Live Updates of Today Match between Chennai Super Kings vs Kolkata Knight Riders from Dubai International Cricket Stadium, Dubai. Check commentary and full scoreboard of the match.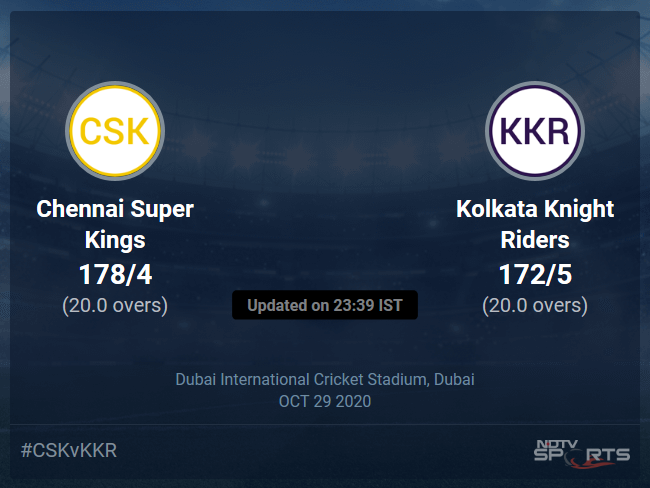 CSK vs KKR Latest Score
A dedicated team of experts bring you live score, live cricket score, live match update on Sports.NDTV.com. After 20.0 overs, Chennai Super Kings, chasing a target of 173, are 178/4. The live updates of Chennai Super Kings vs Kolkata Knight Riders scorecard is also available. It is the perfect platform to follow your favourite teams in Indian Premier League 2020. Keep a track on your favourite batsmen and bowlers through Indian Premier League 2020 today match, ball by ball commentary, Chennai Super Kings vs Kolkata Knight Riders, Chennai Super Kings vs Kolkata Knight Riders live score, Chennai Super Kings vs Kolkata Knight Riders scorecard. Follow the excitement of the Indian Premier League 2020 on Sports.NDTV.com as you can follow live match updates and live cricket score through our platform.
Right! We have the first entry in the playoffs, courtesy of the result of this game. Yes, Mumbai are through. Kolkata's fate will depend on other results now and that too when they win their last game against Rajasthan. That's it from this game. The action though will continue on Friday, 30th October 2020, when two teams eager to keep their hopes alive meet each other. Yes, Rajasthan take on Punjab in the game no. 50 of the Indian T20 League 2020. The game will begin at 1800 local (1400 GMT). Join for all the action then. For now, it is goodbye from our side.
Ruturaj Gaikwad, 72 runs from 53 balls, is the MAN OF THE MATCH. Back-to-back MoM for him. States that he is very happy that both the awards have come in winning situations for the team. He backed himself confidently again in this match. Adds that his skipper's words helped him beat COVID. On whether he works hard in the gym, Gaikwad smiles and says yes and cheekily adds that he has six-pack abs as well.
MS Dhoni, the VICTORIOUS CHENNAI SKIPPER, is all smiles. Starts off by saying that it is one game where it all went in their favour. Praises his boys for finishing it well. Adds that Jadeja has been really well this season, looking to finish the games in the side's favour. Adds that Jadeja plays well through the point region. On whether Chennai is looking at the future, Dhoni says yes. They are giving time to the youngsters and want to see how they play. States that Gaikwad's case early on was unfortunate because he got COVID and had to isolate himself and then later come to the training after getting clear. Says that sometimes it becomes difficult for the management to judge where a player stands. On Gaikwad further, Dhoni states that Ruturaj had gotten out to the first ball he faced in his debut. Would be wrong to judge him solely on that and hence they observed him closely in the nets and decided to give him more opportunities. Dhoni further says that the expectation from the side is that in the 3-3.5 hours they play, expects the players to give it their all.
Please stay tuned for the presentation ceremony as we get to hear the winning captain and also know who the Man of the Match is!
Ravindra Jadeja is caught for a quick chat. Says that he was hitting the ball well in the nets so all he was thinking about doing it in the game. Says that he along with Curran wanted to just go after the bowlers in the last 2 overs. Tells that he was trying to keep his shape and back his strength. Says that if he got anything in his arc, he knew he can hit it for a six. Adds that when you play good cricket and win games for the team, it is always a happy feeling.
Eoin Morgan, the Kolkata skipper, says that they played really well in this game. Feels that dew came after 8th over and it made things difficult for them. Says that Chennai played really well on the day. Says that with one game left, they will look to win the game. Feels that they thought that the total was a pretty good one but adds that the conditions changed a touch. Praises Rana for his superb knock. Talks highly of the performance of the spinners and adds that one is a world-class bowler while the other one is going to play for India. Feels that faulting any bowlers would be wrong. Says that Nagarkoti is a young bowler and he will take it on the chin and learn from it. Ends by saying that he is looking forward to the game against Rajasthan.
Earlier, after winning the toss, Chennai opted to bowl first. They were largely doing well but Rana's 87 swung the momentum in Kolkata's favour. After his dismissal, Chennai were back in the game again but DK's cameo towards the end once again pulled things back in Kolkata's favour. Chasing 173, Chennai got off to a slow start but thanks to Gaikwad, Rayudu and Jadeja, they coasted home safely in the end.
Kolkata's bowlers were off-colour today. Don't know what Morgan thought when he offered Rana the ball, he went for 16 in his only over and given how the match panned out, that could have been avoided. Chakravarthy and Cummins managed 2 apiece and were the lone bowlers who were economical along with managing a couple of wickets. Narine bowled well but could not net any wickets. Nagarkoti and Ferguson were taken for plenty.
Chasing 173 for a victory, Chennai got off to a sluggish start. They lost Watson in the 8th over and then their scoring rate upped considerably, courtesy Gaikwad and Rayudu. The latter though went for one too many and fell after making a good 38. Dhoni followed shortly but Gaikwad continued strongly. Eventually, after a good 72, he too fell, attempting a cheeky shot. It was getting a bit tight towards the end but Jadeja finished things off well in Chennai's favour, an unbeaten 31 from 11 balls for him.
What a fantastic way to finish, by Jadeja. First back-to-back wins for Chennai in this edition. They seem to have found their form but too late. Nonetheless, they would be pleased with the way they are closing their campaign. Chennai's win means Mumbai become the first team to qualify for the playoffs this season. Oooh... One arch-rival helping the other!
19.6 overs (6 Runs) SIX! BANG! Jadeja, you star. Back-to-back sixes to seal the deal. A length ball, yes, the pressure gets big on Kamlesh. He ends up bowling one in the slot for Jadeja. He smokes it over wide long on for a biggie. Chennai win by 6 wickets.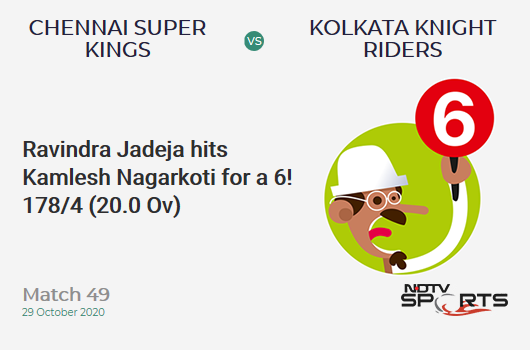 19.5 overs (6 Runs) SIX! Take that, says Jadeja. Scores level. Nagarkoti misses his mark, it is in the slot for Jadeja He pumps it way over deep mid-wicket for a biggie. Nerves on both the sides now. Dot or wicket for the tie and Super Over. A single or more for Chennai's win.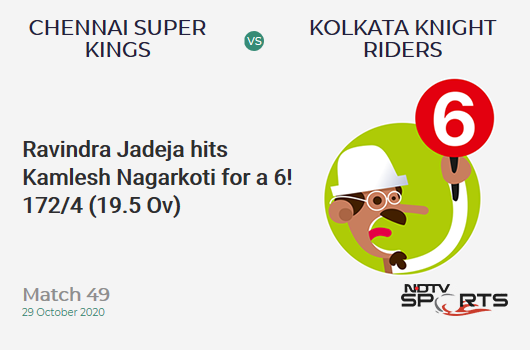 19.4 overs (0 Run) Another dot! Angles a good length ball away from the left-hander. Jadeja tries to reach out and carve it through the off side but misses.
19.3 overs (1 Run) Just a single. Full and just outside off, Curran tries to go hard again, mistimes it towards the off side. Only a single.
19.2 overs (2 Runs) A couple now. Full and wide outside off, Curran drills it wide of the long off fielder. Two taken. 8 needed in 4 balls.
19.1 overs (0 Run) DOT! Terrific from Kamlesh. Shortish and around middle, Curran looks to pull but the ball takes the inner half and goes back to the bowler.
Pat Cummins is done. Should be Kamlesh Nagarkoti to bowl the last over. Yes, it is him, 10 runs to defend. The youngster will have to deliver under extreme pressure for his side.
18.6 overs (4 Runs) EDGY FOUR! But Jadeja and Chennai will take it. What an over, what an over for Chennai! 20 runs off it and now the game is right in Chennai's court. Full and wide outside off, Jadeja throws the kitchen sink at it. He gets a thick outside edge and that flies over short third man and into the third man fence. Just 10 needed in 6 balls. Super Over anyone?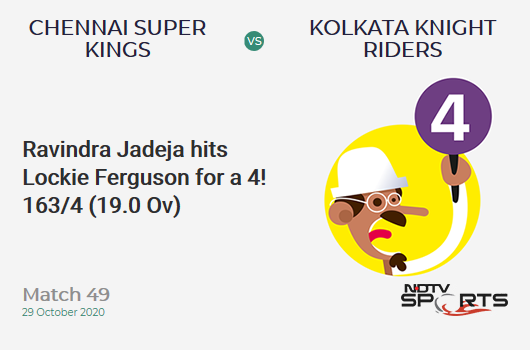 18.5 overs (6 Runs) SIX! Bang! Jadeja makes the full use of the Free Hit. A length ball, right in the slot, Jadeja swipes it over deep square leg for a biggie.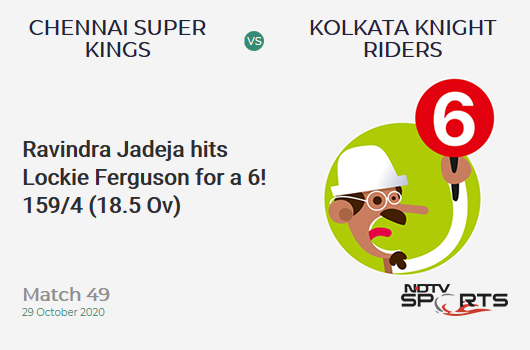 18.5 overs (3 Runs) NO BALL! The attempted yorker goes wrong, Lockie ends up bowling it above the hip. Jadeja pulls it, rather unconvincingly, towards deep square leg. The batters take two. Free Hit coming up then!
18.4 overs (4 Runs) FOUR! Useful boundary. Very important boundary. 150 is up. Ferguson misses the yorker and ends up giving a high full toss, that too on the pads of Jadeja. He helps it through short fine leg and finds the fence.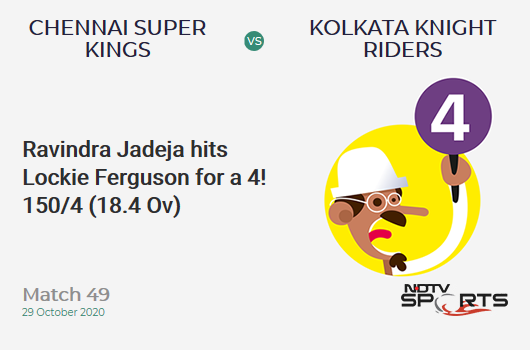 18.3 overs (1 Run) Only a run. Terrific stuff from Ferguson. Low full toss, Curran can only push it to deep point and go to the other end.
18.2 overs (0 Run) DOT! Curran tries to be little too cute but he is beaten by Ferguson's pace there. Moves to the off side and tries to scoop it over the keeper but misses.
18.1 overs (1 Run) Very full and on middle, flicked down to deep mid-wicket for just a single.
18.1 overs (1 Run) WIDE! Ferguson goes for the yorker but the line is down the leg side. Jadeja tries to flick but misses. Wided.
17.6 overs (1 Run) Cummins finishes the over well. Just a single on the last ball. Full and outside off, Jadeja can only drive it towards long off for a single. Just 4 runs and the massive wicket of well-set Gaikwad off the over. 30 needed in last 2 overs.
17.5 overs (1 Run) Only a run. Full and around off, stroked for one through mid off by Curran. Chennai need a boundary on the last ball. Cummins would like to finish it well.
17.4 overs (1 Run) Full and on middle, it is drilled down to long on for just one. Just 2 off the first 4 balls.
17.3 overs (0 Run) Play and a miss! Fullish and outside off, Jadeja drives away from his body, only to get beaten.
Ravindra Jadeja steps out to the middle now.
17.2 overs (0 Run) OUT! TIMBER! Cummins gets the massive wicket. Such a classy knock and it ends when the batsman is playing an unorthodox shot. Good length ball on middle, Gaikwad moves inside the crease and looks to paddle it over the keeper but misses. The castle behind gets a beating. End of another top knock from Gaikwad but he would be mighty disappointed not to take the team home. 33 runs needed in 16 balls.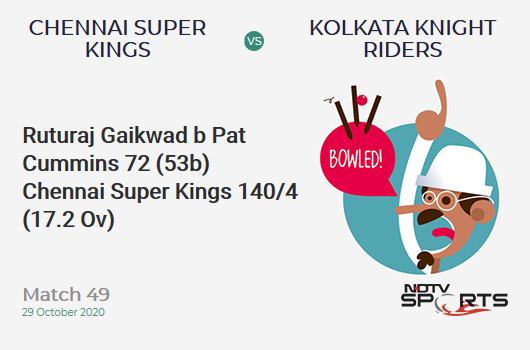 17.1 overs (1 Run) Direct hit and Curran would've been walking back. A full ball on middle, Sam premediates and goes for the scoop but fails to get it right. The ball hits the toe end and rolls towards the leg side. He goes for the single. Cummins quickly gets to the ball and throws at the non-striker's end but misses.
Sunil Narine has completed his 4 overs. Cummins to finish his. 3-0-27-1 for him so far.
16.6 overs (1 Run) Single to end the over! Full and around off, Curran looks to drive but gets an inside edge. The ball goes to short fine leg. A single taken. 34 needed in 18 balls.
16.5 overs (1 Run) Full and outside off, drilled down to long off for a single.
16.5 overs (1 Run) WIDE! Pressure on Lockie. He tries to go wide. The length is brilliant but it is a bit too wide. Wided.
16.4 overs (4 Runs) FOUR! Swept and swept really well. He is taking on Ferguson. Good length ball just outside off, Ruturaj gets down and nails the sweep over square leg. A boundary.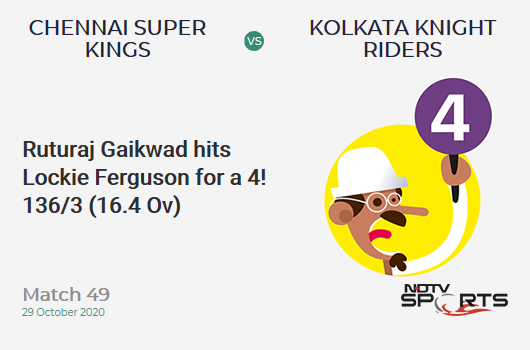 16.3 overs (2 Runs) A couple now. A poor throw from Kamlesh though. Short and outside off, Gaikwad backs away and strokes it through cover-point. Two taken.
16.2 overs (1 Run) Very full and on middle, Curran looks to flick but gets an inside edge towards the off side after deflecting from his pads. A single.
16.1 overs (1 Run) Short and outside off, worked towards square leg for a quick run.
Lockie Ferguson returns now. 2-0-23-0 from him so far.
15.6 overs (4 Runs) FOUR! Just over the short mid-wicket fielder! Flatter ball on off, Curran comes down the track and lifts this just over the stretched hands of the man at short mid-wicket. The wide long on and deep mid-wicket fielders give chase. But the ball bisects them to perfection and trickles into the boundary.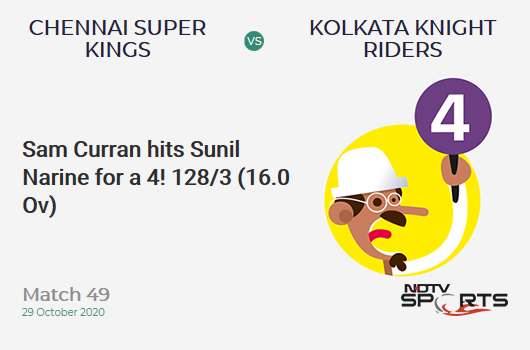 15.5 overs (1 Run) Around off, pushed through towards long on for a run.
15.4 overs (1 Run) On middle and leg, bunted down to long on for one.
15.3 overs (0 Run) Flatter ball around off, tapped to the off side.
15.2 overs (1 Run) Flatter ball outside off, punched off the back foot on the off side for a single.
15.1 overs (0 Run) Tossed up around off, tapped to the off side for a dot.
Match Reports
Topics mentioned in this article