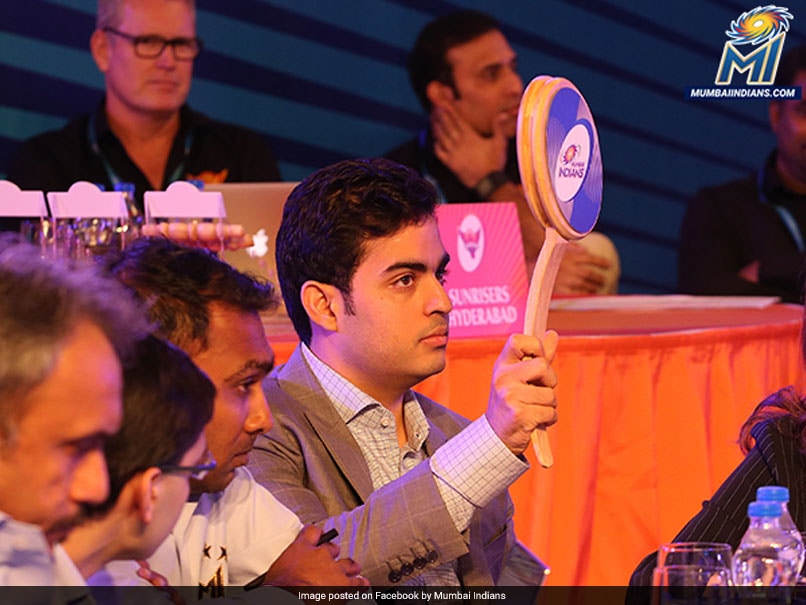 Akash Ambani at the Indian Premier League Player Auction table.
© Mumbai Indians
Mumbai Indians (MI) owners Nita Ambani and her son Akash gave fans a sneak peek into what went on behind the scenes a day prior to the Indian Premier League Player Auction in Bengaluru last week. In a video released by MI on Facebook, the Ambanis and coach Mahela Jayawardene answered questions from fans after assembling a new squad after the two-day auction. During the course of the video interaction, the trio spoke about their auction strategy and the philosophy of the franchise. Responding to a question about  how confident Mumbai were of retaining Kieron Pollard and Krunal Pandya using the Right to Match (RTM) option, Akash revealed how nervous he was a night before the high-profile auction.
"You know how I was the night before that. I think we should be honest. We were very nervous. I was very nervous. I thought maybe one of them will slip because you never know the dynamics of an auction but i think we're incredibly happy," Akash said.
He also stated that losing Pollard would made things very difficult for Mumbai at the auction table.
"As soon as we got Polly in the first set of the auction, I think that really lightened out mood for the whole auction. Because it would have been a tough auction if we didn't have Pollard in out bag. I think we would all agree," he added.
Mumbai picked up 25 players (3 retained earlier), spending Rs. 46.35 crore during the 2018 Player Auction.
Pollard, who has been among IPL's most successful overseas players, was retained via RTM by Mumabi for Rs 5.40 crore.
Mumbai then matched Royal Challengers Bangalore's (RCB) bid of Rs 8.80 crore to retain Krunal, who became the highest paid uncapped player in IPL history. Last season, the 26-year-old was purchased by the Mumbai for Rs 2 crore.
He scored 237 runs in IPL 2016 and also picked up six wickets in his debut season. The following year saw Krunal score 243 runs and pick up 10 wickets to help Mumbai win their third IPL title.