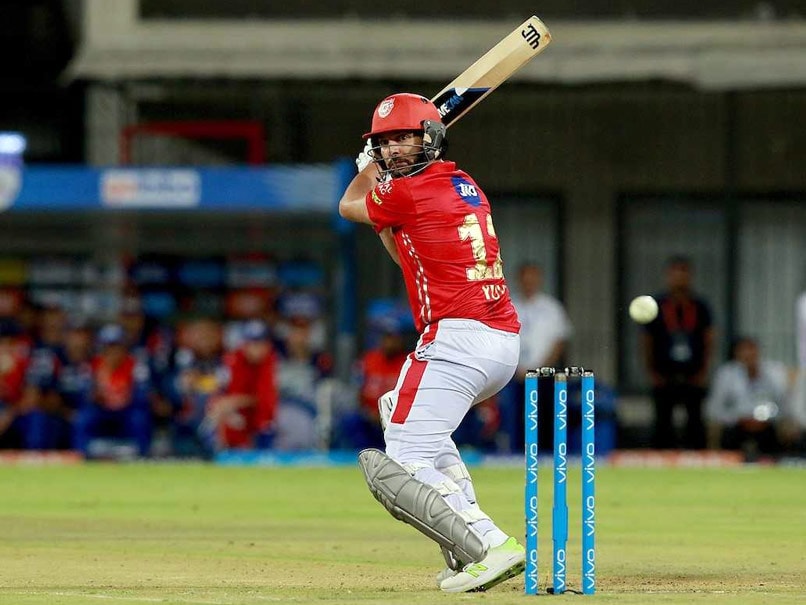 Yuvraj Singh's strike rate is the worst for any player that has faced 50 or more balls in IPL 2018.
© BCCI
The sight of Yuvraj Singh walking out to bat used to have fans sitting on the edge of their seats, waiting for the barrage to begin. But come IPL 2018 and how the times have changed. The stylish left-hander has been a shadow of the player that has tormented and given nightmares to world class bowlers. Kings XI Punjab acquired the services of Yuvraj at his base price of Rs 2 crore after no other franchise showed any interest in the World Cup winner. Home comforts, however, have not gotten the best of Yuvraj and the southpaw is enduring one of his worst IPL seasons. In the match between Mumbai Indians vs Kings XI Punjab, Yuvraj registered a record that went on to show just how much he is struggling with the bat.
Yuvraj was dismissed for 14 off 14 balls that took his strike-rate in IPL 2018 to 91.42 -- the worst for any player that has faced 50 or more balls this season.
This season Yuvraj has played seven matches, scoring a total of 64 runs at an average of 12.80.
While some fans had criticised Kings XI Punjab's decision to drop Yuvraj in their previous game, others now feel that time has run out for the Indian batting star.
Time for Yuvraj Singh to co host commentary section with Irfan Pathan and Mohammed Kaif...

— Mayur (@Mayurgoakar) May 5, 2018
Watched Yuvraj Singh play for Kings XI today. It's not the same man anymore, one look and it's obvious he not fit enough. His game is over.

— Mahesh Dutt (@m__dutt) May 4, 2018
Brad Hodge: Since the stadium is small we thought Yuvraj might come in handy. Also, he had good performances before IPL. So it's fair to give him another chance.
Micheal Clarke at the #SelectDugout: Not sure which previous performances of Yuvraj he was referring to. Anyway.

— Srinidhi (@Srinidhi_PR) May 4, 2018
Yuvraj Singh was included because of the backlash Ashwin faced by after dropping him from the team... Akshdeep Nath would've been a better choice

— Pratyush (@pks_2611) May 5, 2018
Its about time Yuvraj Singh graciously steps aside/retire from IPL. It is getting painful to watch.

— Sense of rumour (@speshelly) May 4, 2018
Emerging players of #IPL2018:
Shubman Gill
Mayank Makrande
Deepak Chahar
Jofra Archer

Submerging players after #IPL2018
Yuvraj Singh
Ravinder Jadeja
Ben Stokes
Keiron Pollard#IPL

— (@K3K_cube) May 5, 2018
Kings XI what kind of team selection is this Yuvraj Singh and Mayank Agarwal one after another in playing XI and Manoj Tewari one chance and dropped what's the great idea of dropping him and bringing same player and result is the same.May be different players different rules.

— I B Ray (@IBRay06128487) May 4, 2018
Kent water purifier ad is the only place where I saw Yuvraj Singh hitting a boundary this season. #KXIPvMI

— Ankit Mishra (@ankitTrump) May 4, 2018
sending Yuvraj Singh on #3 was not a good decision. In fact, he doesn't fit in playing XI.

— Ramesh Jha (@rameshjha) May 4, 2018
Watching Yuvraj Singh and Gambhir bat will give you an idea of just how awesome it is to watch MS Dhoni bat the way he is. All of them are 36 years old. #KXIPvMI

— Abhishek (@Abhi17x89) May 4, 2018
However, Yuvraj continues to garner a lot of support and some fans feel that he still has something left in the tank.
To all the yuvi haters.. he will bounce back..we all know he is struggling bt have faith in him as there was nd there will be no one as Yuvraj Singh.. just wish him luck.. plzz don't spread negativity @YUVSTRONG12 @TeamYuvi12 https://t.co/TTroaSMv7R

— Baljinder Kaur (@baljindrchauhan) May 4, 2018
Another best moment when Yuvraj Singh got best support from his wife Hejal in the ground, I know he will come back in next match, we really want that 6 balls 6 sixes magic again #OLEDdiShaanVakhri pic.twitter.com/9kYMqUx7d9

— Babit Kumar (@iambabit) May 5, 2018
Karun Nair ne faltu Ka run out kara diya Yuvraj Singh when he was looking in good touch !!!

— Vinit Rajawat (@vnit786) May 5, 2018
@YUVSTRONG12
We want to see your bat swinging in all directions
C'mon Yuvi... #IPL18 #YuvrajSingh

— yashesh (@yashesh_parekh) May 5, 2018
There is still a final hope for this warrior #YuvrajSingh of the country. The country would want the warrior to make a great comeback and play the 2019 World Cup. @YUVSTRONG12 @shruvi12 @BackYuvi @YWCFashion @hazelkeech @imPrashant13 @ImRaina @ImRo45 @BCCI #KXIP pic.twitter.com/F5Zj4FZklz

— Rahul Haldkar (@SirHaldkar) May 5, 2018
@ashwinravi99 just a suggestion u may have pressure from #YuvrajSingh In the playing 11 try #Yuviraj as a opener with Gayle and Rahul as one down batsman.. In 2-3 matches . If he fires every body will happy else Rahul comes just he misses few deliveries only.... Try

— Mallikarjuna Reddy (@Mallika43379760) May 5, 2018
On Friday, Yuvraj was promoted up the order, coming to bat at 1-down after Lokesh Rahul and Chris Gayle had given their team a blistering start.
Immediately, Yuvraj found himself in a bit of trouble, failing to get his timing right. He was even dropped by Mumbai wicketkeeper Ishan Kishan while batting on 2 off the bowling of Hardik Pandya.
But as his innings progressed, the stylish left-hander seemed to be getting on top of things. There was a warning sign for Mumbai that Yuvraj was getting his eye in when he launched Krunal Pandya into the stands with his customary swish of the bat.
However, Yuvraj's innings was brought to a premature end after a suicidal run out cost him his wicket.
It remains to be seen if Punjab will persist with Yuvraj for their remaining matches, especially with Punjab still in a strong position of reaching the playoffs.