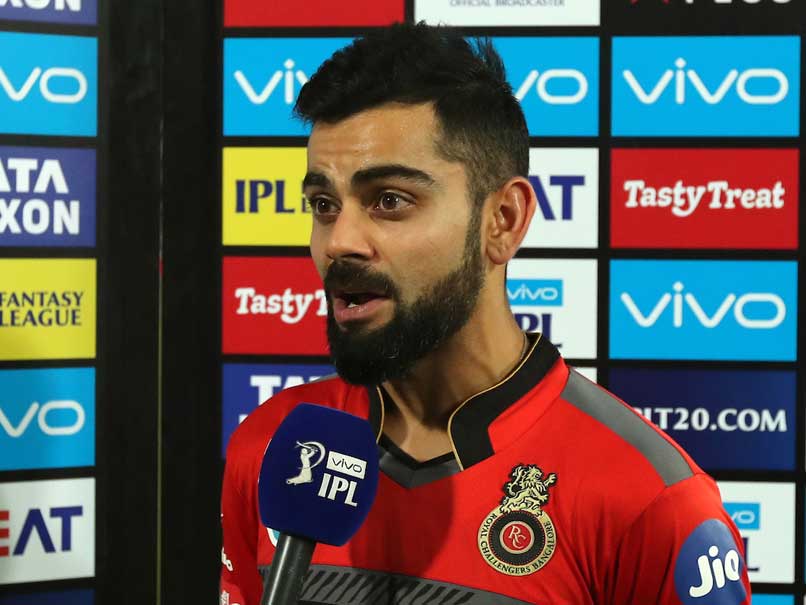 Virat Kohli dubbed SunRisers Hyderabad as the strongest bowling unit in IPL 2018.
© BCCI
Virat Kohli showed SunRisers Hyderabad (SRH) ungrudging courtesy and paid Kane Williamson's team the ultimate compliment after Royal Challengers Bangalore's narrow five-run loss at the Rajiv Gandhi International Stadium in Hyderabad on Monday night. Speaking after the match, the RCB skipper dubbed SRH the strongest bowling unit in IPL 2018. Hosts SRH pulled off a thrilling win over RCB to open a two-point gap to second-placed Chennai Super Kings (CSK) in the IPL Points Table. SunRisers bowlers once again got the job done for their team, managing to defend another low score.
"If you have strong characters in the team you can always do well in such a tournament. SunRisers have quite a few guys in the team -- that has been the story of their season. They understand their team and that's why they have been so successful. They understand their strengths, know their limitations. That's been their story and this has been ours. As an all-round team Chennai and Punjab are good. As a bowling team, SunRisers are the strongest team," Kohli said at the post-match presentation ceremony.
The match was crucial to RCB's hopes of qualifying for the playoffs. However, poor shot selection, some panic-stricken batting, juxtaposed with some quality bowling from SRH choked them up through the middle.
Mathematically, RCB still have a chance of reaching the playoffs but their fortunes are not in their hands any more. Kohli's team will need to rely on other teams now if they have are to have any hope of qualifying for the next stage.
In the beginning of the tournament, RCB bowlers and fielders were misfiring while the batsmen did well but this time, the RCB batsmen faltered at the crucial juncture, especially after captain Kohli had given the team a solid platform.
SunRisers bowlers were again exceptional at the death. Siddharth Kaul and Bhuvneshwar Kumar gave RCB batsmen no chance of getting under the ball. Bhuvneshwar bowled a stunning last over with RCB needing 12 to win.
The Indian pacer got his radar bang on and his yorkers were pretty much unplayable. SRH now sit pretty at the top of the IPL standings and have all but secured their place in the playoffs.