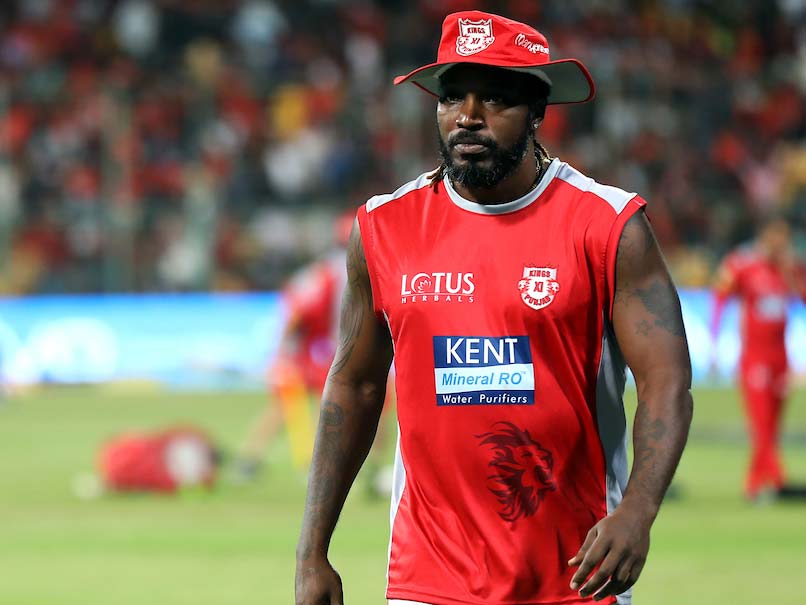 Chris Gayle said RCB officials were in touch with him before the IPL Player auction.
© BCCI
No team moved a muscle when Chris Gayle's name was called by auctioneer Richard Medley on two occasions at the 2018 Indian Premier League (IPL) Player Auction. Eventually, it was Kings XI Punjab who snapped up the big-hitting Jamaican at the last moment for his base price of Rs. 2 crore. "I'll be honest in admitting that it was very surprising for me to not get picked by any team. I don't know what went behind closed doors but I also understand that these things happen. It's just the way it is. But it's fine. I've moved on from it. Like I said, it's a great opportunity to be playing for King XI Punjab (KXIP) and so far I've had a great time. Perhaps it was supposed to happen, you know. King Gayle; destined to be playing for Kings XI Punjab," Gayle told Times of India in an interview.
Gayle had kicked off his IPL career with Kolkata Knight Riders and went on to represent the Kolkata side for three years (2008, 2009 and 2010). The year 2011 saw Gayle receiving a call from Royal Challengers Bangalore (RCB) who had named him a replacement for injured Dirk Nannes.
In his seven-year stay at RCB, Gayle scored 3,163 runs at an average of 43.33 and a strike-rate of 152.7. He didn't have had a good run with bat in 2017 as he could average just 22.22 in the tournament.
Due to his poor show, RCB decided not to retain the star batsman in 2018.
Gayle said that RCB officials had been in touch with him before the auction and said they wanted him in the team, but he never heard back from anyone.
"Not 'one of'. I was their biggest draw. It was disappointing from that end, because they had called me. They wanted me in the team and I was told that I will be retained. But they never called back after that. So that gave me the impression that they didn't want me and it's fine. As I said, I can't fight with anyone. I think I had a wonderful CPL and BPL - where I scored two centuries for my side Rangpur Riders. The stats don't lie: 21 centuries, most number of sixes. If that doesn't put a stamp on brand Chris Gayle, I don't know what will," Gayle said.
KXIP's decision to pick Gayle for IPL 2018 has already paid rich dividends.
With his swashbuckling batting, Gayle has proved his detractors wrong and shown them why he is referred to as the 'Universe Boss'.
The West Indies' star player has smashed 252 runs in four matches at an average of 126.
"I don't know if I've actually proved them wrong. There are always going to be doubters but at the same time I didn't have anything to prove. My records speak for themselves. Even though I was selected in the very last round of the auction, I wasn't really worried about it. Even if it was the end of it, there is life... a life beyond cricket, beyond the IPL. At some stage, you are going to walk away from the IPL and other forms of cricket. So I was never too intrigued. This is how I've always been, living in the present. But given the sense that I was picked up and playing for a new franchise, it was very pleasing. And the way I have played in the first three games, I think it has been fantastic. I'm very happy with where I'm at," Gayle said.