Story Progress
Back to home
IPL Highlights, KXIP vs MI: Suryakumar Yadav Shines As Mumbai Indians Beat Kings XI Punjab
IPL Kings XI Punjab vs Mumbai Indians Highlights: Mumbai beat Punjab by 6 wickets in Indore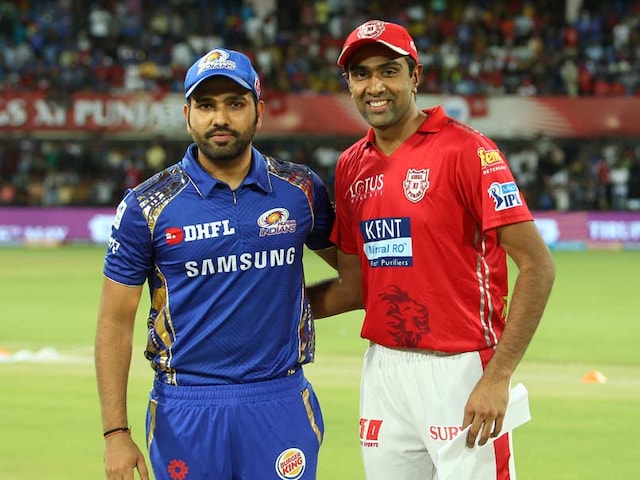 KXIP vs MI Highlights: Mumbai beat Punjab by 6 wickets
© BCCI
Mumbai Indians (MI) kept their playoff hopes alive after a 6-wicket win over Kings XI Punjab in their Indian Premier League (IPL) clash on Friday at the Holkar Cricket Stadium, Indore. Chasing 175 runs, Mumbai got off to a cautious start. Both openers Suryakumar Yadav and Evin Lewis were taking a reserved approach early but as the game progressed they began hitting the boundaries. Lewis departed for 10 in the 6th over. Suryakumar (57) brought up his brilliant fifty to ensure Mumbai remained in the hunt and he was ably supported by Ishan Kishan (25). Suryakumar hit six fours and three sixes in his 42-ball knock. Punjab got back into the game with quick wickets of Suryakumar and Ishan. Hardik Pandya also chipped in with 23 runs before departing in the 16th over. Mumbai skipper Rohit Sharma (24*) and Krunal Pandya (31) ensured Mumbai got over the finishing line and won the match. Punjab skipper R Ashwin was the only economical bowler but he got no wickets. Mujeeb Ur Rahman got two wickets but was expensive. (SCORECARD)
Earlier, a late flourish by Marcus Stoinis helped Punjab (KXIP) reach 174/6 against Mumbai in their IPL. Put into bat first by Mumbai skipper Rohit Sharma, KL Rahul and Chris Gayle got off to a decent start as they both stitched a 54-run partnership for the first wicket. Rahul departed for 24 and Gayle continued his impressive form with the bat after hitting his 24th IPL fifty. Gayle started slowly but made up later for the lack of runs with his power hitting. His innings was laced with six fours and two sixes. Yuvraj Singh's slump in form continued as he failed to score runs as he got dismissed for 14 runs after a horrendous run-out in the 13th over. Karun Nair hit a quickfire 23 runs while Axar Patel (13) chipped with a few runs. Mumbai skipper Rohit used seven bowlers of which Jasprit Bumrah (1/19) stood out while Mitchell McClenaghan (1/31) also bowled well. A late cameo of 29 runs off 15 balls by Stoinis helped Punjab reach a respectable total.
IPL 2018 Highlights of Kings XI Punjab vs Mumbai Indians match, straight from Holkar Cricket Stadium, Indore
23:35 IST: Thank you for staying with us for the live match updates.
23:30 IST: Mumbai Indians beat Kings XI Punjab by 6 wickets 
23:28 IST: SIX! Wow. Krunal seems to be in a hurry to get home. Superb shot over the mid on region. MI 170/4 in 18.3 overs
23:28 IST: FOUR! Krunal gets a boundary and Mumbai inch closer to a win. This is a must-win game for them to stay alive in the tournament.
23:25 IST: SIX! Wow. Krunal hammers it for a maximum. 16 needed off 12 balls now for Mumbai to win.
23:25 IST: FOUR! Low full toss and Krunal gets a four. It is getting easier for them. Mumbai supporters are believing now 
23:23 IST: FOUR! Now its Krunal's turn to hit the boundaries. A good shot over the covers.
23:22 IST: FOUR! What a blistering cover drive by Rohit. Superb shot by him. He is turning this on. 
23:20 IST: SIX! Another big one by Rohit. Second six off Mujeeb's over. MI 139/4 in 17 overs 
23:18 IST: SIX! Rohit gets hold of this ball. Mujeeb can only see the ball sail over long on for a maximum. MI 131/4 in 16.2 overs
23:16 IST: Mumbai Indians need 50 runs in 24 balls
23:15 IST: FOUR! Krunal Pandya opens his account with a four.
23:12 IST: OUT! Andrew Tye castles Hardik Pandya. Mumbai are in deep trouble. They lose their 4th wicket. Wonderful bit of angle for Tye to remove Hardik. MI 120/4 in 15.3 overs 
23:07 IST: SIX! Super special from Hardik. Superb shot. Over the bowler's head and he smashes Mujeeb over to the stands. MI need 58 runs off 34 balls
23:06 IST: RUN-OUT Chance! Hardik Pandya awaits his fate. Replays show bat is in.
23:06 IST: Last 3 overs for Mumbai. 34 runs wickets. 
23:05 IST: 10 runs off the over for Mumbai. Mumbai Indians need 65 runs in 36 balls 
23:01 IST: Mumbai Indians need 74 runs in 41 balls
23:00 IST: OUT! Clean bowled. What a comeback by Mujeeb. Ishan Kishan castled by a slower delivery. Ishan departs for 25. MI 100/3 in 13 overs
23:00 IST: SIX! Ishan Kishan hits a maximum. 506th six of the tournament. 100 comes up. Picks Mujeeb and hammers it over long on. A good over for the visitors. 
22:58 IST: FOUR! Hardik finds the gap in mid on region. Times it extremely well.
22:57 IST: Mumbai Indians need 86 runs in 46 balls
22:55 IST: SIX! Ishan Kishan dispatches it for a six . A short ball hit around leg stump for a maximum. MI 87/2 in 12 overs
22:54 IST: Hardik opens his account with a single.
22:53 IST: Mumbai's Hardik Pandya is the new batsman.
22:52 IST: OUT! Suryakumar departs for 57 runs. Stoinis gets the crucial wicket of Yadav. A straight one and poorly timed. A good catch by KL Rahul. Mumbai lose their second wicket MI 80/2 in 11.4 overs
22:50 IST: FOUR! Low full toss on the leg stump by Stoinis. Suryakumar punishes it. MI need 95 runs to win off 53 balls
22:48 IST: SIX! Ishan Kishan gets a timely six. Connects the ball really well and hits it cleanly over the leg side boundary. MI 77/1 in 11 overs
22:46 IST: Ashwin bowls his fourth over.
22:45 IST: Mumbai Indians need 108 runs in 60 balls
22:44 IST: FIFTY! Suryakumar gets his fifty with a sublime four. He has batted so well. He has to be that dominant force. This is his 3rd IPL fifty this season. MI 67/1 in 10 overs
22:41 IST: SIX! That's a big one over the bowler's head by Suryakumar. He has been superb with the bat for Mumbai. He is now on 46.
22:40 IST: Ankit Rajpoot bowls his third over.
22:39 IST: Mumbai Indians need 120 runs in 66 balls
22:34 IST: FOUR! Suryakumar smashes Stoinis right towards the long on boundary. MI 53/1
22:29 IST: FOUR! Picks Axar Patel well and takes him to the boundary. A good shot by Suryakumar.
22:28 IST: A good over for Punjab. Only 1 run off R Ashwin's over. MI 40/1 in 7 overs
22:22 IST: OUT! Evin Lewis falls for 10. Caught behind the stumps by Rahul. Mujeeb Ur Rahman bowls a superb delivery to deceive the batsman. MI 38/1 in 5.4 overs
22:21 IST: Mujeeb Ur Rahman is the new bowler. Bowls the last over of the powerplay.
22:20 IST: Mumbai Indians need 138 runs in 90 balls
22:16 IST: FOUR! Finds the gap and Suryakumar gets another boundary. 
22:15 IST: FOUR! Suryakumar is on fire. A second boundary off this over. Great wrist movement and guides the ball towards the boundary. MI 32/0 in 4 overs
22:11 IST: SIX! Sweet sound off the bat. Suryakumar hammers it over the leg side. Right into his zone and hits a maximum. MI 27/0
22:05 IST: There was some noise as SK Yadav was beaten by Rajpoot's back of the length delivery that was going down leg. The umpire said no but KL Rahul convinced Ashwin to use KXIP's only review. DRS shows not out.
21:59 IST: Good first over by R Ashwin, just 6 runs off it.
Kings XI have only lost to Mumbai Indians at this ground.
21:55 IST: Suryakumar Yadav and Evin Lewis begin Mumbai Indians' chase of 175. R Ashwin opens the attack for Kings XI Punjab.
INNINGS BREAK
21:42 IST: Kings XI Punjab 174/6 in 20 overs
21:41 IST: SIX! What a shot by Stoinis. No third man. Not a good delivery at all by Hardik. Gets punished. Backs it with a four. KXIP 174/6 in 20 overs
21:40 IST: OUT! Agarwal departs for 11. Hardik strikes and Krunal Pandya takes an easy catch. Punjab lose their sixth wicket. KXIP 164/6 in 19.4 overs
21:40 IST: Hardik Pandya bowls the final over and it is not a good over. 10 off his first 3 deliveries. 
21:37 IST: Just six runs off that 19th over. Mumbai have definitely bowled extremely well in this match. KXIP 152/5 in 19 overs 
21:32 IST: SIX! Clears the fielder on the long off region. Mayank Agarwal gets his first maximum. KXIP 146/5 in 18 overs
21:30 IST: Last 5 overs 46 runs for Punjab for the loss of 3 wickets.
21:26 IST: WICKET! Bumrah's slower ball does the trick. Axar Patel departs for 13 runs. Another good catch taken by Hardik Pandya. KXIP 135/5 in 16.5 overs
21:26 IST: Credit to the Mumbai bowlers and their captain Rohit Sharma for making bowling changes at regular intervals. They have taken control of the match with quick wickets. 
21:24 IST: OUT! Hardik Pandya takes a stunning match to dismiss Karun Nair. He departs for 23 runs. KXIP lose their fourth wicket. KXIP 132/4 in 16 overs
21:20 IST: SIX! Karun Nair gets into the act now. Pulls it over the leg side for a six. A good-looking shot. That is one stylish shot into the first tier. 
21:17 IST: 10 runs off Markande's over. KXIP 123/3 in 15 overs 
21:16 IST: SIX! Bang. Out of the ground by Patel. Absolutely smashed it. Superb shot. Smacks it out of the park. Run rate has increased for Punjab.
21:15 IST: Markande back into action.
21:14 IST: A good over for Punjab. KXIP 113/3 in 14 overs
21:13 IST: SIX! After a four, its a maximum for Nair. Pulls it away and a sweet sound off his bat.
21:12 IST: FOUR! A leading edge off Nair's bat and Cutting bemoans his lack of luck. Free runs for the batting side.
21:10 IST: Axar Patel and Nair have to build a partnership. They don't have much batting left.
21:10 IST:  88/1 and now 99/3. Things haven't gone Punjab's way.
21:07 IST: STRATEGIC TIME OUT
21:06 IST: Mumbai bowlers have pegged the Punjab batsmen now. Two new batsmen out there in the middle for Punjab. Gayle and Yuvraj's wicket has brought Mumbai back into this game. KXIP 99/3 in 13 overs
21:05 IST: OUT! Crazy run taken. Yuvraj walking back. He knows that his out.Yuvi is out by miles. Poor running between the wickets. Crazy mix up. Punjab lose their third wicket. KXIP 96/3 in 12.3 overs
21:05 IST: Karun Nair is the new man in KXIP.
21:03 IST: SIX! Yuvraj hits the ball towards the 2nd tier. Gets it in his arc and pulls it over the mid off region for a maximum. Not an ideal start for Krunal Pandya.
21:01 IST: Gayle's wicket and only 3 runs for Cutting. Super stuff by him. KXIP 89/2 in 12 overs
21:00 IST: OUT! Wicket! Big man Gayle departs for 50 runs. Mumbai finally get their man. A brilliant inning comes to an end. Cutting strikes in his first over itself just Markande did in his first over dismissing Rahul. KXIP 88/2 in 11.2 overs
20:57 IST: 50 up for Gayle. He gets his fifty in 38 balls. This is his 24th IPL fifty for the big Windies man. Has hit 6 fours and two sixes.
20:57 IST: Ben Cutting is the new bowler for Mumbai.
20:56 IST: FOUR! Gayle gets another four. He is now on 48 runs off 36 balls. Sensible batting by the big man tonight. KXIP 86/1 in 11 overs 
20:53 IST: JP Duminy is the new bowler for Mumbai. 
20:50 IST: FOUR! Well played. Good position Gayle got into. Gets a boundary. Pandya tries to get some variation but too much on the leg side. Ishan Kishan should have stopped it though.
20:47 IST: SIX! Tossed up and Gayle hits the ball to the third tier. Enough time for Gayle to get underneath. Backs it up with a scoop shot over the mid off region for a four. After a slow start, he is making up with boundaries. 14 runs from the over. KXIP 72/1 in 9 overs
20:45 IST: Markande is back into action. He gave his team a crucial breakthrough in his first over.
20:44 IST: 4 runs off it. Hardik went for 16 runs in his first over. A good comeback by him. KXIP 58/1 in 8 overs
20:40 IST: Seven overs gone. KXIP 54/1 in 7 overs
20:40 IST: Yuvraj Singh is the new man in.
20:38 IST: OUT! Markande strikes in his first over. Rahul has to go. Punjab lose their first wicket. A little bit short and Rahul hits it straight to JP Duminy's hands. KXIP 54/1 in 6.4 overs
20:35 IST: FOUR! Rahul pulls it across the leg side for a boundary.
20:34 IST: Mayank markande is the new bowler for Mumbai.
20:31 IST: STRATEGIC TIME OUT!
20:31 IST: FOUR! Flat, hard and one bounce for a six. He is getting into the groove now. Second boundary for him this over. A good over for Punjab. End of the powerplay now. KXIP 49/0 in 6 overs
20:27 IST: SIX! That is out of the park by Gayle. 492nd six of the tournament. Right on the slog for him and he hammers it over the roof the stadium. KXIP 44/0
20:26 IST: Mitchell McClenaghan bowls his third over.
20:25 IST: So far so good for Mumbai's Bumrah. Only 3 runs off the first five balls.  A superb yorker to finish the over. Good bowling display by the pacer. KXIP 37/0 in 5 overs
20:22 IST: Bumrah is back in action.
20:20 IST: FOUR! Short. Goes over the third man for a four. Gayle gets his third four of the over. KXIP 33/0 in 4 overs
20:19 IST: 11 runs already off Hardik's first five deliveries. Pressure on him. Bowls a wide ball. Still a ball to go.
20:19 IST: FOUR! Gayle goes straight and times it perfectly well for a boundary. Hardly any bat lift and opens the face of it to get his boundary. Back-to-back boundaries for the big man. This time square on the offside boundary.
20:16 IST: Rahul has a wonderful batting technique. He times the ball really well. He is slowly building his innings.
20:15 IST: Hardik Pandya is the new bowler for Mumbai.
20:14 IST: Mitchell McClenaghan bowls an excellent over. Gayle is taking his time to settle in. Very unlike the Gayle we all know. Only one run off it. KXIP 17/0 in 3 overs
20:10 IST: A good comeback by Bumrah after getting hit for a six in the first ball of his over. 7 runs off it. KXIP 16/0 in 2 overs
20:07 IST: SIX! What a shot. Tremendous hit. Straight bat and launches it over covers. Wow. That was some breathtaking shot. Pressure on the bowler
20:06 IST: Jasprit Bumrah bowls the 2nd over for Mumbai.
20:05 IST: SIX! What a shot by Rahul. 1000 runs for him in IPL cricket. Inside out and the ball is launched over the mid off region. A good start for Punjab. KXIP 9/0 in 1 over
20:03 IST: Punjab comes into this match after a break of 8 days.
20:02 IST: First runs for Rahul off the bat. 
20:00 IST: Lokesh Rahul and Chris Gayle open the innings for Kings XI Punjab. Mitchell McClenaghan begins the proceedings for Mumbai Indians with the ball.
19:40 IST: Kings XI Punjab (Playing XI): Lokesh Rahul(w), Chris Gayle, Mayank Agarwal, Karun Nair, Yuvraj Singh, Marcus Stoinis, Ravichandran Ashwin(c), Axar Patel, Andrew Tye, Ankit Rajpoot, Mujeeb Ur Rahman
19:37 IST: Mumbai Indians (Playing XI): Suryakumar Yadav, Evin Lewis, Ishan Kishan(w), Jean-Paul Duminy, Rohit Sharma(c), Hardik Pandya, Krunal Pandya, Ben Cutting, Mitchell McClenaghan, Mayank Markande, Jasprit Bumrah
19:33 IST: Pollard misses out for Mumbai. Evin Lewis returns for them.
19:31 IST: Mumbai Indians captain Rohit Sharma wins toss, opts to field vs Kings XI Punjab in Indore.
19:23 IST: Toss is moments away from now.
19:23 IST: TRIVIA! The sides met each other once before in Indore in 2017 when MI chased down the target of 199 in just 15.3 overs.
19:00 IST: Hello and welcome to the live match updates of the 34th match between Kings XI Punjab and Mumbai Indians in the Indian Premier League (IPL).
Kings XI Punjab's season has been about collective performance. They don't have the 'Orange Cap' or 'Purple Cap' holders in their ranks but everyone has chipped in with impactful performances as and when required.
'Universe Boss' Chris Gayle (252 runs) came into the tournament with a bruised ego and battered the bowlers into submission with two half centuries and a hundred. Rahul (268 runs) also showed why he is rated so highly with the fastest ever 50 in IPL.
(Play Fantasy Cricket & Win Lakhs everyday !)
Afghanistan's rookie mystery spinner Mujeeb ur Rahman, with an economy rate of 6.51 and seven wickets, has been nurtured well by skipper Ashwin, who has marshalled his resources well.
The pace duo of Ankit Rajpoot (7 wickets at 6.27) and Andrew Tye (9 wickets at 7.78) have also done the job for the Preity Zinta co-owned outfit.
For Mumbai, the primary reason for six defeats in eight matches has been poor start by openers along with new ball bowlers leaking too many runs in Powerplay overs.
While Suryakumar Yadav, with 283 runs from eight games, has performed decently after being promoted up the order, Caribbean left-hander Evin Lewis (194 in 7 games) has not been able to replicate his form in international matches.
Skipper Rohit Sharma (196 in 8 matches) has shuffled his own batting position but his inconsistency has also hurt Mumbai Indians big time.
The opening stands in eight games has so far yielded: 7, 11, 102, 0, 1, 12, 69, 5.
A look at the statistics will reveal that they have got solid foundation in only two games of which they won the match against CSK.
The other problem that has plagued Mumbai has been the performance of their two all-rounders -- Kieron Pollard and Hardik Pandya.
With Pollard not fit enough to bowl, his contribution of 76 runs in 6 innings has been an issue. Hardik has also blown hot 'n' cold during the season with 111 runs, including a toiling 50 in the last game along with 11 wickets.
Left-arm pacers Mustafizur Rahaman (7 wickets) and Mitchell McLenaghan (9 wickets) have both been expensive at the start and back-end of the opposition innings with unimpressive economy rates of 8.34 and 8.66 respectively.
That has put immense pressure on Jasprit Bumrah (9 wickets at an economy rate of 7) and Hardik (11 wickets at 8.74).
The only silver lining for the Mumbai Indians this season has been the emergence of young leg-spinner Mayank Markande (11 wickets) . The teenager has shown admirable temperament against the biggest names.
However it will depend on the big guns as to whether IPL's most successful franchise makes it to the Play-Offs this time.
Squads:
Kings XI Punjab: Ravichandran Ashwin (captain), Chris Gayle, Aaron Finch, KL Rahul (wk), Karun Nair, Mohit Sharma, Mujeeb ur Rahman, Barinder Sran, David Miller, Andrew Tye, Ankit Rajpoot, Axar Patel, Akshdeep Nath, Mayank Agarwal, Manoj Tiwary, Yuvraj Singh, Manzoor Dar Pandav, Pardeep Sahu, Ben Dwarshuis, Marcus Stoinis, Mayank Dagar.
Mumbai Indians: Rohit Sharma (captain), Suryakumar Yadav, Evin Lewis, Ishan Kishan (wk), Hardik Pandya, Krunal Pandya, Kieron Pollard, Mayank Markande, Mitchell McLenaghan, Mustafizur Rahaman, Jasprit Bumrah, Akila Dananjaya, Ben Cutting, JP Duminy, Rahul Chahar, Sharad Lumba, Adam Milne, Siddhesh Lad, Md Nidheesh, Mohsin Khan, Anukul Roy, Pradeep Sangwan, Tajinder Singh, Aditya Tare (wk), Saurabh Tiwary.