Story Progress
Back to home
IPL Highlights CSK vs KKR: Sam Billings Powers Chennai To 5-Wicket Win Over Kolkata
IPL, Chennai Super Kings vs Kolkata Knight Riders Highlights: Chennai beat Kolkata by 5 wickets.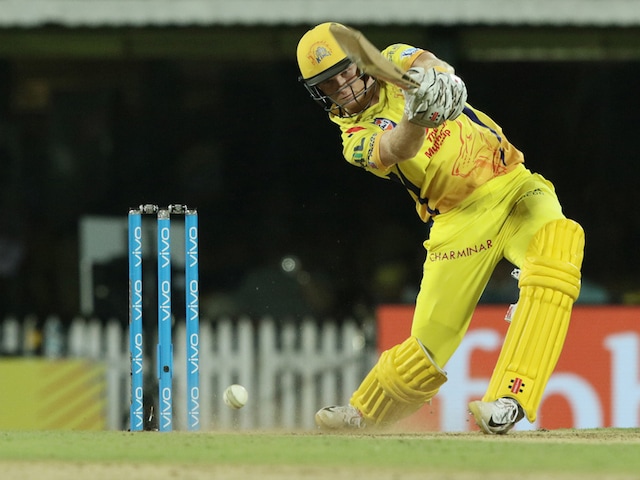 Highlights Chennai Super Kings vs Kolkata Knight Riders: Chennai beat Kolkata by 5 wickets
© BCCI
Sam Billings played a stellar knock of 56 runs to guide Chennai Super Kings (CSK) to a 5-wicket win over Kolkata Knight Riders on Tuesday at the MA Chidambaram Stadium, Chennai. Chasing a mammoth total of 202, Billings showed his batting prowess after hitting 5 sixes and 2 fours helping his team cross the finishing line. Shane Watson (42) and Ambati Rayudu (39) gave the hosts a perfect start in their run-chase. Chennai were cruising before losing Watson in the 6th over with 75 runs on the board. Rayadu followed suit after Watson's dismissal. Kolkata took control in the middle overs after which MS Dhoni (25) built on a partnership with Billings. (SCORECARD)
Andre Russell's unbeaten 88 took Kolkata Knight Riders (KKR) to 202/6 in 20 overs against Chennai Super Kings (CSK) in their Indian Premier League (IPL) clash on Tuesday. After a mellow start, Russell went on the offensive, hitting 11 sixes in the process. He spared no Chennai bowler as he hammered them equally all over the park. Every six of his silenced the home crowd. Robin Uthappa (29) and captain Dinesh Karthik (26) chipped with decent contributions helping their team reach a 200+ score. Chennai skipper used seven bowlers as they were getting hit for boundaries quite often. Shane Watson returned with bowling figures of 2/39 while Harbhajan Singh (1/11), Ravindra Jadeja (1/19) and Shardul Thakur (1/37) shared a wicket each between them. The batting side kept losing wickets at regular intervals but the batsmen ensured they kept the run-rate going.
IPL 2018 Highlights Of Chennai Super Kings vs Kolkata Knight Riders, Straight From MA Chidambaram Stadium, Chennai
23:56 IST: Chennai their record second win on the trot. Chennai beat Kolkata by 5 wickets.
23:54 IST: SIX! What a way to finish the match. Jadeja hits a maximum.
23:52 IST: Bravo is on strike. They need 5 runs off 3 balls.
23:50 IST: WIDE. 6 runs off 4 balls needed by CSK.
23:49 IST: FREE HIT! Double taken. 8 needed off 5 balls.
23:49 IST: SIX! Bravo hits it for a maximum.
23:49 IST: Bravo on strike. Vinay Kumar is the bowler.
23:47 IST: 17 required off the last over for Chennai.
23:45 IST: Dwayne Bravo is the new man in. Last match's hero. Can he take Chennai to the finishing line?
23:42 IST: SIX! What a shot. He is making his presence felt. He is winning this match for CSK. Chennai should not lose from here. CSK 184/4
23:42 IST: FIFTY up for Sam Billings. 21 balls is all he took to keep CSK in the hunt. Standing ovation for him.
23:40 IST: Chennai need 27 runs in 12 balls
23:35 IST: SIX! What a shot. That is marvellous. Hits it off a yorker. Billings is the last hope for CSK. Back-to-back sixes for Billings. Chennai 169/4 in 17.3 overs
23:33 IST: FOUR! Sam Billings is keeping his cool. Gets his boundary in the slog. Placement was even better. CSK 161/4 in 17 overs, need 42 runs to win in 18 balls
23:31 IST: Run-out chance missed by Karthik. Jadeja survives.
23:31 IST: WICKET! Chennai Super Kings lose their fourth wicket as MS Dhoni departs for 25 vs KKR | CSK 155/4 in 16.3 overs
23:27 IST: Piyush Chawla is maintaining his line and length.
23:25 IST: 51 runs needed off 24 balls. CSK 152/3 in 16 overs 
23:20 IST: SIX! What a shot by Billings. Brilliant over. 17 runs off the last over. CSK 145/3 in 15 overs
23:18 IST: SIX! After his catch dropped, Billings makes the bowler pay. A long six over mid off.
23:17 IST: DROPPED! Uthappa drops the catch right on the edge of the circle. Billings survives.
23:17 IST: CSK need 75 runs to win from 36 balls
23:12 IST: SIX! Wow. That's maximum. Dhoni is turning it on now. CSK 124/3 in 13.4 overs
23:11 IST: FOUR! That is smashed. Could be a start of an onslaught by Dhoni. He has absolutely smashed that. No chance for long on or long off.
23:08 IST: This is getting out of reach for CSK. 90 from 41 balls needed.
23:06 IST: FOUR! Super shot by Billings. They need many more of such shots.
23:05 IST: A lot riding on Dhoni now. He is finding it difficult to connect the ball at the moment. The run-rate is going up every passing ball.
23:04 IST: Sunil Narine and Kuldeep Yadav have halted CSK's momentum. Superb bowling display by them. 
23:01 IST: WICKET! Raina succumbs to pressure from the KKR bowlers. Chennai Super Kings lose their third wicket as Raina departs for 14 vs KKR | CSK 101/3 in 11.3 overs
22:58 IST: Dhoni survives. KKR lose their review. CSK 100/2 in 11.1 overs
22:56 IST: SIX! What a way to bring up the 100 for Chennai. Raina hits a six to deep extra cover. CSK 100/2 in 11 overs
22:51 IST:  A good fightback by Kolkata bowlers. Chennai have lost their steam after Watson and Rayadu dismissals. CSK 90/2 in 10 overs, need 113 more runs in 61 balls
22:44 IST: WICKET!  Chennai Super Kings lose their second wicket as Ambati Rayadu departs for 39 vs KKR | CSK 85/2 in 8.3 overs
22:38 IST: After Watson's dismissal, KKR have fought back in this match halting the momentum.
22:23 IST: OUT! Watson departs for Chennai after a superb 19-ball 42 runs. CSK 75/1 in 5.5 overs
22:21 IST: SIX! Watson is taking on the bowlers. Superb-looking shot.
22:21 IST: FOUR! Back of a length by Curran. Watson muscles it to the boundary. 
22:20 IST: 10 runs off it. Another good over for Chennai. CSK 63/0 in 5 overs
22:18 IST: FOUR! What a shot. He is now on 31 off 14 balls.
22:17 IST: Mis field again. Russell is livid with the effort. Extra run for CSK.
22:13 IST: SIX! Rayadu made it look so easy. A wonderful strike. Clean hitting by Rayadu. Pressure on KKR bowlers now. After a six, he hits a boundary. CSK 52/0 in 3.4 overs
22:11 IST: SIX! A little shimmy down the track and a good clean strike by Y=Rayadu. CSK are turning it on. CSK 42/0
22:10 IST: FOUR! Very well played by Rayadu. Lovely shot by Rayadu. Looks for a yorker but misses it altogether. CSK 36/0 in 3 overs, need 167 more runs to win in 17 overs
22:07 IST: Andre Russell is the new bowler.
22:05 IST: SIX! Watson pumps it another one long on. What a shot. Watson is making it count.
22:04 IST: FOUR! Mis-field. Overthrow and free runs for CSK. No back-up. CSK 22/0
22:02 IST: Piyush Chawla is the new bowler for KKR.
22:02 IST: 4,6,4. After a four, its a six. Half-bouncer and it goes the distance. Superb shot by Watson. A good over for CSK. CSK 16/0 in 1 over
21:58 IST: Shane Watson, Ambati Rayudu are out in the middle for Chennai. R Vinay Kumar begins the proceedings for Kolkata.
21:42 IST: Kolkata Knight Riders 202/6 in 20 overs (A Russell 88*, R Uthappa 29) vs Chennai Super Kings at Chepauk 
21:40 IST: SIX! Wow. 11 sixes to his name. What a way to reach to 200 for KKR. Superb knock.
21:38 IST: SIX! This is his 10th six. Sensational inning. He looks unstoppable.
21:34 IST: SIX! Another one for Russell. He is speaking in boundaries now. Three sixes in a row. We have lost the count now. This is his 9th six of the night. KKR 173/6
21:31 IST: Tom Curran is the new man in.
21:28 IST: WICKET! Review taken.Ball starts to tail. Original decision is not out. KKR have taken a review. Karthik is OUT. KKR 165/6 in 17.4 overs
21:26 IST: SIX! 50 up for Russell. He has now hit 6 sixes. Brilliant fifty for him. 
21:24 IST: SIX! Karthik gets into the act now. That's a maximum for the KKR captain. KKR 157/5 in 17 overs
21:21 IST: SIX! That's huge. Russell is upping the ante now. That was massive. That ball is not coming back. 105 metres. That's the biggest of this year's IPL. KKR 144/5
21:15 IST: 50-run partnership up between Dinesh Karthik and Andre Russell.
21:12 IST: SIX! What connection with the bat. Sweet sound from the willow. Times it perfectly to launch it over long off boundary. Back-to-back sixes for him off Shardul's delivery. KKR 137/5  
21:08 IST: Tahir bowls his final over.
21:06 IST: SIX! Russell waited and waited for the ball. Got the ball right in the slog. Hits it straight to the stands. KKR 117/5 in 14 overs 
20:57 IST: FOUR! What a drive. Superb shot through extra cover. Russell gets his first boundary. KKR 102/5
20:55 IST: Lack of partnerships is hurting KKR. Chennai have taken wickets at regular intervals to halt KKR's progress.
20:50 IST: WICKET! Kolkata Knight Riders lose their fifth wicket as Rinku Singh departs for 2 vs CSK | KKR 89/5 in 10 overs
20:48 IST: Six bowling changes by Dhoni in 9 overs.
20:45 IST: FOUR! Dinesh Karthik drives it towards the off side region for a four. KKR 85/4
20:42 IST: Kolkata Knight Riders lose their fourth wicket as Robin Uthappa departs for 29 vs CSK. A crucial wicket for Chennai. Utter chaos at the middle. Uthappa is run out. Really unlucky to get dismissed that ways. KKR 81/4 in 8.2 overs
20:38 IST: WICKET! Kolkata Knight Riders lose their third wicket as Nitish Rana departs for 16 vs CSK. No need for Rana to play that shot which hit his pads. An easy catch for Dhoni. KKR 80/3 in 8.1 overs
20:36 IST: KKR are 80/2 after 8 overs. 
20:33 IST: Shardul Thakur into the attack.
20:31 IST: FOUR! Very good placement from Nitish Rana. Great vision and superb shot. Precision placement behind square leg.
20:30 IST: Despite losing two early wickets, KKR have kept the run-rate going. They are scoring at more than 10 runs per over.
20:26 IST: SIX! Uthappa is striking it cleanly for KKR. The six went 88 metres. Back-to-back sixes for him. What an over for KKR.
20:25 IST: WICKET! Lynn is clean bowled by Jadeja. Kolkata Knight Riders lose their second wicket as Chris Lynn departs for 22 vs CSK | KKR 51/2 in 5.2 overs
20:23 IST: FOUR! Misfield and its a boundary for Lynn. Should have been stopped. Jadeja seems livid. 
20:22 IST: SIX! Uthappa hits it towards the crowd. It went at lightning speed. KKR 47/1 in 5 overs
20:20 IST: FOUR! Another boundary. Crowd goes silent whenever KKR hit a four. Kynn looks in good touch. KKR 41/1
20:20 IST: Imran Tahir into the attack for CSK. 
20:16 IST: Ravindra Jadeja is the new bowler for CSK. Good over by the India spinner.
20:15 IST: FOUR! Watson is leaking boundaries. Uthappa beats the slip as the thir man is quite square. KKR 33/1
20:14 IST: FOUR! Beats the man in the outfield for a boundary. A good shot by Lynn. Outside leg and Lynn connects it well. KKR 29/1
20:12 IST: FOUR! Loosener by Shane Watson. Lynn destroys the poor delivery. Anything on oof stump and the ball races to the boundary. KKR 25/1
20:08 IST: WICKET! Kolkata Knight Riders lose their first wicket as Sunil Narine departs for 12 vs CSK | KKR 19/1 in 1.3 over
20:07 IST: Harbhajan Singh bowls the second over.
20:05 IST: SIX! Back-to-back maximums for Narine. What a shot by Narine. Superb shot. He strikes it so cleanly. Clean as you like. Good first over for the batting side. KKR 18/1 in 1 over
20:02 IST: FOUR! Lynn clears the ball inside the circle. Anything outside off stump is bread and butter for him. KKR 4/0
20:00 IST: Sunil Narine, Chris Lynn are the two openers for KKR. Deepak Chahar begins the proceedings for CSK with the ball.
19:45 IST: Chennai Super Kings captain MS Dhoni wins toss, elects to bowl first vs Kolkata Knight Riders
19:33 IST: Toss is delayed for sometime.
The captains are ready, the commentator for the toss is ready but the officials, apparently, aren't here yet

— Harsha Bhogle (@bhogleharsha) April 10, 2018
19:27 IST: There is a little bit of grass on the pitch. Kevin Pietersen says the team winning the toss will look to chase on this pitch.
Promoted
19:07 IST: Hello and welcome to the live updates of IPL's fifth match between Chennai Super Kings and Kolkata Knight Riders. 
Pitted against defending champions MI, CSK looked down and out before Dwayne Bravo's heroics helped the team pull off a stunning heist. Barring Kedar Jadhav and Ambati Rayudu, the rest of the batting failed to get going and skipper MS Dhoni will hope for a quick turnaround. Back in their den, the CSK players will aim to get going in front of an adoring crowd. The home favourite Dhoni will be expected to lead from the front while Suresh Raina would love to shake off the failure in the MI game. Jadhav suffered a hamstring pull during the opening game and has been ruled out of IPL 2018.