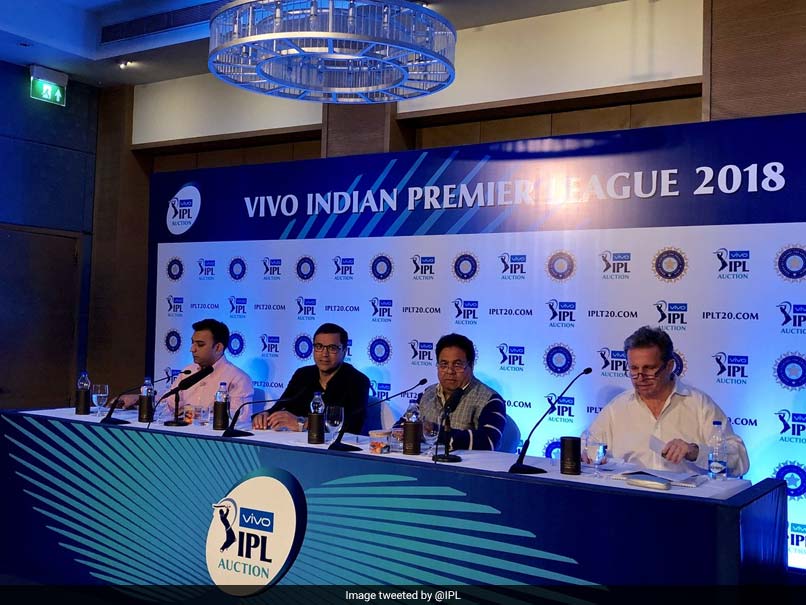 Owner of MI Neeta Ambani and owner of KKR Shah Rukh Khan speak during a conference in 2012.
© AFP
All of the cricket fraternity will come to a standstill when some of the world cricket's biggest names go under the hammer during the two-day IPL players' auctions starting Saturday with the likes of Ben Stokes and R Ashwin expected to be among the most sought after. This year's auction will feature 578 players in all with 361 of them being Indians. There are 16 top players awarded marquee status and a base price of Rs 2 crore with notable among them being Stokes, Ashwin, Shikhar Dhawan, Mitchell Starc, Chris Gayle, and Dwayne Bravo to name a few.
With a day to go for the auction, here is all you need to know about the IPL 2018 auction:
Top prospects for the 11th IPL season
Ben Stokes: England all-rounder Ben Stokes has had a horrid four or five months off the field. The 26-year-old received the green light to go to India from the England and Wales Cricket Board (ECB), according to the BBC which means that the England all-rounder will also go under the hammer during the IPL 2018 Player Auction. With Rising Pune Supergiant (RPS) are no longer a part of the IPL, Stokes will up for the grabs and in all likelihood will be an expensive buy. Stokes bagged a record price of 14.5 crore by RPS last year and there is good chance that he may surpass that amount.
Chris Lynn: One of the most explosive players in the world, Chris Lynn has the ability to take the match away at the top of the order. Lynn has been a prolific performer in the Big Bash League (BBL), playing for Brisbane Heat and can be an asset to any side
Krunal Pandya: Krunal Pandya was out of action for almost a year due to a shoulder injury in 2015 but that did not stop Mumbai Indians (MI) from bidding for the young Baroda all-rounder the following year. Mumbai Indians spent Rs. 2 crore for Krunal in the Indian Premier League (IPL) 2016 Auction and the left-arm spinner didn't disappoint.
Having already retained Rohit Sharma, Hardik Pandya, and Jasprit Bumrah, MI will go all the way in order to get Krunal in the players' auction to be held in Bengaluru on January 27-28.
Rashid Khan: The Afghan teen was bought for a whopping Rs 4 crore by Sunrisers Hyderabad (SRH) in the IPL 2017 auction that gave him the name of 'Million-dollar' baby. Rashid showed his class with the ball in his first appearance in the league and impressed one and all with his ability to strike when the need arose.
Whether Hyderabad use Right To Match (RTM) card to get him back in their team can be a point of discussion but there will be a lot of franchises who would like to have him in their squad.
List of top retained players:
1. Virat Kohli (RCB) - Rs 17 crore
2. AB de Villiers (RCB) - Rs 11 crore
3. MS Dhoni (CSK) - Rs 15 crore
4. Suresh Raina (CSK) - Rs 11 crore
5. Ravindra Jadeja (CSK) - Rs 7 crore
6. David Warner (SRH) - Rs 12 crore
7. Bhuvneshwar Kumar (SRH) - Rs 8.5 crore
8. Steve Smith (RR) - Rs 12 crore
9. Rohit Sharma (MI) - Rs 15 crore
10. Hardik Pandya (MI) - Rs 11 crore
11. Jasprit Bumrah (MI) - Rs 7 crore
12. Sunil Narine (KKR) - Rs 8.5 crore
Here is the complete list of player who will go under the hammer.