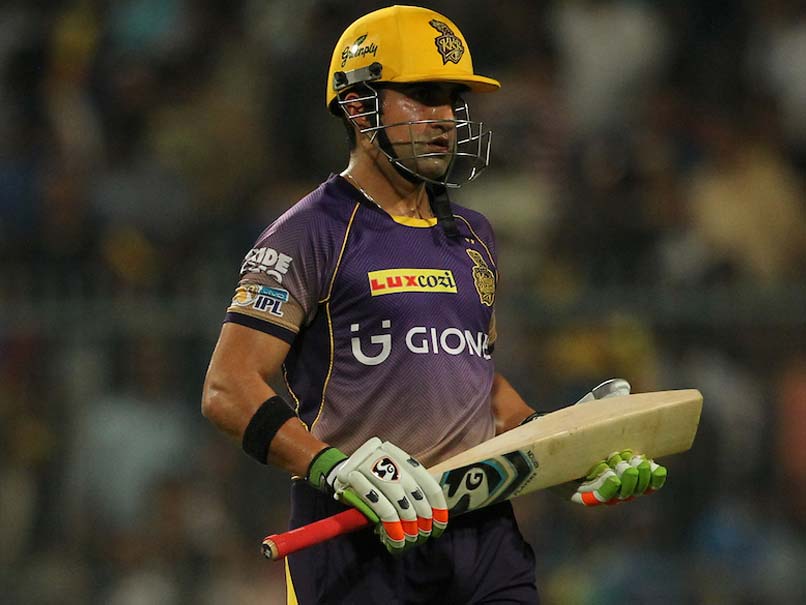 Gautam Gambhir was not retained by the Kolkata Knight Riders.
© BCCI
Kolkata Knight Riders' (KKR) decision to not retain their captain Gautam Gambhir at the recent Indian Premier League Player Retention event surprised some of the team's fans. The star left-hander, having led Kolkata to two IPL titles, is bound to generate plenty of interest among teams when his name flashes on the screen at the much-awaited auction later this month. While there still is a real possibility of Kolkata using their Right to Match (RTM) card to retain Gambhir, a cryptic tweet from Chennai Super Kings (CSK) fuelled plenty of speculation about the Delhi batsman's potential destination.
It all started when a user (@Anti_ESTD) tweeted, "I Hv a strong feeling @GautamGambhir wil b picked by @ChennaiIPL in this auction".
I Hv a strong feeling @GautamGambhir wil b picked by @ChennaiIPL in this auction. #IPLRetention

— Vikashkothari (@Anti_ESTD) January 5, 2018
Interestingly, the official handle of the Chennai Super Kings decided to respond to that tweet.
January 5, 2018
Chennai, however, played a predictable hand as they retained Dhoni, Suresh Raina and Ravindra Jadeja.
Dhoni was the first choice for Rising Pune Supergiants during the 2016 player draft, when the Pune outfit replaced CSK, who were slapped with a two-year ban following the fixing scandal.
Dhoni was the man at the helm of affairs when CSK were IPL champions in subsequent seasons in 2010 and 2011. The Champions League 2010 also saw Dhoni lead CSK to the title.
His record speaks for itself as he has been a phenomenal presence in the Indian scheme of things as well, winning the 2007 World Twenty 20 and the 2011 World Cup for India.
Dhoni began his IPL career with CSK in the very first edition of the tournament in 2008. He has, over the 10 years, scored 3561 runs in 159 matches he has played for CSK and RPS, at an average of 37.88, with a highest score of 70 not out.