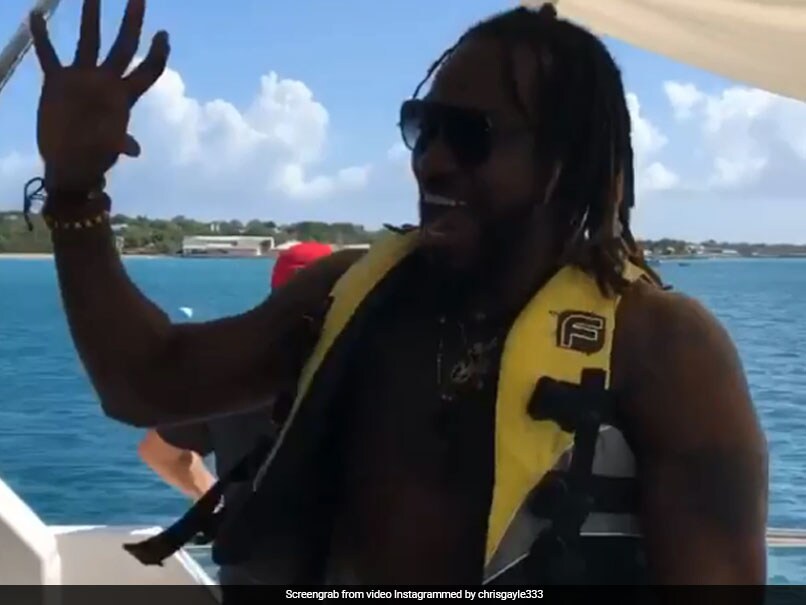 Chris Gayle showcased his 'bhangra' moves while dancing to a famous Punjabi song.
© Instagram
Chris Gayle will turn up for the Kings XI Punjab in the 2018 Indian Premier League that kicks off on April 7 and if the West Indian's latest dance performance is anything to go by then the Punjab team's fans are in for a gala time. Gayle's love for the party life is quite well known and the Jamaican left-hander yet again showcased some of his dance moves by dancing to the beats of a famous Punjabi song. Gayle is one of the most destructive batsman in world cricket and has made the Twenty20 international his own. After playing for Royal Challengers Bangalore in the last edition, the 38-year-old was bought by Punjab in the mega IPL auction in January this year.
Gayle took to Instagram and posted a video of dancing on a boat. Wearing a life jacket, the West Indian can be seen enjoying himself by doing some 'bhangra' as well as some other Bollywood dance moves.
Gayle went unsold twice before being lapped by up by the Punjab franchise.
Interestingly, no team, including his parent franchise of Royal Challengers Bangalore (RCB), moved a muscle when the big Jamaican's name came up on two occasions, once as part of the marquee players and then as an unsold player.
The auctioneer, Richard Medley, then asked teams to submit a list of players they wanted to be recalled. Gayle, who was among those 15 players, was snapped up by Punjab.
The 38-year-old Gayle has been a waning force in the recent past, however him finding no takers initially did come as a big surprise.
Gayle started his IPL career with Kolkata Knight Riders but didn't play a single match in the inaugural edition due to an injury and national duty. After spending another two years with the Kolkata franchise, the big-hitting moved to Royal Challengers Bangalore.
After moving to RCB in 2011, Gayle was with the franchise till 2017, scoring some memorable sixes at the M.Chinnaswamy stadium in Bengaluru.
Gayle was part of a galaxy of batting stars at Royal Challengers Bangalore, along with Virat Kohli and AB de Villiers, but his weak hamstring and poor form played a part in the team ending up last in IPL 2017.