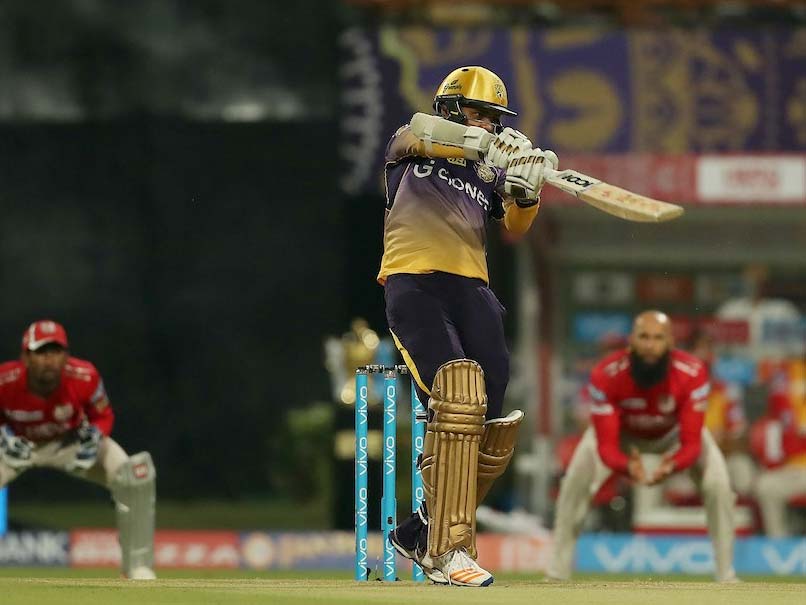 Sunil Narine surpised everyone by coming out to open the batting for KKR
© BCCI
When you think of an opener in cricket by the name of Sunil, you automatically think 'Gavaskar'. But Kolkata Knight Riders (KKR) sprang the surprise of IPL 2017 when they sent the other Sunil, West Indian Sunil Narine, as opener while chasing Kings XI Punjab's total in Kolkata on Thursday. No wonder the KXIP team was caught unawares! They had no clue if KKR were serious, though Kolkata skipper Gautam Gambhir is not given to such jokes. He was deadly serious, and his surprise worked like magic.
Kings XI Punjab pacer Ishant Sharma admitted they were caught by surprise when the West Indian came in to open.
"We were quite surprised. We did not know how he would bat. We were thinking about Robin Uthappa. When you see Narine, you did not know what's going to happen," Sharma said at the post-match news conference.
Chasing a tricky 171, KKR, who were missing opener Chris Lynn, gave the chance to 'mystery spinner' Narine atop the order and the Trinidadian blasted a whirlwind 18-ball 37 as KKR posted their highest powerplay score of 76.
KXIP got the hint during the innings break when Narine was seen with pads at the dug-out.
"We could make out seeing him in the dug-out. Maxi (Glenn Maxwell) told us that his go-to shot was the slog over the mid-wicket. So if we keep hitting the back of length on to his body. It's very difficult as he's a bowler not a batsman," Sharma said.
Sharma further said there was a lot of dew but added they were helpless with Narine and Gambhir setting up the chase brilliantly.
"With dew the ball was coming nicely on to bat. But if you give away 76 runs in six overs, I don't think you can win even if you scored 200," he said.
"Dew was affecting too much. The spinners could not grip the ball and it was skidding nicely on to the bat. I think it was very difficult, in this format you need to have variations.
"Mohit was trying to bowl bouncers and it was coming nicely and not stopping from the wicket. The dew played a big role," he added.