Story Progress
Back to home
Rohit Sharma Was Scared And Frustrated During Injury Break
Rohit Sharma missed cricket action for five months after undergoing surgery on his thigh muscle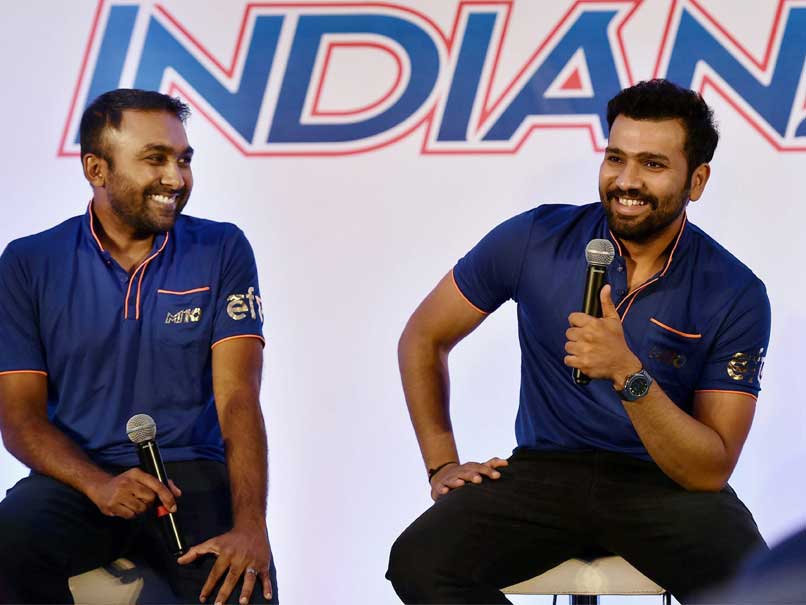 Mumbai Indians captain Rohit Sharma with team coach Mahela Jayawardene during an event.
© PTI
Highlights
Rohit Sharma is the captain of the Mumbai Indians

Mahela Jayawardene is the coach of the Mumbai based team

This will be the 10th edition of the Indian Premier League
Rohit Sharma was frustrated during his long injury break and wanted to get back on to the field and into action as soon as possible. He admitted that he was also scared when he heard a loud pop while fielding against New Zealand in Visakhapatnam last year. Fit again after undergoing surgery to his thigh muscle that kept him out of cricket for five months, the Mumbai Indians skipper said although it was frustrating, he was keen to get back on the field now.
"It feels a long time, actually more than five months. I am looking forward to getting back on to the field. I missed a lot of games, but it's part of any sportsman's career when injury happens. I am not looking backwards and want to start the season on a high," said Sharma at his first media conference leading into MI's first game of IPL 10 against Rising Pune Supergiant on April 6.
He conceded that he feared the worst when he heard a loud pop when taking a single in the ODI match against New Zealand at Vishakapatnam.
Sharma missed the entire series against England and the four Test match rubber against Australia.
"To be honest I was scared; it's something that had never happened. I heard a loud noise when taking the run. I got the MRI done but once days passed by we contacted a lot of doctors and spoke to (Indian team physio) Patrick Farhart as well. They all gave me confidence that it's not a major problem and was a small injury. I went through it quite comfortably," Sharma explained.
He did not agree that the injury was a setback to his career.
"I am just 29. Five months missing cricket does not do any bad. These things will happen in future too. In your career you will miss games. It has happened before and now it does not come as a surprise. It's important for me to stay strong and focus ahead. I am looking forward and there's so much cricket coming up."
The Mumbai-born player said it was frustrating to sit out during his rehabilitation at the National Cricket Academy in Bengaluru and watch his Indian teammates take on strong opposition like Australia after getting injured during the ODI series against New Zealand.
.@MahelaJay: "@ImRo45 is a very gifted player! He goes with the flow, and that suits him as a T20 captain." #CricketMeriJaan pic.twitter.com/ykTrz3dHql

— Mumbai Indians (@mipaltan) April 2, 2017
"It was tough sitting in the hotel room and watching the team play. Yes, you have to go through it and I have done it many times. I was focusing on how quick I could get on the field. I give a lot of credit to NCA staff.
"When you have a big injury you tend to lose muscle strength. It was a big challenge to get it back and become lot stronger. Thankfully I am back on field and ready to play again," he added.
Sharma, who took over captaincy reins from Australian Ricky Ponting after six games in 2013, was gung-ho about his team's bowling attack this season comprising Lasith Malinga, Mitchell Johnson, Mitchell McClenaghan from overseas and up and coming India's limited overs specialist, Jasprit Bumrah.
"We might surprise a team or two with the kind of bowling attack. It's a long tournament and we can't think too far ahead. We have to break it into parts. We play five games in first 18 days here and I see it as an advantage." He conceded that in 2016 the team was not consistent enough to go all the way to retain the title which it won for the second time in 2015.
"Last year we were not consistent enough. It's a fast-paced tournament and we play every second or third day. We have to break into parts. We want to start well. Our first opposition is Pune and they have a pretty exciting squad with some new faces."
He was happy to work with new coach and former Sri Lanka captain Mahela Jayawardene who has taken over from Ponting.
"Mahela and (bowling coach) Shane Bond (of New Zealand) are working on their (Pune) line up. When we go on field we are not short on information.
.@ImRo45: "Injuries are part & parcel of a sportsman's career. I was just focusing on how quickly I could get back." #CricketMeriJaan pic.twitter.com/6p5yh7IlOm

— Mumbai Indians (@mipaltan) April 2, 2017
"I am looking forward to work with Mahela who I have seen from the other side. He's a legend. I am counting on his experience and knowledge. He will be able to guide us if we are in trouble."
He did not find excuses for last year's poor show that was prompted, in a way, by the shifting of MI's home matches from the Wankhede Stadium to Vishakapatnam after a court verdict.
"The shift came at the last moment and the pitches at Vizag definitely did not suit our game. Having said that it's not an excuse. We did not get adjusted to conditions quicker. Whatever the ground, you have to play as a unit. It's no excuse for not qualifying (for the play offs).
"It was a learning curve and we know now what to expect, if a game or two get shifted, you have to be ready to perform if you are a champion side."
He expects the Wankhede pitches this year to have a consistent bounce although they would get slower as the tournament progresses.
"Anything you do at the Wankhede the bounce will be consistent, but as the tournament goes on the pitches become slower and slower, not only at Wankhede but all over India, as it's peak summer."
(With inputs from PTI)
Topics mentioned in this article