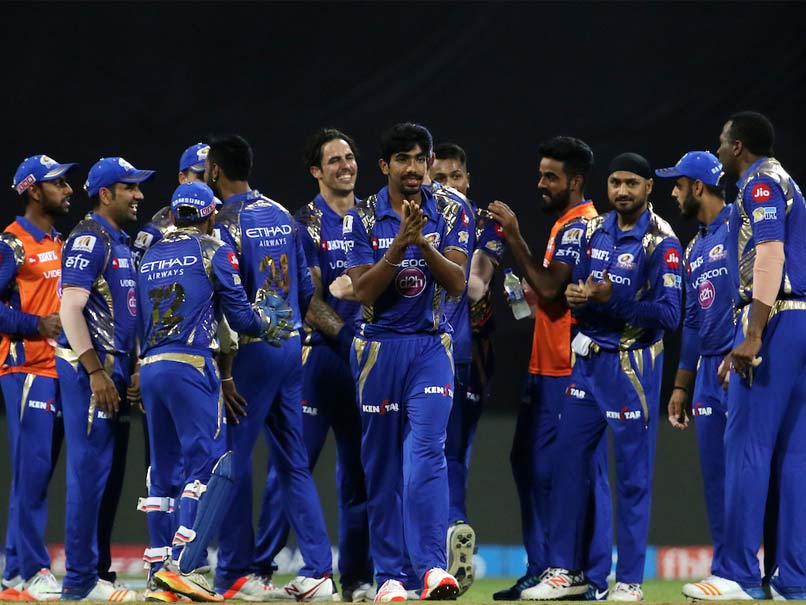 IPL highlights, MI vs DD: Mumbai beat Delhi by 14 wins. McClenaghan was named Man of the Match.
© BCCI
Mumbai Indians increased their lead at the top of the IPL 2017 points table with a convincing 14-run win over Delhi Daredevils at the Wankhede stadium on Saturday night. The win was made possible courtesy some brilliant bowling by New Zealand pacer Mitchell McClenaghan, who took three wickets for just 24 runs in his four overs. Delhi at one stage were reduced 24 for six and looked to be on course to bundled out very soon but an exceptional 91-run partnership between Chris Morris (52 not out) and Kagiso Rabada (44) brought Delhi back from the dead. However, it was not enough as Mumbai held on to their nerves and bowled well in the death to not let the match get away from their grasps. (SCORECARD)
IPL highlights between MI vs DD straight from Mumbai, India.
23:52 IST: Thank you for reading our live blog. Please tune in tomorrow for another double header of Indian Premier League.
23:50 IST: Mitchell McClenaghan was adjudged the Man of the Match.
23:47 IST: Mumbai Indian beat Delhi Daredevils by 14 run at Wankhede. Mumbai bowlers were too good for Delhi Daredevils today.
23:46 IST: Brilliant last over bowling from Pandya, two dot balls in the over.
23:45 IST: Morris brings up his half century, Delhi need 17 from 3 balls.
23:44 IST: Four! Wide from Pandya, Morris slashes at the ball hard. Delhi 19 off 4 balls.
23:43 IST: Delhi need 25 off the last over. Morris key for Delhi!
23:37 IST: Out! Slower delivery from Bumrah, sends Rabada (44) back to pavilion. Delhi need 28 from 8 balls.
23:34 IST: Six! Morris gets the ball right in the slot and smokes the ball for a biggy!
23:31 IST: Four! Morris slashes hard at McClenaghan, top edges the ball for a boundary.
23:24 IST: Delhi Daredevils need 46 runs from 24 balls. Rabada and Morris reviving Delhi and giving a tough fight to the hosts.
23:10 IST: Delhi Daredevils need 65 runs in 42 balls with required run rate at 9.29.
23:06 IST: Chris Morris and Kagiso Rabada bring up their 50-run partnership!! Delhi looking good again.
22:58 IST: Four! Rabada clears mid-off fielder easily for a boundary.
22:55 IST: Six! Rabada smacks Harbhajan for a maximum over long off.
22:54 IST: Four! Morris reverse sweeps Harbhajan for a boundary on the point covers.
22:51 IST: After nine overs, Delhi 44 for six. Need 99 runs in 66 balls.
​22:49 IST: Four! Beautiful piece of timing from Rabada, hits Hardik straight down the ground.
22:45 IST: Four! Rabada cuts the ball hard enough to go past Rohit Sharm at the first slip.
22:38 IST: Out!! Karun Nair going for the cut, drags the ball onto his stumps. Delhi 24 for six after 6.3 overs. Mumbai Bowlers hunting down the Delhi batsmen one by one.
BELIEVE!#CricketMeriJaan #MIvDD #MI pic.twitter.com/Yaf9kUvjg4

— Mumbai Indians (@mipaltan) April 22, 2017
22:32 IST: Out! Delhi batting line up crumbling down like dominoes. Big thick outside edge from Rishabh Pant to Harbhjan Singh at first slip. Delhi 21 for 5 after 5.3 overs.
22:24 IST: Out! Mumbai bowlers tearing through the Delhi batting line-up. McCleanghan trapping Corey Anderson (0) in front of the wicket. Delhi 21 for four after four overs.
22:20 IST: Out! McClenaghan bowls on the leg side as Iyer edges it to Partiv Patel. Delhi 20 for three after 3.3 overs.
OUT! @Mitch_Savage is on a roll! One Kiwi accounts for the other! Delhi are four down!#CricketMeriJaan #MIvDD #MI pic.twitter.com/h7eqrJjUur

— Mumbai Indians (@mipaltan) April 22, 2017
22:13 IST: Four! Shreyas Iyer flicks the ball for a boundary on the leg.
22:10 IST: Wicket! Hit uppishly straight to mid off. Samson's short stay at the crease comes to an end. McClenaghan strikes for Mumbai in his first over. Delhi 10 for 2.
22:08 IST: Two back to back boundaries for Sanju Samson. One over gone. It is 9 for 1.
22:05 IST: Out! Brilliant fielding. Hardik Pandya was quick to get off the blocks in the cover region and Aditya Tare is short of his crease. Delhi have lost an early wicket as Tare walks back to the dressing room, run out without troubling the scorers much.
22:02 IST: Sanju Samson and Aditya Tare are the two openers for Delhi Daredevils. Mitchell Johnson to start the proceedings with the new ball.
22:00 IST: Welcome back to the second innings. So the players have taken the field.
21:47 IST: Mumbai Indians finish 142 for eight in their 20 overs. Good disciplined bowling from Delhi Daredevils.
21:45 IST: Four! Big Swing from Mitchell Johnson, ball takes an inside edge and trickles down to the boundary.
21:44 IST: Run-out! Rocket arm throw from Karun Nair, Pant collects and takes the bails off as Hardik falls short of the crease. Mumbai 135 for eight.
21:42 IST: Chris Morris bowling the penultimate over for Delhi Daredevils vs Mumbai Indians.
21:40 IST: Run-out! Rabada uses his football skills to kick the ball towards the stumps, dismisses Harbhajan Singh. Mumbai Indians 132 for seven after 19 overs.
21:39 IST: Six! Full length from Rabada and Hardik sends the ball into the stands.
21:38 IST: Rabada bowls the extra delivery brilliantly, as Hardik misses his heave.
21:36 IST: Poor decision by the field umpire for a no-ball. Free hit for Mumbai Indians.
21:35 IST: Brilliant over from Pat Cummins, three runs and a wicket off the 18th over -- Mumbai 123 for six.
21:31 IST: Out! Slower ball from Cummins, Pollard heaves it straight up in the sky, Samson completes the catch. Mumbai 120 for six in 17.1 overs.
21:26 IST: Six! Hardik smokes Morris for a big maximum with a good swing of the bat.
21:25 IST: After 16 overs Mumbai Indians stand at 110 for five.
21:22 IST: Four! Slow bouncer from Pat Cummins and Pollard pulls it.
21:19 IST: Four! Pollard clubs Mishra straight down the ground. Power coming into play for him.
21:15 IST: Four! Pollard slams Zaheer straight down the ground. Mumbai Indians after 14 overs, 94 for five.
21:12 IST: Four! Good bouncer from Zaheer Khan, Pollard top edges the ball for a boundary.
21:08 IST: Out! Amit Mishra traps Krunal Pandya with a wrong one as Pant completes a fine catch behind the stumps. Mumbai 84 for five.
21:07 IST: Pollard not having the best of times in the middle, has just scored 4 runs from 13 balls.
21:02 IST: Four! Little bit of width from Zaheer Khan and Krunal makes no mistake.
20:54 IST: Half of the innings gone, Mumbai Indians stand at 68 for four. Good disciplined bowling by Delhi.
20:50 IST: Two news batsmen out there in the middle for Mumbai, Kieron Pollard and Krunal Pandya.
The two KPs are together and they won us the game against RCB. Need a repeat, boys. #MIvDD #CricketMeriJaan #MI

— Mumbai Indians (@mipaltan) April 22, 2017
20:45 IST: Out! Unable to read the googly from Amit Mishra, Rohit Sharma slog sweeps the ball to Pat Cummins. Mumbai 60 for four after 8.1 overs.
​20:38 IST: Out! Pat Cummins makes Rana pull straight to deep backward square leg. Mumbai lose 3 wickets inside eight overs.
20:35 IST: Four! Reverse from Nitish Rana for boundary over point.
20:32 IST: After six overs, Mumbai Indians stand at 48 for two -- lost both openers.
20:28 IST: Run-Out! A blinder from Sanju Samson as he catches Buttler short of the crease with a direct hit. Mumbai 47 for two at the end of 5.1
20:26 IST: Four! Drives Zaheer over the inner circle, Buttler going full swing!
20:24 IST: Four! Ball on the pads, Buttler guides it with ease.
20:21 IST: Out! Debutant Kagiso Rabada cleans up Partihv Patel. Perfect yorker as stumps are all over the place.
20:18 IST: Six! Buttler starting to fire, smashes the Rabada length ball over mid-wicket.
20:16 IST: After 3 overs, Mumbai Indians stand at 29 for zero.
20:12 IST: Four! Onto the pads, Parthiv pushes the ball for a boundary.
20:11 IST: Safe! Rishabh Pant drops a complete sitter, Jos Buttler gets a life.
20:10 IST: Four! Advancing down the wicket, Buttler heaves as ball top edges towards third man to reach the rope.
20:09 IST: Six! Buttler pulls Morris for the first maximum of the innings.
20:05 IST: After the end of first over, Mumbai Indians stand at 8 runs for no loss.
20:03 IST: Wide from Rabada and Rishabh Pant misses the ball as it goes for a boundary.
20:02 IST: Kagiso Rabada starts the proceedings for Delhi Daredevils.
20:00 IST: Parthiv Patel and Jos Buttler opening the batting line up for Mumbai.
19:56 IST: The playing XI for Mumbai Indians.
MI XI: P Patel, J Buttler, N Rana, RG Sharma, K Pollard, H Pandya, K Pandya, H Singh, J Bumrah, M McClenaghan, M Johnson

— IndianPremierLeague (@IPL) April 22, 2017
19:55 IST: The playing XI for Delhi Daredevils.
DD XI: S Iyer, S Samson, K Nair, R Pant, C Morris, A Tare, C Anderson, P Cummins, K Rabada, A Mishra, Z Khan https://t.co/44ytV75SJS #MIvDD

— IndianPremierLeague (@IPL) April 22, 2017
19:39 IST: Meanwhile, in Pune, MS Dhoni has shown his chasing skills again and led Pune to a thrilling six-wicket win over defending champions Hyderabad. Click here to get all the highlights of the match.
19:37 IST: And finally, Kagiso Rabada will make his long-awaited IPL 2017 debut.
19:35 IST: Zaheer Khan wins the toss and Delhi will bat first against Mumbai at the Wankhede.
19:30 IST: Toss time!!
19:25 IST: Hello and welcome to the live blog of the day's second match between Mumbai and Delhi.
Mumbai were in top form in Indore, with Parthiv Patel, Jos Buttler and Nitin Rana absolutely decimating the clueless KXIP bowling as the side cleared the 198-run challenge with almost five overs left!
All three were in incredible form, but it was Rana who has really captured the imagination of people. The Delhi batsman is now wearing the Orange Cap, ahead of David Warner and Hashim Amla, who would be excused for thinking that his century would be enough to beat MI.
What is really daunting is that Hardik and Krunal Pandya were not even needed to break a sweat. On the other hand, the DD bowlers were really put to task by Kane Williamson and Shikhar Dhawan. Thereafter, the batting was a little disorganized as DD has yet to find a batting formula.
(Except for the headline, this story has not been edited by NDTV staff and is published from a syndicated feed.)