Story Progress
Back to home
IPL Highlights, RPS Vs SRH: Brilliant MS Dhoni Helps Pune Beat Hyderabad By 6 Wickets
IPL highlights, RPS Vs SRH: Dhoni, Tripathi help Pune beat Hyderabad by 6 wickets.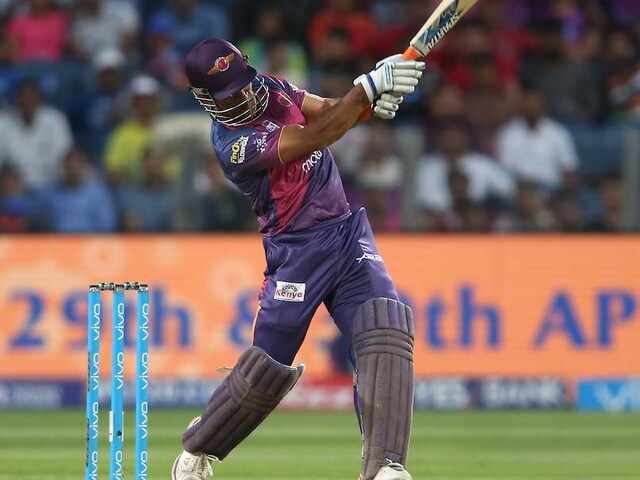 IPL highlights, RPS Vs SRH: Pune registered their 3rd win by beating SRH by 6 wickets.
© BCCI
Rising Pune Supergiant (RPS) beat Sunrisers Hyderabad (SRH) by six wickets in the Indian Premier League (IPL) in Pune on Saturday. Heroics from Rahul Tripathi (59) and MS Dhoni helped Pune overhaul the total of 177 to register their third win of the season. Coming to play almost after a week RPS showed great composure and focus against Sunrisers Hyderabad. Dhoni thrashed Bhunveshwar Kumar and Mohammed Siraj in the most important over, which did the trick for the home team. Rashid Khan, for Sunrisers Hyderabad, displayed bowling figures of one for 17 from his four overs. MS Dhoni was adjudged the Man of the Match for his unbeaten 61 off 34 balls. (SCORECARD)
Catch live cricket action and updates of RPS VS SRH in Pune, here:
19:32 IST: Dhoni wins it for RPS, slams the last ball through covers for a boundary, RPS 179 for four, beat SRH by 6 wickets.
19:28 IST: Pune need 4 off 2 balls, Siddharth Kaul bowling 'The' over for SRH!
19:26 IST: Pune need 6 off 4 balls.  Exciting last over this!
19:25 IST: Four off the first ball of the last over. Manoj Tiwary gets a life as Rashid Khan drops the catch on the boundary line.
19:24 IST: Rising Pune Supergiant need 11 runs in 6 balls to win vs Hyderabad.
19:23 IST: 19 runs from the Bhuvneshwar over, Pune edge closer to win!
19:21 IST: Six! Dhoni brings up his fifty with the helicopter shot.
19:20 IST: Four! Dhoni killing it out there in the middle.
19:19 IST: Four! The ball falling a bit short, Dhoni swings it for a boundary on the square leg boundary.
19:18 IST: First ball wide from Bhuvi of the 18th over.
19:16 IST: Pune need 30 off 12 balls. SRH need to contain the powerhouse Dhoni.
19:15 IST: Four! Choosing his spots comfortably now, Dhoni guides the ball towards point boundary.
19:14 IST: Six! Siraj being taking to the cleaners, Dhoni flat bats the ball for a maximum.
19:13 IST: Four! Shuffles, gets in line and Tiwary plunges the ball for a boundary at fine leg boundary.
19:12 IST: Close chance! Dhoni hits the ball and it falls short of Bhuvneshwar Kuamr.
19:11 IST: Four off the last ball of the Bhuvneshwar over, Manoj Tiwary gets into the act of scoring runs. Pune need 47 in 18 balls.
19:03 IST: Out! Bhuvi strikes for SRH. Ben Stokes flicks the ball right into the hands of the substitute fielder Shankar. Pune now 121 for four.
19:02 IST: Siraj concedes only six runs, brilliant efforst from the fielders, saved at least two boundaries.
18:56 IST: Four! Ben Stokes drives Kaul for a boundary. Pune need 62 in the last five overs.
18:55 IST: Six! Flat hits Kaul for a maximum, Dhoni looking to free his arms with five overs to go.
18:50 IST: Two new batsmen for RPS at the crease, things look difficult for RPS as SRH continues to takes wickets at regular intervals.
18:49 IST: Out! Lovely piece of fielding from Rashid Khan, direct hit on the stumps.
18:42 IST: Four! Dhoni cuts Siraj with authority for a boundary.
18:41 IST: Pune require 86 more runs to win from 48 deliveries.
18:34 IST: Wicket for SRH! Trying to cut Rahisd Khan, Smith drags the ball onto the stumps. RPS 87 for two.
18:31 IST: Back-to-back sixes from Steven Smith! Getting into the flow of scoring runs.
18:28 IST: Four! There is no stopping Tripathi, smart cricket from the youngster.
18:27 IST: Rahul Tripathi brings up his maiden IPL fifty off 32 balls.
Maiden #IPL 50 off just 32 balls. Well played R Triphathi! #RPSvSRH #RangWahiJungNayi pic.twitter.com/SJSahYDHcy

— RisingPuneSupergiant (@RPSupergiants) April 22, 2017
18:24 IST: Pune after 8 overs, 61 for one at 7.62 runs per over. Need more 116 runs to win.
18:19 IST: Good over from Rashid Khan, concedes only three run from his first.
18:15 IST: One-hand six from Tripathi! Giving his team a solid start.
18:14 IST: Four! Extra Cover this time, Tripathi picking up his spot with ease.
18:12 IST: Six! Down the track and smacks Kaul with a straight bat.
18:08 IST: Four! Tripathi unhindered by the dropped catch, continues to strikes the ball.
​18:07 IST: Six! Short from Siraj and Tripathi crunches it for a maximum.
18:06 IST: Dropped! Bipul Sharma misses the catch of Tripathi as he lives on.
18:05 IST: Four! Steven Smith comes down the wicket and hits the ball straight down the ground.
18:03 IST: Four! Tripathi keeping the run flow consistent.
18:01 IST: Out! Trying to hit Bipul over the rope, Rahane miscues the ball and gets caught at mid-on. 
18:00 IST: After 3 overs, Pune stand at 15 for zero.
17:58 IST: Four! Little edge from Tripathi and the ball runs down to the rope.
17:57 IST: Four! Tripathi gets his first boundary of the innings, drives Bhuvneshwar through covers.
17:52 IST: Brilliant first over from Bhuvneshwar Kumar, gives away only one run.
17:51 IST: Bhuvneshwar Kumar starting the proceedings for SRH.
17:50 IST: Ajinkya Rahane and Rahul Tripathi opening the batting line-up for RPS.
17:49 IST: Welcome back to the second innings of the match between RPS and SRH.
17:33 IST: Hyderabad scored 63 runs in the last five overs.
17:32 IST: Sunrisers Hyderabad finish 176 for three in 20 overs. 
17:31 IST: Four! Making room for his self, slaps the ball for a boundary.
17:30 IST: Four! Squeezing the ball out inside out, Henriques brings his fifty up.
Moises Henriques provided the lift when we were stranded - slamming his 3rd half-century of this season.#OrangeArmy #RiseOfOrange #RPSvSRH pic.twitter.com/lTimHUNrOm

— SunRisers Hyderabad (@SunRisers) April 22, 2017
17:29 IST: Four! Playing the bouncer late, Hooda guides the ball away for a boundary over keeper's head.
17:28 IST: Last over of the first innings.
17:26 IST: Six! Henriques puts the ball away for a huge maximum,  times the slower delivery perfectly.
17:25 IST: Huge maximum from Hooda! Smokes Unadkat straight into the third tier.
17:22 IST: Four! Square cut from Henriques as he guides the ball for a boundary. SRH 146 for three after 18.
17:21 IST: Four! Hooda heaves for a maximum, but the ball takes a thick edge and goes past the wicket-keeper for a boundary.
17:18 IST: Four! Henriques coming to the rescue, cuts and places the ball beautifully for a boundary.
17:16 IST: Wicket! Unadkat gets the big man, trying the switch hit, Warner misses the ball as it crushes into the wickets. SRH 129 for three.
17:14 IST: Six! Henriques slams the ball easily out of the ground. Good start to the over.
17:09 IST: Four! Wide from Christian as Warner slashes it for a boundary with help of an outside edge.
17:08 IST: After 15 overs, Sunrisers Hyderabad stand at 113 for two.
17:07 IST: Warner failed to put the free-hit away for a boundary or a biggy.
17:06 IST: No ball from Tahir as the ball was above waist-line, SRH gets a free hit!
17:05 IST: Six! David Warner gets in position for the switch hit and dispatches the ball for a maximum. 
17:04 IST: 100 comes up for Sunrisers Hyderabad in the 15th over.
17:02 IST: David Warner needs to fire as his strike rate is less than 100 now.
17:01 IST: Back-to-back boundaries for Moises Henriques!! 
16:55 IST: LBW!! Christian traps WIlliamson in front of the wickets with a slower delivery. SRH 84 for two (12.3)
16:52 IST: Four! Williamson turning the heat on in Pune vs Hyderabad.
16:51 IST: Six! Kane Williamson gets the top edge of the bat and the ball flies over fine leg.
16:50 IST: Dropped! Smith does his fellow Australian a favour. Puts down Warner at mid-off.
16:44 IST: Half of the first innings done, SRH 65 for one.
16:37 IST: Out! Imran Tahir strikes first ball, sends Dhawan packing. SRH 55 for one.
Wait for it! wait for it! It's #MahirTahir. Strikes on his 1st ball and not for the 1st time. Gabbar departs. #RPSvSRH #RangWahiJungNayi

— RisingPuneSupergiant (@RPSupergiants) April 22, 2017
16:31 IST: 
Missing you ASH :( #RPSvSRH #RangWahiJungNayi https://t.co/hkPegaaBSt

— RisingPuneSupergiant (@RPSupergiants) April 22, 2017
16:29 IST: Four! Perfect timing from Dhawan sends the ball straight down the ground for a boundary.
16:27 IST: After six overs, Hyderabad stand at 45 for zero. Dhawan and Warner giving Hyderabad a steady start.
16:26 IST: Warner cuts Thakur beautifully for a well timed boundary.
​16:24 IST: Four! Full length delivery from Shardul Thakur, Warner dismisses it for a boundary straight down the ground. 
16:18 IST: Four! Dhawan cuts Stokes handsomely for a boundary.
16:16 IST: Four! Slog sweep from Dhawan and the ball races to the rope for boundary.
16:12 IST: Four! Dhawan pulls Unadkat for a boundary.
16:09 IST: Great over from Washington Sundar, concedes only 5 runs from his first over.
16:04 IST: Decent start for both teams, after first over SRH stand at 7 runs for no loss.
16:02 IST: Four! Dhawan advances down the wicket and slams the ball for the first boundary.
16:01 IST: Jaydev Unadkat starting the proceedings for Supergiant.
16:00 IST: Shikhar Dhawan and David Warner opening the batting line-up for SRH.
15:59 IST: Players and umpires make their way out to the field.
15:41 IST: Here are the playing XI for both the teams.
#IPL Match 24: Here are the Playing XIs for #RPS & #SRH pic.twitter.com/QRKtW899hd

— IndianPremierLeague (@IPL) April 22, 2017
15:38 IST: RPS gearing up before their match Sunrisers Hyderabad.
#IPL Match 24: @stevesmith49 is back! Here are the @RPSupergiants boys gearing up for #RPSvSRH pic.twitter.com/8RTlu234nQ

— IndianPremierLeague (@IPL) April 22, 2017
15:37 IST: David Warner and Co warming up before the match.
#IPL Match 24: @SunRisers are warming up ahead of #RPSvSRH pic.twitter.com/m0wZ0EHDZA

— IndianPremierLeague (@IPL) April 22, 2017
15:35 IST: For Sunrisers Hyderabad, Bipul Sharma comes in place of Yuvraj Singh.
15:34 IST: For Pune Supergiant, Washington Sundar makes his IPL debut as Rahul Chahar is left out.
15:31 IST: Rising Pune Supergiant win toss and elect to field against Sunrisers Hyderabad.
15:27 IST: It's toss time, stay glued!
15:16 IST: 
#IPL Preview by @statanalyst: Match 24 - @RPSupergiants vs @SunRisers. Match starts at 4 PM IST today https://t.co/UDmNoxViTV #RPSvSRH pic.twitter.com/yMp22OwlzJ

— IndianPremierLeague (@IPL) April 22, 2017
15:11 IST: Standing at the bottom of the table, Pune will be looking to gain points and jump places.
15:10 IST: Hello and welcome to the live blog of the match between Rising Pune Supergiant and Sunrisers Hyderabad in Pune.
SRH on the other hand began with two wins, then lost two matches before they came back with wins over Kings XI Punjab and Delhi Daredevils. So they will definitely be more clued into having momentum.
Those two wins have put SRH at the third spot on the table, while RPS, with just 2 wins from 5 matches, are just above Gujarat Lions, a position they would definitely like to improve on.
Promoted
RPS captain Steve Smith went off to Dubai in the break and possibly cleared his head and would be coming back with fresh ideas.
On the other side, his Australian team-mate David Warner would be keen to keep Smith and his side at bay.