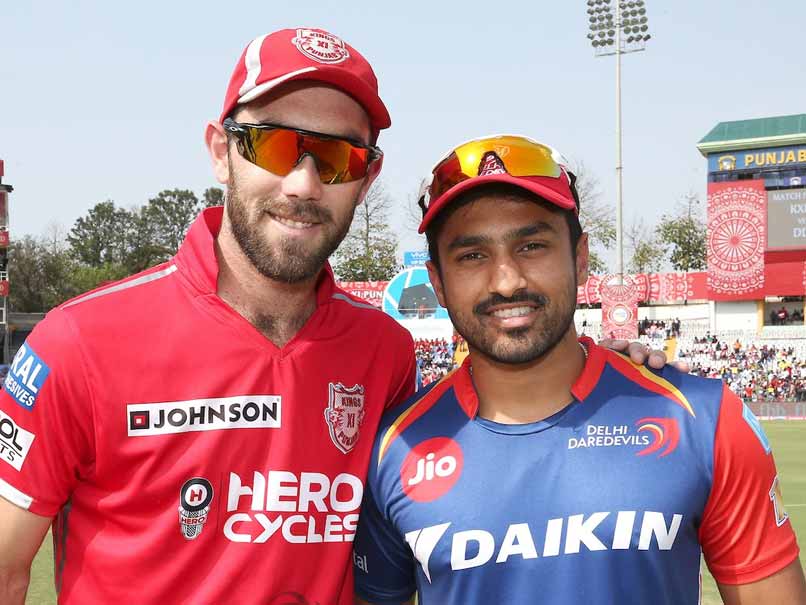 IPL highlights, KXIP Vs DD: Punjab thrashed Delhi by 10 wickets to gain two points.
© BCCI
Kings XI Punjab (KXIP)  beat Delhi Daredevils (DD) by 10 wickets in match 36 of Indian Premier League (IPL) in Mohali on Sunday. Leading the run-chase for Punjab, Martin Guptill scored his maiden IPL fifty off 27 balls and Hashim Amla remained 16 not out off 20 balls. After winning the match in 7.5 overs, Punjab are now placed fifth in the points table with eight points. This was a dismal performance by Delhi, as they struggled with their batting and didn't have enough runs on the board for the bowlers to defend. Glenn Maxwell will be happy with his team's performance as they managed to get two important points that will also help them to improve their net run rate. Sandeep Sharma was adjudged the Man of the Match for finishing the match with figures of 4 for 20. (SCORECARD)
Catch all highlights of KXIP Vs DD in Mohali, here:
18:12 IST: Punjab beat Delhi by 10 wicket to clinch a much needed victory.
18:11 IST: Six! Huge maximum from Martin Guptill towards cow corner. Scores are level. Punjab need 1 more run to win.
18:09 IST: Punjab need only 9 runs from 78 balls to win.
18:07 IST: Six! Short delivery from Amit Mishra, Guptill rocks back and smokes the ball for a huge maximum on the leg side.
18:06 IST: Kings XI Punjab need more 18 runs to win in 84 balls.
18:06 IST: Four! Back-to-back boundaries from Guptill. Punjab cruising vs Delhi.
18:05 IST: Four! Guptill hits Shami for a boundary through the gap on the leg side.
17:59 IST: Six! Guptill shimmies down the pitch and clubs the ball straight down the ground for the first maximum.
Match 36: Martin Guptill hits Chris Morris for a 6! 37/0 (4.3 Ov) #KXIPvDD https://t.co/xDa40DXotR pic.twitter.com/k5bwTVAWxA

— NDTV Live Scores (@CricketNDTVLive) April 30, 2017
17:57 IST: Four! Full length from Rabada, Guptill miscues it but the ball reaches the boundary. Delhi 28 for zero after four overs.
17:56 IST: Four! Bounce from Rabada and Guptill plays the ball late over the slips to collect his boundary.
17:49 IST: Four! Rabada gets his yorker wrong, Amla guides the ball through covers for a boundary. Delhi 15 for zero after two overs.
17:44 IST: Four! Guptill gives himself room and finds the fence again. Delhi 8 for zero after first over.
17:42 IST: Four! Guptill on the charge, slams Shami on the off-side. First boundary of the second innings.
17:41 IST: Mohammad Shami leading the attack for the Daredevils.
17:40 IST: Martin Guptill and Hashim Amla opening the batting for Punjab.
17:39 IST: Welcome back to the second innings of the match between Kings XI Punjab and Delhi Daredevils.
17:27 IST: Stay tuned for the second innings.
Innings Break: DD 67/10 (17.1 Ov) Amit Mishra 4 (9b, 0x4,0x6), CRR 3.9 vs Kings XI Punjab #KXIPvDD https://t.co/xDa40DXotR

— NDTV Live Scores (@CricketNDTVLive) April 30, 2017
17:20 IST: Out! Mohit Sharma bowls a slower delivery and Nadeem edges the ball back to Mohit. Delhi all out for 67 in 17.1 overs in Mohali.
17:18 IST: Out! Punjab bowlers tearing apart the Delhi batting line up. Shami departs for 2 runs.
17:13 IST: Bowlers pick! Sandeep Sharma finishes 4 for 20 in his stipulated four overs.
17:10 IST: Out! Looking for a biggy, Rabada heaves but miscues and Shaun Marsh completes a comfortable catch this time. Delhi 62 for eight, 15.3 overs.
17:07 IST: Dropped! Rabada hits straight at Shaun Marsh but the ball pops out of his hand.
17:03 IST: Out! Wide from Varun Aaron as Anderson drags the ball into his stumps. Delhi in massive trouble, stand at 59 for seven after 14.1 overs.
Match 36: WICKET! Corey Anderson b Varun Aaron 18 (25b). Delhi Daredevils 59/7 (14.1 Ovs). #KXIPvDD pic.twitter.com/PFO1asZbN7

— NDTV Live Scores (@CricketNDTVLive) April 30, 2017
17:00 IST: Brilliant over from Glenn Maxwell, gives only a run off his final over. Finishes 12 for one. Delhi 59 for six after 15 overs.
Strategic Time-Out: Delhi Daredevils (14.0 Ov) Corey Anderson 18 (24), Kagiso Rabada 11 (16). #KXIPvDD https://t.co/xDa40DXotR

— NDTV Live Scores (@CricketNDTVLive) April 30, 2017
16:52 IST: Six! Corey Anderson smacks Axar for a big maximum on the leg side.
16:50 IST: 10 overs done, Delhi stand at 37 for six.
16:45 IST: Out! Big wicket for Punjab. Axar Patel gets rid off Chris Morris. Delhi wickets falling like dominoes.
16:41 IST: Out! Glenn Maxwell traps Rishabh Pant in front of the wicket. Delhi 30 for five.
16:37 IST: After seven overs, Delhi stand at 29 for four.
16:32 IST: Out! Axar Patel clean bowls Karun Nair in his first ball. Delhi stand at 25 for four, in lot of trouble! Punjab stand tall.
16:31 IST: At the end of the powerplay, Delhi stand at 25 for three.
16:24 IST: Out! Iyer departs as Sandeep takes a cracker of a catch by diving on his left off his own bowling. Delhi 22 for three after 5 overs.
16:23 IST: Six! Karun Nair smokes Sandeep Sharma for the first maximum of the game.
16:18 IST: Four! Beautiful drive from Iyer through the covers.
16:14 IST: Out! Slower ball from Sandeep again, leading edge from Samson and Mohit Sharma completes the catch. Delhi 7 for two after 2.5 overs.
16:13 IST: Four! First boundary of the innings for Delhi, slower ball from Sandeep and Samson puts the ball away.
16:10 IST: Two good overs in a row for Punjab. Delhi 2 for one after two overs.
16:08 IST: Stand-in captain Karun Nair joins Samosn out in the middle.
16:05 IST: Very good over from Sandeep Sharma and brilliant start for Punjab. Delhi after the first over stand at 1 for one.
16:04 IST: Out! Sharma strikes in the last ball of the first over. Ball takes a thin outside edge of Billings and carries to Wriddhiman Saha. Billings gone for duck. 
15:58 IST: Sandeep Sharma leading the bowling attack for Punjab.
15:57 IST: Sanju Samson and Sam Billings opening the batting line up for Delhi.
15:51 IST: Playing XI for Punjab:
KXIP XI: H Amla, M Vohra, S Marsh, G Maxwell, M Guptill, W Saha, A Patel, M Sharma, V Aaron, Sandeep Sharma, T Natarajan

— IndianPremierLeague (@IPL) April 30, 2017
15:50 IST: Playing XI for Delhi:
DD XI: S Samson, S Billings, K Nair, S Iyer, R Pant, C Morris, C Anderson, K Rabada, A Mishra, M Shami, S Nadeem

— IndianPremierLeague (@IPL) April 30, 2017
15:43 IST: Kings XI warming up before their match against Daredevils.
#IPL Match 36: @amlahash returns at the top for @lionsdenkxip #KXIPvDD pic.twitter.com/lCTxrObZLr

— IndianPremierLeague (@IPL) April 30, 2017
15:40 IST: Karun Nair is leading Delhi Daredevils in absence of Zaheer Khan.
#IPL Match 36: @karun126 is leading @DelhiDaredevils in place of @ImZaheer #KXIPvDD pic.twitter.com/CpVcVz3xfU

— IndianPremierLeague (@IPL) April 30, 2017
15:34 IST: Team Changes - For Punjab, Hashim Amla and T Natarajan and Varun Aaron come back in the squad. For Delhi,  Zaheer Khan is out due to injury and Shahbaz Nadeem, Mohammed Shami, Sam Billings find their place back in the playing XI.
15:30 IST: Punjab captain Glenn Maxwell wins toss, elects to bowl against Delhi.
15:29 IST: It's toss time! 
15:27 IST: Hello and welcome to the live blog of the match between Kings XI Punjab and Delhi Daredevils.
KXIP found some hope in Shaun Marsh against Sunrisers Hyderabad, and it seems it would be a good idea if they could deploy both Marsh and Hashim Amla.
However, it is their bowling that has let them down repeatedly. The medium-pacers are struggling, the spinners are mediocre and the fast bowlers non-existent.
Both the teams are in trouble, but DD are really in a hole. Zaheer Khan would be hoping that his fast bowlers, who are formidable in the shape of Pat Cummins, Kagiso Rabada, Chris Morris and Corey Anderson. But the batting is struggling and there is where DD are at rock bottom. Either way, both teams would be hoping that they can reverse the process. Time is running out fast and DD need to react in a flash. As do KXIP.