Story Progress
Back to home
IPL Highlights, DD vs MI: Delhi All Out For 66, Lose By 146 Runs To Mumbai
IPL highlights, DD vs MI: Mumbai thumped Delhi by 146 runs at Feroz Shah Kotla.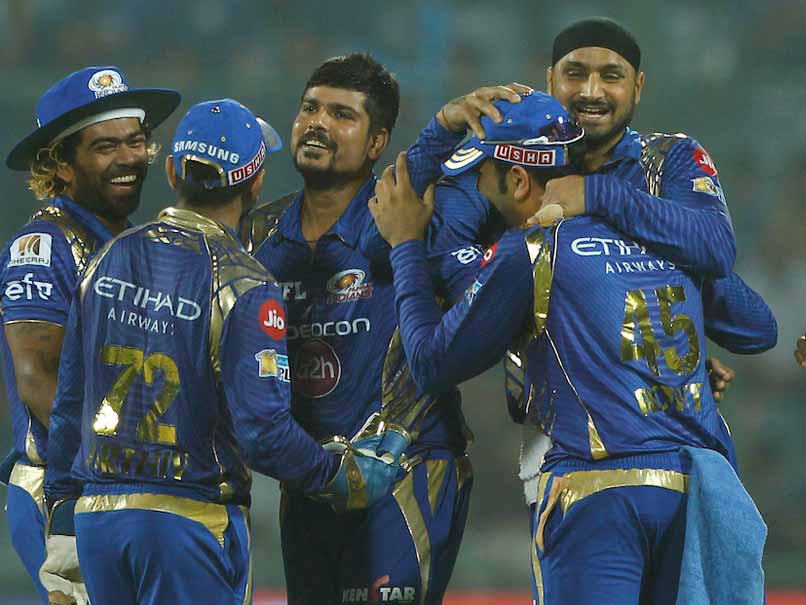 IPL highlights, DD vs MI: Mumbai thump Delhi by 146 runs to qualify for the Play-offs.
© BCCI
Mumbai Indians bowlers tore through the batting line-up of Delhi Daredevils (DD) and beat them by a huge margin of 146 runs in an Indian Premier League (IPL) game at the Feroz Shah Kotla on Saturday. Mitchell McClenaghan dismissed Sanju Samosn in the very first ball and Lasith Malinga sent Shreyas Iyer (6) back to the pavilion cheaply. Failing to adapt to the pressure, Delhi batsmen gifted away their wickets at regular intervals which helped Mumbai Indians register a win by the biggest margin in an IPL game. For Delhi Dardevils, Karun Nair scored the highest (21) and for Mumbai, Karn Sharma completed the game with figures of three for 11 in 3.4 overs. After this win Mumbai qualified for the Play-offs with 18 points. (Scorecard)
Catch all the highlights of the match between DD and MI straight from Delhi:
23:20 IST: Thank you for reading our live blog. Please do tune back tomorrow for another double header.
23:15 IST:Lendl Simmons is adjudged the Man of the match.
23:06 IST: And it's all over for Delhi Dardevils. Mumbai Indians beat Delhi Daredevils by 146 runs.
23:04 IST:Good over from Hardik Pandya, gives only two runs.
22:59 IST: With nine wickets down, Delhi is staring at the biggest margin of defeat!!
22:55 IST: Out!Harbhajan Singh gets his man again, Shami departs for seven.Delhi 57 for nine in 10.4 overs.
22:54 IST: Six!!Mohammad Shami smokes Harbhajan Singh for a huge maximum on the leg side.
22:52 IST: 10 overs done, Delhi stand at 50 for eight. Need 163 more runs to win.
22:50 IST: Out!Googly from Karn Sharma, failing to read it Rabada edges the ball to Rohit Sharma at first slip.Delhi 48 for eight after 9.4 overs.
22:43 IST: Out!Harbhajan gets his man, dismisses Pat Cummins. Delhi's chase in tatters as they stand 46 for seven after 8.2 overs.
22:42 IST: Six!Cummins smacks Harbhajan Singh with the turn for a maximum.
22:40 IST: Out!Rohit Sharma takes a blinder at first slip to dismiss Marlon Samuels.
22:33 IST: At the end of the powerplay, Delhi stand at 35 for five.
22:32 IST: Out!Trying to heave Malinga for a biggy, Anderson gives away his wicket in the deep.
22:30 IST: Four!Anderson smacks Malinga for a boundary on the leg side.
22:27 IST: Out!!Delhi in massive trouble as Karun Nair departs.Delhi after 4.4 overs stand at 31 for four.
22:25 IST: Four!Corey Anderson gets an inside edge and the ball runs through to the boundary.
22:23 IST: Four!Playing the ball yet again, Karun Nair puts the ball away for a boundary over the keeper's head.
22:19 IST: Out!Slower ball from Bumrah, trying to pull, Rishabh Pant hits the ball straight to Lendl Simmons, departs for duck.Delhi 20 for three after 3.2 overs.
22:17 IST: Six!Karun nair getting into the action, smacks the ball for a maximum to end the third. Delhi after three overs stand at 20 for two.
​22:16 IST: Four!Short from McClenaghan, Nair pulls the ball for a boundary.
22:15 IST: Four!Nair giving himself room, guides the ball for a boundary.
22:11 IST: Out!Short from Lasith Malinga, Iyer pulls, miscues and Harbhajan takes a simple catch. Delhi stand at five for two after 1.5 overs.
22:07 IST: Great start from Mumbai, Delhi Daredevils after the first over, stand at four for one.
22:04 IST: Wicket!!McLenaghan strikes first ball. Samson takes a long walk back to the pavilion for a duck. Looking to heave, Samson finds the fielder in the deep.
22:03 IST:Sanju Samson and Karun nair opening the batting for Delhi Daredevils.
22:02 IST:Mitchel McClengahan is leading the bowling attack for Mumbai Indians.
21:48 IST: And the first innings is done. Mumbai Indian score a mammoth total of 212 in 20 overs. Delhi have a tough task to overhaul the total.
21:45 IST: Six!Hardik Pandya is taking Cummins to the cleaners!!
21:44 IST: Six!Getting the yorker wrong, Hardik clubs Cummins for a maximum over mid off.
21:43 IST: Four!Hardik slices Cummins for a boundary, Mumbai eyeing big total!
21:41 IST: Four!Full length from Cummins, Hardik cuts the ball away for a boundary. Pressure on the bowler.
21:36 IST: Dropped!Trying to hit a big shot, Hardik swings, miscues and mid-off runs back to take the catch but misses.
21:35 IST: Boundary!Pollard hits Anderson straight down the ground for an one bounce four.
21:32 IST: Six!Wide from Anderson and Hardik slams the ball for a maximum.
21:29 IST: Four!Kieron Pollard brings up his 11th IPL fifty with a drive straight down the ground.Mumbai 166 for three after 17 overs.
21:23 IST:Excellent over from Rabada. Gives away just 7 runs and takes an important wicket
21:19 IST: Mumbai are 153 for 3 in 15.3 overs.Second time-out is called for
21:18 IST: OUT!Rohit Sharma is caught by Mishra off a Rabada delivery. The Mumbai captain departs for 10.
21:17 IST: Four! Pollard smashes another one!
21:16 IST: Zaheer gives away 9 runs, Mumbai are 148 for two at the end of 15 overs
21:15 IST: Four!Pollard hits a boundary...
21:12 IST:Zaheer comes back into the attack
21:09 IST: Six!!Down on one knee, Pollard sends the ball high up in the stands.
21:08 IST: Six!Pollard is slaughtering Amit Mishra.
21:05 IST: Four!!Rohit Sharma guides the ball for a boundary.
21:03 IST: Out!Anderson gets the much needed breakthrough. Onto the pads and Simmons pulls the ball away straight to short fine leg. Mumbai, after 12.3 overs, stand at 116 for two.
21:02 IST: Six!!Slower delivery from Corey Anderson, Simmons punishes him with a maximum.
21:01 IST: After 12 overs, Mumbai Indians stand at 109 for one.
20:58 IST: Six!Slower ball from Pat Cummins and Simmons hits the ball out of the park.
20:54 IST: Back-to-back sixes from Pollard!!Amit Mishra is being taken to cleaners.
20:53 IST: Six!Waiting for the ball, Kieron Pollard smokes Amit Mishra for a huge maximum.
20:52 IST:Lendl Simmons brings up his 10th IPL fifty off 37 balls.
20:50 IST: 10 overs done, Mumbai Indians on top as they stand at 84 for one.
20:49 IST: Four!Simmons slams the ball for a boundary on the off-side.
20:46 IST:Another good over from Amit Mishra, gives away three runs and takes a wicket.
20:43 IST: Stumped!Stepping down the wicket to heave Amit Mishra for a big one, Parthiv misses the ball, Rishabh Pant collects the ball and takes the bails off. Mumbai, after 8.4 overs, stand at 79 for one.
20:39 IST: Four!Short from Shami again, Lendl clobbers it away for a boundary.
20:37 IST: Four!Simmons welcomes Mohammad Shami with a boundary. Short ball from Shami, Simmons gets on top and powers it away for four runs.
Match 45: Lendl Simmons hits Mohammed Shami for a 4! 69/0 (7.1 Ov) #DDvMI https://t.co/P7AQU2kJlf pic.twitter.com/pkOjvTckG7

— NDTV Live Scores (@CricketNDTVLive) May 6, 2017
20:36 IST:Good first over from Amit Mishra, concedes only four runs.
20:30 IST: At the end of the powerplay, Mumbai Indians stand at 60 for no loss.
20:28 IST: Four!Making room for himself, Parthiv clubs the ball for another boundary.
20:27 IST: Four!Getting into the position early, Parthiv pulls Cummins for a boundary.
20:26 IST: Four!Length ball from Cummins, Lendl creams the ball for a boundary on the off-side.
20:24 IST: Close chance!Short from Cummins, Parthiv heaves on the leg side and Kagiso Rabada runs in for the catch but does not reach.
20:19 IST: Six!Short from Zaheer, Lendl smokes him for a maximum on the leg side.
20:16 IST: Four!Short and wide from Rabada, Simmons slaps the ball away over cover-point.
20:15 IST: Six!!Short from Kagiso Rabada, Lendl Simmons dispatches the ball away for the first maximum.
20:14 IST: Three overs gone, Mumbai Indians stand at 18 for zero.
20:13 IST: Four!Onto the pads from Zaheer, Parthiv guides the ball away for a boundary.
20:10 IST:Delhi have been really good with their bowling till now vs Mumbai Indians.
20:04 IST:Good start from Zaheer Khan as he gives away only three runs.Mumbai Indians stand at three runs for no loss after the first over.
19:59 IST: For Mumbai,Jos Buttler makes way for Lendl Simmons and Harbhajan Singh replaces Krunal Pandya. For Delhi,Zaheer Khan comes in and Shahbaz Nadeem goes out.
19:58 IST:Zaheer Khan is leading the bowling attack for Delhi Daredevils.
19:56 IST:Parthiv Patel and Lendl Simmons are opening the batting line up for the Mumbai Indians.
Promoted
19:55 IST: Hello and welcome to the live blog of the match between Delhi Daredevils and Mumbai Indians.
DD proved they had the hunger to succeed when they chased down targets of 209 and 186 in their last two matches at the Kotla but they have to be wary of Mumbai's challenge. To be able to be in the running for a Play-off berth, they have to win all their remaining matches. Mumbai have already sealed their Play-off berth and are now focused to staying the best in the league. With eight wins from 10 games, they've had the best performance so far and against Delhi, they want to keep that momentum. Captain Rohit Sharma has been in good form hitting his second fifty-plus score against Royal Challengers Bangalore in the last match. Pacer Mitchell McClenaghan is the team's leading wicket-taker with 15 so far while Harbhajan Singh has been their most frugal bowler with the economy rate of 5.86. (Live Scorecard)
Topics mentioned in this article