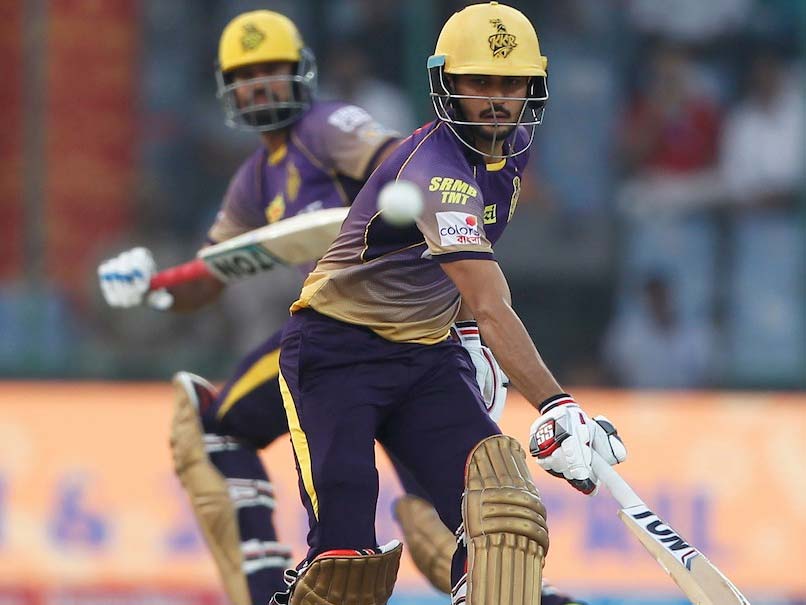 DD vs KKR Highlights: Kolkata with a 4-wicket win over Delhi registered their third consecutive victory.
© BCCI
Kolkata Knight Riders (KKR) won a thriller vs Delhi Daredevils (DD) by 4 wickets off the second-last ball of the innings in the 18th match of the Indian Premier League (IPL). After DD claimed quick wickets early in the innings, Yusuf Pathan and Manish Pandey took charge and built a 100-run partnership which provided the visitors with a win in the close contest. Despite Pathan and Pandey's heroics, the DD bowlers pegged KKR back in the last overs of the match and halted the flow of runs. Pathan and Pandey scored 59 and 69 respectively and as far as Delhi's bowling is concerned Zaheer Khan and Pat Cummins picket up two wickets each. The match took a turn when Sanju Samson pulled off a blinder by saving a certain six from Pandey. Delhi were looking for the kill as Amit Mishra dismissed Chris Woakes in the second ball of the last over. As Sunil Narine came out to bat, he took a single and handed the strike to Pandey who then hit a big six and took a double the next ball to win the match and register KKR's third consecutive win. (Scorecard)
Catch all the highlights of the match between DD and KKR straight from Feroz Shah Kotla, Delhi.
19:42 IST: Kolkata Knight Riders win a close contest match. Kolkata finish 169 for six in 19.5 overs.
19:41 IST: Two off the second last ball and Pandey wins it for KKR.
19:38 IST: Six! Manish Pandey slams Amit Mishra down the ground for a maximum.
19:37 IST: Sunil Narine comes in the middle to join Manish Pandey.
19:36 IST: Out! Chris Woakes stumped. Kolkata need 9 runs from 4 balls.
19:33 IST: One over to go and Kolkata need 9 runs to win a close contest !!!
19:30 IST: Samson pulls off a blinder. Saves sure shot maximum from Pandey!
19:27 IST: Kolkata need 16 runs off 12 balls. The game doing down the wire!
19:25 IST: Out! Looking for glory shot, Suryakumar sends the ball straight down the throat of Zaheer Khan.
19:23 IST: Perfect yorker from Cummins. Pandey blocks the ball! CLose shave for KKR.
19:22 IST: 6 runs from the Morris over. Kolkata need 20 off 18 balls.
19:18 IST: Kolkata need 28 runs off 24 balls!!!
19:17 IST: Manish Pandey brings up his half-century against Delhi Daredevils off 37 balls.
19:12 IST: Four! Pandey plays late and guides the ball to the boundary.
19:10 IST: Out! Morris sends Pathan packing for 59 runs. Short and wide outside off, Pathan goes for the pull and miscues it.
19:10 IST: Four! Full on the leg stump, Pathan swings the bat for boundary.
19:05 IST: Kolkata need 44 from 36 balls. Kolkata Knight Riders in the driver's seat.
19:01 IST: 100-run partnership comes up between Pathan and Pandey.
19:00 IST: Six! Pathan smokes Zaheer Khan for a maximum straight down the ground. Brings up his half century.
18:56 IST: Safe! Slower bouncer from Matthews as the ball hits Pathan's gloves but doesn't reach the wicket keeper.
18:54 IST: Six! Manish Pandey flicks Angelo Matthews for a beautiful maximum on the leg side.
18:53 IST: Kolkata need 70 from 48 balls. Required rate just under 9.
18:43 IST: Four! Pandey cheekily edges the ball down to third man for a boundary.
18:42 IST: Wide and Four from Mohammed Shami. Keeper fails to collect the ball down the leg side.
18:37 IST: After 9 overs, Kolkata stand at 75 for 3. Required run rate 8.54.
18:36 IST: Four! This time Pathan slams Amit Mishra down the ground. Power stroke!
18:35 IST: Six! Pandey gets going. Steps down the wicket and hammers the ball down the ground.
18:33 IST: Six! One-handed maximum from Pathan over deep mid-wicket. Regular boundaries coming for Kolkata vs Delhi.
18:27 IST: Fifty comes up Kolkata Knight Riders. Pathan, Pandey steadying the visitors.
18:25 IST: Four! This time Manish Pandey slams Cummins over deep mid-wicket for his first boundary. Kolkata 49 for 3 after 6 overs.
18:24 IST: Four! Pathan slams Cummins for back-to-back boundaries.
18:23 IST: Four! Bouncer from Cummins, Pathan ducks and swings.
18:22 IST: The required rate slowly climbing up for KKR.
18:18 IST: Four! Zaheers directs the ball onto the pads, Pathan guides the ball to the boundary.
18:17 IST: Kolkata need 141 form 96 balls. Yusuf Pathan and Manish Pandey at the crease for Kolkata.
18:15 IST: Four! Picture perfect shot from Yusuf Pathan straight down the ground.
18:12 IST: Out!!! Zaheer Khan gets Gambhir. Kolkata in spot of bother in chase. Tough times ahead for the visiting side.
18:05 IST: Wicket! Uthappa drives, ball takes thick outside edge and Rishabh takes a great catch towards his right! Kolkata 19 for two.
18:04 IST: Four! Third boundary of the over as KKR looks to gain momentum. Robin Uthappa pulls well.
18:02 IST: Four! Gambhir strikes Pat Cummins straight down the ground.
17:58 IST: WICKET!! After just five runs in the Zaheer Khan over, de Grandhomme tries to go for an ambitious flick but is holed out in the deep by Billings. First setback for KKR!
17:50 IST: KKR openers Gautam Gambhir and Colin de Grandhomme are walking out to bat. So the experiment with Sunil Narine at the top of the order has come to an end.
17:40 IST: Stay tuned for the second innings.
17:39 IST: And it's done. Delhi Daredevils score 168 for 7 in 20 overs.
17:38 IST: Out! Woakes sends Morris packing after back-to-back boundaries.
17:37 IST: Four! Morris swings his bat, the ball takes the edge and flies away for a boundary.
17:36 IST: Four! Morris connects at last after many swings. 
17:33 IST: Last over of the first innings, KKR will be looking to restrict Pat Cummins and Chris Morris.
17:32 IST: Safe again! Gambhir drops Morris. Morris gets second life!
17:31 IST: Dropped! Umesh Yadav drops Morris. COuld be deadly for KKR.
17:28 IST: Out! Coulter-Nile strikes for DD, traps Rishabh Pant at point.
17:26 IST: Two overs to go. Delhi eyeing big total as Pant and Morris are out in the middle.
17:25 IST: Four! Chris Morris announces his arrival with a reverse sweep boundary to Sunil Narine.
17:24 IST: Out! Sunil Narine cleans Angelo Matthews up. Delhi 145 for 5.
17:23 IST: Rishabh Pant gets 26 off Umesh Yadav over. Delhi getting their way back into the game.
17:22 IST: Four! This time punches it through the covers.
17:21 IST: Six! Rishabh Pant is on a rampage. Yadav flies yet again.
17:19 IST: Six! Yadav being taken to the cleaners, full on the leg side, Pant flicks it for huge maximum.
17:19 IST: Four! Pant taking on Yadav, slams him for a boundary.
17:18 IST: Six! Umesh Yadav sent for a biggie by Pant.
17:15 IST: Six! Half-volley from Pant dispatches the ball for a big maximum.
17:12 IST: Out! Slower full toss from Coulter-Nile and Karun Nair misses it completely. Stumps all over the place. Nair departs for 21.
17:04 IST: After 14 overs, Delhi stand at 109 for 3.
17:03 IST: Dropped! Outside edge and Uthappa fails to grab it. One life for Karun Nair.
17:02 IST: Rishabh Pant the new man in.
17:01 IST: Out! Throw from de Grandhomme, Uthappa collects and takes the bails off quickly. Iyer sent packing.
16:54 IST: Four! Karun Nair sweeps Kuldeep Yadav for a boundary at square leg boundary. 
16:50 IST: Some cool statistics of Umesh Yadav.
16:47 IST: Four! Boundary to end the Grandhomme over from Iyer.
16:44 IST: Four! Shreyas Iyer welcomes Colin de Grandhomme with a boundary.
16:40 IST: Four! Ferocious bouncer by Woakes, Nair gets his bat in way as the ball flies over Uthappa's head. Delhi stand at 71 for 2 (9).
16:35 IST: Out! Umesh Yadav gets danger man Sanju Samson. Delhi now 63 for 2 (7.5).
16:30 IST: Four! Samson get the ball away to the third man boundary.
16:29 IST: Karun Nair joins Samson out in the middle. Delhi 53 for 1 (6.1)
16:26 IST: Out! Billings trying to hit the ball going down the leg side, ball clipping his gloves and Robin Uthappa completes the catch. Kolkata and Coulter-Nile get their first.
16:25 IST: After the end of sixth over, Delhi stand at 53 for zero.
16:22 IST: 9 runs comes off Kuldeep Yadav over. Delhi racing away with run rate of over 10.
16:19 IST: Four! Oh! Billings comes down the wicket and flicks Kuldeep Yadav on the leg side.
16:18 IST: Good over from Sunil Narine, concedes only 5 runs from his first over.
16:14 IST: Four all the way! Fourth boundary off the Umesh Yadav over. Samson annihilating the Kolkata bowlers. Delhi 36 for zero after 3 overs.
16:13 IST: Four again! There is no stopping the young Samson, skillfully edges the ball to third man boundary.
16:12 IST: Four! Samson carves Yadav through the covers wonderfully.
16:11 IST: Four! Sam Billings joins the party, flicks Umesh Yadav on the leg side.
16:09 IST: Delhi 19 for zero after two overs. Solid start from the hosts.
16:08 IST: Four! Beautiful work from Samson, guides the ball towards point for boundary.
16:06 IST: Delhi getting all the support from their beloved crowd.
16:05 IST: Good start for Delhi Daredevils, get 10 runs from the first over.
16:03 IST: Four! Back-to-back boundaries from Samson, taking Coulter-Nile to task.
16:02 IST: Four! First boundary of the innings from Sanju Samson.
16:01 IST: Sanju Samson and Sam Billings open the batting for Delhi Daredevils.
16:00 IST: Nathan Coulter-Nile is leading the bowling attack for Kolkata Knight Riders.
15:58 IST: Players make their way out to the centre of the field. Delhi will be looking to blast the Kolkata bowlers early in the innings.
15:45 IST: Here are the playing XI for both the teams.
15:42 IST: Kolkata Knight Riders, two time champions, warming up before their away game against Delhi Daredevils.
15:39 IST: Delhi Daredevils warming up before their home game against Kolkata Knight Riders.
15:34 IST: For Kolkata Knight Riders Nathan Coulter-Nile comes in for Trent Boult.
15:33 IST: For Delhi Daredevils Mohammed Shami comes in for Nadeem and Angelo Mathews replaces Corey Anderson.
15:31 IST: Delhi Daredevils captain Zaheer Khan wins toss, elects to bat first against Kolkata Knight Riders.
15:30 IST: It's toss time!
15:24 IST: With two consecutive wins, Delhi will be looking to extend their winning run. 
15:23 IST: Hello and welcome to the live blog of the match between Kolkata Knight Riders and Delhi Daredevils straight from Feroz Shah Kotla.
KKR's batting has really come good, with Gambhir now holding on to the orange cap with a total of 182 runs from three innings, at an average of 91 and a strike rate of 144.44. But the next KKR batsman among the top 10 run-getters is Chris Lynn, who is now out of action. On the bowling side, Chris Woakes and Kuldeep Yadav lead the KKR pack with four wickets apiece. DD, on the other hand, Pat Cummins, Zaheer and Shahbaz Nadeem sharing the bowling honours. It is the DD batting that has a little bit of a question mark. Sanju Samson is their top run-getter, with 134 runs from three innings, with one century, while the next batsman is Sam Billings, who is slotted at No. 16 on the run chart. So if there is a weakness, it's the DD batting. That is something KKR may well work at.