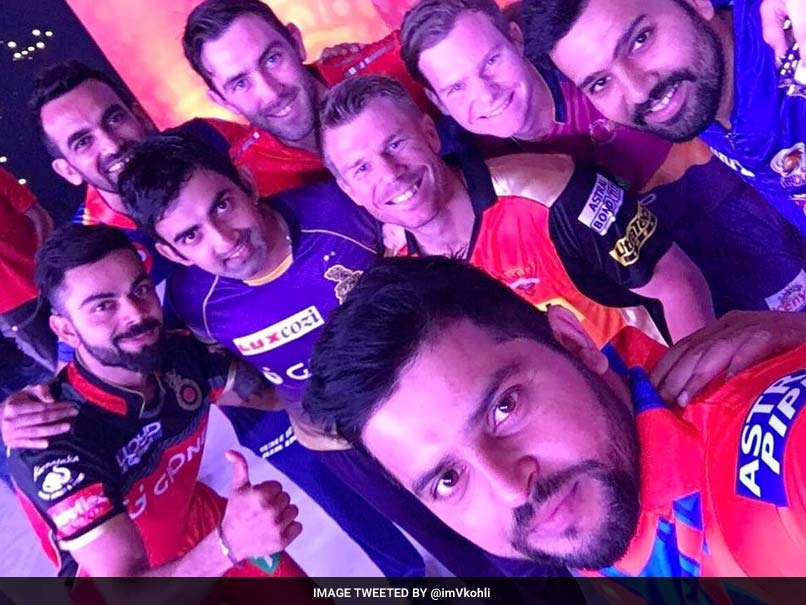 IPL captains' group picture tweeted by RCB captain Virat Kohli
© Twitter
The Indian Premier League Season 10 seems to have brought together the protagonists to a platform of peace after the bitterly-fought India-Australia Test series. India skipper Virat Kohli, who is also captain of Royal Challengers Bangalore (RCB) in the IPL, was seen in the same frame with bitter rival Steve Smith, who leads Rising Pune Supergiant, as well Glenn Maxwell, who captains Kings XI Punjab. Also seen in the IPL captains' group picture, tweeted by Kohli himself, are David Warner of Sunrisers Hyderabad, as well as all the other skippers, including Gautam Gambhir (Kolkata Knight Riders), Zaheer Khan (Delhi Daredevils), Rohit Sharma (Mumbai Indians) and Suresh Raina (Gujarat Lions).
It may be recalled that Kohli and Smith had bitter on and off-the-field feuds during the fiery Test series that India ultimately won 2-1.
Maxwell too had pitched in with some sarcastic parody of Kohli's injury, picked up while fielding during the third Test in Ranchi.
The India captain had subsequently quoted as saying that he was no longer friends with the Australian cricketers, but said later that his quotes had been misinterpreted.
"My answer at the post-match conference has been blown way out of proportion," Kohli had tweeted. "I did not categorically say the whole Australian team but only a couple of individuals. I continue to be in good terms with the few guys I know & who I've played with at RCB & that doesn't change."
Responding to questions about this, Smith had said, "I don't know if I am one of those couple of players Virat was hinting at in his tweet today. That is for Virat to answer.
"For me the series is done and dusted and India have outplayed us. I am now ready to lead a new bunch of team at the Pune Supergiant."
Kohli also had a near-clash with Gambhir during an RCB-DD match in the previous edition, so there not much love lost there either.