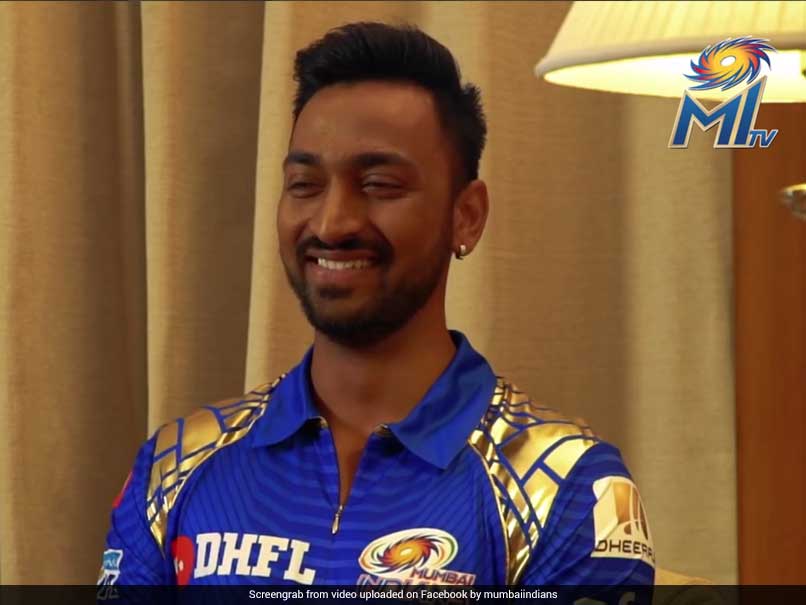 Krunal Pandya and Hardik Pandya will be the first pair to play an IPL final for the same team.
© Facebook
Mumbai Indians'(MI) players Krunal and Hardik Pandya have made a name for themselves by contributing almost in every game they have played for the franchise in the ongoing Indian Premier League (IPL) season 10. MI, who topped the points tally in the league stages, are all set to play the summit clash against Rising Pune Supergiant (RPS) and a lot will depend on these two in the all-important clash to be played on Sunday.
Not a while ago, Pandya brothers were involved in a Twitter war which didn't go down well with their fans on social media and were trolled badly, some even making fun of them. The franchise posted a video on their official account on Friday, may be to explain the camarderie they share and why they were not hesitant to exchange messages on the public forum.
Sometimes in life, people closest to you end up disappointing you the most. Not cool, bro!

— hardik pandya (@hardikpandya7) May 14, 2017
@hardikpandya7 .@hardikpandya7, this shouldn't have happened in the first place. I am bade bhaiyya for a reason. Let's not make this a big issue!

— Krunal Pandya (@krunalpandya24) May 14, 2017
In the video, elder brother Krunal is seen talking about his younger brother's naughty side.
"He was very naughty. He still is, but a bit less. He's got his fair share of thrashing from mom. I can't leave him alone, you know how he is," Krunal said.
"Irrespective of how well or poor he performs, he always runs away from me because I pull his leg a lot. So whether he scores a 50 or he takes a wicket, I will still point out that he edged a four or that he bowled a wide ball. So I make sure that I keep torturing him," he added.
Talking about the relationship they share on the field and whether they like practicing with each other. His reply is hilarious.
"We never practice together because we quarrel a lot. Whenever he gets out he never accepts it. He'd even deny the third umpire saying, 'No, you don't know anything," Krunal commented.
The elder brother said that it was their dream to play together and be on TV.
"We used to sit and dream that one day we will play together and we will both be on TV. It's a dream come true for us and for our well-wishers and family too," Krunal concluded.