Story Progress
Back to home
Dhoni Sits On Floor To Play With Tahir's Son. Fans Can't Stop Gushing
MS Dhoni had no qualms sitting on the floor and playing with Imran Tahir's son.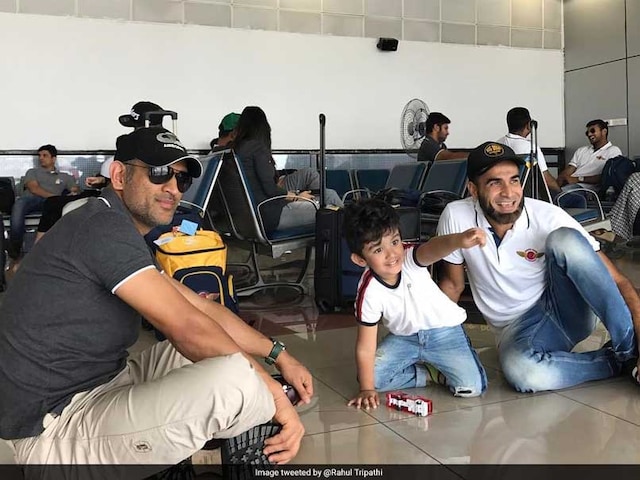 MS Dhoni played with Imran Tahir's son.
© Twitter
Highlights
Ms Dhoni was seen playing with Imran Tahir's son at an airport

Rising Pune Supergiant will play Sunrisers Hyderabad next

Pune are currently third on the table
There's been a lot of controversy surrounding Mahendra Singh Dhoni this Indian Premier League (IPL). With his Rising Pune Supergiant (RPS) captaincy taken away by the management and the owners taking digs at his form on social media; Dhoni's fans and many former players have openly come out in his support. Despite all on-field controversies, no one can doubt the former India captain's simplicity. A video that cropped up on social media shows Dhoni sitting on an airport floor and playing with Pune teammate Imran Tahir's son without any airs.
World's Richest Cricketer playing with Imran Tahir's Son

Simplicity level : infinity pic.twitter.com/6GvhoVpabH

— DHONIsm (@DHONIism) May 2, 2017
The video shows Dhoni sitting on the airport floor and playing with a toy car with Tahir's son Gibran. The South African leg spinner currently stands second on the wickets tally with 17 scalps, behind only Bhuvneshwar Kumar (21 wickets) of Sunrisers Hyderabad.
MSDhoni playing with imran tahir's Son

Yes he is a Down to earth person pic.twitter.com/uCnQ5RXlzH

— DHONIsm (@DHONIism) May 2, 2017
Tahir has been exemplary in the last three matches which saw him take seven wickets at an economy rate of 6.75.
This isn't the first time Dhoni's humility and simplicity has come to the fore. During the domestic season, Dhoni was seen playing PlayStation with his Jharkhand teammates.
Dhoni had also recently bumped into a 'chai-wala' whose stall he used to visit in Kharagpur. Having recognized him, the former India captain took him out for a treat.
Pune will play in Hyderabad next and the video was probably taken when the team was en route to their destination.
Promoted
Pune are currently third on the points table with six wins in their last seven matches.
Rahul Tripathi's 52-ball-93 was essential in their last win over Kolkata and Pune are hoping to keep their winning momentum to cement their place in the IPL Play-off with a victory over Sunrisers Hyderabad on Saturday.
Topics mentioned in this article