Story Progress
Back to home
India vs West Indies Live Score Ball by Ball, India vs West Indies 2022 Live Cricket Score Of Today's Match on NDTV Sports
Live Updates of Today Match between India vs West Indies from Eden Gardens, Kolkata. Check commentary and full scoreboard of the match.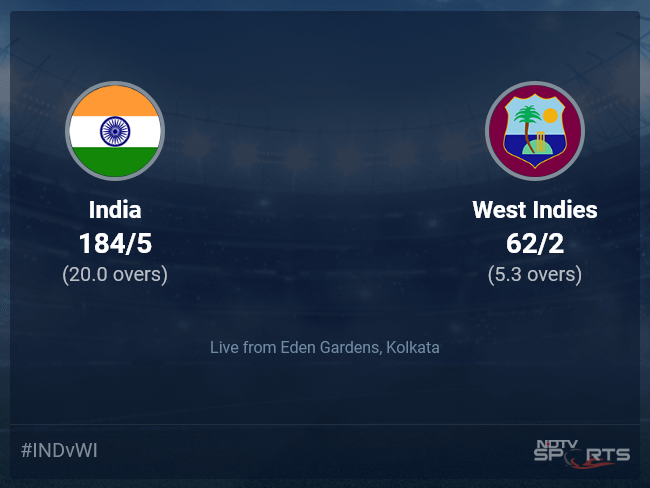 WI vs IND Latest Score
Follow the India vs West Indies 2022 live cricket score on Sports.NDTV.com. After 5.3 overs, West Indies, chasing a target of 185, are 62/2. Get live score, ball by ball commentary and much more. Keep track of India vs West Indies 2022 today match between India and West Indies. Everything related to India and West Indies match will be available on Sports.NDTV.com. Stay updated with India vs West Indies live score. Do check for India vs West Indies scorecard. You can get scorecard updates, match related facts. Get quick live updates with ads, Sports.NDTV.com, which is the perfect destination for live cricket score.
4.6 overs (1 Run) Slower, fuller and a bit wider. Powell eases it behind point for a single. 18 off Thakur's first over and West Indies are 60/2 in 5 overs.
4.5 overs (4 Runs) FOUR! Bread and butter for Rovman Powell! Short and wide, Powell slaps it through the point region to bring up a third boundary in the over.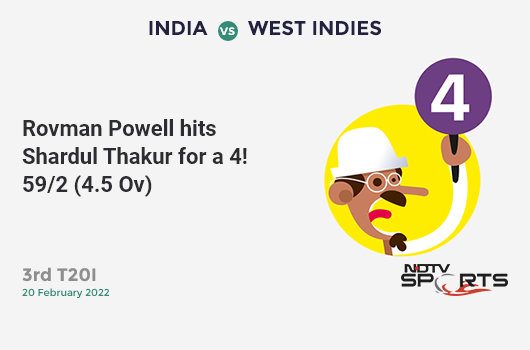 4.4 overs (2 Runs) In the air...safe! Back of a length, on off. Rovman Powell tries to take on the pull shot but gets a top edge which flies right back over the bowler's head and lands in middle of the converging players from mid off and mid on. Two taken.
4.3 overs (0 Run) Back of a length, on off. This is tucked away straight to mid-wicket.
4.3 overs (1 Run) WIDE! Thakur goes full and wide this time, a bit too wide though.
4.2 overs (4 Runs) FOUR! Poor bowling this from Shardul Thakur. Short again, sliding down leg. Powell pulls it fine and gets it past short fine leg. The fifty is up for the Windies in quick time.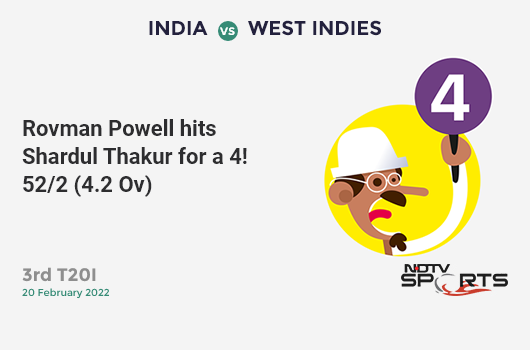 4.1 overs (6 Runs) SIX! Rovman Powell with another huge hit and West Indies flying at the moment. Dug in short by Thakur, but down the leg side. Powell picks it up and dispatches it a long way over the fine leg fence.
Shardul Thakur comes into the attack.
3.6 overs (4 Runs) FOUR! The short length is being punished at the moment and Nicholas Pooran has picked up from where he left off. Over off, Pooran pulls it through mid-wicket yet again for another boundary.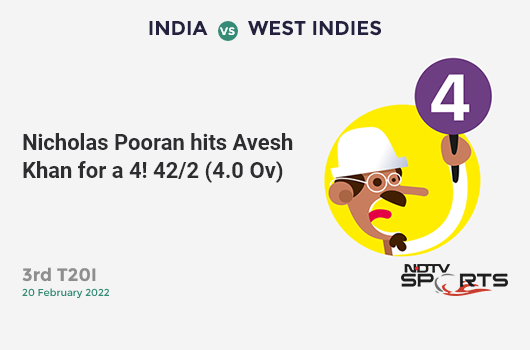 3.5 overs (0 Run) Slower one this time, a bit fuller and around off. Pooran edges it down with soft hands towards the gully region.
3.4 overs (4 Runs) FOUR! Easy picking for Nicholas Pooran. Short of a length, around off. Pooran stays deep in his crease and pulls it powerfully through mid-wicket for a boundary.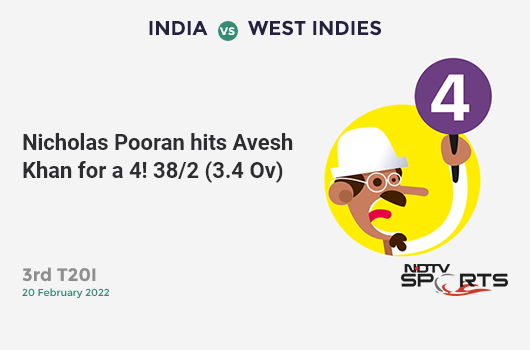 3.3 overs (1 Run) Leg bye! Sliding down leg, Powell looks to flick but misses. The ball goes off his pads towards square leg and the batters sneak in a leg bye.
3.2 overs (0 Run) Around off, Powell taps it with soft hands towards point.
3.1 overs (1 Run) A length ball, on off. Pooran winds up for the big slog leg side but mistimes it towards mid on for a single.
2.6 overs (6 Runs) SIX! Nonchalant flick from Rovman Powell! Venkatesh Iyer comes in to finish off Chahar's over and bowls it fuller, on off. Powell stays back and just uses his wrists to flick it all the way over the square leg fence for a biggie.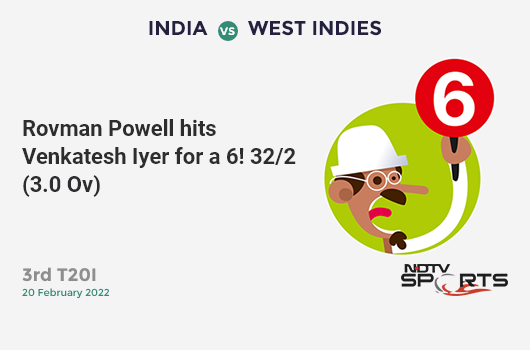 A slight halt in play! Deepak Chahar has just suddenly stopped while running. He is limping around and it does not look good. The physio is out there to check on him. Deepak Chahar walks out of the field, this is not good for India, he was the one who sent back both the openers. Venkatesh Iyer will bowl the last ball of his over.
2.5 overs (0 Run) The ball is moving a bit in the air. Full and wide, looking for the big inswinger. Powell looks to drive away from his body and gets beaten on the inside edge.
Rovman Powell comes to the crease now.
2.4 overs (0 Run) OUT! CAUGHT BEHIND! Deepak Chahar sends both the openers packing now and what a peach of a delivery that is! This is beautifully angled into middle, a bit fuller and Shai Hope is pushed on the back foot. He looks to push it out on the off side but the ball just straightens a bit and takes the outside edge of Hope's blade. Ishan Kishan takes a simple catch behind the stumps and top-order troubles for the Windies continue.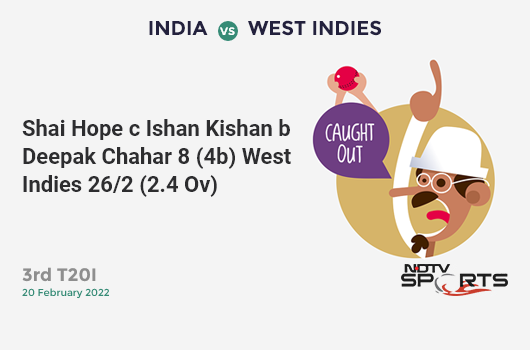 2.3 overs (0 Run) A length ball, on off. Hope pushes it on the off side.
2.2 overs (4 Runs) FOUR! Two in a row! Chahar drifts this on the pads and Hope just clips it through the vacant mid-wicket region for another boundary.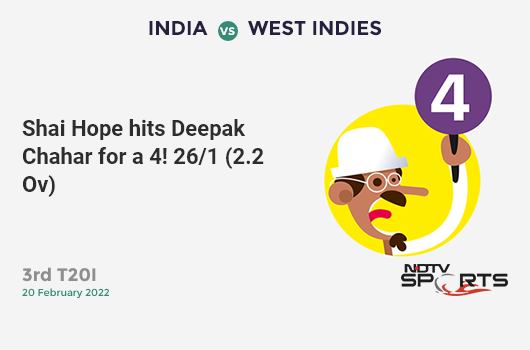 2.1 overs (4 Runs) FOUR! Short of a length, outside off. Shai Hope stands tall and short-arm jabs it through mid on for a glorious boundary.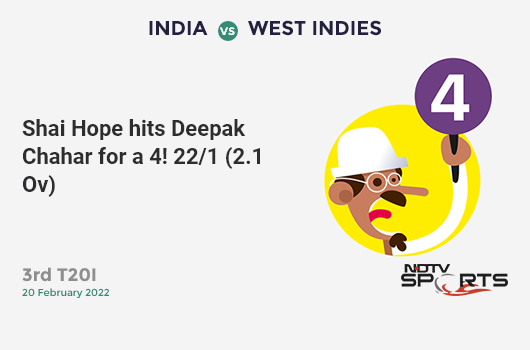 1.6 overs (0 Run) Length again, on middle. Pooran solidly defends it out.
1.5 overs (0 Run) Too close for comfort! A length ball, close to the off pole and holding its line. Pooran looks to whack it across but misses and the ball goes just past the off stump.
1.5 overs (1 Run) WIDE! An attempted bouncer from Khan, this one flies over the batter's head. Wide signalled.
1.4 overs (0 Run) On a good length, over middle. The ball hurries onto Pooran who gets a blow in the mid riff.
1.3 overs (4 Runs) FOUR! This is a poor start from Avesh Khan. Short and wide again. Pooran is the man in form and he isn't going to miss out on that one. Pooran slaps it over point for another boundary.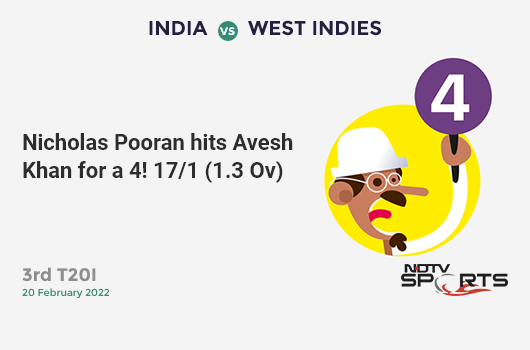 1.2 overs (2 Runs) Pitched up this time, around off. Pooran drills it towards mid off where the fielder makes a good diving stop. The batters still get a couple of runs.
1.1 overs (4 Runs) FOUR! Avesh Khan's first ball in international cricket is treated with a boundary. Short of a length, outside off. Nicholas Pooran hangs back and slaps it through extra cover for a boundary.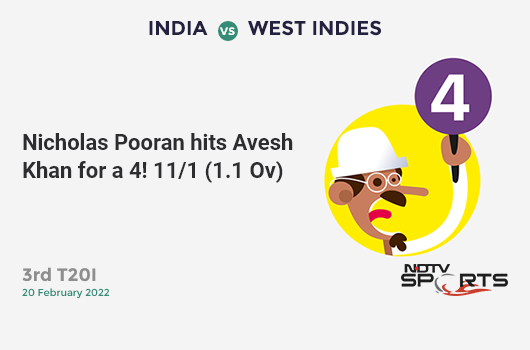 Avesh Khan will bowl from the other end.
0.6 over (1 Run) A length ball, around leg. This is flicked away to deep square off the inside edge for a single.
Nicholas Pooran comes to bat at number 3.
0.5 over (0 Run) OUT! CAUGHT BEHIND! Now India makes fruitful use of DRS and Deepak Chahar has his man! On a nagging length, around off and middle. The ball is angling away and Kyle Mayers leans in to block this. The ball seems to beat the outside edge and the keeper gobbles it up. The hosts though are convinced and Rohit Sharma reviews it straightaway. UltraEdge shows that there was a spike as the ball went past the bat and the decision is reversed yet again. Mayers has to walk back.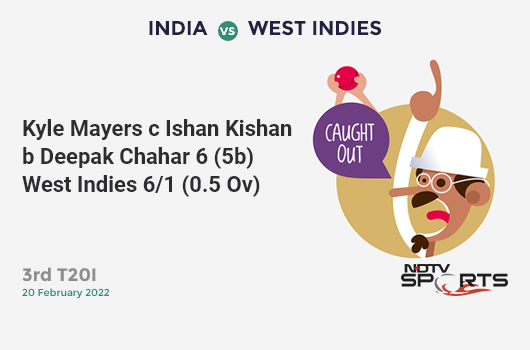 Another review! This time it's India who have taken a review against Kyle Mayers for a caught behind decision! The replay rolls in. UltraEdge shows a big spike as the ball passes through the bat. Once again, the decisions needs to be overturned. Kyle Mayers has to walk back this time.
0.4 over (4 Runs) FOUR! Full, on off. Mayers drills it back past the bowler and picks up a boundary at the long off fence.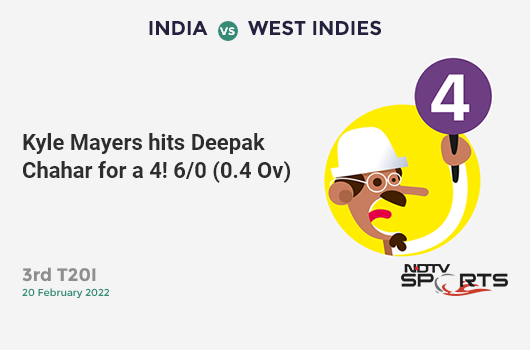 Review! Kyle Mayers has reviewed an LBW, decision! The replays roll in. No bat involved confirms UltraEdge. Ball Tracker shows that would have missed the wickets. The decision needs to be overturned here. Kyle Mayers survies!
0.3 over (0 Run) NOT OUT! Excellent review from West Indies in the end and Kyle Mayers survives. A length ball, on off and shaping back in beautifully. Mayers hangs back and looks to heave it leg side but misses. He gets pinged on the back leg and the hosts appeal. The umpire raises his finger but Mayers reviews. There is not bat involved as confirmed by UltraEdge and Ball Tracker shows that the ball was just going over the top of off. The decision is reversed.
0.2 over (0 Run) A good length ball, outside off and angling away. Mayers looks to cut it away but misses.
0.1 over (2 Runs) Just short! A bit of shape right away for Deepak Chahar. Fullish ball, on middle and shaping in. Kyle Mayers looks to thump it downtown but mistimes it badly. The ball bounces just in front of mid off and the batters get a couple of runs off the rebound. Mayers is up and running.
Topics mentioned in this article