Story Progress
Back to home
India vs West Indies Live Score Ball by Ball, India vs West Indies 2022 Live Cricket Score Of Today's Match on NDTV Sports
Live Updates of Today Match between India vs West Indies from Narendra Modi Stadium, Ahmedabad. Check commentary and full scoreboard of the match.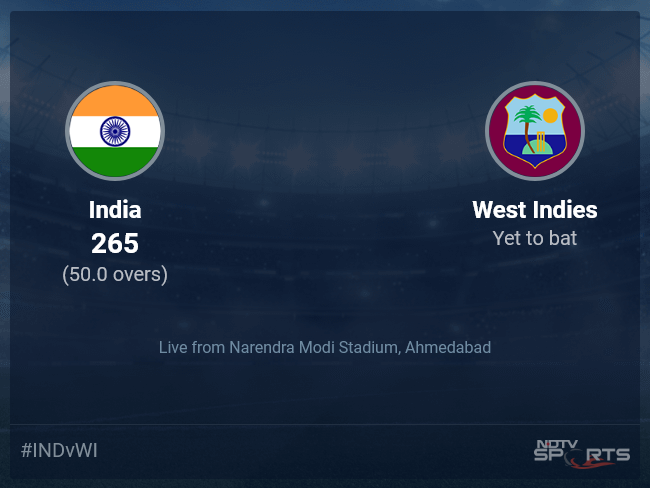 WI vs IND Latest Score
Follow the India vs West Indies 2022 live cricket score on Sports.NDTV.com. After 50.0 overs, India are 265. Get live score, ball by ball commentary and much more. Keep track of India vs West Indies 2022 today match between India and West Indies. Everything related to India and West Indies match will be available on Sports.NDTV.com. Stay updated with India vs West Indies live score. Do check for India vs West Indies scorecard. You can get scorecard updates, match related facts. Get quick live updates with ads, Sports.NDTV.com, which is the perfect destination for live cricket score.
We are back for the chase!
Right then, India have posted a good score here and a Windies batters need to step up their game to chase this total down. They have failed to cross 200 in this series so far and it would not be an easy task even today. Can they grab 10 important World Cup Super League points? An interesting second-half of this game coming up.
Shreyas Iyer is down for the chat. He says that it wasn't easy to bat early on as the ball was seaming and swinging and him and Shikhar decided just to take it slow. He adds that the bowlers were also not sticking to one line or length and it was a test of patience as batting did get easy later on. He mentions that the wicket was a bit two-paced and the opposition came out with a good bowling plan. He mentions that the score they have is a really good one on this surface but it might get easier for batting later on and they will have to bowl well to get the win. Also says that he is ready to bowl if the captain needs him and is disappointed at himself for getting out the way he did especially with 15 odd overs still left.
West Indies with their fragile batting lineup needed to take early wickets to restrict India to a chaseable score and they did just that, Alzarri Joseph getting rid of Sharma and Kohli in the same over yet again. Odean Smith with all his x-factor managed to get the wicket of struggling Dhawan in his first over. West Indies were denied wickets in the middle overs after that as the partnership build but Walsh provided the important breakthrough just when the game seems to be drifting away and then came back to take the wicket of another set batter Iyer in the 38th over. They would have been hoping to restrict India to a lesser total after that but now have a decent score to chase on this pitch and need to bat better than what they have done so far.
When you talk about India playing an ODI game more often than not you will see top 3 or one of the top 3 playing a major role with the bat. However, it was not the case today as all three of them departed early. It was down to the rising stars of Indian cricket, Iyer and Pant to rebuild the innings. They did their job to perfection and stitched together a partnership of 110 runs. Both of them went on to get to their respective fifties on the way but Pant could not carry on and fell in the 30th over. SKY could not hold on for long and Iyer also departed while trying to up the ante against the spinners. It was Deepak Chahar who seems to be on a mission to prove himself as an all-rounder, provided the impetus at the end of the innings and Sundar also played a handy knock in the end. Overall India will be pleased with their effort with the bat.
India have gone past 260 here and they will be happy with this total after losing three early wickets. West Indies bowled well in the patches but with little more discipline they might have restricted India under 250 here. There is help for the bowlers in this pitch and India will fancy their chances of defending this total.
49.6 overs (0 Run) OUT! Cleaned up! Jason Holder gets his fourth and India have been bundled out on the final delivery of the innings. A slower length ball, angling into leg stump. Mohammed Siraj tries to repeat the trick as he shuffles across and looks to scoop it over short fine leg. Siraj though is undone by the lack of pace and misses the ball completely. The ball crashes into leg stump. India end with 265/10!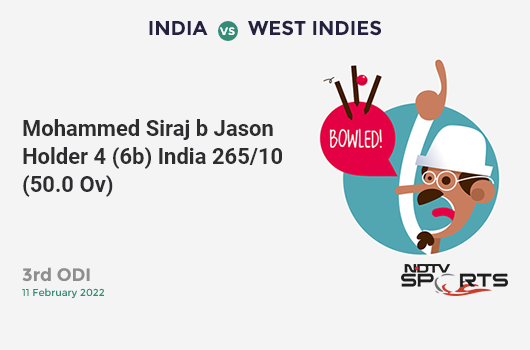 49.5 overs (4 Runs) FOUR! Where did that come from? A yorker, on middle. Mohammed Siraj anticipates the line of the ball. He then paddles it past short fine leg and picks up a boundary. well and shuffles across to get insi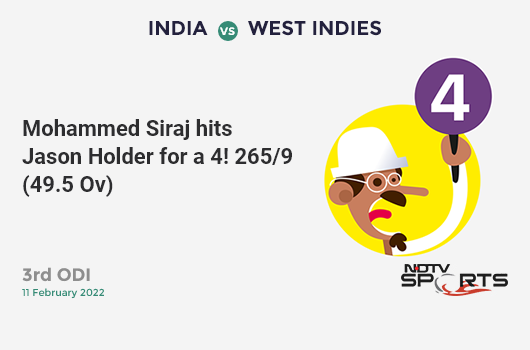 Prasidh Krishna is the last man in.
49.4 overs (0 Run) OUT! CAUGHT! Jason Holder has his third wicket and what a brilliant spell at the death it has been from him! A high full toss, on off. Washington Sundar looks to lift it over mid off but it's a bit too high to get a decent connection, Sundar only manages to slicee it hogh and towards the mid off region. Odean Smith strolls towards it from extra cover and takes a simple catch. An important knock from Sundar comes to an end.
49.3 overs (0 Run) Angled into middle and leg. This is driven down to long on for no run.
49.2 overs (4 Runs) FOUR! Slower one, banged into the deck. Sundar pulls it hard and behind the man at the square leg fence for a boundary.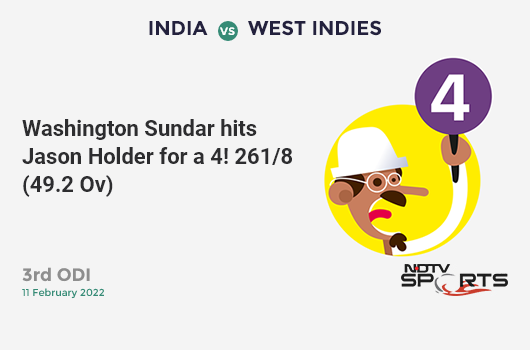 49.1 overs (0 Run) Holder with a perfect yorker, angling onto middle. Sundar just about manages to keep it out.
Jason Holder to bowl the last over.
48.6 overs (0 Run) On a good length, outside off. Mohammed Siraj goes for a big heave but is nowhere close to making a connection on that one.
48.5 overs (0 Run) A good length ball, around 141 kph and on off. Siraj backs away looking to cut but misses.
48.4 overs (1 Run) Full, on leg. This is drilled down to long on for a run.
48.3 overs (6 Runs) SIX! Right off the screws this time! A length ball, on leg stump. Washington Sundar lifts it high and the ball sails over the wide long on fence for a biggie.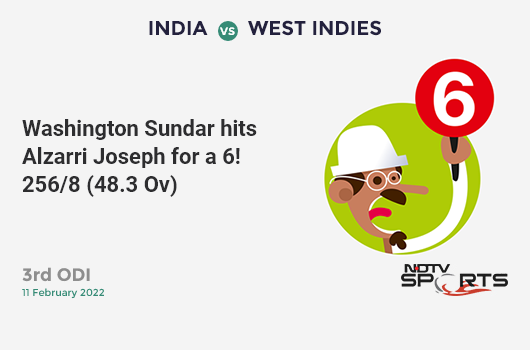 48.2 overs (0 Run) Swing and a miss! Back of a length again, in excess of 140 kph and over middle. Sundar looks to thump it over long on but doesn't make a connection.
48.1 overs (0 Run) Back of a length, around leg. Washington Sundar backs away and looks to heave it over the mid-wicket fence. He mistimes it badly and the ball falls around the mid-wicket region. No run taken.
47.6 overs (0 Run) Shorter in length, down the leg side. Siraj flicks it down to fine leg but Sundar isn't interested in a single as it is the last delivery of the over.
47.5 overs (0 Run) Very full, on off. Siraj pushes it out to cover.
Mohammed Siraj is the next man in.
47.4 overs (0 Run) OUT! TAKEN! Sensational catch behind the stumps by Shai Hope! Jason Holder hurls across a short ball from 'round the stumps and angles it around the helmet. Kuldeep Yadav looks to hook it away but gets a glove on it. Hope with an athletic effort, jumping high and to his right, pouches it with one hand and Holder picks up his second wicket. The Windies pulling things back a bit in the final overs.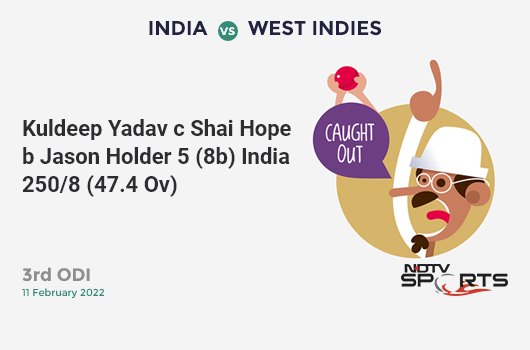 47.3 overs (1 Run) This is banged in short, on the body. Sundar pulls it down to deep backward square leg for a run. The 250 is up for India.
47.2 overs (1 Run) Slower delivery, pitched up and on off. Yadav stylishly works it through the point region for one more.
47.1 overs (1 Run) A yorker, on off. Sundar jams it out to third man for a single.
46.6 overs (0 Run) Back of a length, angled across off. Yadav hops and dabs it down to short third man.
46.6 overs (1 Run) WIDE! Another wayward delivery from Odean Smith. Short and wide, a bit too wide for the umpire's liking.
46.5 overs (1 Run) Slower again, on off. This is stroked towards cover for a single.
46.4 overs (0 Run) A slower full toss, dipping on the batter. Sundar eases it towards point.
46.3 overs (1 Run) Short this time, on leg. Yadav pulls it in front of square for a single.
46.2 overs (2 Runs) Sloppy bit of fielding. Back of a length, around off. Yadav steers it to the left of the fielder at third man. Bravo misfields and allows the batters to come back for the second.
46.1 overs (0 Run) Around the top of off. Yadav looks to work it on the leg side but gets beaten on the inside edge.
46.1 overs (1 Run) WIDE! This is pushed well wide of the off stump. Wide signalled.
45.6 overs (1 Run) Through! Short and a bit wide. Kuldeep Yadav cuts it late and the ball flies through the man at third slip and towards third man. They get a single.
45.5 overs (0 Run) A length ball, angling across off. Left alone by Yadav.
Kuldeep Yadav is the next man in.
45.4 overs (0 Run) OUT! CAUGHT BEHIND! Nice piece of bowling from Jason Holder and Deepak Chahar departs after a brisk knock. Chahar makes room leg side and looks to advanace. Holder follows hism with an off-cutter, bowled into the pitch. Chahar is way too early into the pull and the ball comes off the toe end of the bat and balloons up towards the keeper. Shai Hope takes the simplest of catches and Holder has his man.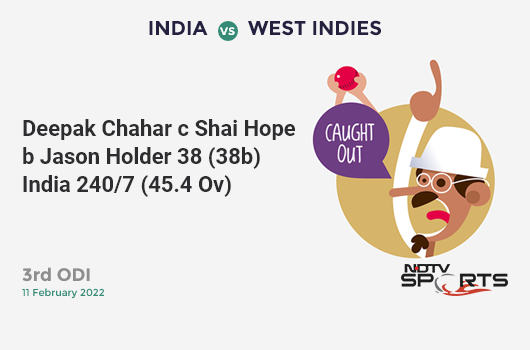 45.3 overs (2 Runs) Easy two! Chahar moves leg side and Holder follows him with a slower delivery, at the body. Chahar tucks it away through mid-wicket for a couple.
45.2 overs (1 Run) Very full, on off. Sundar works it towards the vacant mid-wicket region for a run.
45.1 overs (1 Run) Full, on off. This is stroked through mid off for a single. The fifty partnership also comes up between Chahar and Sundar.
45.1 overs (1 Run) WIDE! A slower bumper, outside off. Chahar leaves it in the hopes of it being a bit too high and does get the call in the end. Wided.
Match Reports
Topics mentioned in this article