Story Progress
Back to home
India vs West Indies: India vs West Indies 2022 Live Cricket Score, Live Score Of Today's Match on NDTV Sports
Live Updates of Today Match between India vs West Indies from Narendra Modi Stadium, Ahmedabad. Check commentary and full scoreboard of the match.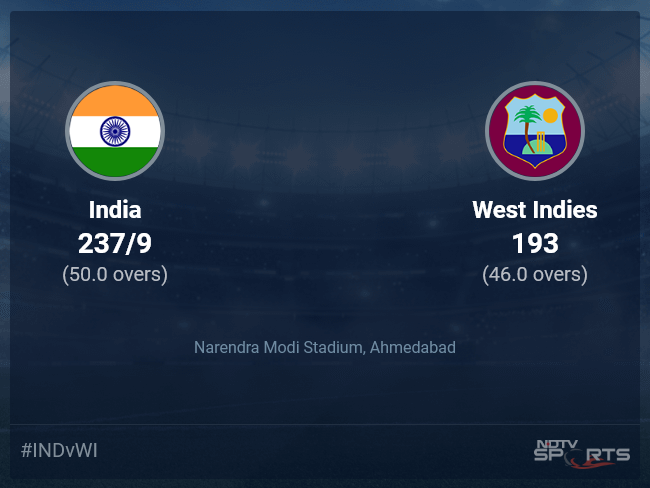 IND vs WI Latest Score
A dedicated team of experts bring you live score, live cricket score, live match update on Sports.NDTV.com. After 46.0 overs, West Indies, chasing a target of 238, are 193. The live updates of India vs West Indies scorecard is also available. It is the perfect platform to follow your favourite teams in India vs West Indies 2022. Keep a track on your favourite batsmen and bowlers through India vs West Indies 2022 today match, ball by ball commentary, India vs West Indies, India vs West Indies live score, India vs West Indies scorecard. Follow the excitement of the India vs West Indies 2022 on Sports.NDTV.com as you can follow live match updates and live cricket score through our platform.
Right then. That is all we have from this clash. There is one more ODI left in the series and it will be played on 11th February. The match begins at 1:30 pm IST (8 am GMT) but do join us for the buildup in advance. Cheers for now!
Prasidh Krishna is the PLAYER OF THE MATCH for his spell of 9-3-12-4. He says that he is happy that he could take wickets and win the game for the team. Adds that he knew what he needed to do and his plans were set. Says that he is happy to contribute to the team's success. Mentions that he did not want to try too many different things and wanted to keep things simple. Informs that he is working on being as consistent as possible and bowl in the right channels.
Rohit Sharma, the skipper of India, says that winning the series is a good feeling. Adds that the partnership between KL Rahul and Suryakumar Yadav showed good maturity and eventually they reached a good total. Tells that all the bowlers came and bowled as a unit. Admits that it is important for these players to get in this type of situation and show characters. Tells that the innings from Deepak Hooda as well was good to see. Adds that he was asked to do different things, to get Rishabh Pant up the order, and he did that. Informs that they will get Shikhar Dhawan back in the next game. Tells that they will talk about the changes and will see if they can give game time. Admits that he was surprised there was no dew but congratulates Prasidh Krishna on how he bowled. Adds it was a good bowling effort, especially from Krishna. He wanted some pace in the back end as there are many big hitters in the Windes team.
Nicholas Pooran, the skipper of West Indies, says that they lost the game with the bat as they did not get any big partnerships. Adds that the more they play together, they will hopefully get better. He praises Odean Smith for his all-round show and says that with more experience, he will get better. Mentions that they want to do better with the bat in the final game and says that Kieron Pollard should be fine for the last match.
First, a word with Shardul Thakur. The pacer says that if dew comes in then a partnership can build and the batters can take the game away. Adds that the pacers were bowling really well as there was assistance in the pitch. Adds that if they take wickets up front then the game gets away from the team that is chasing. Tells that they used short balls really well and it was in the plan and strategy to bowl like that.
Stay tuned for the interviews.
A good game for India in the field as all the bowlers did well. Washington Sundar was a bit expensive at the start but finished well by getting the big wicket of Odean Smith. The captaincy from Rohit Sharma was also quite good as he rotated the bowlers well. They kept giving him wickets at the right point and India were never really in big trouble. Rohit Sharma must be commended for the way he marshaled his troops and handled his bowling resources. Prasidh Krishna was the pick of the bowlers with his 4 wickets while the rest of the bowlers had a good game too.
Shamarh Brooks did put on a 41-run stand with Akeal Hosein but when it was broken, the game looked done. But the stand between Fabian Allen and Akeal Hosein gave West Indies hope. The pair added 42 runs and there were few nerves in the Indian camp when they were batting. Right then Mohammed Siraj took his first wicket to break the stand and Shardul Thakur got a wicket in the next over to send back both the set batters. Odean Smith then got a few boundaries and kept the chase alive but he never really looked very threatening and India had enough quality in their ranks to seal the game.
West Indies needed a good start if they were to chase this down. The opening stand between Brandon King and Shai Hope looked good for a while before they were separated in the 8th over. After that, the middle order of West Indies put on another sorry show. It was only Shamarh Brooks who looked in good touch in the middle. The Indian bowlers were breathing fire with Prasidh Krishna struck thrice to rock the middle order of the West Indies.
A victory for India and they have sealed the 3-match series! They did not have the biggest of totals but bowled really well to defend it. A sweet victory but it will be a tough loss for West Indies. They had done really well with the ball but could not back it up with the bat.
45.6 overs (0 Run) OUT! LBW! Prasidh Krishna gets the last wicket and India seal the series as they go 2-0 up. A length ball, straight on middle. Kemar Roach shuffles and looks to flick but misses and gets hit on the pads. An appeal and up goes the finger. India win by 44 runs.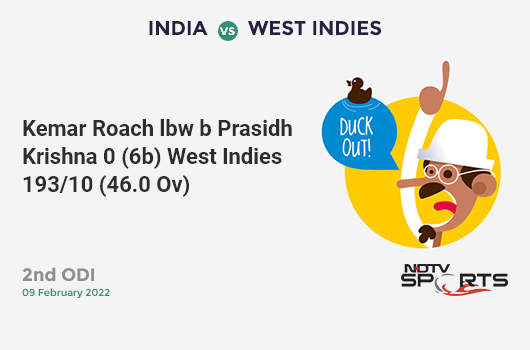 45.5 overs (0 Run) A slower full ball, on middle. Blocked out.
45.4 overs (0 Run) Shorter, on the body. Kemar Roach looks to evade but gets hit on the arm.
45.3 overs (0 Run) Full, on off. Blocked back to the bowler.
45.2 overs (0 Run) On a length, on off. Roach works it to point.
45.1 overs (0 Run) Slower yorker, outside off. Blocked out.
Match Reports
Topics mentioned in this article