Story Progress
Back to home
India vs West Indies Live Score Ball by Ball, India vs West Indies 2022 Live Cricket Score Of Today's Match on NDTV Sports
Live Updates of Today Match between India vs West Indies from Eden Gardens, Kolkata. Check commentary and full scoreboard of the match.
WI vs IND Latest Score
Follow the India vs West Indies 2022 live cricket score on Sports.NDTV.com. After 20.0 overs, West Indies are 157/7. Get live score, ball by ball commentary and much more. Keep track of India vs West Indies 2022 today match between India and West Indies. Everything related to India and West Indies match will be available on Sports.NDTV.com. Stay updated with India vs West Indies live score. Do check for India vs West Indies scorecard. You can get scorecard updates, match related facts. Get quick live updates with ads, Sports.NDTV.com, which is the perfect destination for live cricket score.
We are back for the chase!
Right then. Looks like there is some dew on offer, that means the ball should come nicely on to the bat. The West Indies bowlers need to pull their socks up if they do not want the hosts to run away with the game. Do join us for the second essay in a short while.
Ravi Bishnoi is in for a chat. He says that his heartbeat is fine now and he was a bit excited and nervous as well at the start. He says that he is a bit disappointed about the catch as he lost his presence of mind for a second. He adds that he tried to bowl stump to stump and tried not to allow the batters to free their arms. He mentions that the dew is there now and the pitch has become better for batting and is confident that India can chase it down.
The spinners did the trick for India. Although the pacers could not keep the run flow in check in the death overs. It was Bhuvaneshwar Kumar who struck in the very first over. He was getting the ball to move around from the word go. Later, Chahar could not keep up the same pressure and the batters scored some runs at a brisk rate. Then the leg spin twin, Bishnoi and Chahal pulled things back really well. Chahal picked up a wicket while Bishnoi bagged a brace in a single over to have a good record on his debut. Harshal Patel took two wickets in the death overs, he continues to dominate in his department. All the bowlers got into the wicket's column except Venkatesh Iyer.
West Indies could not keep up with the variations in the middle overs. Both the leg spinners of India caused a lot of problems to the batters. West Indies lost a wicket in the first over itself. But later, Mayers was dominating the bowlers with his movement in and around the crease as he raced to 31 while Pooran was playing the second fiddle. But once Mayers slipped out, West Indies lost wickets in quick succession, but Pooran still lived through the downfall. He later decided to take the charge and went after the bowlers after a cautious start. If not for Pooran, the visitors would've been left in a precarious position.
Woah! What an innings! This was filled with entertainment. India would've loved to put the opposition to bed quite early on, but Pooran had other ideas. Although, India do have a stong batting line-up and would back themselves to chase the target down of 158 runs.
19.6 overs (0 Run) OUT! TAKEN! The skipper, Rohit Sharma takes a brilliant catch and that wraps up the Windies innings. This is slower and fuller again from Harshal Patel but this time it's almost at the base of off stump. Odean Smith makes a bit of room and tries to get under it but only manages to chip it towards the mid off region. Suryakumar Yadav is running in from long off but he is beaten to the ball by Rohit Sharma who runs behind from extra cover and takes a great catch beyond his shoulder. Harshal Patel ends with two wickets and West Indies finish with 157/7!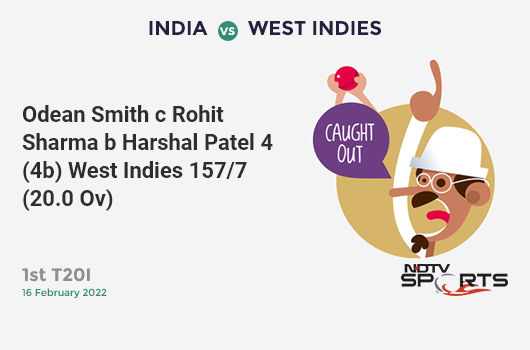 19.5 overs (2 Runs) Good running! An off-cutter, on off stump. Odean Smith was expecting another wide one and gets undone by this delivery. He manages to clip it through mid-wicket for a couple.
19.5 overs (1 Run) WIDE! Attempted slower ball, well outside off. Smith stays leg side and has a swing but misses. The ball is well outside the tramline and a wide is signalled.
19.4 overs (1 Run) Three singles in a row now and so far it's been a good final over from Harshal Patel. Full and wide, Pollard can only manage to drive it down to long off for a single.
19.3 overs (1 Run) Good bowling! Seam up and very full on middle. Smith drills it right back past the bowler for another single.
19.2 overs (1 Run) Full and wide, Pollard toe-ends it towards wide long off. Odean Smith wants the second but Pollard is content with the single.
19.1 overs (4 Runs) FOUR! Well handled in the end by Kieron Pollard. A slower bumper, on the body. Pollard takes his eyes off the ball a bit but manages to pull it well behind square for a boundary. The 150 is up for West Indies.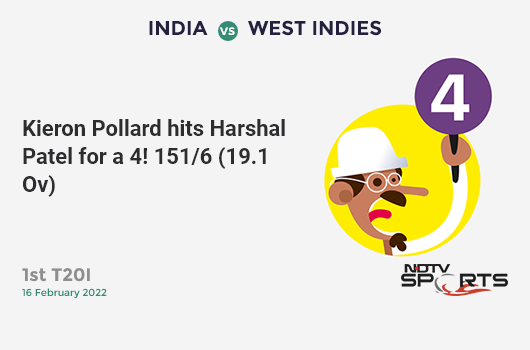 Who will bowl the final over? It will be Harshal Patel, as Deepak Chahar is getting treated.
18.6 overs (1 Run) Short again, well outside off. Pollard pulls it away but straight towards Virat Kohli at wide long on. One more for the batting side.
18.5 overs (1 Run) Slower one, bowled into the pitch and outside off. Smith drags the pull shot down to long on for just a single.
Deepak Chahar looks to be in some pain now. He gets hit hard on his hands. The physio comes out to have a look. They decide to take him out to get nursed. Deepak Hooda comes into the field to replace Chahar.
18.4 overs (1 Run) Swung away hard but just for a run. Short of a length, on off. It is there to hit and Pollard pulls it along the ground towards square leg. Deepak Chahar makes a brilliant stop to his right and gets hit high up on the palm. It's his bowling hand as well. That must have stung and we hope he is fine. The batters get a single.
18.3 overs (0 Run) Excellent bowling! Fuller and just inside the tramline. Pollard stays leg side and cannot reach it.
18.3 overs (1 Run) WIDE! Bhuvi looks to push it even wider this time but spills it beyond the tramline. Wided.
18.2 overs (2 Runs) Better from Bhuvi. Full and pushed wider. Pollard has to fetch it and he does so but doesn't get any timing on it. The ball is chipped up towards the vacant mid-wicket region and the batters come back for two.
18.1 overs (6 Runs) SIX! My word, what a hit! A nothing delivery really. Length and on off. Right in the hitting arc and Kieron Pollard clobbers it a long way, over the cow corner fence for a biggie.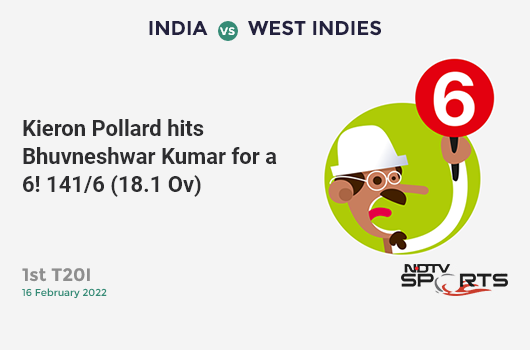 Odean Smith is the new man in. Also, Bhuvneshwar Kumar comes back into the attack to bowl the penultimate over.
17.6 overs (0 Run) OUT! TAKEN! Harshal Patel has done the trick here and Nicholas Pooran perishes. Full and on off. This is bowled seam up. Pooran backs away a bit and looks to hammer it over the long off fence. Pooran gets a good connection on it but just can't get the elevation. The ball rockets towards the long off fence where Virat Kohli takes a good, sharp catch. This wicket might make a huge difference to the final total. Can the Windies still finish on a high?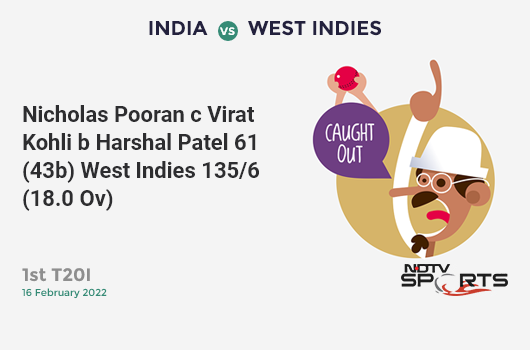 17.5 overs (0 Run) A rare swing and a miss from Nicholas Pooran! Slower again, bowled into the pitch and angled into the body. Pooran looks to pull it away but misses and the ball goes off the shoulder and towards the keeper.
17.4 overs (1 Run) Another off-paced delivery, full and on middle. Pollard clips it to deep mid-wicket to turn the strike over.
17.3 overs (1 Run) Full and wide, slashed away to sweeper cover for a single.
17.3 overs (1 Run) WIDE! Full and seam up, slanting down leg. Pooran gets himself into a tangle as he misses the flick. It's been called a wide in the end.
17.2 overs (6 Runs) SIX! Nicholas Pooran is a special player and we can see why! Slower delivery, angled in from 'round the wicket. Pooran picks it up and smokes it high and handsome over the long off fence for a biggie.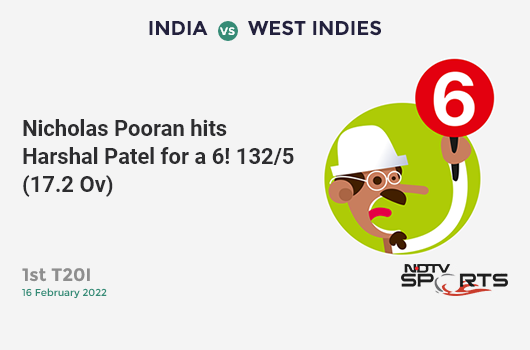 17.1 overs (1 Run) Slower one, back of a length and around off. Pollard hangs back and dabs it down towards backward point for a quick single.
Change. Harshal Patel (2-0-17-0) comes back into the attack.
16.6 overs (1 Run) On middle, this is flicked through mid-wicket for a single.
Venkatesh Iyer seems to have hurt himself. He goes outside the boundary ropes to get nursed by the physio. Hopefully there is nothing serious.
16.5 overs (4 Runs) FOUR! Firmly hit down the ground but the fielder should be stopping that one. Nicely tossed up, outside off. Pollard makes a bit of room and drags it down towards long on. The ball just bounces in front of Venkatesh Iyer over there and goes through his hands. Yuzvendra Chahal is not impressed.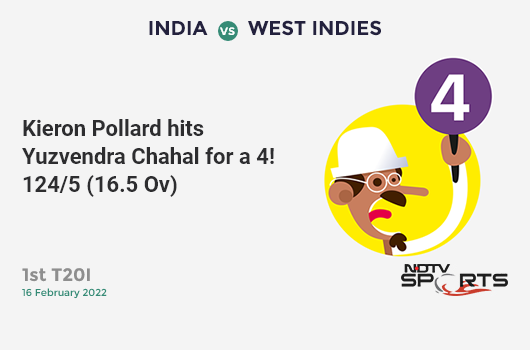 16.4 overs (0 Run) On a length, around middle. This is the googly and turns in a long way. Pollard gets cramped for room and cannot get it away on the leg side.
16.3 overs (1 Run) Flatter deliver, outside off. Pooran cuts it hard to deep point for a single.
16.3 overs (1 Run) WIDE! Sprayed down the leg side. Poran looks to paddle it fine but misses. Wided.
16.2 overs (4 Runs) FOUR! Cutaway and cutaway hard! Short and outside off. Nicholas Pooran rocks back and hammers it past point for a boundary. With this boundary, he also brings up his fifty. A top-class innings from him so far.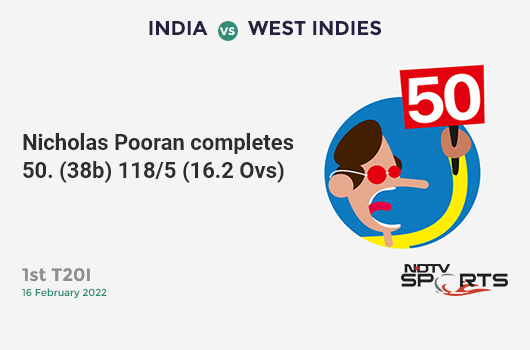 16.1 overs (6 Runs) SIX! Nicholas Pooran is in full flow now! Tossed up, on middle. Pooran gets in position for the slog sweep and hits it cleanly over the mid-wicket fence for a big hit.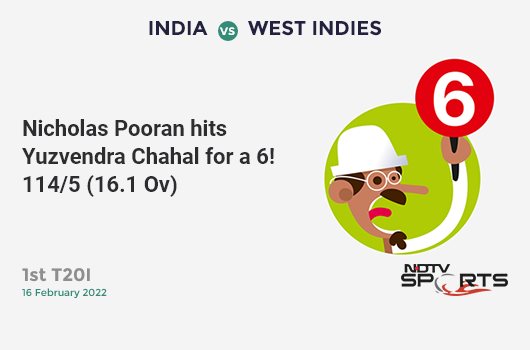 15.6 overs (1 Run) A tad bit short, on middle. Nicholas Pooran pushes it down to long on for a single.
15.5 overs (0 Run) Another googly, Pooran swings across the line but misses the ball completely.
15.4 overs (4 Runs) FOUR! Top shot! One of those few deliveries that doesn't turn away. On off, Pooran goes inside-out over covers and picks up a boundary.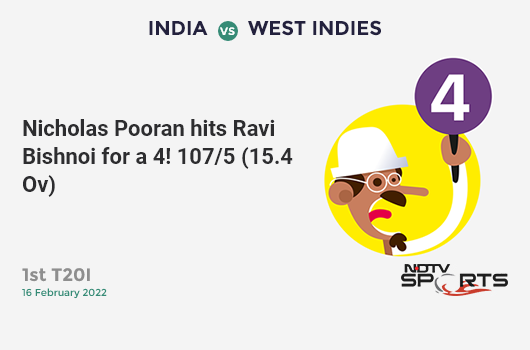 15.3 overs (5 Runs) FIVE LEG BYES! Overthrows! Runs aren't flowing off the bat but the Indian skipper has gifted the opposition with a few extra runs here. On middle, this is bunted out on the leg side for a quick single. The ball comes off the pads and Sharma has a shy at the striker's end. He misses but the ball runs away to the fence as Bhuvneshwar Kumar cannot stop it even after putting in the dive.
15.3 overs (1 Run) WIDE! Quicker and wider of off. This one skids through again and a wide is called.
Review! Rohit Sharma takes the review for lbw. The on-field decision is not out. The replays show no bat is involved. The Ball Tracker confirms it is umpire's call on the point of impact and hence the on-field decision stands. Although India do not lose a review here.
15.2 overs (0 Run) NOT OUT! It looked to be hitting outside off and that's what it was in the end. Another wrong 'un, around off and turning in. Kieron Pollard puts a big stride outside off and looks to flick it away. He misses the ball completely and gets pinged on the pads. The bowler appeals but it is turned down. Rishabh Pant persuades Rohit Sharma to go for the review. No need for UltraEdge as the ball is a fair bit away from the bat. Ball Tracker shows that the impact was umpire's call and Pollard survives.
15.1 overs (1 Run) Tossed up, full and on middle. Pooran hits through the line and gets it on the bounce to the man at long on. Single taken.
Match Reports
Topics mentioned in this article