Story Progress
Back to home
India vs England Live Score Ball by Ball, India vs England 2020-21 Live Cricket Score Of Today's Match on NDTV Sports
Live Updates of Today Match between India vs England from Narendra Modi Stadium, Motera, Ahmedabad. Check commentary and full scoreboard of the match.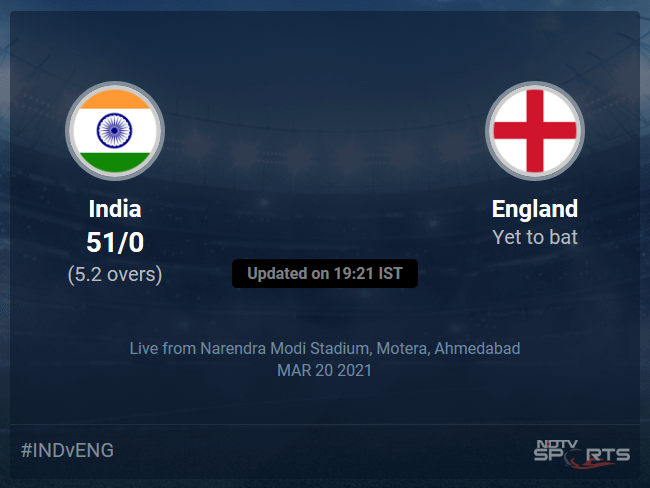 ENG vs IND Latest Score
Follow the India vs England 2020-21 live cricket score on Sports.NDTV.com. After 5.2 overs, India are 51/0. Get live score, ball by ball commentary and much more. Keep track of India vs England 2020-21 today match between India and England. Everything related to India and England match will be available on Sports.NDTV.com. Stay updated with India vs England live score. Do check for India vs England scorecard. You can get scorecard updates, match related facts. Get quick live updates with ads, Sports.NDTV.com, which is the perfect destination for live cricket score.
4.6 overs (0 Run) Full on off, Rohit drives it powerfully but straight to covers.
4.5 overs (1 Run) On a length and around off, Rohit plays it to the off side and takes a single.
4.4 overs (1 Run) Length and around off, Kohli taps it to cover-point for a single.
4.4 overs (5 Runs) FIVE WIDES! Short one from Archer, It rises well and above Kohli and over Buttler for a boundary at fine leg. Wide called.
4.3 overs (0 Run) Fuller and wider outside off, Kohli makes room and looks to carve it through covers but ends up slicing it to point.
4.2 overs (1 Run) Short of length and around off, Sharma cuts it uppishly towards third man where the fielder takes it on the bounce. A single taken.
4.1 overs (1 Run) Short of good length and outside off, Rohit runs it down to third man off the back foot for a single.
Jofra Archer is into the attack.
3.6 overs (2 Runs) Short of length on middle, Rohit works it to deep mid-wicket for a brace.
3.5 overs (4 Runs) FOUR! That is even better! Full again from Wood and Rohit drills it down past the bowler and into the fence for a boundary.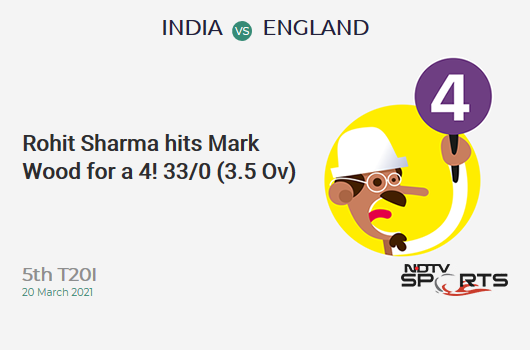 3.4 overs (0 Run) Good length and outside off, Sharma taps it to backward point.
3.3 overs (2 Runs) On middle, Sharma turns it to mid-wicket for a couple of runs.
3.2 overs (4 Runs) FOUR! Hammered! Full and outside off, Sharma stays still before clubbing it down the ground for a boundary. Wood there looks to catch the ball but the ball rockets away from him like a bullet.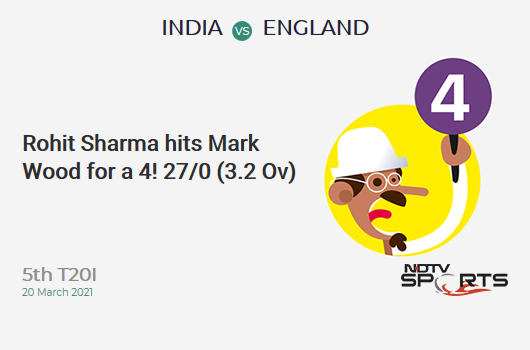 3.1 overs (1 Run) Full on off, Kohli plays it to short cover where Morgan misfields it to mid off. A single taken.
2.6 overs (6 Runs) SIX! That is hammered! Tossed up delivery on middle, Sharma lofts it over long on for a maximum.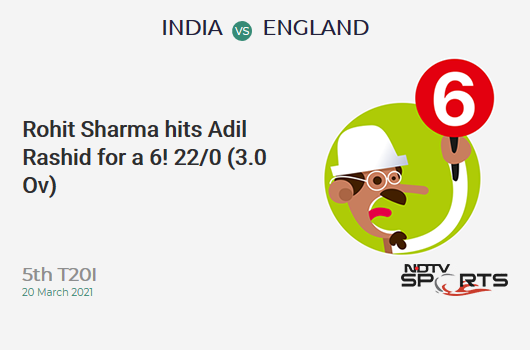 2.5 overs (1 Run) Loopy delivery on middle, Kohli pushes it through mid on for a run.
2.4 overs (1 Run) Full on middle, Sharma flicks it through mid-wicket for a single.
2.3 overs (0 Run) NOT OUT! MISSING STUMPS! Rohit survives as England lose a review. Floated around middle and going straight with the angle, Rohit misses his tuck to get hit on the pads. Rashid appeals as the umpire shakes his head. Morgan goes for the review as the replays roll in. Ultra Edge shows nothing there as Ball Tracker comes on and shows the ball to be missing the leg stump. Rohit is saved.
Review time! An appeal for lbw! Rohit Sharma is the man in question. Ultra Edge shows there is no bat involved. Ball Tracker shows that it is missing the leg stump.
2.2 overs (1 Run) Tossed up around off, whipped away to long on for a single.
2.1 overs (0 Run) Floated on middle, clipped to mid on.
1.6 overs (4 Runs) FOUR! Creamed! Full again from Archer and outside off, Sharma leans into the drive as he strokes it through covers for a boundary. 10 from the over.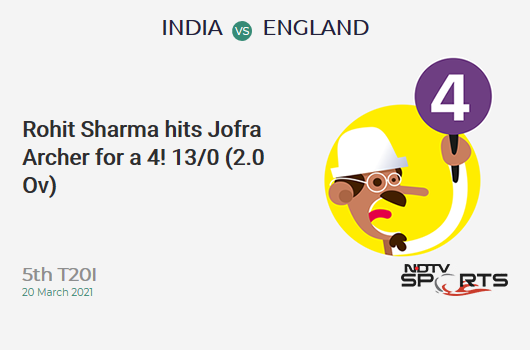 1.5 overs (1 Run) Slower short ball around middle, Kohli pulls it to deep square leg for a single only.
1.4 overs (0 Run) Good length and around off, Virat plays it to covers.
1.3 overs (4 Runs) FOUR! Drilled! Full and in the slot, Kohli stands well inside the crease and then drives it uppishly past the leaping Eoin Morgan and into the fence at covers for the first boundary.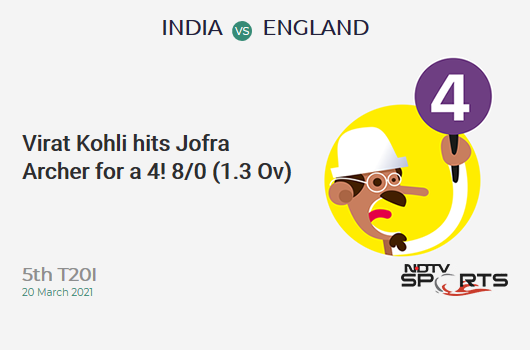 1.2 overs (1 Run) Full and around off, driven down to long on for a single.
1.1 overs (0 Run) Short of good length around off, Rohit plays to covers.
Who will bowl from the other end? It is Jofra Archer.
0.6 over (0 Run) A slow start from India. A good one for England. An appeal from Rashid turned down. Tossed up around middle, Kohli looks to defend it off the front foot but gets rapped high on the pads as Adil appeals but the umpire is unmoved.
0.5 over (1 Run) Flatter around middle, turned towards mid-wicket for a single.
0.4 over (0 Run) Googly around off and middle, Sharma punches it off the back foot to covers.
0.3 over (1 Run) Floated around leg, Kohli looks to tuck it to the leg side but ends up hitting it off his pads to square leg for a single. Leg bye taken.
0.2 over (1 Run) Rohit and India are underway! Floated around off, Rohit chips it uppishly past the bowler and towards long on for a single.
0.1 over (0 Run) Floated around middle from Rashid, Sharma tucks it to short mid-wicket.
We are all set to begin. The England players are out in the middle. Rohit Sharma and Virat Kohli will open the innings for India. Adil Rashid will start the proceedings for England.
Suryakumar Yadav is down for an interview. He says that he had his plans against few bowlers and the plan paid off for him in the previous match. Adds that he tried to play few strokes and it worked for him. Mentions that he is happy with his contribution and India winning the game. Further says that he is just going through the motions. Suryakumar says that he is enjoying this position very well.
India (Playing XI) - Rohit Sharma, Virat Kohli (C), Suryakumar Yadav, Rishabh Pant (WK), Shreyas Iyer, Hardik Pandya, Shardul Thakur, Washington Sundar, Bhuvneshwar Kumar, Rahul Chahar, T Natarajan (IN FOR KL RAHUL).
England (Unchanged Playing XI) - Jason Roy, Jos Buttler (WK), Dawid Malan, Jonny Bairstow, Eoin Morgan (C), Ben Stokes, Sam Curran, Chris Jordan, Jofra Archer, Adil Rashid, Mark Wood.
Virat Kohli, Indian skipper, says that he is happy to bat first. Adds that the pitch is hard and dry. Mentions they will look to improve in some areas. Further says that chasing comes naturally to any team. Informs that they have one change as KL Rahul misses out and T Natarajan comes in.
Eoin Morgan, England skipper, says that they will bowl first because of the dew. Adds that every wicket has been different in this series and they will look to adapt to the conditions tonight too. Mentions that they are excited to play the decider. Further says that they have bowled well in the Powerplay and it is a good preparation for the T20 World Cup. Informs they are unchanged.
TOSS - It is time for the spin of the coin. England win the toss and elect to field first.
Pitch Report - Deep Dasgupta is down with the pitch report. He says that the pitch is going to be same as the previous match. Adds that the surface will hold up a bit as it was in the last game. Mentions that 50% of the runs have been scored against fast bowling. Ajit Agarkar says that the bowlers need to bowl cutters in this surface. Dasgupta says that it is a good surface to bat. Ends by saying that the team which wins the toss should chase.
Time for the decider. Yes, what looked a one-sided series after how India fared in the Tests. But a spirited and new-look England side that is a force to reckon in the white-ball cricket has given India a run for their money in the series so far. On that note, welcome to the 5th T20I between India and England. Both teams having won two games apiece sets this one up perfectly. India prevailed in the last game after a strong show with the bat early on and then a brilliant bowling effort from their bowlers in unfamiliar conditions saw them make the final game as a decider. India though does not have much to chop and change but the form of KL Rahul at the top is a concern along with Washington Sundar's poor bowling returns in the preceding games sees both of them on the cusp of sitting on the sidelines for the final face-off. England too have had issues, the top order not firing in tandem and the inconsistent middle-order batting has been a worry for Morgan. Chris Jordan too has looked a pale shadow of his own self. Who will lay his hand on the trophy? To find out, let's wait before the action unfolds as the toss and team updates coming up shortly.
Topics mentioned in this article