Story Progress
Back to home
India vs England Live Score Ball by Ball, India vs England 2020-21 Live Cricket Score Of Today's Match on NDTV Sports
Live Updates of Today Match between India vs England from Narendra Modi Stadium, Motera, Ahmedabad. Check commentary and full scoreboard of the match.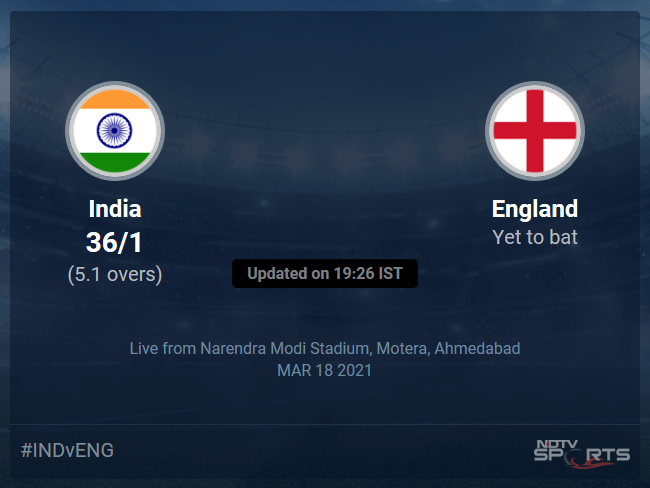 ENG vs IND Latest Score
Follow the India vs England 2020-21 live cricket score on Sports.NDTV.com. After 5.1 overs, India are 36/1. Get live score, ball by ball commentary and much more. Keep track of India vs England 2020-21 today match between India and England. Everything related to India and England match will be available on Sports.NDTV.com. Stay updated with India vs England live score. Do check for India vs England scorecard. You can get scorecard updates, match related facts. Get quick live updates with ads, Sports.NDTV.com, which is the perfect destination for live cricket score.
4.6 overs (1 Run) Wood hits the deck hard around off. The ball does not rise as much as Suryakumar expected it to. He is cramped to pull but goes for it. Hits it to the man in the deep on the leg side. Keeps the strike with a single.
4.5 overs (0 Run) Good length balll around off, Suryakumar defends it to cover and shouts a confident no.
4.4 overs (0 Run) Wood goes short outside off. Suryakumar looks to guide it over slips but misses.
4.4 overs (1 Run) WIDE! Wood misses his line and bowls one down the leg side. Suryakumar looks to flick but misses.
4.3 overs (4 Runs) FOUR! Magnificent SKY! What a shot this is right off the middle. Good length delivery outside off, this is bowled at 149 kph. Suryakumar gets on his back foot and punches it through extra cover for a boundary.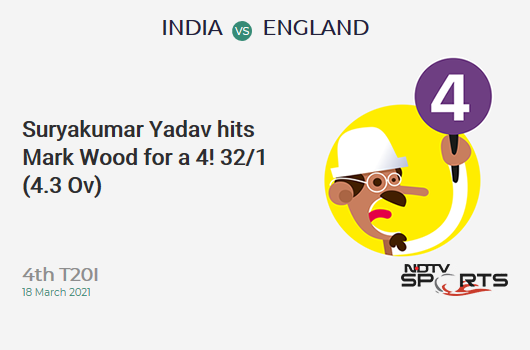 4.2 overs (0 Run) Length ball around off, Suryakumar taps it to point.
4.1 overs (1 Run) Pacy ball on the pads, Rahul looks to flick but misses. The ball hits his thigh pad and goes behind square leg. Leg bye taken.
3.6 overs (0 Run) Now calmly blocks it. Smart choice from SKY. 8 runs and a wicket off Archer's second over.
3.5 overs (6 Runs) SIX! BANG! Suryakumar Yadav is up and running in international cricket with a biggie. What a shot! Talk about courage! This man has been waiting for a longtime to bat for his country and now when he has got the chance, he has opened his account with a superb maximum. Short ball around the body, Suryakumar hooks it high, handsome and over the backward square leg fence for a biggie. Talk about being nervous, Surya isn't at all!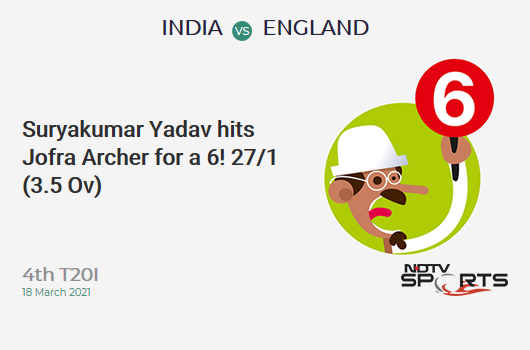 Who walks out to bat? Suryakumar Yadav comes out to bat.
3.4 overs (0 Run) OUT! CAUGHT! Archer dropped one of Rohit Sharma off his own bowling a couple of days ago but he does not commit the same mistake tonight. He sends the Hitman back to the dugout. The change of pace gets the better of Rohit. Archer once again rolls his fingers on this one just like the first ball of the over. The big difference this time is the line. It is on middle and off, Rohit is early in his drive. He ends up lobbing it straight back to Archer. He takes the dolly and England have early success.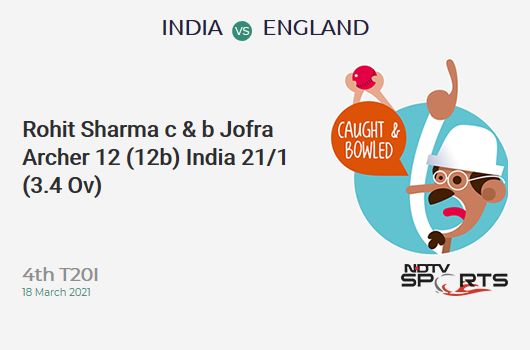 3.3 overs (1 Run) Good shot! Length delivery around off, Rahul gets on top of the bounce and plays a very beautiful cover drive. It is straight to the fielder there. He misfields allowing Rahul to get the single.
3.2 overs (1 Run) Back of a length outside off. Rohit pulls it but the bat turns in his hand. It is played in front of square on the leg side. There is a boundary rider at deep mid-wicket. He cleans it up. Just a single.
3.1 overs (0 Run) Slower delivery outside off. Rohit looks to slash but misses.
2.6 overs (0 Run) Nicely timed but straight to the fielder. Good length delivery around off, Rahul goes on his back foot and times it perfectly but finds Roy at point. Excellent start for Wood. Just a leg bye off his first.
2.5 overs (0 Run) Length ball on middle, this one is bowled close to 150 kph. Rahul pushes it to mid off.
2.4 overs (0 Run) Good length ball on off, Rahul defends it with a straight bat off the middle. He is finding the middle of the bat so that is a good sign for him and all the Indian fans.
2.3 overs (1 Run) Wood hits the deck hard on leg. Rohit looks to flick but misses. It hits his thigh pad and rolls to the off side of the pitch. Rahul calls for a quick run and they get a leg bye. Good running.
2.2 overs (0 Run) Good ball! Wood goes full and makes the ball jag back in at pace. Rohit looks to play it straight but gets a fortunate inside edge onto the pad.
2.1 overs (0 Run) Wood starts with a length ball on off. It is bowled at 144 kph. Rohit pushes it to mid on.
1.6 overs (4 Runs) FOUR! Class from Rahul! This will do him a world of good here. Archer hits the deck hard again outside off. Rahul goes on his back foot and punches it right off the meat of the bat through covers for a majestic boundary. Is this the shot that sees Rahul find his groove back. He is a class act and if he gets his rhythm back, it will be bad news for England.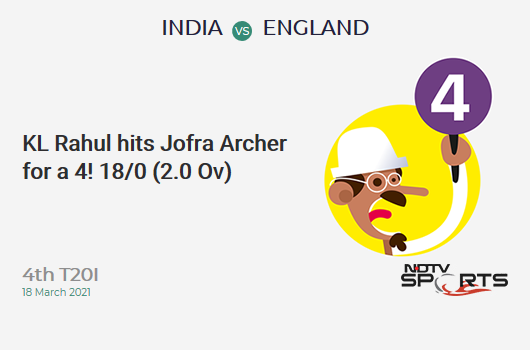 1.5 overs (0 Run) Bouncer! A very good one from Archer. Rahul does well to keep his bat away from the ball and sway away from it.
1.4 overs (1 Run) Archer hits the deck hard on middle and leg. Rohit looks to flick but misses. The ball hits his thigh pad and goes to the leg side. They take a leg bye.
1.3 overs (1 Run) Length ball around off, Rahul plays it to point and takes a quick single. Roy has a shy at the keeper's end but misses.
1.2 overs (0 Run) Good length ball on off, Rahul taps it to cover.
1.1 overs (0 Run) Archer starts with a back of a length delivery on middle. Rahul defends it off the back foot.
Jofra Archer to bowl from the other end?
0.6 over (1 Run) NOT OUT! Rohit's dive has saved him and after back-to-back ducks, Rahul gets his first run. Just his second run in the series. Floated on off and middle, Rahul turns it to the leg side and calls for a quick run. Rohit responds and goes for it. The fielder shoots a good throw at the keeper's end. Rohit puts a dive as Buttler whips the bails off. The square leg umpire goes upstairs. Rahul looks a bit concerned. Replay finds Rohit's dive was a good one to save him.
Run out check sent upstairs. No one seems interested there. The umpire has a check upstairs and Rohit seems to be fine.
0.5 over (1 Run) Run out check sent upstairs.
0.4 over (0 Run) Floated on off, Rohit defends it.
0.3 over (4 Runs) FOUR! Poor ball! Rashid bowls the googly but the line is a poor one. It is on the pads, Rohit flicks it away from short square leg and the ball races away to the fence.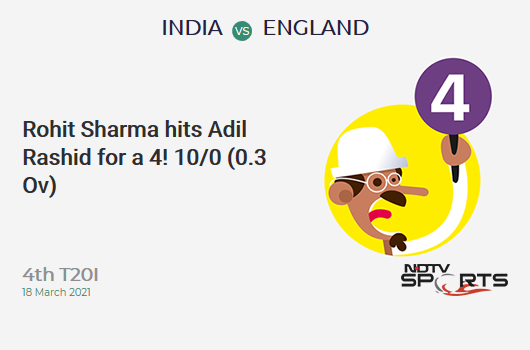 0.2 over (0 Run) Much-better from Rashid. Pulls his length back and bowls it on middle and off, Rohit blocks it.
0.1 over (6 Runs) SIX! KABOOM! Rohit starts with a bang! Hitman takes out his sniper straightaway! Flighted ball on off, it is in the slot for Rohit. He goes downtown over long off for a biggie.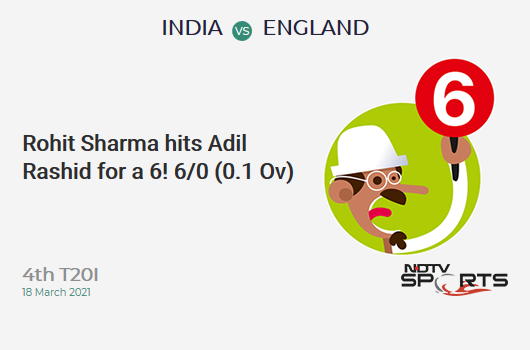 We are all set to begin the all-important clash. The England players after getting a few words of wisdom from their skipper spread out quickly onto the field. They are followed by the two Indian openers, Rohit Sharma and KL Rahul. For England, it will be Adil Rashid to start with the ball. Here we go...
India (Playing XI) -Rohit Sharma, KL Rahul, Virat Kohli (C), Suryakumar Yadav (IN FOR ISHAN KISHAN), Rishabh Pant (WK), Shreyas Iyer, Hardik Pandya, Washington Sundar, Shardul Thakur, Bhuvneshwar Kumar, Rahul Chahar (IN FOR YUZVENDRA CHAHAL).
England (UNCHANGED PLAYING XI) - Jason Roy, Jos Buttler (WK), Dawid Malan, Jonny Bairstow, Eoin Morgan (C), Ben Stokes, Sam Curran, Chris Jordan, Jofra Archer, Adil Rashid, Mark Wood.
Indian skipper, Virat Kohli says he is happy and adds they were willing to take the challenge. Tells they would have batted first and were looking to improve aspects in their game. Kohli says this pitch looks the best in terms of hardness and eveness. Kohli says that he tells the boys to take pride and adds the body language in the last game was not good and that has been addressed in the last game. Kohli says batting and bowling is easier than fielding as it is a selfless act. Kohli says today is another challenge. Kohli informs there are two changes in the side, one forced. Rahul Chahar comes in and Kohli informs he might play the remainder of the games. Adds he replaces Chahal. Kohli also informs Ishan Kishan hurt his groin in the last game and he is replaced by Suryakumar Yadav.
England skipper, Eoin Morgan says that they will bowl again. He mentions that the surface looks harder and he would look to exploit the conditions. He mentions that the first 10 overs decide what total you set. He mentions that in the second innings the dew sets in and makes the chase easy. He further says that they are building towards the world cup. He mentions that they are still learning and ends by saying that winning is a bit tricky than losing.
TOSS - Time for the thing that has decided the fate of the game so far in this series. It is time for the coin flip. Indian skipper, Virat Kohli and England captain, Eoin Morgan are out in the middle. Up goes the coin, Morgan calls Heads and it comes down as Heads. ENGLAND OPT TO BOWL!
PITCH REPORT - Deep Dasgupta and Ajit Agarkar are the pitch analysts for the day. Dasgupta says that it is the same pitch that was used in the first T20I of the series. Agarkar says that the pitch is firm but has less grass than the previous game played on this track. Agarkar tells this pitch looks good for batting. Dasgupta says the game plan from England's fast bowlers has been to pitch it short. Agarkar feels the big difference in this pitch is that it has taken a lot of time to settle. Fells this is the best pitch we have seen so far in the series. Agarkar still believes that chasing will be the way to go.
Out of the 5 T20Is in the series 3 are done and it is not a surprise that England have won two out of the 3 games. Though all the wins have been while chasing. It will be interesting to see whether we get a mammoth total from the team batting first in these remaining two games. On that note, a warm welcome to one and all for the 4th T20I. The penultimate one of the series and a must-win game for India with the perspective of keeping the series alive. Off late the home team has been facing the issue of strong and quickfire starts from its openers, KL Rahul's failure has hurt India big time as the call for his dropping goes louder. Will Kohli back his ace batsman? For England too the issue is somewhat the same, in the first two games, Jason Roy got starts but he could not capitalise while Jos Buttler failed. In the last game, Roy departed early and Buttler came to the party. Will we see the two fire in tandem today? Apart from that bowling has been an issue for both sides. India has been leaking runs through their spinners while England have been poorer with their death bowling efforts. How will the teams address their bowling issues? To find out join us for the action but before that let's see who wins the toss. It has been a crucial factor so far in the series. What will the captain do after winning the toss? Stay tuned to find out.
Topics mentioned in this article