Story Progress
Back to home
India vs England Live Score Ball by Ball, India vs England 2020-21 Live Cricket Score Of Today's Match on NDTV Sports
Live Updates of Today Match between India vs England from Narendra Modi Stadium, Motera, Ahmedabad. Check commentary and full scoreboard of the match.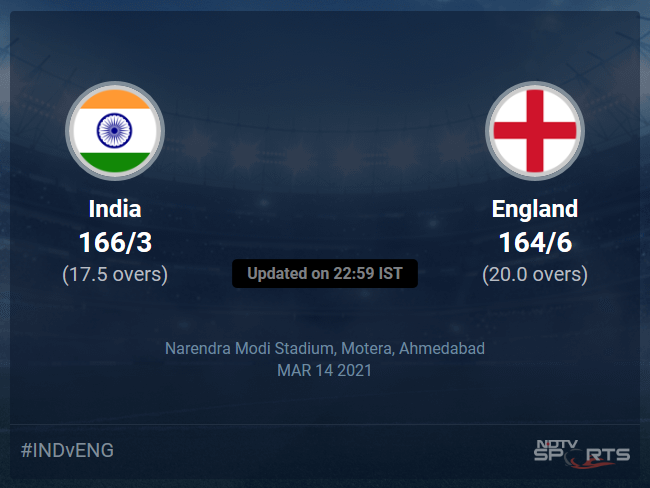 ENG vs IND Latest Score
Follow the India vs England 2020-21 live cricket score on Sports.NDTV.com. After 17.5 overs, India, chasing a target of 165, are 166/3. Get live score, ball by ball commentary and much more. Keep track of India vs England 2020-21 today match between India and England. Everything related to India and England match will be available on Sports.NDTV.com. Stay updated with India vs England live score. Do check for India vs England scorecard. You can get scorecard updates, match related facts. Get quick live updates with ads, Sports.NDTV.com, which is the perfect destination for live cricket score.
Right then. A comprehensive win for India and they have bounced back in some fashion. They will look to build on this, whereas the English Lions will be looking to put this loss behind them and focus on their next game. The third T20I between them will be played on Tuesday, 16th March 2021 at 1900 local (1330 GMT). We hope to have your company for that game. Until then, cheers!
ISHAN KISHAN IS THE MAN OF THE MATCH! He says that his seniors helped him to go out there and express himself. Adds that it is not easy to play in your first game and he has got good advice from his seniors. On his frustration when he got out, he feels that the reverse sweep is a good shot but it did not work out and he wanted to finish the game but he was not able to. Says that his favored shot was against Tom Curran for a six. Stresses that he is not going to feel this way ever again and felt that this was his time to shine.
The Indian skipper, Virat Kohli says it was a very good game for them, they did really well with the ball especially in the second half. Adds Sundar was really good, he bowled cleverly and so did the rest and he is very pleased with how they performed in all departments. Admits it did come onto the bat better in the second innings and that is why he wanted to bowl first but the England bowlers were a little too short. Credits the way Ishan played and he changed the game completely. States Kishan is a fearless character and he should continue to back his instincts, he played calculated cricket and that is what you exactly what to see. Also says he needed to shift the focus back to the basics of the game, he is more pleased about doing the job for his team than his individual performance. Also informs he had a chat with ABD before the game and that helped. Credits that Hardik Pandya is bowling well, he has worked hard on his fitness, and now it is just about managing his workload and keeping him fit. Ends by saying, England are a quality side and you need to be at your best against them.
Eoin Morgan, the English skipper, says that at the halfway stage, they were in the game and feels that India bowled well and the wicket had less pace on this one. Adds that India pushed them on the back foot and their disappointing thing for them was that they did not play well on this slow wicket. Feels that statistically, it is better to chase and credits India again for the way that they played. States that they missed Wood and hopes that he will be fit for the third game. Says that they won't be practicing a lot and they want to get this experience under their belt.
Washington Sundar is in for a quick chat! He says that the wicket was a much better one than the one that they played on in the 1st game and says that they batted really well. Adds that he loves bowling with the new ball and is happy that he did that today. On Bairstow's wicket, he says that he had a chat with Kohli as Bairstow was looking to go hard and they decided to bowl a slower one to get him out and it worked out. Says that they did not talk a lot about the loss that they had and they wanted to improve and praises England for their performance in the 1st game but is happy to bounce back with a win. Praises Kishan and Pant for their knocks.
The England bowling started off quite well but have to say, the 6th over by Tom Curran just shifted the momentum completely. After that, they had no answers to the power of the Indian batters. One can also say, they just did not have enough on the board.
Kishan and Kohli then smashed a partnership which probably killed the game! The two started off slowly but once they got their eye in, scored at will. Especially the debutant. He was smashing it all around the park. The two added 94 in no time with Kishan being the mainstay. He smashed a half ton on debut before being dismissed. Pant then continued and kept the momentum going but he too could not stay out there for long. Iyer and Kohli, who also scored a half century, played sensibly and took their side over the line.
A thumping win for India to level the series! To be honest, the game was won by them in the last 5 overs of the England innings. England were well on course to get to 180 but some excellent bowling kept them down to 165 which was never going to be enough despite the visitors getting Rahul early.
17.5 overs (6 Runs) SEALED WITH A SIX! Jordan runs in and bowls a shortish ball on middle and leg, Kohli swivels and pulls this one with power way over the fine leg fence. INDIA WIN BY 7 WICKETS!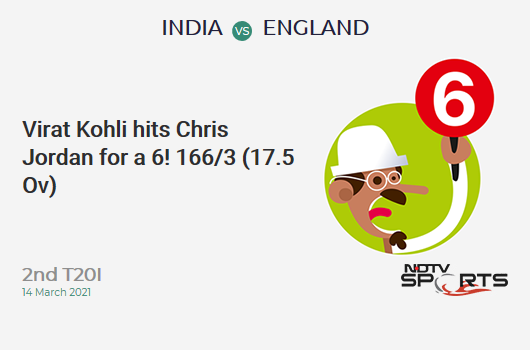 17.4 overs (4 Runs) FOUR! Beautiful shot. Kohli is on fire. A good length ball on middle, Kohli whips this one through the square leg region and the ball speeds away to the ropes. Only 5 more needed now.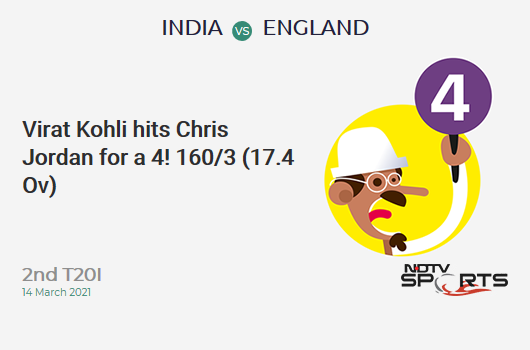 17.3 overs (1 Run) Full, on off, worked to mid on for one.
17.2 overs (0 Run) Shuffles around inside the crease and Jordan bowls a short one around middle, Iyer backs away and looks to play this over point but fails to get any bat on this.
17.1 overs (1 Run) A full toss on leg, Kohli whips this one to fine leg for one. Kohli seems frustrated as he knew he could have sent that packing over the ropes.
16.6 overs (1 Run) Fuller and around off, Virat backs away and drills this one to the mid off fielder for a single. Only 11 more needed now. India will be looking to wrap the game up in the next over.
16.5 overs (0 Run) Bowls a bumper on middle, VK looks to pull but to no avail.
16.4 overs (4 Runs) FOUR! Not the best timed shot but this one will still be a boundary. On a good length and outside off, Kohli stands tall and just lofts this one over covers. The ball lands safe, takes a couple of bounces and goes past the ropes.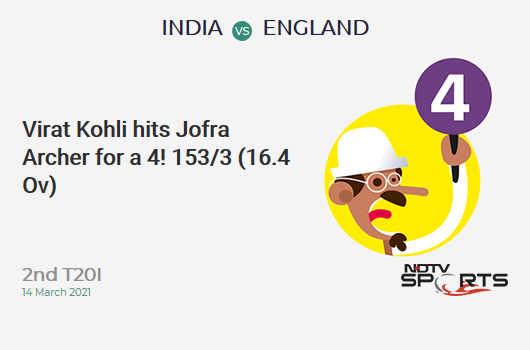 16.3 overs (0 Run) Good length and around off, worked to mid-wicket, where Tom makes a good stop.
16.2 overs (1 Run) Punched to deep covers for a single.
16.1 overs (1 Run) Good length on off, worked through mid-wicket for a single.
15.6 overs (1 Run) Short again, on off, Kohli backs away and slaps this one back to Rashid, who half-stops it, but the ball goes to long off. One run. 18 more needed in 4 overs.
15.5 overs (1 Run) Short again around off, Iyer pulls this one to deep mid-wicket and gives the strike back to Virat.
15.4 overs (1 Run) Flatter outside off, Kohli slaps this one through covers for a single.
15.3 overs (0 Run) Comes down the track and pushes this one to mid off.
15.2 overs (0 Run) NOT OUT! Kohli does not go back. It was good work by Jos but it does not matter. Floated around off, spins away as Kohli lunges forward, looking to push this one away but misses. Buttler collects the ball and whips the bails off. An appeal and the square leg umpire takes this one upstairs. Replays roll in and the third umpire has a couple of looks at this and decides that there is a part of the boot, behind the crease and so this will be not out.
A stumping appeal has ben referred. England are not that excited.
15.1 overs (1 Run) Floated on middle, worked through mid on for one.
Match Reports
Topics mentioned in this article