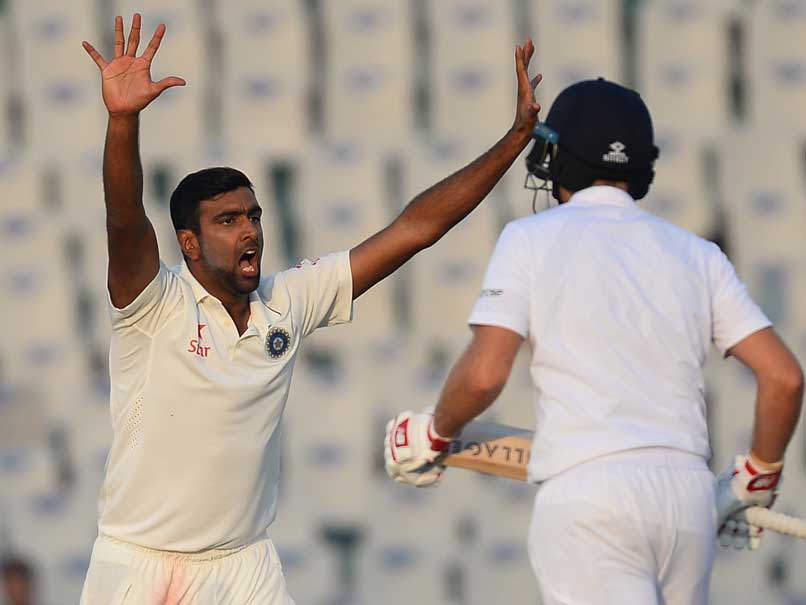 Ashwin took 3/19 on Day 3 of the Mohali Test
© AFP
Cricket legend Sunil Gavaskar on Monday heaped praise on all-rounder Ravichandran Ashwin and attributed his performance for India's fine position in the Test match at Mohali.
Ashwin, who has taken 15 wickets in the series so far, has performed exceptionally well in the batting department too. The all-rounder has accumulated 239 runs at an average of 47.80 in the series.
"He is making a case of opening the batting for India. The way he has been batting in the last six to eight months, I must say that India has got a reliable all-rounder and that is a huge plus," Gavaskar told NDTV.
Ashwin, who has saved India the blushes innumerable times now, received a tap on the back from the former India captain.
"Ravi Ashwin has one of the finest cricketing brains in the game. Under Ashwin's guidance Ravindra Jadeja also showed exemplary patience and went on to score big," he said.
Gavaskar also commented on the performances of Jadeja and Jayant Yadav.
"Ravindra Jadeja deserved a Test hundred and he was very close to it," he said.
"As far as Jayant is concerned, he looks to me a fine player. He got the opportunity and grabbed it with both the hands," Gavaskar said.
"Jayant Yadav looks as if he belongs there. He has been playing domestic cricket for 4-5 years and came into the Indian side by performing well there. You have got to start doing well in the domestic cricket first to expect the India call," he concluded.
Meanwhile, India are marching towards victory by leaving England reeling on Day 3 of the Mohali Test on Monday. England are trailing India by 56 runs with 78/4 at the end of day's play. R Ashwin was the pick of the bowlers with 3/19 in 12 overs, he has bowled so far.