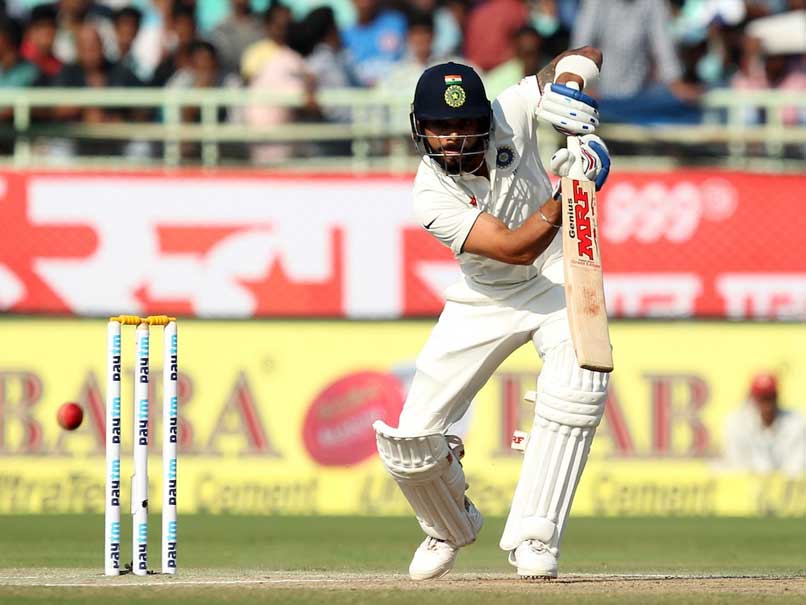 Virat Kohli become the first Indian captain to score three doubles centuries in Tests.
© BCCI
Virat Kohli was at his absolute best on Day 4 of the Mumbai Test as he scored the third double ton of his career. The stylish right-hander dominated from the word go, putting pressure on the England bowlers. Jayant Yadav registered his maiden hundred and along with Kohli added 241 runs for the eighth wicket. Indian spinners then did the needful, taking six England wickets with 49 runs still in the bank. (SCORECARD)
India vs England 4th Test Day 4 highlights from Mumbai 
16:48 IST: That's it from us for today. Do join us for all the action of India Vs England 4th Test Day 5 tomorrow.
, as India look to win the series. Adios!
16:45 IST: Anil Kumble will be thrilled with the clinical show from his side on Day 4.
India will win this match .. But I have to say the level of entertainment over the 4 days and the crowd have been great for Test Cricket ..

— Michael Vaughan (@MichaelVaughan) December 11, 2016
16:45 IST: Apart from Joe Root and Jonny Bairstow, none of the England batsmen showed much resistance on Day 3.
16:44 IST: Absolute perfect end to the day for India here in Mumbai. They need four wickets to seal this series.
16:42 IST: WICKET! Last over of the day and Jake Ball edges Ashwin's off-spinner to the keeper. The umpire takes off the bails to signal end of day's play. Kohli and Co are delighted with that late strike.
16:19 IST: WICKET! Ashwin gets the big wicket of Ben Stokes. England five down!
15:58 IST: Ben Stokes goes after Jayant. Four followed by a six. The left-hander isn't going to block everything.
15:42 IST: WICKET! Jayant gets the big fish, Joe Root is out lbw for 77. England four down.
15:38 IST: Root and Bairstow continue to defy the Indian spinners. England trail by 91 runs.
15:28 IST: Big call from Michael Vaughan, this.
As good as @imVkohli innings was this play by @root66 is as good if not a little better considering the quality of spinners he is facing !!

— Michael Vaughan (@MichaelVaughan) December 11, 2016
15:22 IST: Root has been outstanding for England so far. He has to get a big one if England are to make India bat again.
15:13 IST: Bairstow and Root have done well so fair. Wonder if Kohli will throw the ball to Jayant Yadav now.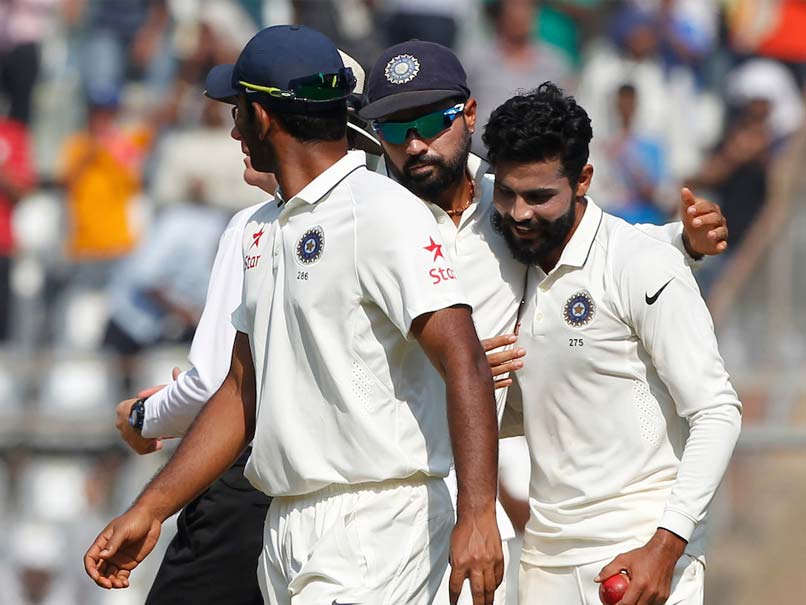 15:06 IST: After 25 overs, England 99/3 (Root 57*, Bairstow 15*)
14:57 IST: FOUR! Bairstow gets to the pitch of Ashwin's ball and drives through the covers
14:37 IST: Ashwin and Jadeja are almost unplayable on this surface. Root and Bairstow need to be positive and play their shots.
14:30: The final session of the day is underway
14:15 IST: At tea on Day 4, the hosts are firmly in command. England trail by 182 runs, with seven wickets in hand.
14:14 IST: WICKET! Jadeja strikes again. Moeen departs after being caught at leg gully. With such turn and bounce, Jadeja is a handful to bat against.
13:57 IST: OUT! Cook is trapped lbw by Jadeja. The England captain opted for review but the TV umpire stayed with the original call. England two down.
13:48 IST: After 8 overs, England 26/1 (Root 18*, Cook 7*)
13:38 IST: England under immense pressure here.
13:20 IST: Bhuvi gave India the dream start by trapping Jennings lbw on the second ball.
13:06 IST: India all out for 631 (Kohli 235, Jayant 104, Rashid 4/192)
13:04 IST: WICKET! Bhuvi is dismissed by Rashid, who now has four wickets. India take a 231-run lead. England face an uphill task to save this Test.
12:55 IST: FOUR! Woakes is dispatched through midwicket by Umesh. Powerful pull shot!
12:45 IST: WICKET! Kohli's masterclass comes to an end. He departs for 235. The Mumbai crowd gives him a standing ovation.
12:39 IST: SIX! Kohli clobbers Woakes over long on. Incredible.
12:34 IST: OUT! India lose their first wicket of the day. Jayant Yadav is stumped for 104 off Rashid's bowling.
12:32 IST: After 176 overs, India 604/7 (Kohli 224*, 104*)
12:26 IST: HUNDRED! Jayant Yadav picks up a single to bring up his 1st Test ton. What a feeling it must be for this young man.
12:18 IST: Kevin Pietersen has this to say about Virat Kohli
12:15 IST: The post-lunch session is underway at the Wankhede Stadium.
11:38 IST: It's lunch on Day 4! India have completely outplayed England in that session.
11:22 IST: Jayant Yadav moves into the nineties. This has been a superb knock from him.
11:06 IST: HISTORY! Kohli scores a single to bring up his third double hundred. He is the first Indian captain to do so. What a moment!
10:50 IST: FOUR! Kohli opens the face of the bat to guide the ball to the third man region for four more runs. Anderson doesn't know
10:47 IST: FOUR! Kohli flicks Anderson's ball through backward square leg for a boundary. He moves to 191*
10:41 IST: This is exceptional stuff from Kohli and Jayant. England look deflated now.
10:32 IST: Time for some drinks! India are well and truly ahead in this Test now.
10:25 IST: FOUR! Jayant drives and gets four more runs. This time off Moeen and wide of the mid-off fielder.
10:21 IST: FOUR! Jayant plays a superb drive between cover and point off Anderson.
10:08 IST: FOUR! Full toss from Root and it does not go unpunished. Kohli dispatches it through midwicket!
10:01 IST: FOUR! Kohli flicks Root's leg-side delivery down to fine-leg for four more runs.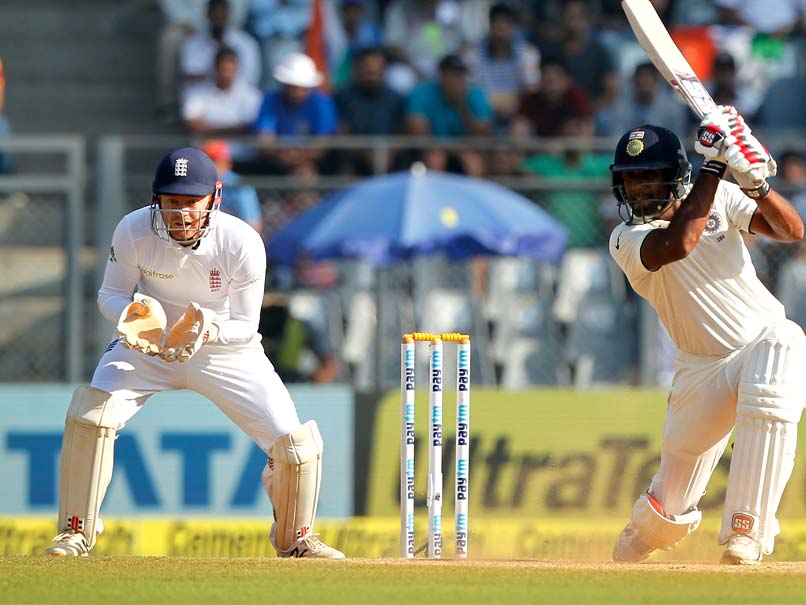 9:58 IST: FOUR! Jake Ball pitches it up and Jayant drives through the covers. Glorious shot!
9:57 IST: 2016 has been a dream year for Virat Kohli.
9:52 IST: After 148 overs, India 481/7 (Kohli 157*, Jayant 50*)
9:50 IST: FIFTY! That's Jayant Yadav's second Test half-century. Kohli applauds.
9:43 IST: FOUR! Jayant drives Rashid straight down the ground for another boundary.
9:38 IST: That's the 100-run partnership between Kohli and Jayant.
9:37 IST: Excellent start by India this morning. Three boundaries already. One from Kohli and two by Jayant.
9:19 IST: It's Sunday and a big crowd is expected at the Wankhede Stadium. Mumbai's cricket lovers will hope skipper Virat Kohli goes on to get another double ton.
9:18 IST: Morning all! Welcome to our live cricket blog for Day 4 of the India vs England Test in Mumbai.
At stumps on Day 3, Kohli was batting on 147 and Jayant Yadav was on 30. India (451/7) led England by 51 runs.
The Indian skipper, who has enjoyed a remarkable and record-breaking year, hit 17 fours during his stay at the crease.
"He played exceptionally well today and you have to take your hat off sometimes and just accept it," England's Joe Root said of Kohli afterwards.
"The amount of runs Kohli has scored this series, if you take those away it's a completely different series," added the 25-year-old Root, whose England side must win if they are to keep the contest alive.
Batsman Kohli crossed 1,000 Test runs for the year and 4,000 for his career during his 241-ball knock to ensure India take a lead.
Kohli, who has hit two double centuries in 2016, would surely be aiming for his third one on Sunday.