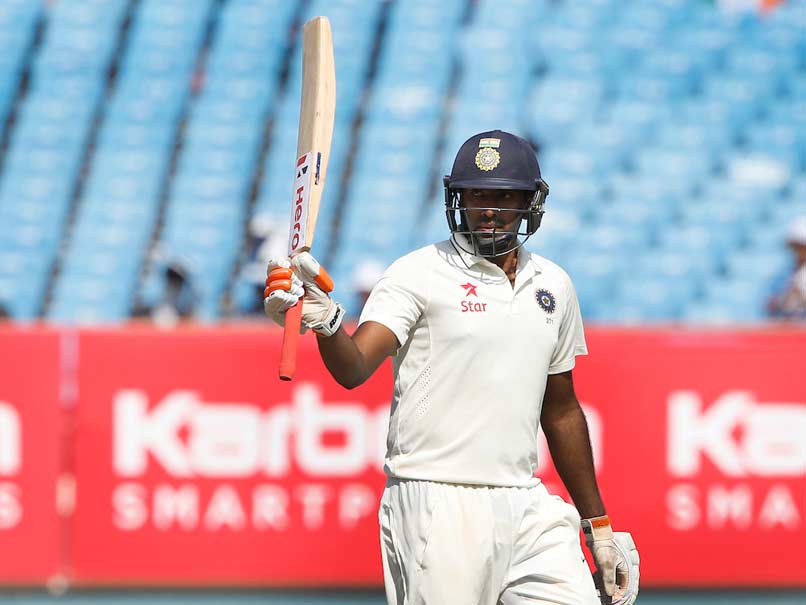 Ravichandran Ashwin scored an unbeaten knock of 57 runs vs England on Day 2 at Mohali.
© BCCI
Ravichandran Ashwin and Ravindra Jadeja's counter-attack in the final session on Day 2 of the 3rd Test tilted the balance of the tie in favor of India at Mohali. Virat Kohli and Cheteshwar Pujara too scored fifties for the hosts but the day was rescued by the 67-run stand between Ashwin and Jadeja. Catch all the highlights of India vs England Test here. (SCORECARD)
17:17 IST: That's it from us for now. Do join us for Day 3 of this Test on Monday. It promises to be a cracker. Adios!
17:10 IST: England will be disappointed to let India off the hook. It looked as though the hosts were in trouble after Kohli's wicket. That's Test cricket for you!
17:05 IST: Ravichandran Ashwin (57*) and Ravindra Jadeja (31*) will return on Day 3 to add to their 67-run stand.
17:00 IST: That's it! At stumps on Day 2, India trail England by 12 runs.
16:50 IST: FIFTY! That's Ashwin's 9th half-century and has come at a crucial time for India.
16:31 IST: SIX! Jadeja at it again. This time clears the long-on boundary off Rashid's bowling.
16:29 IST: FOUR! Jadeja takes the aerial route, goes over Rashid's head. Clean hit!
16:17 IST: This partnership between Ashwin and Jadeja is critical for India.
16:06 IST: FOUR! Ashwin drives against the turn off Moeen.
16:00 IST: Ashwin is hitting some nice shots at the PCA Stadium
15:50 IST: India are behind by 72 runs. Can Jadeja and Ashwin rescue the hosts?
15:45 IST: Adil Rashid and Ben Stokes have taken five wickets together while Karun Nair was run out
15:41 IST: Ravindra Jadeja has come out to replace Kohli and give Ashwin some company
15:38 IST: India at 204/6 are in trouble now
15:35 IST: OUT!! Skipper Virat Kohli is caught behind for 62
WICKET! The big one! Kohli edges Stokes behind to go for 62 & India are 204-6 #INDvENG

Live: https://t.co/vBheEBdBuv pic.twitter.com/SvU7XlTCl5

— England Cricket (@englandcricket) November 27, 2016
15:31 IST: And 200 comes up for India thanks to four byes from the bowling of Ben Stokes
15:28 IST: This has been quite a patient innings from the India captain
15:23 IST: And Kohli has scored his 14th Test half-century
14th Test 50 for Captain @imVkohli @Paytm Test Cricket #INDvENG pic.twitter.com/KBagC6nXWe

— BCCI (@BCCI) November 27, 2016
15:18 IST: India are closing in on the 200-run mark
15:13 IST: Virat Kohli is nearing his 14th half-century in Test cricket. He also 14th centuries in the 5-day format. Some player he has been for India
15:09 IST: Kohli looks solid out there! Strong bottom hand coming into play at the PCA Stadium and a boundary
15:04 IST: How far can Ashwin and Kohli take India? These two need to strike a partnership otherwise if England take the lead on this deteriorating pitch, India would be in serious trouble.
14:59 IST: Ashwin picks up two boundaries off Woakes' bowling. Super batting from the right-hander.
14:55 IST: Yet again, Virat Kohli all it all to do for his side. He has Ashwin for company.
14:54 IST: WICKET! Karun Nair is run out. India in a spot of bother.
14:48 IST: OUT! Rahane is trapped lbw by Rashid.
14:43 IST: OUT! Rashid removes Pujara for 51. England delighted with that wicket.
14:15 IST: Time for tea! Kohli and Pujara's 75-run stand has given India the upper hand. India 148/2.
14:08 IST: FIFTY for Pujara. Fine knock from the right-hander.
13:51 IST: Batty needs to do more for England here. So far Kohli and Pujara have handled him well.
13:44 IST: FOUR! Pujara guides Stokes' ball down to fine leg. Easy runs for the right-handers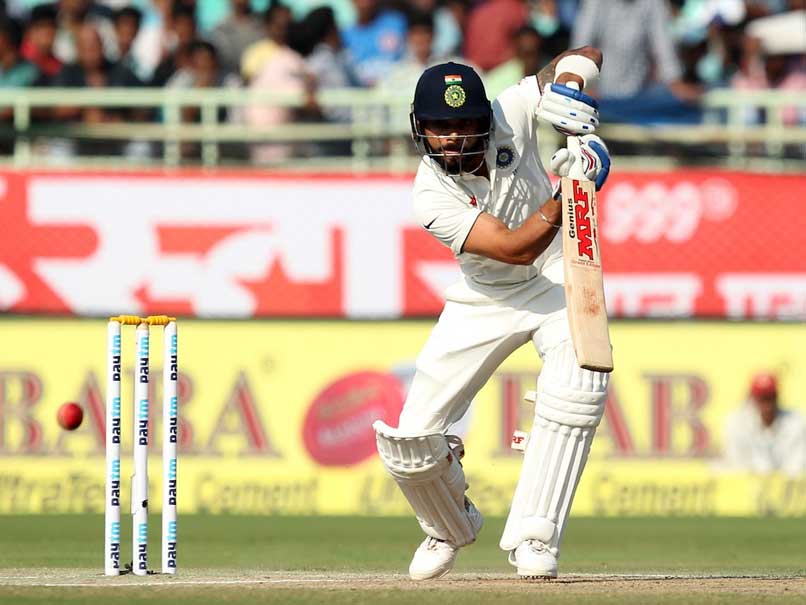 13:37 IST:  After 40 overs, India 104/2. Cheteshwar Pujara 27 (75b), Virat Kohli 20 (43b)
13:21 IST: Kohli and Pujara have out on 24 runs for the 3rd wicket for far.
13:02 IST: Kohli has been positive and appears extremely solid out in the middle. England need to get him early.
13:02 IST: Woakes tests Kohli with some high quality bowling. But the Indian skipper does well.
12:59 IST: After 32 overs, India 82/2. Cheteshwar Pujara 18 (57b), Virat Kohli 7 (13b)
12:55 IST: The Kohli-Anderson duel looks interesting. This is a proper Test battle between two masters.
12:50 IST: The Kohli-Pujara partnership has been the backbone of India's batting of late.
12:36 IST: WICKET! Adil Rashid traps Parthiv Patel lbw. India lose their second wicket.
12:20 IST: We are underway after lunch!
11:38 IST: It's lunch on Day 2. India are 60/1, with Pujara and Patel at the crease.
11:14 IST: FOUR! Patel plays an exquisite on drive off Anderson.
11:11 IST: FOUR! Stokes strays on Pujara's pads, the right-hander flicks that delivery easily to fine leg.
10:52 IST: WICKET! Vijay edges one to the keeper off Stokes. India 39/1
10:47 IST: Indian openers have applied themselves well so far. Pathiv Patel is looking positive out there.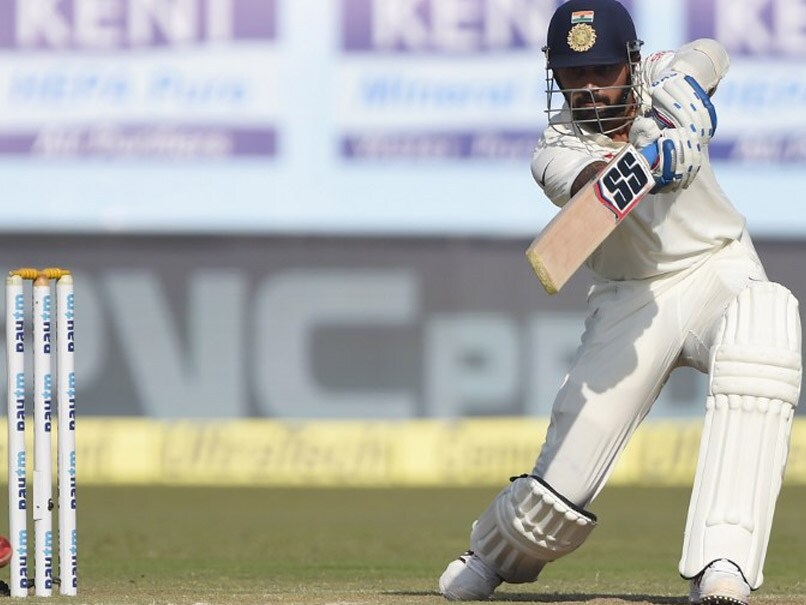 10:34 IST: After 8 overs, India are 25/0.
10:31 IST: FOUR! Patel drives an overpitched ball from Moeen through the covers for a boundary.
10:25 IST: Patel makes good use of DRS. He was wrongly given out off Anderson's bowling.
10:12 IST: Parthiv Patel and Murali Vijay have made a cautious start.
10:02 IST: The Indian innings is underway!
9:51 IST: OUT! Shami strikes again, traps Batty lbw. England bowled out for 283.
9:35 IST: WICKET! Rashid edges one to the keeper off Shami. Great start for India!
9:23 IST: Team India in a huddle just before the day's play.
Minutes to go before Day's play. How quickly can #TeamIndia wrap up the England innings? Action unfolds soon #INDvENG @Paytm Test cricket pic.twitter.com/dSvJCoQu4P

— BCCI (@BCCI) November 27, 2016
9:21 IST: Good Morning! Welcome to our live cricket blog for Day 2 of the Mohali Test.
On Day 1, Indian bowlers maintained a disciplined line and length only to face resistance from England's wicketkeeper-batsman, who forged couple of important partnerships - 57 for the fifth wicket with Ben Stokes and 69 for the sixth wicket with comeback-man Jos Buttler (43).
With the Mohali track not among the most batting-friendly pitches, Bairstow showed steely temperament and admirable technique against India's spin trio and faced 177 balls hitting six fours in the process.
Jayant Yadav, Umesh Yadav and Ravindra Jadeja picked three wickets each on Saturday, and will look to add to their tally on Sunday morning. With India expected to start their first innings early on Day 2, it will be interesting to see how the hosts fare on the Mohali pitch.