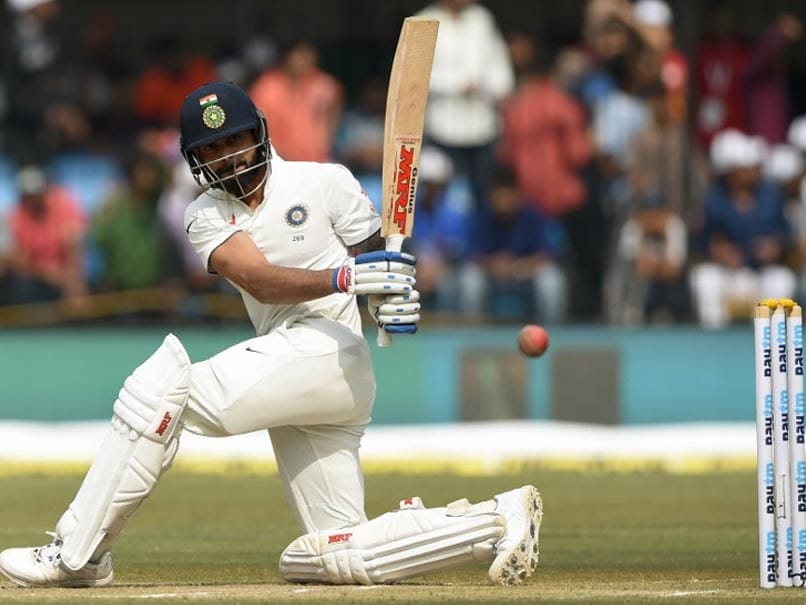 Virat Kohli played a captain's knock to help India save the first Test against England in Rajkot.
© BCCI
England almost came on the verge of winning the first Test which could have been a massive shock for India. However, Virat Kohli and company somehow managed to save the match. Catch highlights of India vs England 1st Test here (SCORECARD)
16:55 hrs IST: Well that is all from us here. The second Test begins in Rajkot on November 17. Thanks for following all the live action here.
16:50 hrs IST: Moeen Ali is the Man of the Match for his performance with both the ball and bat
16:45 hrs IST: Joe Root, who scored a century in the first innings, says: "Slight frustration, credit to Cooky and Has for setting the game. A lot of confidence going into the next one. We have to make sure we put the hard work in for the next Test. We're doing some good stuff at the moment. So many chances that could have gone, that could have happened. We gave our everything in those 50 overs. That second innings score is not a fair reflection of the wicket, the top order was outstanding."
16:40 hrs IST: The hosts were given a real scare there by England as they lost six very quick wickets in the last two sessions. But some solid batting by skipper Virat Kohli helped India save the match. The right-hander came to India's rescue once again which now has become a norm
16:35 hrs IST: And the players shake hands as the first Test ends in a draw
It's a draw! India survive England's spin onslaught in the final session of Day 5 to finish 138 runs behind with 4 wickets left #IndvEng pic.twitter.com/p6K3TpJ6Dr

— ICC (@ICC) November 13, 2016
16:32 hrs IST: We have come real close to the close of play
16:28 hrs IST: India have played 50 overs and scored 156/6
16:25 hrs IST: India have played out the minimum 49 overs stipulated for them
16:22 hrs IST: Ravindra Jadeja is making full use of the situation with most fielders inside the playing circle, he is going for the big shots
16:18 hrs IST: Jadeja striking a few lusty blows off Adil Rashid
16:15 hrs IST: Five overs at least to go for the end of play
16:14 hrs IST: Ravindra Jadeja and Virat Kohli out there. Will they be able battle on and save the Test for India
16:10 hrs IST: Six down, India are really fighting to save this Test
16:05 hrs IST: OUT!!! Saha is caught and bowled by Rashid
16:00 hrs IST: Wriddhiman Saha gets into the mode now! Two lovely boundaries from the wicketkeeper-batsman
15:55 hrs IST: After hitting three boundaries in the Zafar Ansari over, Ashwin gets into the mood and drives only to be caught at short cover for 32!
WICKET! Ashwin's driven Ansari to Root at cover & India are 118-5! Still 10 overs to play - come on lads! #INDvENG https://t.co/9xTwEDdljp pic.twitter.com/kE6fAC146a

— England Cricket (@englandcricket) November 13, 2016
15:50 hrs IST: OUT!! This is a big blow for India! Ashwin walks back to the pavilion!
15:45 hrs IST: Spinners in action at Rajkot
15:43 hrs IST: A minimum of 15 overs to be bowled and England are fully on attack mode
15:37 hrs IST: Start of the last hour's play, instructs umpire Kumar Dharamasena
15:33 hrs IST: Drinks time in Rajkot
15:25 hrs IST: Kohli and Ashwin are batting well out there. India are 91/4, requiring another 219 to win
15:20 hrs IST: Stat attack! Kohli's average in the fourth innings of Test is almost 61! Staggering isn't it? But expected from a batsman of his calibre
15:15 hrs IST: England are surely going for a win here. Five players around the batsman, especially Ashwin
15:05 hrs IST: Though India is losing wickets at the other end, Virat Kohli is continuing with his superlative batting
15:02 hrs IST: The match is heading for a tense finish
WICKET! Mo bowls Rahane for 1 & India are 4 down!!!