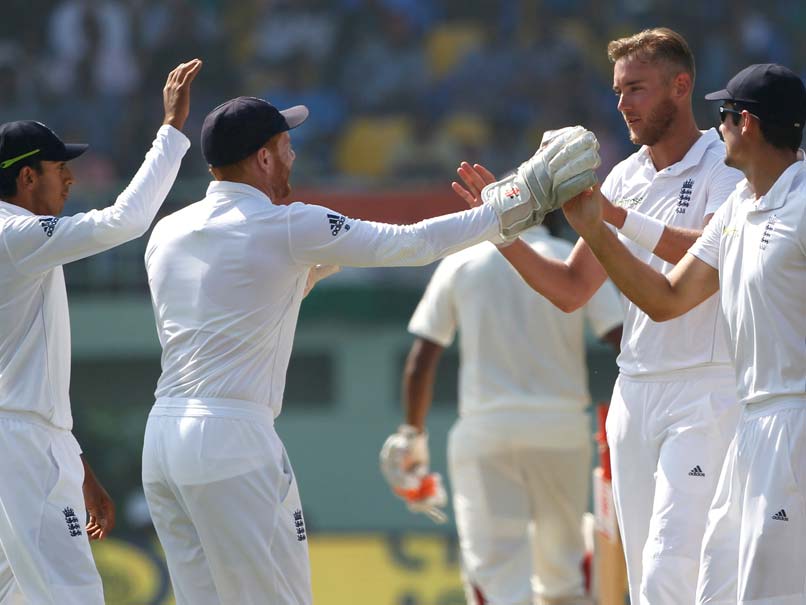 Sunil Gavaskar lauded the performance of England pacer Stuart Broad on Sunday.
© AFP
The Indian batting unit, from 98/3 overnight, collapsed to 204 all out on Day 4 of the second Test in Visakhapatnam. Cricket legend Sunil Gavaskar credited England bowlers, especially Stuart Broad, for the downfall.
"England's performance was quite outstanding, especially Stuart Broad who had a strained tendon in his leg. He bowled with great heart. The ball was holding up today because of the pitch and some good bowling from England led to India's collapse," Gavaskar told NDTV following the closure of Day 4 on Sunday.
"Day 4 completely belonged to England apart from the two wickets they lost at close of play. They showed great determination and credit to their bowlers to bowl India out."
Broad will now miss the third Test in Mohali due to his injury.
India were about to be bowled out when they were batting at 162/9 but some powerful hitting by the lower order helped the hosts cross the 200-run mark.
"India could have been bowled out earlier but some heavy hitting by Mohammed Shami and smart cricket by Jayant Yadav took the target beyond the 400-run mark which is always a psychological advantage," said the former India skipper.
England ended Day 4 of the second Test at 87/2, requiring another 318 runs to win the Test with eight wickets in hand on Monday.
"There would be a lot of more purchase for spinners on Day 5. England bat deep but some of their batsmen you can't rely on. Whether they send in Ben Stokes ahead of Ben Duckett will be interesting to see," said Gavaskar.
He also had a word of criticism for Virat Kohli, saying the India skipper could have attacked more with 404 runs as the target.
"Today Kohli could have done a little bit better with 400 runs in the bag. He could have tried something else. Saving runs is not the important thing right now. You have to keep close-in fielders and attack," concluded Gavaskar.