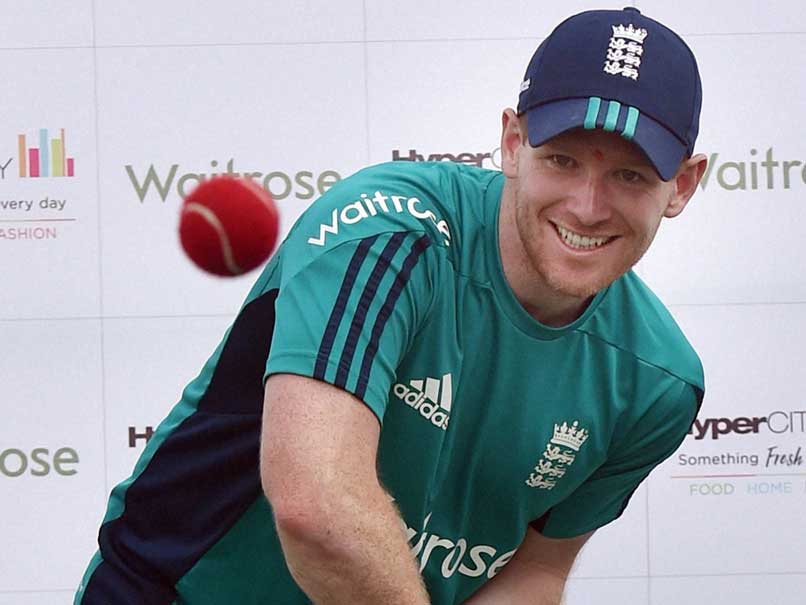 Eoin Morgan also applauded MS Dhoni for his tenure as India captain.
© PTI
Terming the upcoming ODI and T20I series against India as a formidable challenge, England limited overs skipper Eoin Morgan on Monday expressed his pleasure at the quality of opposition in the two warm-up games.
"Playing abroad is a different challenge, a challenge which everyone is looking forward to. India is a great place to come and win a series because they are very good at home," Morgan said on the eve of his side's match against India A in Mumbai.
England have failed to win any of their three previous ODI series in India, suffering 5-0 whitewashes in 2008-09 and 2012 and a 3-2 defeat in 2013.
"I think the two warm-up games (at the Cricket Club of India) have strong sides. It's a great preparation to adapt and perform at skill levels that are needed here to win," he remarked.
The ODI series will start in Pune on January 15, followed by games in Cuttack (January 19) and Kolkata (January 22). The T20I series will follow the ODI series and will finish on February 1.
With MS Dhoni set to lead India A in Tuesday's warm-up game, Morgan hailed the wicketkeeper-batsman's tenure as captain after he announced his decision to vacate his position on January 4.
"MS is obviously a very good captain, has been for a long time and his leadership in the 2011 World Cup was exceptional. His record speaks for itself.
"Virat has a little bit of an advantage in that he has been captain in the Test scene now. Of course he is a very good player. (But) You know, until you captain (lead), you don't know how things will go," he added.
'Important to get a good start'
England are now solely focused on white ball cricket till the Champions Trophy that the country is to host in June, and Morgan said the series thus assumes added importance.
"I am extremely excited about the next five-six months leading towards the Champions Trophy as we have only white ball cricket from now up to that," said the 30-year-old Dublin-born cricketer.
"I think in the context of the next five months it's important to get a good start. For the build-in that we have had and our record at home, considering that the next two (ICC) tournaments are at home, it's crucial."
England are to host the 2019 cricket World Cup.
Morgan brushed aside suggestions that the 4-0 Test series defeat, in which nine of his team members took part, would have any effect on how they will play in the limited overs versions.
"They are very motivated. In India, regardless which format has been played first, the side generally improves and since this side has been together there has been no backlash or no repurcussions from any performance. I don't expect it to have any effect," he emphasised.
"Before we played together as a group two years ago there was always nervous anticipation about what to come. I have been surprised at the level of skills and consistency we have shown between now and then. I am impressed.
"We have grown and learnt and also got a small bit of success," he remarked about England's improvement as a limited over outfit over the last couple of years.
He got upset when asked whether he considered himself as a certainty for the Champions Trophy.
"Nothing is a certainty, absolutely nothing. I think things have gone pretty well for us. Over a small period of time we have had a little bit of success. We have a fantastic group of players, very talented and very driven, and they want to do well," he answered curtly.
Morgan also dismissed a notion that he regretted not having gone to Bangladesh recently because of security concerns.
"I don't regret that at all. I am comfortable about that decision."
He also informed that key batsman Joe Root, who has not travelled with the team for personal reasons, will be available for selection for the first ODI at Pune.
"They (Root and his wife) have had a baby and he should be here and ready for selection for the first ODI," said the England skipper.
Root is expected to arrive here on January 12 before travelling with the team to Pune the next day.
(With inputs from PTI)