Story Progress
Back to home
India vs Bangladesh Live Score, Over 16 to 20 Latest Cricket Score, Updates
Live Updates of Today Match between India vs Bangladesh from Vidarbha Cricket Association Ground, Nagpur. Check commentary and full scoreboard of the match.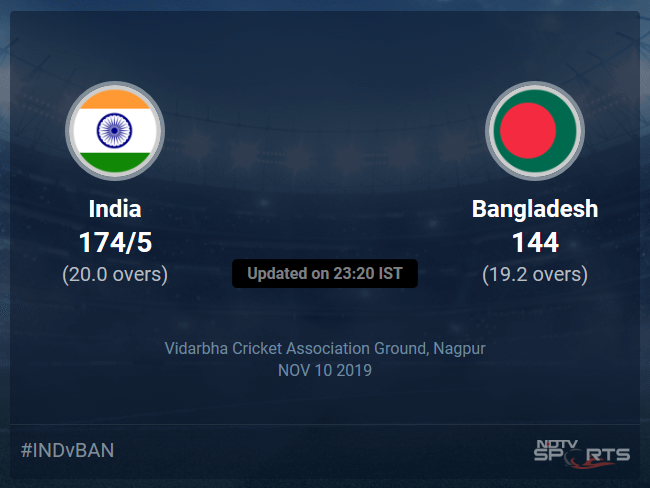 IND vs BAN Latest Score
A dedicated team of experts bring you live score, live cricket score, live match update on Sports.NDTV.com. After 19.2 overs, Bangladesh, chasing a target of 175, are 144. The live updates of India vs Bangladesh scorecard is also available. It is the perfect platform to follow your favourite teams in India vs Bangladesh, 2019/20. Keep a track on your favourite batsmen and bowlers through India vs Bangladesh, 2019/20 today match, ball by ball commentary, India vs Bangladesh, India vs Bangladesh live score, India vs Bangladesh scorecard. Follow the excitement of the India vs Bangladesh, 2019/20 on Sports.NDTV.com as you can follow live match updates and live cricket score through our platform.
Right! That ends the T20I series. India were expected to win but few expected Bangladesh to give them a tough fight. Over now to the red-ball format. Will the hosts be challenged there? Join us on Thursday, 14th November, 2019, at 9.30 am local (0400 GMT) in Indore. ADIOS! TAKE CARE!
Victorious Indian captain, Rohit Sharma, honestly says that Indian bowlers won the game for his side. Believes that it has to be one of the best comebacks in this format. With 70 needed in 8 overs with 8 wickets in hand, Sharma felt that it was getting tough but is thrilled with the way the young unit stepped up. On his words after the Rahim wicket, Rohit says that he just reminded his players that they were playing for their country and the effect showed. Praises his batsmen for setting up the win in the first place. Stresses that this is what is needed - individuals putting their hands up and taking responsibility. On the process for the next T20I series and the path for the World T20, Rohit says that until the next World Cup approaches, it is difficult to pen on a proper squad right now. Gives an example, saying that three spinners might be a luxury in Australia but one never knows, because if the team keeps performing the way it has been, it is going to be a big headache for Virat Kohli and the Indian selectors.
DEEPAK CHAHAR HAS BEEN NAMED THE MAN OF THE MATCH AND SERIES. Agrees that this is indeed a dream, perhaps a dream which no one would even think of dreaming before sleeping. Stresses that he only looks to keep working hard. On the plan in this game, Chahar says that he was to bowl as and when the team needed him to and he is very happy that the team management considered him to be responsible and worthy for that. On his thoughts during the wickets, Deepak says that he has not much time to think as the batsmen keep hitting bowlers for sixes in this format. So, he focuses on the next ball.
Bangladesh captain, Mahmudullah, admits that Bangladesh had their chances in this game but rues the collapse when 49 were needed in 30 balls. Praises the efforts put in by the team. On Mohammad Naim, the skipper calls him a talented batsman and hopes that he continues to shine. Overall, throughout the series, is happy for his seamers for shining well.
Shreyas Iyer and Shivam Dube are down for an interview with Sanjay Manjrekar. Shreyas Iyer says that it was not a perfect innings from him as he was not good at the start but he adjusted, gave himself time and it eventually came good. On his three consecutive sixes, Iyer says that they needed a partnership at that stage, and he saw the part-time bowler come in. Adds that he just tried to attack and luckily it came off. Shivam Dube says that his first 2 overs were not too good. Adds that the skipper told him to back his strengths and that paid off. Says there was pressure on him but the support staff and the skipper always backed him. Iyer finally ends by saying that this was a very good experience and the crowd was giving their full backing. Says that it is a very good feeling.
Talking about the Indian bowling, there was only one star, Deepak Chahar. His figures of 3.2-0-7-6 are the best T20I figures of all time. He was the game changer for India as he just kept sending the Bangladesh batters back into the dugout. Chahar was very well supported by Shivam Dube who came back strongly after his first spell and took 3 wickets, including the main wicket of Mohammad Naim. Chahal and Sundar had bad days at the office but as long as the team wins, they won't mind it.
The innings started in one of the worst ways for Bangladesh as they lost Sarkar and Das on consecutive balls. However, after that it was the Mithun and Naim show as they stitched a 98-run stand. But as soon soon as Mithun departed, the landslide started. Rahim followed him on the very next delivery and after that, it was India all along. No batter except for Mithun and Naim reached even the double-digit mark. The only hope for Bangladesh was Mohammad Naim all along as he scored 81 off 48 but his solo effort was not enough.
In the end, India have sealed the series by a comprehensive margin of 30 runs but at one stage, Bangladesh were cruising along and India have done very well to make it a relaxing last half hour.
19.2 overs (0 Run) OUT! TIMBER! INDIA HAVE WON THE SERIES! This is a toe-crusher by Chahar and he has TAKEN A HAT-TRICK! He has become the first Indian to take a hat-trick in T20Is. Chahar steams in for his hat-trick ball. Chahar bowls a yorker on the off pole. Aminul looks to dig it out but misses it completely. The stumps are shattered and India win by 30 runs.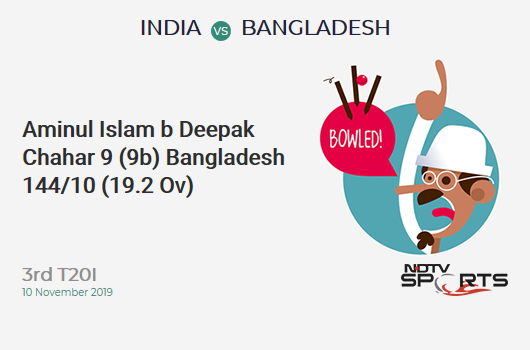 Al-Amin Hossain is the last man in.
19.1 overs (0 Run) OUT! CAUGHT! Yes, he can! Chahar has taken a wicket and completed his 5-fer. He has become just the 4th Indian to do so. Length ball outside off, Mustafizur makes room and looks to cut uppishly. The ball goes straight to Shreyas Iyer at deep point who takes an easy catch. India just 1 wicket away from sealing the series! Also, can Chahar take the hat-trick?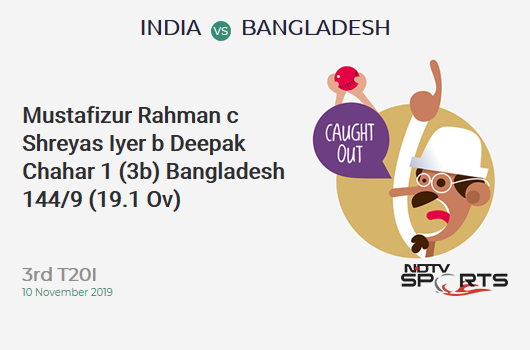 18.6 overs (1 Run) Mustafizur flicks this one towards mid-wicket for a single. He will retain strike for the last over.
18.5 overs (0 Run) This time Mustafizur Rahman goes for the pull but misses it.
18.4 overs (1 Run) On the pads of Aminul, who flicks it towards mid-wicket for a single.
18.3 overs (0 Run) Aminul looks to make room again but this time Khaleel follows him. He bowls a slower one which Aminul tries to heave towards the leg side but misses.
18.2 overs (4 Runs) FOUR! Whoosshh! That has raced away! Full ball on off, Aminul makes room and slams this one over the cover region for a boundary.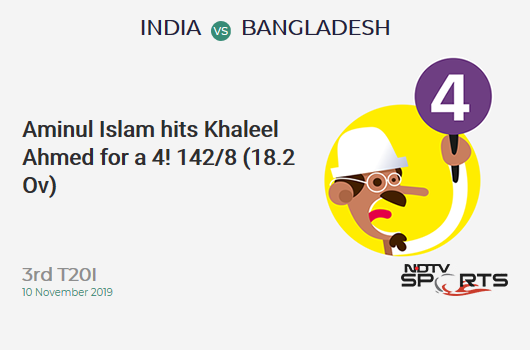 18.2 overs (1 Run) Wide! Bouncer on off, Aminul looks to play the upper cut but misses. The umpire signals it as a wide.
18.1 overs (2 Runs) Aminul Islam pulls this one away towards mid-wicket for a couple.
Mustafizur Rahman walks out to bat.
17.6 overs (0 Run) OUT! CAUGHT! 4th wicket for Chahar and he has one more over to go. Can he make it a 5-fer? Chahar bowls a short one on middle and off, Shafiul gets his front leg out of the way and looks to go big. He hits it cleanly but not clean enough as the ball goes straight down the throat of KL Rahul who takes an easy catch at long on. Bangladesh 8 down now.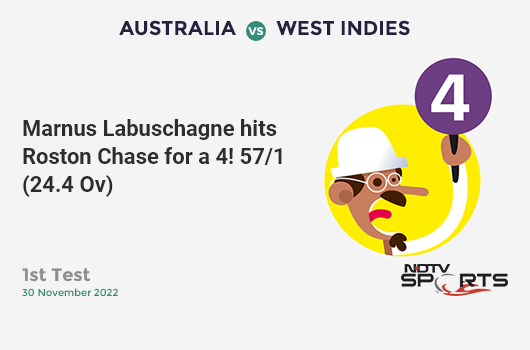 17.5 overs (2 Runs) Shortish on middle and off, Shafiul pulls this one towards mid-wicket for a couple.
17.4 overs (0 Run) Length ball wide outside off, Shafiul looks to cut but misses.
17.3 overs (0 Run) Good yorker by Chahar! Shafiul does well to get his bat down in time and dig it out.
17.2 overs (1 Run) Shortish delivery, Aminul pulls this one towards mid-wicket for one.
17.1 overs (1 Run) Shafiul lofts this one over mid on for one.
16.6 overs (1 Run) OUCH! That must have hurt Chahal! He floats this one outside off, Shafiul gets down on one knee and smashes this one straight towards Chahal. He tries to get his hand out of the way but the ball still catches his fingers. Chahal looks in pain.
Shafiul Islam is the new man in.
16.5 overs (0 Run) OUT! BOWLED! 50th T20I wicket for Yuzvendra Chahal and India are cruising now. He floats this one on middle, Mahmudullah comes down the track and looks to smash it. However, the Bangladesh skipper completely misses the ball and the stumps behind are shattered. Bangladesh need 45 in 19 balls.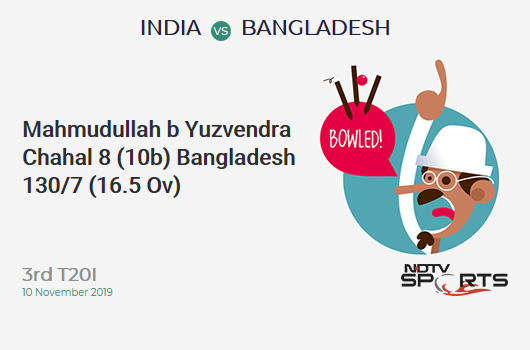 16.4 overs (0 Run) Quicker one outside off, shorter in length, Mahmudullah looks to cut but misses.
16.3 overs (1 Run) Full and around off, Aminul plays it with soft hands through mid-wicket, thinks about taking two but Manish Pandey is super quick. Just a run again.
16.2 overs (1 Run) Around middle, worked through mid-wicket again. This time, it is just a single.
16.1 overs (2 Runs) Full and around middle, Mahmudullah comes down the track and flicks it through mid-wicket. Takes the arm on of Manish Pandey and comes back for the second.
15.6 overs (0 Run) Aminul pulls this one but straight to the man at mid-wicket.
15.5 overs (0 Run) Hat-trick ball and it is defended towards point.
15.4 overs (0 Run) OUT! CAUGHT! Bangladesh in tatters now! Length ball on middle and off, Hossain looks to flick it towards the leg side but the ball goes off the leading edge in the air. Dube runs towards the ball and takes the catch. 2 in 2 for him and Mahmudullah is the only batsman that remains now.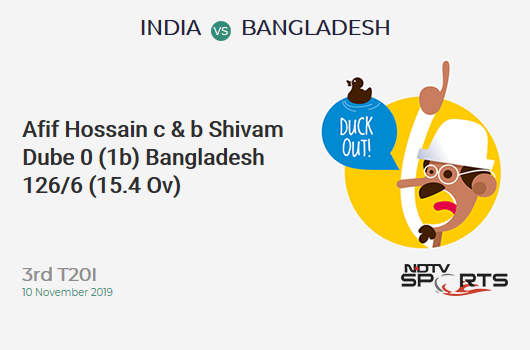 Afif Hossain comes in to bat now.
15.3 overs (0 Run) OUT! TIMBER! India edging closer to victory now! What a ball by Dube! He bowls the perfect yorker on the off pole. Naim tries to make room and carve it out but misses. Dube hits and Naim has to walk back. Bangladesh need 49 more.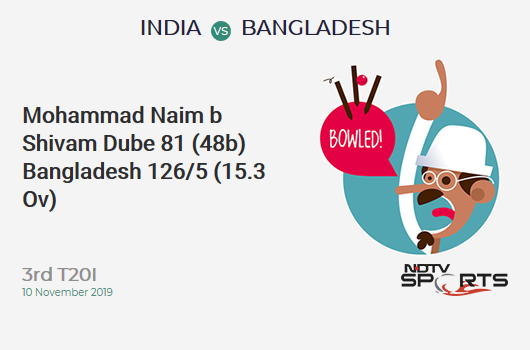 15.2 overs (1 Run) Mahmudullah pulls this one towards square leg for one.
15.1 overs (0 Run) Good slower one by Dube! Shorter one on middle, Mahmudullah looks to pull but is way early into his shot. He misses it completely.
Match Reports
Topics mentioned in this article