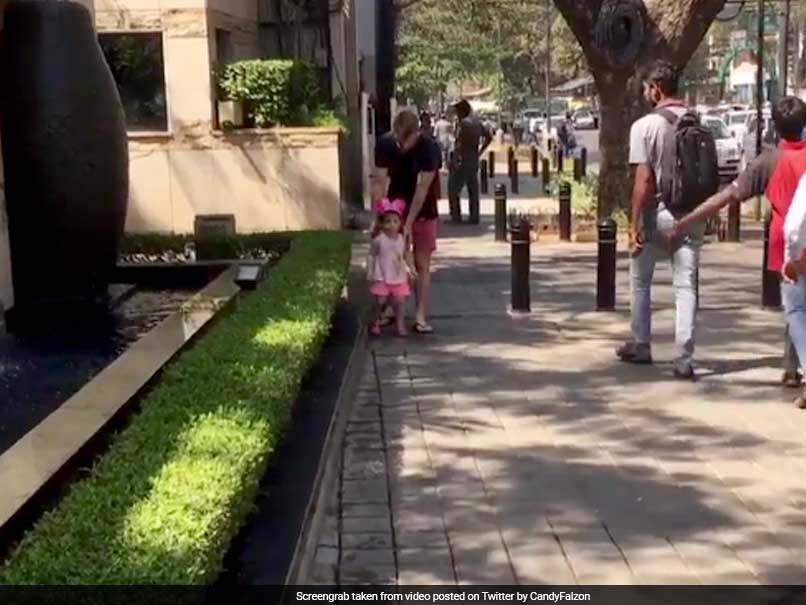 David Warner was mobbed by fans when he decided to take a walk with his daughter in Bengaluru.
© Candice Warner/Twitter
David Warner seems to have forgotten about the extent of cricket craziness in India, but surely he and his daughter Ivy will not forget it anymore any time soon. The left-hand opener, who is in the country with the Australian team to play a four-Test series, decided to take a walk with his daughter and wife Candice in Bengaluru, but was soon recognised by passers-by who wanted to capture the moment on their phones. While Warner was busy with the fans, his daughter didn't seem too thrilled with the turn of events.
As Warner stood for the selfies with his eager fans, Ivy was left to wander a little. She looked at her father who was being mobbed, walked towards her mother who was shooting a video and then took out a tic tac from her mouth and tossed it away.
When @davidwarner31 steps out of the hotel and tries to take Ivy for a walk, next minute. #FANLOVE #bangalore pic.twitter.com/L9LmoWtL1d

— Candice Warner (@CandyFalzon) March 3, 2017
Ivy seems to have inherited a bit of her father's fiery nature and she let it be known that she was not happy about people eating into their father-daughter time.
Warner too soon reacted to his wife's post.
Ivy not happy she was brushed haha. Threw her tic tac@CandyFalzon https://t.co/4HI02SqOhg

— David Warner (@davidwarner31) March 3, 2017
Meanwhile, focus for both Australia and India will shift to more pressing matters as the two teams lock horns in the second Test at the M Chinnaswamy Stadium, starting on Wednesday.
Australia lead the four-Test series 1-0 after their stunning 333-run win over Indian in the first Test in Pune.