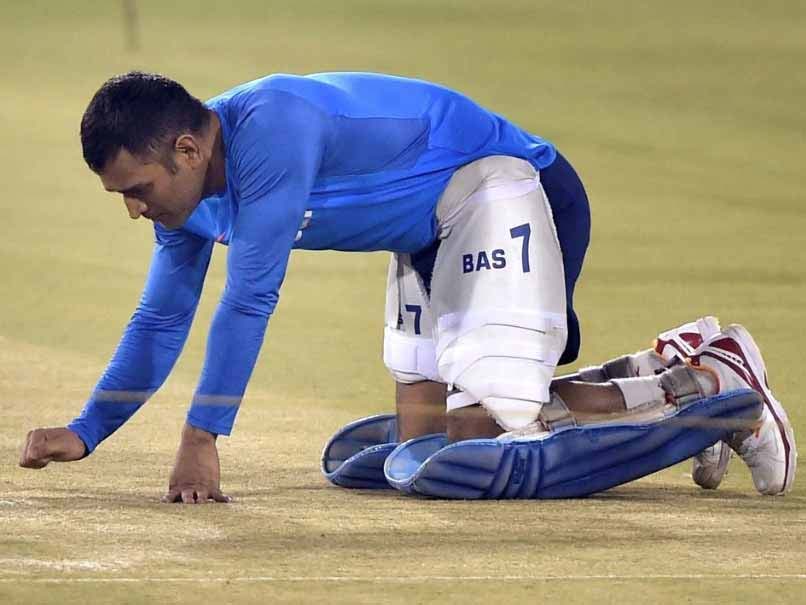 Mahendra Singh Dhoni made a surprise visit to check the Ranchi pitch
© PTI
Former India captain Mahendra Singh Dhoni made a surprise visit to the Jharkhand State Cricket Association Stadium to have a look at the pitch that will host the 3rd Test between India and Australia starting March 16. The stadium is all set for its maiden Test match beginning in less than 10 days' time. Dhoni was spotted having a discussion with the pitch curator as he took a look at the preparations ahead of the crucial tie that might decide the fate of the ongoing series.
The 35-year-old was supposed to be present for the BCCI Awards held in Bengaluru but instead chose to head back home to spend some time with his family. Dhoni is currently playing in the Vijay Hazare Trophy where his state team Jharkhand qualified for the quarter-finals in the tournament.
Curator SB Singh, however, termed it as a routine visit and said it had nothing to do with the upcoming Test.
"When he's here, he often visits the stadium for fitness work out and spends long time at the gym. Today was no different. He also saw the wicket and we had an informal discussion. This is not unusual for me," Singh said.
"He has never intervened in pitch preparation in the last four years. Being such a great player, I always look forward to his inputs on the quality of wicket."
The JSCA has prepared three wickets - pitch numbers four, five and seven - for the debut Test and SB Singh said all of them will last the distance.
"Each of them will behave differently. The team will choose the strip two days before the match. The pitch will suit both the batsmen and bowlers and will definitely last five days."