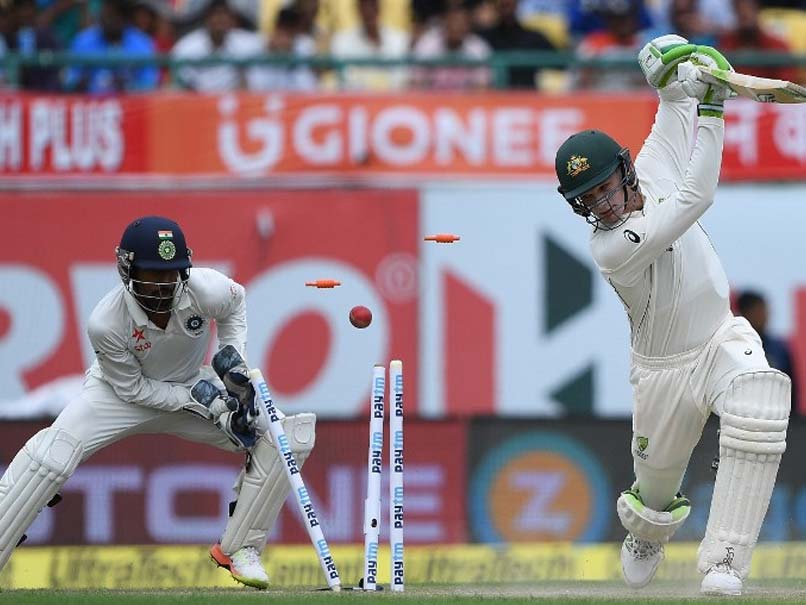 Kuldeep Yadav took 4/68 in the first innings of his Test career
© AFP
Highly impressed with India's debut bowler Kuldeep Yadav, Australia's wicket keeper batsman Matthew Wade admitted that it was difficult to pick his deliveries initially and took few balls to get used to his bowling. Kuldeep grabbed 4 for 68 as Australia were all-out for 300 after reaching 131 for one at lunch. "Yeah, it took a couple of balls to get used to it. He bowled a lot of different deliveries. He bowled a lot of leg-spinners with the scrambled seam, he's wrong'un was with scrambled seam as well. It took a few balls to get used to it, but once you stayed out there a little while, you got a read on him," said Wade, who scored a useful half-century in Australia first innings.
Wade said that even though they had done their homework on Kuldeep, it was a different proposition facing him out there in the middle.
"Yeah, we have a look at everyone before the start of the series, so the boys are on top of what he was going to bowl.
It's different when you get out onto a game scenario, especially the way the wicket was going to play and what's going on out there, but yeah, everyone has had a look at his footage and he bowled quite well today," he said.
But the left-hander conceded that Australia missed a great opportunity to put up a big score after the start they had got.
"Yeah, I suppose a little bit. 140 for 1 after lunch, you would hope to push on but credit to the Indians. They bowled really well through the middle session and we have to find a way to grind out 300. I thought to get there in the end was a good effort," Wade said
Wade made an observation that the pitch is already showing cracks which are bound to open up big time, making the role of the quicks as important as the spinners.
"I think the cracks are playing a huge role, with the spinners as well as the quicks. We'll be looking to get a little bit out of the cracks in the wicket tomorrow and hopefully we can create 10 opportunities," he said.
(With inputs from PTI)