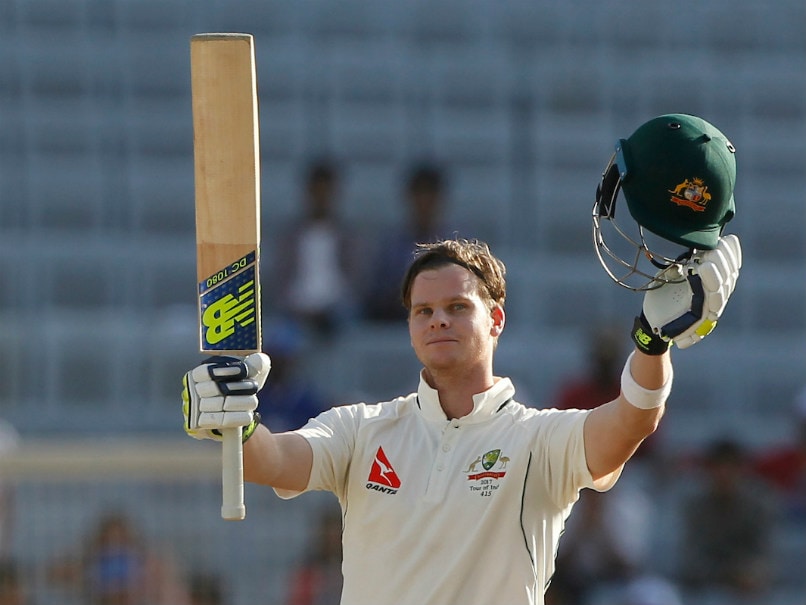 Steve Smith said Australia will need to score as many as they can with conditions good for batting.
© AFP
Australia skipper Steve Smith hit an unbeaten century and along with Glenn Maxwell stitched together an unbroken 159-run stand that took the visitors to 299 for four at stumps on Day 1 of the third Test between India and Australia. Smith said that the pitch was different from the first two Tests -- Pune and Bengaluru -- and the ball didn't spin as much. The Aussie captain dubbed the JSCA Stadium track as a "good pitch" and felt that his team will need to score as much as they can with conditions good for batting.
The ICC had rated the strips at Pune and Bengaluru as "poor" and "below average" respectively.
The first Test ended in three days while the fourth on four. However, for the first time in the series the conditions were good for batting with Smith and Maxwell taking full advantage.
"The ball didn't spin here. In the first two Tests, the ball spun. The bounce was consistent and there wasn't any up and down movement. We will need as many as we can get in the first innings," said Smith after being asked about the pitch.
Smith was all praise for his partner in crime on Day 1 -- Glenn Maxwell. The right-hand middle-order batsman, who was unbeaten on 82 at stumps, scored his maiden Test fifty.
"Obviously for 4 for 300, we had to form a couple of partnerships. Maxi played beautifully. Stuck to his plans and struck the bad balls. It is a good pitch so we will need all the runs we can get. But tomorrow is going to be a crucial day for us," he said.
Smith, one of the main culprits in the DRS 'brain fade' controversy in Bengaluru, admitted his mistake again and said that he had already moved on.
"You cannot control the past. I came out and said I made a mistake and moved on from there."
(With PTI Inputs)