Story Progress
Back to home
India vs Australia: 'Virat Kohli Has Become Donald Trump of World Sport'
While the Australian media takes on Virat Kohli, Sunil Gavaskar dismisses them as an extension of the Aussie team's support staff.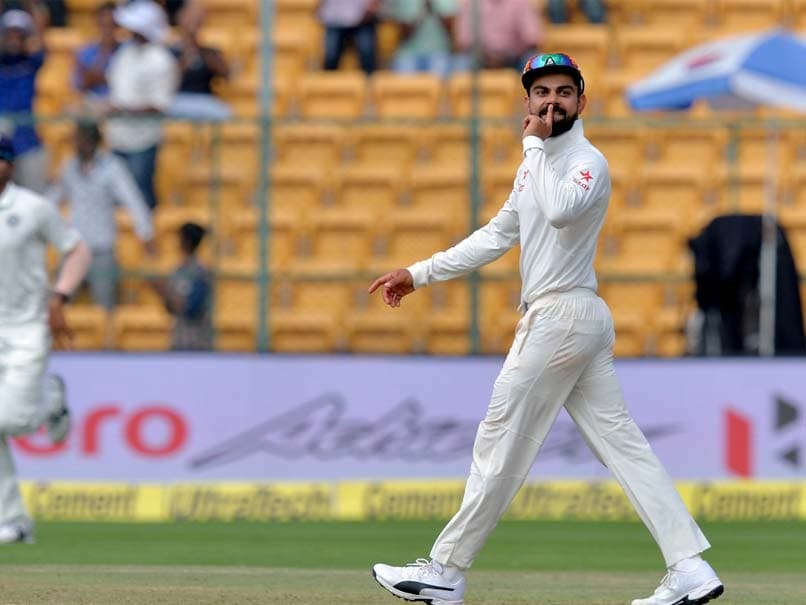 After the third Test, the Australian media once again targeted Virat Kohli.
© AFP
Highlights
Kohli injured himself while fielding on Day 1 of the Ranchi Test

Kohli has been criticised by former Australian players

Kohli has not fired in the ongoing India-Australia series so far
Indian captain Virat Kohli has found himself at the centre of the battles on and off the field ongoing four-match Test series against Australia. The star batsman, who hasn't yet delivered with the bat, has been criticised not just by former Australian cricketers but also their media. From Ian Healy to Mitchell Johnson, many voices in Australian cricket have had a go at Kohli. This even prompted former India captain Sunil Gavaskar to describe the Australian media as an extension of cricket team's support staff.
"We should not bother too much about the Australian media and what they write as they are an extension of their cricket team's support staff. The focus now should shift to cricket from off-the-field issues," Gavaskar told NDTV on the eve of the third Test.
After the third Test in Ranchi ended in a draw, the Australian media once again targeted Kohli.
A piece in the Daily Telegraph even compared the 28-year-old to US President Donald Trump.
"Virat Kohli has become the Donald Trump of world sport. Just like President Trump, Kohli decided to blame the media as a means of trying to hide the egg smeared right across his face," read the article.
While there is nothing new in the Australians indulging in a little bit of 'mental disintegration' prior to every series, the war of words and bad blood between the two sides really blew up after the 'brain fade' issue in Bengaluru after the
Australian skipper Steve Smith was seen seeking the dressing room's advice after being adjudged leg before wicket during his team's second inning in the match which India won 75 runs.
The issue had become huge as Indian skipper Kohli had given Smith a very animated send-off from the field and had then stated during the post-match press conference that the Australians had done the same thing on other instances as well.
The Board of Control for Cricket in India (BCCI) and Cricket Australia (CA) were involved in a bitter stand-off over the issue. The Indian board then withdrew its complaint against Smith after ICC decided not to take action against him.
Gavaskar had also been critical of the ICC for not taking any action against Smith.
Cricket commentator Harsha Bhogle meanwhile expressed his dismay at the the way in which things have snowballed through the series.
"If we have to use toxicity and divisiveness to spread our game, we are using a short-term approach that can only be harmful," he tweeted, in an obvious reference to the slanging match that doesn't show any signs of stopping.
If we have to use toxicity and divisiveness to spread our game, we are using a short-term approach that can only be harmful.

— Harsha Bhogle (@bhogleharsha) March 21, 2017
He was also critical of the manner in which some sections of the media were spreading the ill-will.
I am particularly perturbed by the fact that some of us in the media are promoting this divisiveness and taking sides to spread ill-will.

— Harsha Bhogle (@bhogleharsha) March 21, 2017
"I also believe administrators need to ensure that while there will be passion at work, and frayed tempers, it cannot be a series of its own,"he further said.
Barely had the dust settled on the Bengaluru issue, things against erupted as Kohli's shoulder injury in the Ranchi Test led to another debate between the two sides.
Allegations and denials flew thick and fast between rival captains with the India skipper alleging that his team's physio Patrick Farhart was "disrespected" by Australians during the 3rd Test in Ranchi. Kohli said that some Australians unnecessarily taunted Farhart but Smith rubbished the claim.
"They (four-five of them) started taking Patrick's name. I don't know why. He's our physio. His job is to treat me. I don't find the reason behind it. I could not understand. You must ask why they have started taking his name," said Kohli after the Ranchi Test ended in a draw.
However Smith insisted that they never disrespected Farhart, who himself is an Australia.
"It was a bit disappointing. I didn't actually do anything. Virat was having a go at me saying I was disrespecting Patrick Farhart. It was probably the exact opposite.
"I think he probably did a pretty terrific job to be able to get Virat back on the field after that shoulder injury. He's a terrific physio and he obviously does a great job for them," said Smith.
Topics mentioned in this article