Story Progress
Back to home
West Indies vs Bangladesh Live Score Ball by Ball, ICC T20 World Cup 2021 Live Cricket Score Of Today's Match on NDTV Sports
Live Updates of Today Match between West Indies vs Bangladesh from Sharjah Cricket Stadium, Sharjah. Check commentary and full scoreboard of the match.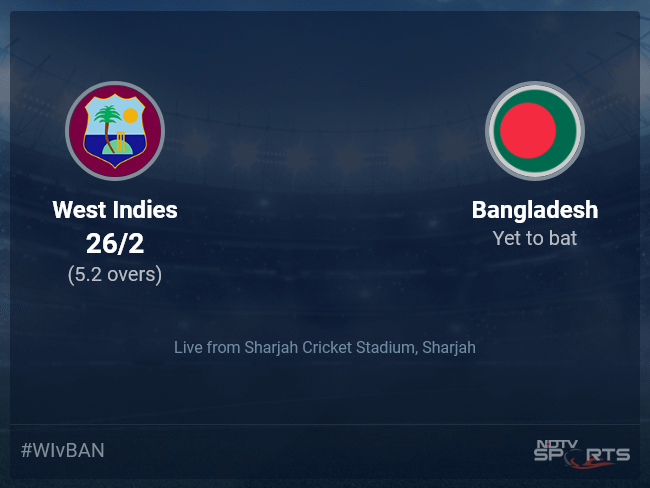 BAN vs WI Latest Score
Follow the ICC T20 World Cup 2021 live cricket score on Sports.NDTV.com. After 5.2 overs, West Indies are 26/2. Get live score, ball by ball commentary and much more. Keep track of ICC T20 World Cup 2021 today match between West Indies and Bangladesh. Everything related to West Indies and Bangladesh match will be available on Sports.NDTV.com. Stay updated with West Indies vs Bangladesh live score. Do check for West Indies vs Bangladesh scorecard. You can get scorecard updates, match related facts. Get quick live updates with ads, Sports.NDTV.com, which is the perfect destination for live cricket score.
4.6 overs (1 Run) Shout for an lbw! The umpire shows no interest. Fuller and flatter on middle, skidding down, Hetmyer tries to flick but misses. It goes off his pads to square leg and they cross. It's missing leg, perhaps. Given as a leg bye.
4.5 overs (1 Run) Quicker and on middle, Chase pushes it down through mid on for a single.
4.4 overs (0 Run) Fuller and on off, driven firmly down the ground but straight to mid off.
4.3 overs (1 Run) Fullish and around off, Shimron tickles it through square leg and takes a single.
Shimron Hetmyer is the next batter.
4.2 overs (0 Run) OUT! BOWLED 'EM! The sorry form of the Universe Boss continues and Mahedi Hasan has hit the jackpot. A slider around off, lands on a fuller length and skids on with the angle of the arm. Gayle plays all over it as he tries to swing it across the line. Misses the ball completely and the stumps behind are shattered. The West Indian batting under the pump yet again.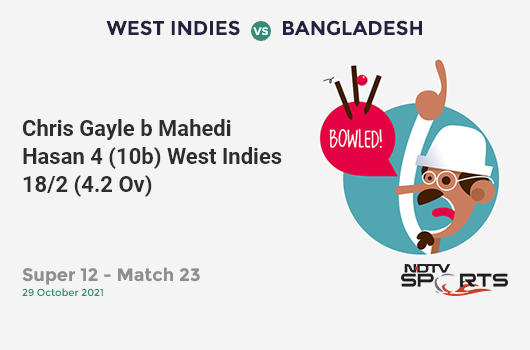 4.1 overs (1 Run) Slightly short and on off, Chase goes back and punches it past his partner to long on. A single is taken.
Mahedi Hasan is back on. He went for 4 in his first over.
3.6 overs (1 Run) Taskin bowls it full and on middle at 145 kph, Chase forces it down to long on and collects a single. Top over from Ahmed.
3.5 overs (0 Run) Fuller and on off at 140 clicks, Chase drives it to covers.
3.4 overs (0 Run) On a length around off, Chase drags it off the inside portion of the bat to mid-wicket.
3.3 overs (0 Run) On a good length, around off, Roston is on his toes as he pushes it down towards mid off.
3.2 overs (2 Runs) Full again and this time it's driven through point for a brace.
3.1 overs (2 Runs) Fullish and around off, angling away, Chase drives it from the toe end of the bat and it goes through cover-point for two. Chase opens his account in T20Is.
Roston Chase walks out to bat on his T20I debut.
2.6 overs (0 Run) OUT! CAUGHT! Evin Lewis departs. Clever deception from Mustafizur Rahman, something he is known for! Serves it on a length around middle and leg, at 126 kph, Evin Lewis tries to stay back and swing it over the leg side. But the ball arrives late to gather the toe end of the bat. It goes high in the air towards square leg, Mushfiqur Rahim comes running in and takes the skier safely. A big setback for West Indies as Lewis has been the only batsman for them in some sort of a form.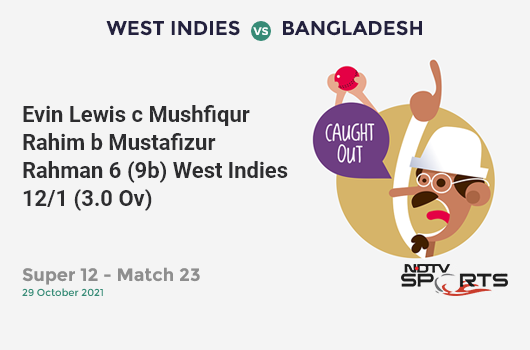 2.5 overs (0 Run) Around off, angling in, Evin Lewis gets behind the line and blocks it back.
2.4 overs (1 Run) Appeal for an lbw! Not given again. Fuller and around off, angling in, Gayle tries to flick but misses. It goes behind off his pads and the bowler starts to appeal. The keeper dives across to his left but fails to stop the ball. It rolls wide of short fine leg who picks up the ball and has a shy at the bowler's end. Misses. The replays detect a slight inside edge.
2.3 overs (1 Run) Again it's on a length around off, Lewis gets behind the line and pushes it down to long on for a run.
2.2 overs (1 Run) Angles in a length ball, around middle and off, Gayle works it in the gap at mid-wicket and this time both the batsmen switch ends without any miscommunication.
2.1 overs (0 Run) Direct hit and Chris Gayle would have been a goner! Mustafizur Rahman delivers it on a length close to off, Gayle taps it down to cover-point and looks for a run. He is midway down the track but Lewis sends him back. Shakib Al Hasan attacks the ball, picks it up and has a shy at the striker's end but misses. Gayle returns safely.
Change. Mustafizur Rahman comes on now.
1.6 overs (4 Runs) FOUR! Three dot balls and Evin Lewis releases the pressure with a boundary. Taskin Ahmed serves it full and wide outside off, at 146 kph, Lewis gets the room to free his arms and he smashes it through the gap at extra cover for a boundary. Spoils a good over from Taskin.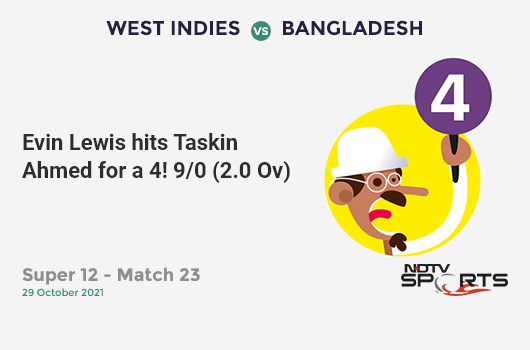 1.5 overs (0 Run) Pitches it up and around off, Evin once again drives through the line, this time it's from the middle of the bat but the placement is not good. Straight to mid off.
1.4 overs (0 Run) Fuller in length and wide outside off, Lewis plays a mistimed drive towards mid off and wants to steal a run. Universe Boss says no. Evin needs to be careful with running between the wickets as Gayle is not the quickest.
1.3 overs (0 Run) Swing and a miss! Back of a length, around off and angling away at 142 clicks, Lewis tries to power it over the leg side but the bounce is not too much and it goes below his bat.
1.2 overs (1 Run) A touch short and around off, Gayle plays it from the back foot and places it behind square on the off side. The backward point fielder dives to make a half-stop and they cross.
1.1 overs (0 Run) Taskin Ahmed begins with a delivery on a good length, around middle, Gayle works it on the leg side but finds mid-wicket.
Who will start from the other end? Taskin Ahmed is set to steam in.
0.6 over (1 Run) Skidding in from around off, Gayle tucks it through the gap at mid-wicket and retains strike with a single. 4 from the opening over!
0.5 over (1 Run) Fuller and on off, Evin goes aerial and lofts it over mid on. There is a fielder in the deep and hence only a run.
0.4 over (0 Run) Shout for an lbw, not given! A slider from Mahedi Hasan, landing around off and skidding on with the arm, Lewis tries to defend but misses. He is pinged on the pads, they appeal but the umpire shakes his head. Maybe, too high. Also, there might have been a little tickle of the bat.
0.3 over (1 Run) Gayle opens his account! Full and floated on off, Chris drives it down through mid off and jogs to the other end.
0.2 over (0 Run) Flatter one, around off and skidding in, Gayle drives through the line but Mahedi moves across to his right to collect the ball.
0.1 over (0 Run) Floated one, full and on middle, Gayle gets behind the line and defends it back to the bowler.
0.1 over (1 Run) Wide! Mahedi tries to fire one in, but it goes down the leg side. Gayle tries his best to flick but misses. West Indies are away!
Right then. The pre-match formalities are done and we are set for the clash to get underway! Mahmudullah has his team in a huddle and has a few motivating words to say before they spread out on the field. The big man, Chris Gayle and Evin Lewis walk out to bat for the Windies. Mahedi Hasan is set to start with the ball. But first, both the teams and the umpires take a knee to support the Black Lives Matter movement.
We are set for the action to begin. Both the teams have walked out for the anthems. First, the national anthem of Bangladesh will be played followed by 'Rally 'round the West Indies', which is the cricketing anthem for West Indies.
Andre Russell is down for a chat. He says that every game from here is like a knockout game. Adds that they always knew that this group would be a tough one and they haven't been able to win so far. Mentions that in both the games so far, he has tried to get some balls under his belt but that has not worked. Finishes by saying that he hopes to spend more time in the middle and contribute to the team.
Kieron Pollard, the captain of West Indies, says that it's a do-or-die game and that's the reality and they have no one but themselves to blame for that. Mentions that this is a perfect opportunity for them to put up a good score and defend it. Informs that there are a couple of changes. Simmons misses out and Roston Chase will make his international T20 debut. Hayden Walsh goes out and Jason Holder comes in for him. Also shares that Gayle will be opening the innings.
Mahmudullah, the skipper of Bangladesh, says that batting first in the last game did not work for them. Adds that West Indies have a big batting lineup so they want to restrict them to a low score and chase it. Informs that there are two changes in the side - Soumya Sarkar and Taskin Ahmed come in for Nurul Hasan and Nasum Ahmed.
West Indies (Playing XI) - Evin Lewis, Chris Gayle, Roston Chase (In for Lendl Simmons), Shimron Hetmyer, Nicholas Pooran (WK), Kieron Pollard (C), Andre Russell, Dwayne Bravo, Jason Holder (In for Hayden Walsh), Akeal Hosein, Ravi Rampaul.
Bangladesh (Playing XI) - Mohammad Naim, Liton Das (WK), Shakib Al Hasan, Mushfiqur Rahim, Mahmudullah (C), Afif Hossain, Soumya Sarkar (In for Nurul Hasan), Mahedi Hasan, Shoriful Islam, Taskin Ahmed (In for Nasum Ahmed), Mustafizur Rahman.
Toss - It's time for the all-important toss. Kieron Pollard and Mahmudullah are in the middle. The latter calls correctly and BANGLADESH ELECT TO BOWL FIRST!
Pitch report - Daren Sammy is down for the pitch report. He says that the conditions are very hot and as far as the dimensions of the ground are concerned, the straight boundaries are a bit on the bigger side as compared to the square boundaries. Informs that so far in the Super 12s, the chasing teams have won most of the games. Danny Morrison is also there and says that this is a fresh and new wicket and he feels it will be all about spin to win. Morrison adds that spinners here will look to bowl at the stumps and get wickets via LBW and bowled. Further says that it tends to be slow and low, and that's why, as a bowler, you need to bowl in the line of the stumps.
Bangladesh, on the other hand, have been dealing with inconsistencies. They put on a big score against Sri Lanka, but their bowling and fielding let them down. But in the clash against England, their batting let them down. Bangladesh got to the Super 12s after staging a comeback from their loss against Scotland. They would want to stage a comeback here again but it will be much more difficult to do against top-quality sides in what has been termed as the 'Group of Death'. The Bangla Tigers have been known to punch above their weight and if they will be able to do so remains to be seen.
The West Indies side that we have witnessed so far in the World Cup is not the power-hitting side that we have grown accustomed to seeing. In both their clashes so far, their batting has just not been upto the mark and that has hurt them big time. When a side has the likes of Simmons, Gayle, Pollard, Russell, etc in its ranks, one would expect it to put on massive scores on the board. But that has not been the case for West Indies in the competition. One of the reasons could be that the pitches here have not been the easiest to bat on and they have struggled to change their game plan. Will the Windies continue to try and slog their way out of trouble? Or will there be a change in tactics? That should be an interesting thing to see in this clash.
Hello and a warm welcome to the clash between West Indies and Bangladesh. Both these teams are coming off consecutive losses in their last couple of games and would need to get back to winning ways quickly if they want to stay in the race of making it to the semis. Who will break their losing streak? Stay with us to find out.
Topics mentioned in this article