Story Progress
Back to home
Scotland vs Namibia Live Score Ball by Ball, ICC T20 World Cup 2021 Live Cricket Score Of Today's Match on NDTV Sports
Live Updates of Today Match between Scotland vs Namibia from Sheikh Zayed Stadium, Abu Dhabi. Check commentary and full scoreboard of the match.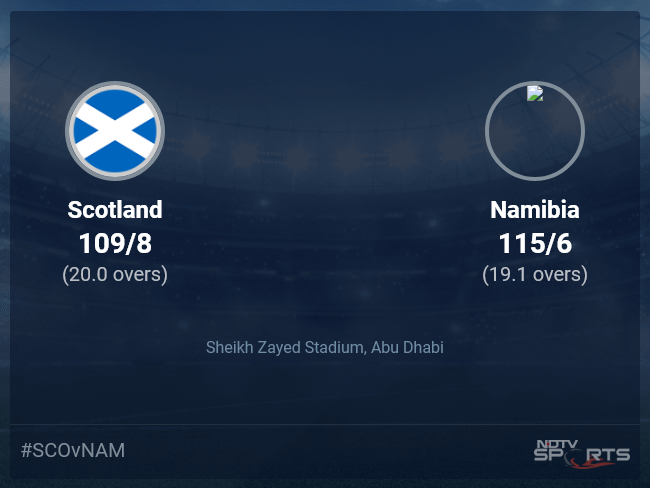 NAM vs SCO Latest Score
Follow the ICC T20 World Cup 2021 live cricket score on Sports.NDTV.com. After 19.1 overs, Namibia, chasing a target of 110, are 115/6. Get live score, ball by ball commentary and much more. Keep track of ICC T20 World Cup 2021 today match between Scotland and Namibia. Everything related to Scotland and Namibia match will be available on Sports.NDTV.com. Stay updated with Scotland vs Namibia live score. Do check for Scotland vs Namibia scorecard. You can get scorecard updates, match related facts. Get quick live updates with ads, Sports.NDTV.com, which is the perfect destination for live cricket score.
Right then, that is all we have from this game. The action in the T20 World Cup however, will continue on 28th October as Australia will take on Sri Lanka in Dubai for game number 22. That match starts at 6 pm local time (2 pm GMT) but the build up will start earlier. Do join us for that one. Till then, cheers!
The winning skipper, Gerhard Erasmus says, they are obviously delighted to get another win in the World Cup. Mentions the boys did well and executed the plan to get over the line. Adds they will take good momentum from this game. On being asked about the plan in the break, he says, they speak more before the game and then on the field they aim to back themselves. Adds, the celebrations will be quite big this time as well.
The losing captain, Richie Berrington says, that they were 20-30 runs short. Mentions that it was pretty hard to recover after the first over. Tells that they needed a partnership to get going and Cross and Leask played really well but could not get going. Adds that they don't have time to thing about it too much and they will just focus on their next game and put this loss behind. Ends by saying that they will take their learning from this game and come back stronger in the next game. On Kyle, he says that he is resting now and they will have to check if he is fit and available for the next game.
Ruben Trumpelmann has been awarded the MAN OF THE MATCH for his exceptional figures of 4-0-17-3! He says, it is a great result for the team. Mentions the preparation has been good in the past few days and he enjoyed his time out in the middle. It's the World Cup, so why not. Adds that he uses swings upfront and it paid off really well. Ends by saying, it's a good win and the boys will surely celebrate it.
Earlier in the day, Gerhard Erasmus won the toss and put Scotland into bat. His decision was complimented straightaway by Ruben Trumpelmann who picked up three wickets in the very first over. This set the tone for the innings and Namibia restricted their opponents to 109. The Namibian openers put a few runs on the board and after some hiccups along the way, JJ Smit finished things off in style and Namibia have two points on board. It's time for the presentation ceremony...
Scotland almost pulled the rabbit out of the hat but there just weren't enough runs to defend. The pacers started off nicely with the ball, allowing no room to the Namibian batters to get ahead in the game but managed just one wicket in the Powerplay. Once Zane Green fell, the Scottish spinners started to pile on the pressure. Michael Leask was the pick of the bowlers as he picked up a couple of wickets and Mark Watt and Chris Greaves picked up a wicket each. Scotland took the game into the final over and this shows character. They lose their second game in a row but won't be disappointed with their bowling effort.
Namibia have been missing from the biggest stage of cricket for the past 18 or so years and here they are now, in the Super 12 of the T20 World Cup and they have just won their first match. The total to chase down was a low one but it's always the totals that require around run-a-ball that play with the mind and that's what happened to Namibia but a few partnerships here and there and a flourish in the end means Namibia continue their red hot streak. Craig Williams and Michael Van Lingen started off slowly but got some runs on board. It was JJ Smit down the order who made the difference with a 32-run cameo and David Wiese supported him well.
Just for a moment it looked like Namibia were going to crumble under pressure but they have kept their cool and have bagged their first ever win in the main draw of the T20 World Cup and also go on to win their third match on the bounce.
19.1 overs (6 Runs) SIX! JJ Smit says enough is enough! He finishes things off in style! Shariff goes full and outside off, JJ Smit carves it over deep point for a maximum. NAMIBIA WIN BY 4 WICKETS!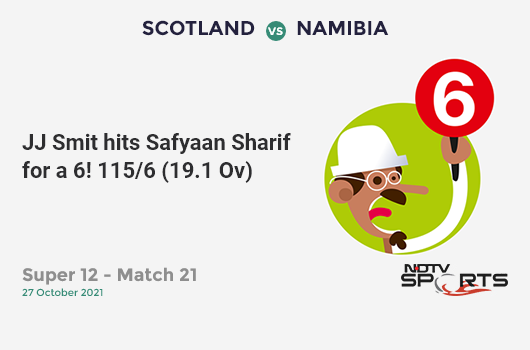 18.6 overs (0 Run) Full again, outside off. Pikky Ya France again pushes it on the off side.
18.5 overs (0 Run) Full and on off, Pikky Ya France pushes it to short extra cover.
Pikky Ya France comes out to bat now.
18.4 overs (0 Run) OUT! CAUGHT! Would you believe it? A full toss outside off, Jan Frylinck could have hit that anywhere in the ground but smashes it straight to the mid-wicket fielder. Calum MacLeod takes the simplest of catches. Namibia fans will have to wait a few more minutes for the celebrations.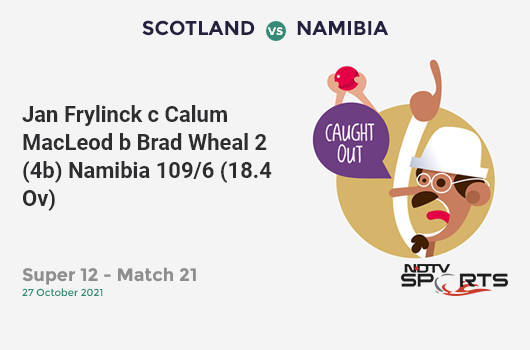 18.3 overs (1 Run) On middle, pushed to mid on for a single. Scores level now!
18.2 overs (4 Runs) FOUR! Nobody's running after that! Just 2 needed now. Fuller in length, on off. JJ Smit leans onto it and drives it through extra cover for a boundary.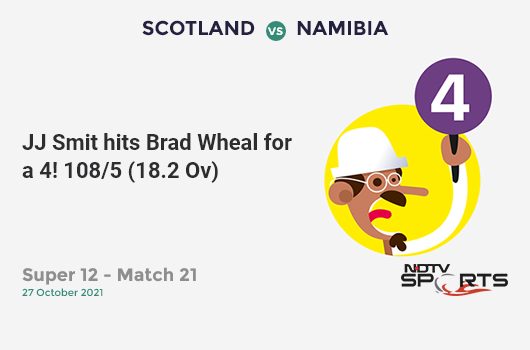 18.1 overs (1 Run) Fuller in length, on off. Jan Frylinck drives it to left of the mid off fielder for a single.
17.6 overs (1 Run) Flatter ball, outside off Jan Frylinck hangs back and cuts it through cover-point for a single. 7 needed from 12 balls.
17.5 overs (0 Run) Short and on off, Jan Frylinck mistimes his pull to mid-wicket.
Jan Frylinck is in at number 7.
17.4 overs (0 Run) OUT! TAKEN! Excellent bowling from Michael Leask. Comes 'round the wicket and bowls it short and outside off, David Wiese chardges down the track and looks to go for another big shot. This time the ball goes off the outside edge towards short third man. Mark Watt moves to his left to grab the catch. Scotland aren't giving up without giving a fight.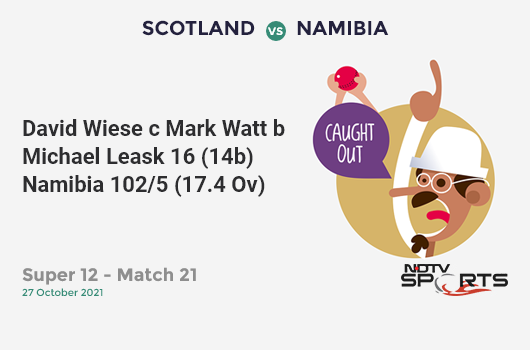 17.3 overs (0 Run) On middle and leg, David Wiese looks to tuck it on the leg side but misses and gets hit on the thigh pad.
17.2 overs (6 Runs) SIX! That will do for Namibia! Full and on off, David Wiese shimmies down the track and smacks it straight down the ground for a biggie. That will release some pressure off Wiese's shoulders.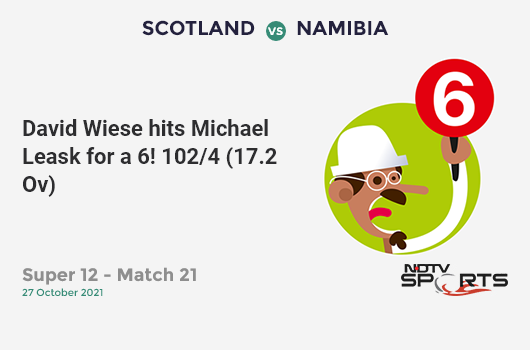 17.1 overs (0 Run) Tosses it up, outside off. Punched towards covers.
16.6 overs (0 Run) That was close! Full and on leg, JJ Smit looks to smack it downtown but misses. That missed hitting the leg stump by a whisker. An excellent over from Mark Watt. Just 3 runs from it.
16.5 overs (0 Run) On off, pushed back to the bowler.
16.4 overs (0 Run) On leg, JJ Smit looks to clip it on the leg side. He misses and gets hit on the pads.
16.3 overs (1 Run) Loopy ball, on off. David Wiese pushes it through covers off the backfoot for a single.
16.2 overs (1 Run) Flatter ball, on off. JJ Smit looks to defend. The ball goes off the inside half to square leg for a single.
16.1 overs (1 Run) Full and on the pads, David Wiese nudges it to long on for one.
15.6 overs (0 Run) On off, Smit plays it back to the bowler.
15.5 overs (2 Runs) Full and on middle. Smit clips it through mid-wicket for a couple.
15.4 overs (0 Run) Darted on the pads. Smit misses his flick. The ball takes the pads and rolls out.
15.3 overs (0 Run) Loopy ball, full and on off. Smit defends it out solidly.
15.2 overs (6 Runs) SIX! BANG! Full toss and on off. Smit stays back and smokes it over the mid-wicket fence for a biggie. Namibia's game to lose hereon!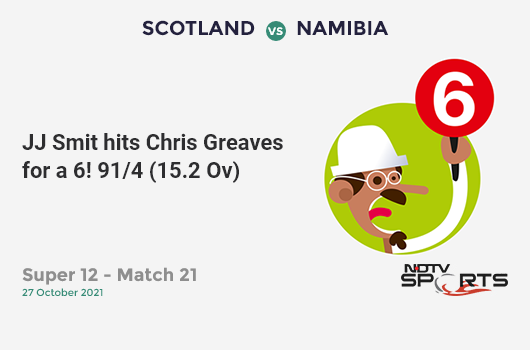 15.1 overs (0 Run) Flatter and on off. Smit whips across the line and works it to mid-wicket.
Match Reports
Topics mentioned in this article