Story Progress
Back to home
Scotland vs Namibia Live Score Ball by Ball, ICC T20 World Cup 2021 Live Cricket Score Of Today's Match on NDTV Sports
Live Updates of Today Match between Scotland vs Namibia from Sheikh Zayed Stadium, Abu Dhabi. Check commentary and full scoreboard of the match.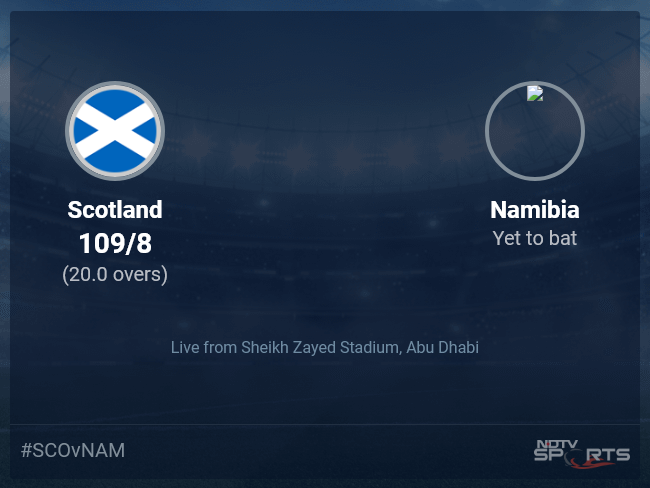 NAM vs SCO Latest Score
Follow the ICC T20 World Cup 2021 live cricket score on Sports.NDTV.com. After 20.0 overs, Scotland are 109/8. Get live score, ball by ball commentary and much more. Keep track of ICC T20 World Cup 2021 today match between Scotland and Namibia. Everything related to Scotland and Namibia match will be available on Sports.NDTV.com. Stay updated with Scotland vs Namibia live score. Do check for Scotland vs Namibia scorecard. You can get scorecard updates, match related facts. Get quick live updates with ads, Sports.NDTV.com, which is the perfect destination for live cricket score.
We are back for the all important run chase!
Right then. Scotland have posted a total of 109 runs, how will their bowlers react to it? Will the batting line-up of Namibia be able to complete the job? Which team will open their account in the points table? To find out, do join us for the chase on the other side.
Jan Frylinck is in for a chat. He says that they stuck to their guns and kept things simple. Mentions that he is enjoying bowling in UAE. Tells that they got three wickets in the first over itself and then they maintained the pressure. Adds that the target is definitely chaseable and the batters should just keep things simple.
Ruben Trumpelmann ran riot with the ball for Namibia. He set the stage really well for the other bowlers. Ruben Trumpelmann sent back the top-order in a blink of an eye. Namibia were right on top straightaway. Soon after, Wiese made his announcement and took another wicket. The bowler's kept hitting great lines and gave Scotland nothing to work with. It was a collective effort by the bowling unit. Jan Frylinck picked up a brace and only gave away 10 runs in his 4-over spell. JJ Smit and David Wiese bagged a wicket each.
It was a tale of ducks for the top-order of Scotland. Munsey, MacLeod and Berrington all the three batters were sent back on a duck in the very first over of the innings. Scotland had a perilous innings, they were teetering at 2/3. They also lost Wallace inside the Powerplay. It looked as if it would get over sooner than later. But then came some crucial stands in the middle. Leask was the main ingredient of the repair work. Initially he was supported by Cross, who was later replaced by Greaves. The pair ticked along well, but Leask slipped out in the death overs. Greaves though made sure to take his side over the 100-run mark.
It did not look like it is the first time Namibia is playing in the T20 World Cup. They could not have asked for a better start than this. Surely, Namibia would be the happier side going into the break. But, Scotland fought back hard to make sure to get a defendable score on the board.
19.6 overs (0 Run) OUT! RUN OUT! Excellent finish by David Wiese. Wiese gets in the yorker this time and Chris Greaves can't get under it as he ends up bunting it back to the bowler. Josh Davey is already halfway down the pitch and there's just no run there. David Wiese collects the ball and then just walks back to knock over the bails. SCOTLAND END WITH 109/8!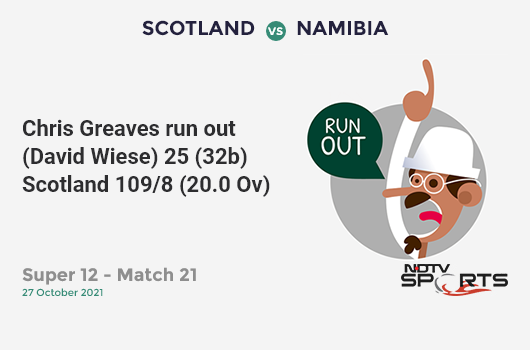 19.5 overs (1 Run) Length ball, on middle and this is heaved down to deep mid-wicket for just a single yet again.
19.5 overs (1 Run) WIDE! Slower bumper, around the helmet of the batter. This one is just a bit too high and a wide is signalled.
19.4 overs (1 Run) Fullish ball, around off. Greaves looks to thrash it through cover but the ball goes off the inner half of the bat to the right of the bowler. They do get across for a quick single.
19.3 overs (1 Run) Full and straight, flicked in front of square on the leg side towards deep mid-wicket for another one.
19.2 overs (2 Runs) A length ball, on off. Davey heaves this one towards deep mid-wicket and races back for the second. Good running.
19.1 overs (1 Run) Full and on the pads, tucked away behind square on the leg side for a single by Greaves.
18.6 overs (1 Run) Slower delivery, banged into the deck and Chris Greaves manages to pull it towards deep mid-wicket for a single. Jan Frylinck finishes with excellent figures of 4-0-10-2!
18.5 overs (1 Run) On off and this is eased down to long off for a single.
18.4 overs (0 Run) Peach of a delivery from Jan Frylinck. This is bowled on a nagging length, outside off and is angled in. The ball just straightens after pitching and whizzes past the outside edge.
18.3 overs (1 Run) Frylinck bowls it into the pitch again and this time Greaves manages to heave it towards long on for a single. The 100 is up for Scotland.
18.2 overs (0 Run) Swing and a miss from Greaves. Good-length ball, around off and beats the batter all ends up.
Josh Davey walks out to bat.
18.1 overs (0 Run) OUT! CAUGHT! Another one bites the dust as Jan Frylinck picks up his second wicket. Frylinck looks for the yorker on middle stump, but just misses it. Mark Watt clears his front leg and looks to get underneath the ball but doesn't quite manage to do so. In the end, Watt ends up chipping it straight to Gerhard Erasmus at long on who takes a simple catch.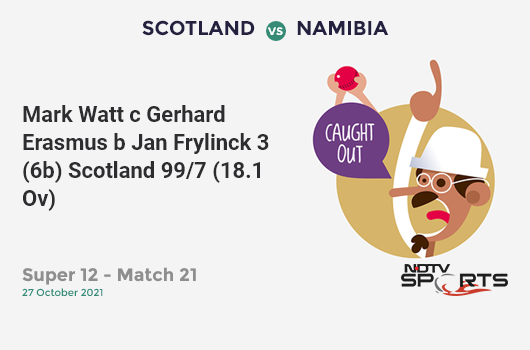 Jan Frylinck to bowl the penultimate over.
17.6 overs (0 Run) Wiese bangs in a shorter one this time, around middle. Greaves looks to up the ante by swiping across but misses. Just 3 runs of the over.
17.5 overs (0 Run) Another excellent slower ball from David Wiese. Bowls it into the pitch, around off. Graeves steps forward looking to pull it in front of square but gets undone by the lack of pace.
17.4 overs (1 Run) Length again, well outside off. Watt goes well across his stumps and flicks it aerially towards fine leg for a single.
17.3 overs (0 Run) Slower one again from Wiese. This is on a length, around off and slanting across. Watt dances down the track looking to thrash it through covers but gets beaten by the lack of pace.
17.2 overs (1 Run) Slower one, bowled into the pitch and angled in at the body. Greaves makes room and taps it towards mid on for another one.
17.1 overs (1 Run) A length ball, on off and angling across. Watt whips it through mid-wicket for a single.
David Wiese (2-0-12-1) comes back on.
16.6 overs (0 Run) Greaves looks to get funky now. Full, around off and Greaves just looks to reverse paddle it past short third man but doesn't make any connection.
16.5 overs (2 Runs) Full and just outside off, Greaves makes a bit of room and thrashes it through extra cover. The fielder from long off runs around and keeps it to a couple.
16.4 overs (1 Run) Length again, around middle. Watt hops and dabs it down towards the mid-wicket region for an easy single.
16.3 overs (0 Run) Smit hits the length hard and angled it in around off stump. Watt hangs back and blocks it out.
Mark Watt is the new batsman in.
16.2 overs (0 Run) OUT! Cleaned up! The dangerman Michael Leask is gone! Michael Leask will be really disappointed with that and this wicket could prove to be the difference in the context of this match. Leask walks right across his stumps and JJ Smit fires it in full and on off stump. Leask looks to scoop it over the keeper but the ball is just too full and in the end Leask gets beaten by the pace. The ball crashes into off stump and JJ Smit has provided the breakthrough for Namibia.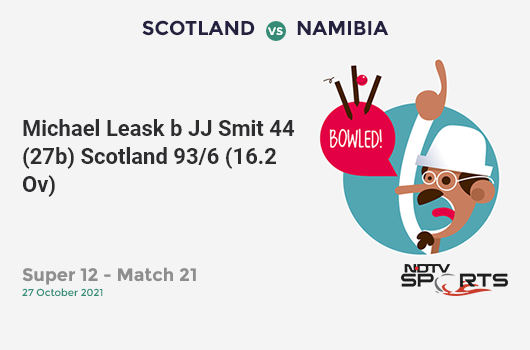 16.1 overs (1 Run) Full and wide, Greaves squeezes it out to point for a single.
JJ Smit (3-0-16-0) is back into the attack.
15.6 overs (2 Runs) On off, Michael Leask prods and pushes it to the vacant deep mid-wicket region for a couple of runs.
15.5 overs (4 Runs) FOUR! Well executed! Short and on middle, Michael Leask gets on his one knee and slog-sweeps it behind square on the leg side for a boundary.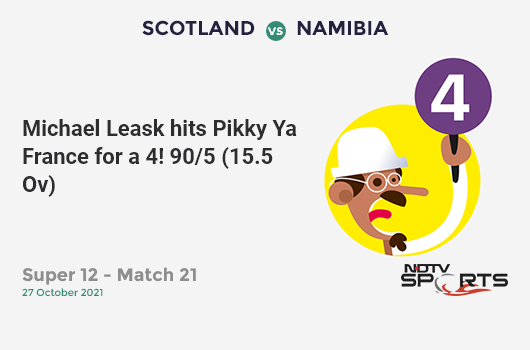 15.4 overs (1 Run) Floats it up, on middle. Chris Greaves sweeps it to deep square leg for a single.
15.3 overs (0 Run) Full and on leg, pushed back to the bowler.
15.2 overs (0 Run) Tosses it up, on middle. Chris Greaves looks to reverse sweep but misses and gets hit on the pads. Pikky Ya France appeals for an LBW but the umpire says no.
15.1 overs (1 Run) Loopy ball, on off. Michael Leask moves across and misses his glance. He gets hit on the pads and the batters take a leg bye.
Match Reports
Topics mentioned in this article