Story Progress
Back to home
Pakistan vs Namibia: ICC T20 World Cup 2021 Live Cricket Score, Live Score Of Today's Match on NDTV Sports
Live Updates of Today Match between Pakistan vs Namibia from Sheikh Zayed Stadium, Abu Dhabi. Check commentary and full scoreboard of the match.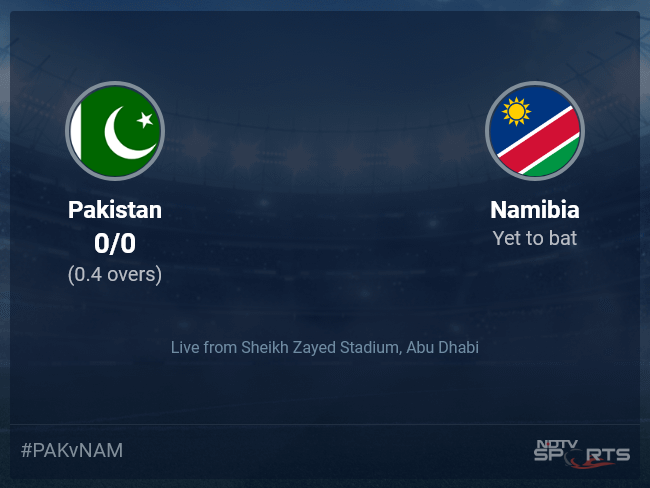 PAK vs NAM Latest Score
A dedicated team of experts bring you live score, live cricket score, live match update on Sports.NDTV.com. After 0.4 overs, Pakistan are 0/0. The live updates of Pakistan vs Namibia scorecard is also available. It is the perfect platform to follow your favourite teams in ICC T20 World Cup 2021. Keep a track on your favourite batsmen and bowlers through ICC T20 World Cup 2021 today match, ball by ball commentary, Pakistan vs Namibia, Pakistan vs Namibia live score, Pakistan vs Namibia scorecard. Follow the excitement of the ICC T20 World Cup 2021 on Sports.NDTV.com as you can follow live match updates and live cricket score through our platform.
We are back for Namibia's reply! Pakistan players form a huddle and then stride out to the middle. Stephan Baard and Michael Van Lingen are the openers for Namibia. Shaheen Afridi to start with the ball.
The target is a huge one, Namibia would do well even if they get close to it! They will need someone to play once in a lifetime knock if they are to do so. Pakistan on the other hand, will back themselves to defend it. Can they continue their winning run or are we in for a surprise?
Mohammad Hafeez is in for a chat. He says, he played the last two games with an intent but he could not contribute much. But he managed to play technically and it worked in his favour today. Mentions, Rizwan is an outstanding player, he had in his mind to stay out for long after Azam slipped out. They had 170 runs in mind, but they got a little extra and he is happy about it. On being asked about the dew out there, Hafeez says, he didn't notice any dew.
The Namibia bowlers were taken to the cleaners. That was not the case for the first 10 overs though as their bowlers bowled with great control and kept Pakistan quiet. However, it all changed after the Drinks break! The Pakistan batters upped the ante and then there was no stopping them. Except for Frylinck and Wiese, all the others took a beating, especially Smit who conceded 24 in the last over and 50 in total.
That is a brilliant performance with the bat by Pakistan and they have probably batted Namibia out of the game! The skipper's decision of batting first has been justified. However, the start was quite slow from their openers. They were going at below 6 per over in the first 8 but once the two batters got their eye in, runs started to flow. They added a 100-plus run stand before Babar fell. Zaman too did not last for long but the partnership between Rizwan and Hafeez is what took the game away from Namibia. The two added over 60 in no time and that helped Pakistan finish really strongly.
19.6 overs (2 Runs) Full-length ball, around off. Rizwan punches it through covers for a couple. 24 runs coming off it. PAKISTAN END THEIR INNINGS AT 189/2.
19.5 overs (4 Runs) FOUR! Rizwan is having no mercy on JJ Smit here. 22 runs coming off the 5 deliveries. Short ball, outside off. Rizwan hangs back and cuts it through point for a boundary.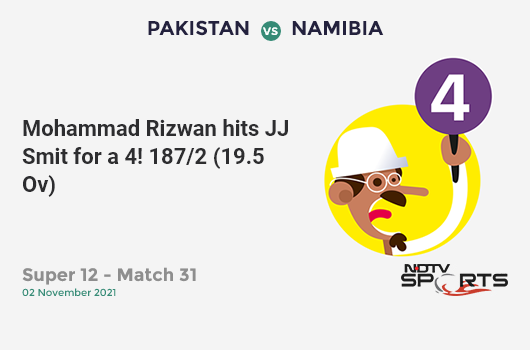 19.4 overs (4 Runs) FOUR! Mohammad Rizwan continues on his merry way. A slower, full-length ball, outside off. Rizwan slashes it through point and bags a boundary. This is the fourth consecutive ball to cross the boundary line.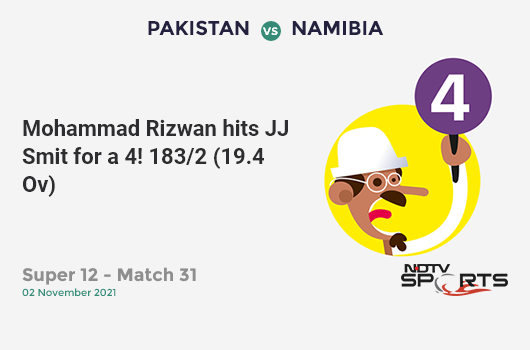 19.3 overs (4 Runs) FOUR! Third boundary for Rizwan in this over. Back of a length, outside off. Mohammad Rizwan upper cuts it over backward point for a boundary. How expensive will this over turn out to be?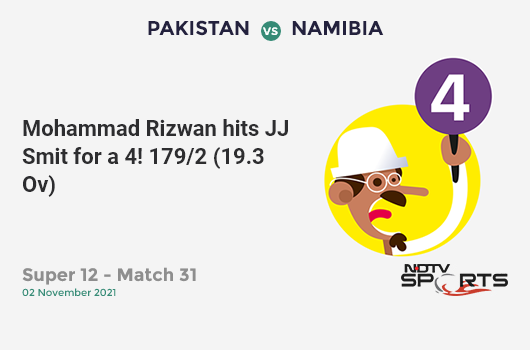 19.2 overs (6 Runs) SIX! Rizwan capitalises on the loose ball. Full toss and on middle. Rizwan comes across and smokes it over the square leg fence for a biggie. 10 runs coming off the first two deliveries.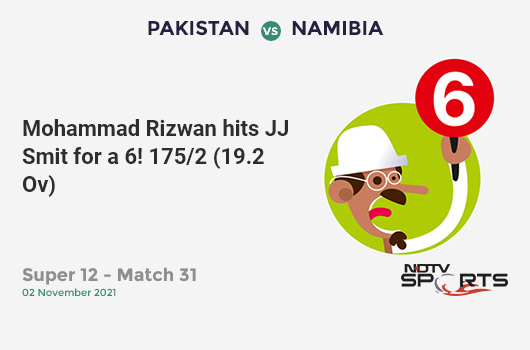 19.1 overs (4 Runs) FOUR! Rizwan starts the final over with a boundary. Full-length ball, around middle. Rizwan goes back and drills it towards long off. The ball first evades the man at mid on and later David Wiese puts in a dive in the deep but in vain.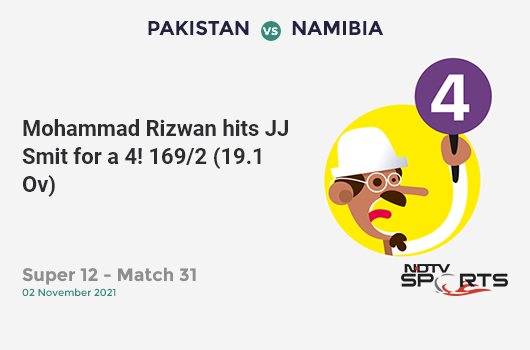 JJ Smit to bowl the final over.
18.6 overs (1 Run) Low full toss, on off. Rizwan hits it dead straight and smashes the stumps on the non-striker's end. The batters sneak a single. 10 runs off the over.
18.5 overs (0 Run) A slower, length ball, outside off. Rizwan looks to push it through the off side but misses. The ball bounces three times before reaching the keeper.
18.4 overs (6 Runs) SIX! BANG! Rizwan reaches his FIFTY is some style. Full toss and on off. Rizwan stays back and smokes it over the square leg fence for a maximum.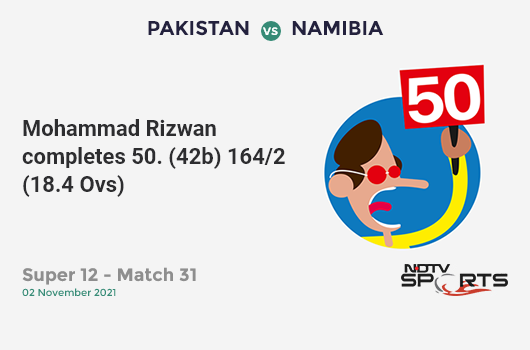 18.3 overs (1 Run) On a length, outside off. Mohammad Hafeez punches it through long off for a single.
18.2 overs (0 Run) Wiese fires in a yorker and on middle. Hafeez stays back and digs it out safely.
18.1 overs (2 Runs) Full toss and way outside off. Mohammad Hafeez slashes it through cover. The batters take two before the fielder cuts it out.
David Wiese (3-0-20-1) to bowl out.
17.6 overs (4 Runs) FOUR! Moves to 48! Another sweep shot and another boundary! A full toss outside off, Rizwan moves across and plays it through square leg. End of a huge over from Ruben Trumpelmann.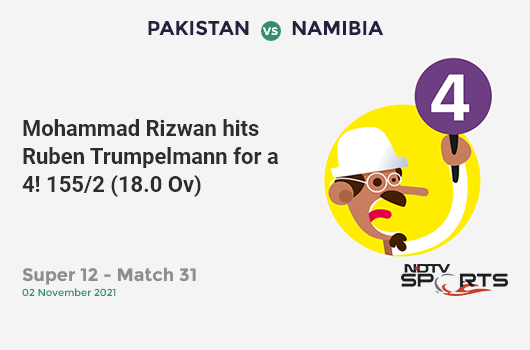 17.5 overs (1 Run) Gets away with probably what is the worst delivery of the over! He bowls a full toss, outside off, Hafeez carves it but towards deep point for one only. Rizwan finally comes on strike. He is a big hit away from a half ton.
17.4 overs (2 Runs) Almost drags it on! Instead, gets two more! Shorter and outside off, Hafeez slashes at it, it goes off the inside edge past the off pole and down to fine leg for two.
17.3 overs (2 Runs) Two more! Fuller and outside off, Hafeez chips it over covers for two more.
17.2 overs (4 Runs) FOUR! Hafeez is dealing in boundaries here! This one is fortunate but he will take it! This is fuller and outside off, Hafeez looks to go over covers but this flies more off the outer half towards deep cover-point. David Wiese runs to his left and then dives forward, fails to get to the ball and it goes behind for a boundary. Good try by David but in vain.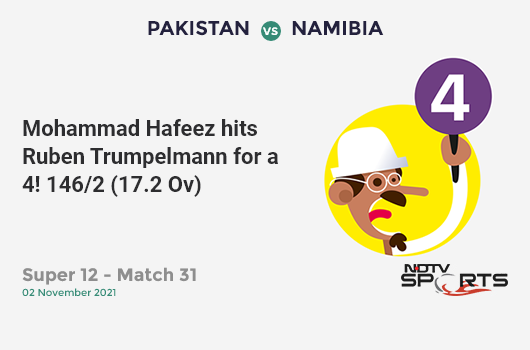 Ruben Trumpelmann (3-1-19-0) to bowl out.
17.1 overs (4 Runs) FOUR! Hafeez is toying with the field here! Outstanding stuff! Ruben Trumpelmann bowls it full and outside off, Hafeez just goes down on one knee and then guides it past the diving short fine leg fielder for a boundary.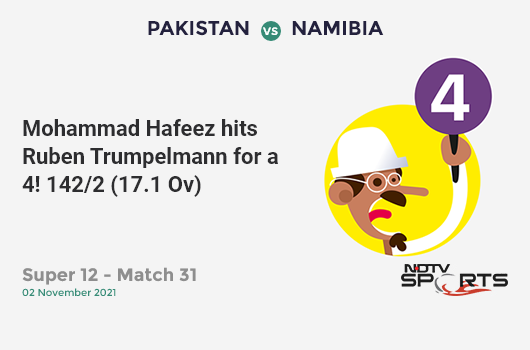 16.6 overs (1 Run) Another slower one, this time it is bowled into the wicket. Hafeez drags it towards deep mid-wicket for one. End of a very good over for Pakistan.
16.5 overs (0 Run) Hafeez will feel he missed out there! This is angled into the pads, Hafeez tries to flick but misses. It hits the pad and rolls on the leg side. Rizwan wants a run but is sent back.
16.4 overs (4 Runs) FOUR! Deft! This is outstanding! What batting! This is not a bad delivery but the class of Hafeez shows there. A slower one on off, Hafeez just waits and then guides it between point and short third man. It races away to the fence.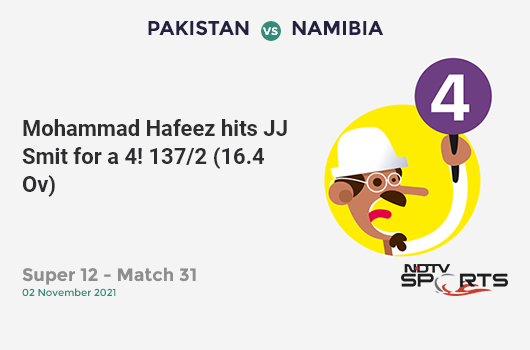 16.3 overs (4 Runs) FOUR! Cheeky and very effective! Plays the paddle scoop, gets into position early. The bowler looks to go really full and on the stumps but ends up serving a full toss, Hafeez just guides it down to the fine leg fence.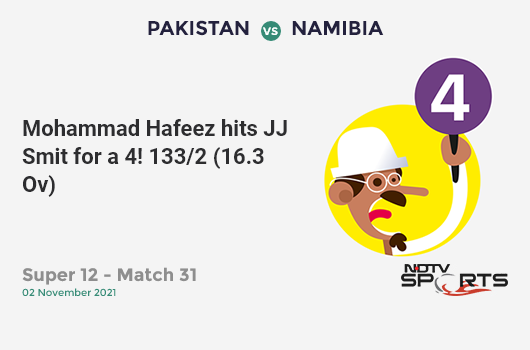 16.2 overs (2 Runs) Really good running again! On middle, this is worked through mid-wicket. Two taken.
16.1 overs (0 Run) Leading edge but safe! On middle, this one moves away. Hafeez looks to work it on the leg side but it is against the movement. It goes off the leading edge but lands well short of the cover fielder.
JJ Smit (2-0-15-0) is back into the attack.
15.6 overs (1 Run) A single to end then! On off, Hafeez drops it on the off side and gets to the other end.
15.5 overs (4 Runs) FOUR! Hafeez is off the mark with a boundary! Lovely timing! Shorter and outside off, Hafeez waits and then places it past point. The fielder in the deep, runs to his left and dives but fails to stop it.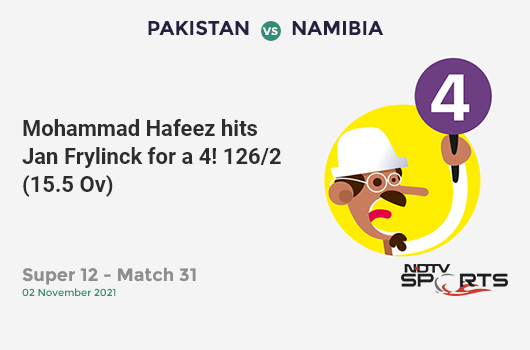 Mohammad Hafeez comes out at number 4.
15.4 overs (0 Run) OUT! TAKEN! What a catch that is! Green, take a bow! Absolutely brilliant. Zaman can't believe his luck and Namibia have two in quick succession. Zaman skips down the track and this is bowled on a length and outside off, he looks to play it square on the off side but it goes off the outside edge to the left of the keeper who is wrong-footed. Green though dives to his left and takes a one-handed reflex catch.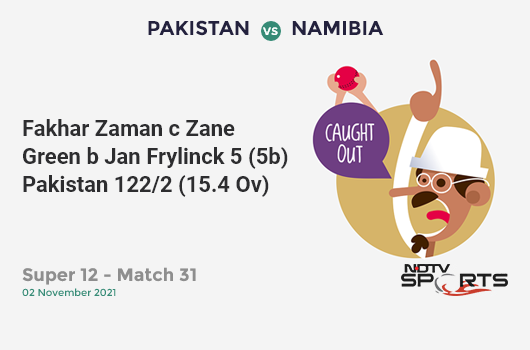 15.3 overs (2 Runs) Comes down the track again but gets way too close to the pitch of the ball. He works it through mid-wicket for two.
Review time! Gerhard Erasmus decides to take it upstairs for lbw. The on-field decision is not out. UltraEdge shows the bat is absent. The Ball Tracker shows the impact is outside the line. The final decision is not out.
15.2 overs (1 Run) NOT OUT! Impact outside off! Namibia lose a review! Shorter and outside off, Rizwan shuffles across and tries to pull. This lands outside off and jags back in. Rizwan misses and gets hit on the pads. An appeal but turned down. It rolls down to third man. A leg bye taken. Namibia review but replays show that the on-field call is the right one.
15.1 overs (1 Run) Zaman comes down the track but yorks himself! He jams it out towards mid off for one.
Match Reports
Topics mentioned in this article