Story Progress
Back to home
Pakistan vs Australia: ICC T20 World Cup 2021 Live Cricket Score, Live Score Of Today's Match on NDTV Sports
Live Updates of Today Match between Pakistan vs Australia from Dubai International Cricket Stadium, Dubai. Check commentary and full scoreboard of the match.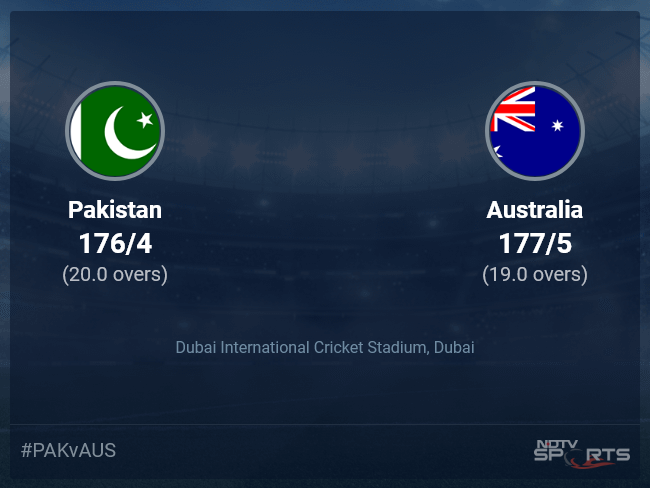 PAK vs AUS Latest Score
A dedicated team of experts bring you live score, live cricket score, live match update on Sports.NDTV.com. After 19.0 overs, Australia, chasing a target of 177, are 177/5. The live updates of Pakistan vs Australia scorecard is also available. It is the perfect platform to follow your favourite teams in ICC T20 World Cup 2021. Keep a track on your favourite batsmen and bowlers through ICC T20 World Cup 2021 today match, ball by ball commentary, Pakistan vs Australia, Pakistan vs Australia live score, Pakistan vs Australia scorecard. Follow the excitement of the ICC T20 World Cup 2021 on Sports.NDTV.com as you can follow live match updates and live cricket score through our platform.
Right then, 5 in 5 for Australia in World Cup knockouts against Pakistan and that also stops the winning streak of the Men in Green in the UAE. We are done with this match and have only one left to go in this edition of the T20 World Cup. The grand finale is going to be a blockbuster clash as it will reignite the trans-Tasman rivalry. New Zealand versus Australia on Sunday, 14th November 2021. The action will begin at 6 pm local (2 pm GMT) but you can join us in advance for the build-up. Cheers!
Aaron Finch, the winning skipper of Australia, says that at no stage they felt that the game was in their bag. Praises Wade for the way he played along with Stoinis. Admits that they were a bit sloppy with their fielding today but this win shows the depth of their team. Further adds that it was a nice toss to win but confesses that he hoped to lose it and bat first on what was a great wicket to bat on.
Babar Azam, the captain of Pakistan, says that they scored as many runs as they had planned and feels they also bowled well in the first half but the chances they gave away cost them. States the turning point was the dropped catch (Wade's drop in the 19th over) and had that been taken, it could have been different but he is proud of how the boys fared in this tournament and hopes to learn from this loss. Also says they have played well throughout and that will help them in future. Ends by saying that they have got very good support and they enjoy playing here and thanks the supporters.
Matthew Wade is the Player of the Match! He says that a couple of ramp shots were pre-meditated and he is glad to get a couple of sixes like that. Adds that Stoinis was quite confident about them getting over the line and helped him. Says that he was confident of targeting the shorter boundary against Afridi. Credits Stoinis for the way he batted and says that he got them to a situation where they were a few blows away from getting over the line. Confesses that the feeling has still not sunk in.
The winning juggernaut of Pakistan has been halted by Australia. They were invincible in this tournament and it is going to be a hard defeat to swallow. Their batting gave them a fine platform and the way they bowled, it was their game till the start of the partnership between Marcus Stoinis and Matthew Wade. Shadab Khan's bowling effort where he hunted down Warner, Smith, Marsh and Maxwell, went in vain and he is unfortunate to end on the losing side.
Before Matthew Wade went bonkers in the 19th over, he was dropped by Hasan Ali and that probably was the moment that cost Pakistan in the end. There is a famous catchphrase - 'To be the man, you gotta beat the man!' Wade was the man this evening and he took out Pakistan's best man in Shaheen Afridi to earn a stunning win for Australia.
After the Drinks break, Shadab Khan immediately removed the dangerous Warner, caught behind. Although the UltraEdge didn't detect any edge. David not opting to review the decision was a massive moment of this chase as Australia lost Glenn Maxwell soon after that. There were quite a few reckless shot selections from the Aussies and they found themselves in a precarious situation. With 62 needed off 30 balls and 5 Aussie wickets left, the ball was in Pakistan's court, just like it was in England's court in the first semi-final. If it was Daryl Mitchell last evening for New Zealand, it was Matthew Wade for Australia.
The chase started with Shaheen Afridi hurling fireballs at the Aussies. His first over was extraordinary where he took out Aaron Finch for a golden duck and nearly hunted down Mitchell Marsh as well. After the first two overs though, things eased out for Australia and Marsh formed a quickfire 51-run stand with David Warner. The Powerplay went well for them and despite losing Marsh and Steven Smith after that, the Aussies were in control at the halfway mark, needing 88 to win with David Warner looking in ominous form.
Aussie Aussie Aussie, Oi Oi Oi!!! Matthew Wade turned back the clock and donned the cape of Michael Hussey and gave Shaheen Afridi the treatment that Mr Cricket handed to Saeed Ajmal in the 2010 T20 World Cup. What a compelling run chase, it was a bit like last evening and the chasing team once again won with one over to spare. The Aussie dugout is pumped up, emotions flooding out there, what a game, what a win - AUSTRALIA ARE IN THE FINAL!
18.6 overs (6 Runs) SIX! There is no last over! If the previous one did not seal the deal, this definitely did. Matthew Wade, take a bow. AUSTRALIA ARE IN THE FINAL AS THEY WIN BY 5 WICKETS! Another outrageous stroke from Wade. He tries the paddle scoop, it is a full toss on middle, Wade times it well over the fine leg fence for a biggie.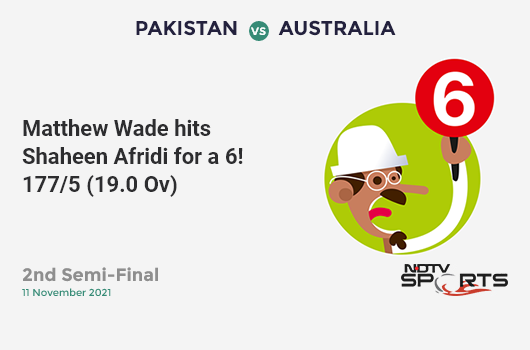 18.5 overs (6 Runs) SIX! That is out of here! Matthew Wade, you beauty! What an innings from him. That is probably the blow that seals the deal for Australia. This is right in his slot. Full and on middle, this is heaved over the mid-wicket fence. Another hit will do it.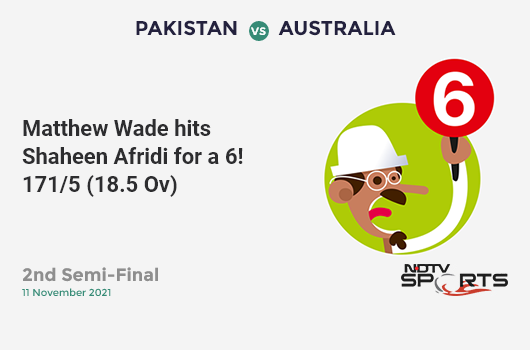 A big conference. Shoaib Malik, Shadab Khan and Babar Azam are in discussion with Shaheen Afridi. Does the pacer have another trick up his sleeve?
18.4 overs (6 Runs) SIX! This will hurt Hasan Ali even more! Pindrop silence here in the stadium as Australia now only need 12 off 8 balls. It is their game to lose. What an audacious shot this by Wade! He plays the paddle scoop. This is a 148 KPH delivery, full and on middle, Wade just uses the pace and scoops it over the fine leg fence.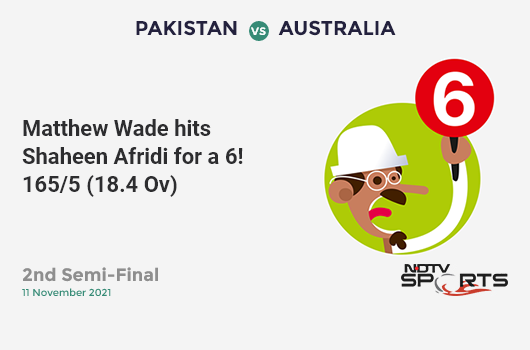 18.3 overs (2 Runs) DROPPED! Hasan Ali, has he just dropped the game? He has had a forgetful outing so far. Shaheen can't believe it and the fans are also shell-shocked. A slower one, on middle, Wade lifts it towards deep mid-wicket, not off the middle. Hasan Ali runs to his left, gets to the ball but spills it. Two taken.
18.3 overs (1 Run) WIDE! Shaheen gets away with one! He bowls one down the leg side, Wade just needed to get some bat on it but misses. Wided.
18.2 overs (1 Run) NOT OUT! Pitched well outside leg! Pakistan lose a review. It was a review more in desperation. Shaheen hits the deck hard again and attacks the stumps. Stoinis looks to flick but is late into the shot. He misses. It hits the pad and rolls towards point. The batters go for one as there is an appeal by the bowler. The umpire moves away. He then signals a leg bye. It is reviewed but the replays show that the on-field call is the right one.
Review time! This seems like a review taken in hope by Pakistan. A review is taken for LBW. No bat on it. Pitching way outside leg. The review is lost.
18.1 overs (0 Run) That is brilliant from Rizwan! Straightaway indicated it did not carry! Length and on off, slightly shorter actually. Stoinis looks to pull but it goes off the under-edge to the left of Rizwan who dives and takes it. Shaheen appeals, he is almost celebrating but Rizwan says it has bounced. A dot nonetheless. 22 needed in 11 balls.
Who will bowl the 19th over? 22 needed from 2 overs now. The Aussies are right back in it. Here comes Shaheen Afridi to bowl the most important over of Pakistan's campaign.
17.6 overs (4 Runs) FOUR! A boundary off the last ball and that probably turns the tide in the favour of the Aussies. 22 needed now in 12 balls. This is full and on middle, Wade once again whips it, this time he gets it behind square on the leg side and it races away. This is an outstanding partnership between the two. They took Australia over the line against the South Africans and have given themselves a good chance here.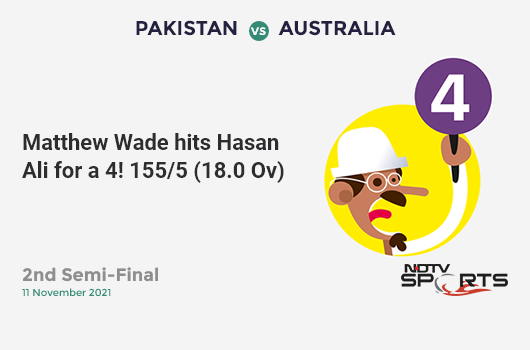 17.5 overs (1 Run) Lands it on a length this time, on middle, this is pulled through mid-wicket for one.
17.4 overs (1 Run) Just the one! On middle, this is whipped through mid-wicket for one. That is a good ball, not easy to get under those.
17.3 overs (6 Runs) SIX! KABOOM! There is the biggie Australia needed. The 50-run stand is up at the right time for the Aussies. The work is still not done though. This is full and outside off, a slower one. Wade manages to drag it over the long on fence for a biggie. 28 needed in 15, three big balls coming up.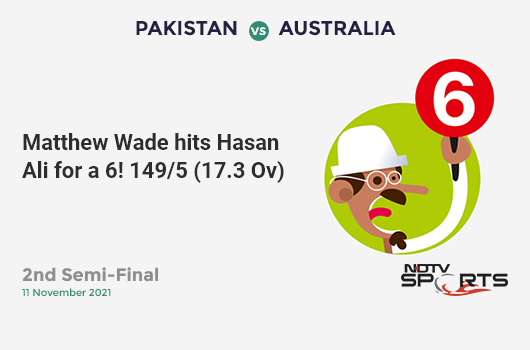 17.2 overs (2 Runs) Well fielded! Full and on middle, Wade whips it through mid-wicket. The fielder in the deep runs to his left and stops it. Two taken.
17.1 overs (1 Run) Wade wanted two but not taken! On middle, Stoinis works it through mid-wicket. They run the first one quickly. There is a collision between Hasan and Stoinis, who tries to turn for the second. In the end, only one.
16.6 overs (1 Run) Just a run then to end! Still though, a huge over. 13 from it. 37 needed in 18. Short and on middle, Stoinis pulls it through square leg, towards the fielder for one.
16.5 overs (0 Run) Well bowled! Length, seam-up and into the body of the batter, cramping him for room. Stoinis plays it back to the bowler.
16.4 overs (4 Runs) FOUR! That is a brute of a stroke! Shadab did try his best but his effort went in vain! This is very full and on middle, Stoinis powers it down the ground. Shadab, from long off, runs to his right, dives but does not stop it. 10 from the last two balls, can Australia now make this into a huge over?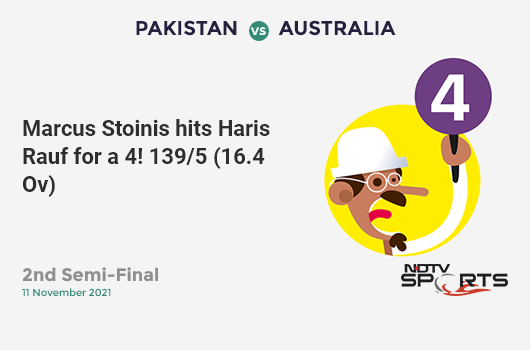 16.3 overs (6 Runs) SIX! Bang! That goes all the way! A welcome biggie. Stoinis this time waits for the slower one, he was expecting it and Rauf bowls it. It is on a length and on off, Stoinis heaves it over the mid-wicket fence. It is on the shorter side of the ground and goes all the way.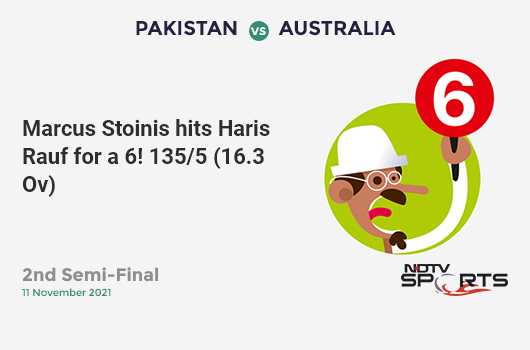 16.2 overs (2 Runs) What exceptional work in the field! Shoaib Malik, take a bow, this guy is 39 and he just ran across the field like he is in his early 20s. On middle, this is whipped with power through mid-wicket. Malik runs to his left, dives and keeps it down to two.
16.1 overs (0 Run) Dots will just keep building the pressure here! Rauf has been brilliant in the death and starts well. A slower one and on off, Stoinis pushes it back to the bowler. He is not picking the slower ones here.
The required rate has reached 12.5 now and Australia need a big over here. Remember, the semi-final between England and New Zealand saw the game turn on its head in the 17th over too. The Aussies need something similar here. Haris Rauf is back on.
15.6 overs (0 Run) A dot to end! So Hasan came back really well in the second half of his over. Still, 12 from the over and the Aussies need 50 in the last 4. A slower one outside off, Wade swings, he is early in the swing and hence, misses.
15.5 overs (1 Run) A short one now, not very short, fractionally short. Cramping Stoinis for room. He pulls it through mid-wicket for one.
15.4 overs (1 Run) Brilliant! A yorker now, on middle, Wade jams it out on the leg side and gets to the other end.
15.3 overs (1 Run) Good work from Hasan Ali! A slower one, on middle, this is worked towards mid-wicket with soft hands. Hasan Ali does well to run after the ball and keeps it down to one. Good commitment shown by the pacer.
15.2 overs (2 Runs) Another two! Hasan goes short and delivers a slower one. Stoinis pulls it through mid-wicket. Two again.
15.2 overs (3 Runs) NO BALL AND TWO! This is poor from Hasan Ali. No balls are not what Pakistan would want! This time though the delivery is good, it is full and on middle, Stoinis whips it through mid-wicket for two. Free Hit coming up.
15.1 overs (4 Runs) FOUR! Evading two diving fielders and into the fence! Perfect start to the over, this is the bowler they needed to target and the over has started well for the Aussies. Pressure on Hasan Ali. He goes full and wide outside off. Stoinis hits it past the diving cover fielder. Long off runs to his left and then puts in a dive but fails to stop it.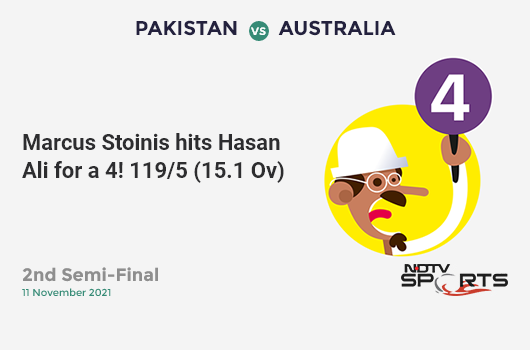 Match Reports
Topics mentioned in this article