Story Progress
Back to home
New Zealand vs Australia Live Score Ball by Ball, ICC T20 World Cup 2021 Live Cricket Score Of Today's Match on NDTV Sports
Live Updates of Today Match between New Zealand vs Australia from Dubai International Cricket Stadium, Dubai. Check commentary and full scoreboard of the match.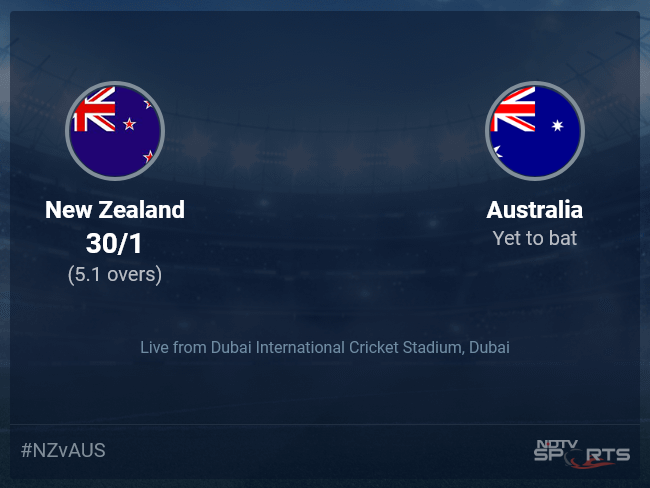 AUS vs NZ Latest Score
Follow the ICC T20 World Cup 2021 live cricket score on Sports.NDTV.com. After 5.1 overs, New Zealand are 30/1. Get live score, ball by ball commentary and much more. Keep track of ICC T20 World Cup 2021 today match between New Zealand and Australia. Everything related to New Zealand and Australia match will be available on Sports.NDTV.com. Stay updated with New Zealand vs Australia live score. Do check for New Zealand vs Australia scorecard. You can get scorecard updates, match related facts. Get quick live updates with ads, Sports.NDTV.com, which is the perfect destination for live cricket score.
4.6 overs (0 Run) No run.
4.5 overs (1 Run) A touch short and around off, Kane plays it with soft hands in front of square leg and picks up a run. The Kiwi skipper is off the mark.
4.4 overs (1 Run) Pace off as it's a cross-seamer, around middle and leg, Guptill tickles it through square leg for a single.
4.3 overs (0 Run) The batsman has just blocked that from his crease.
4.2 overs (0 Run) This one is served a bit fuller and around off, Guptill pushes it off his front foot to covers.
Pat Cummins comes on now.
4.1 overs (0 Run) Delivers it on a length and around off, Guptill plays late with an angled at but finds backward point.
3.6 overs (0 Run) On a length, just outside off. Punched to covers. Just 5 and a big wicket from that over. Good two overs from Josh Hazlewood.
Kane Williamson walks out to bat.
3.5 overs (0 Run) OUT! CAUGHT BEHIND! The hero of the semi-final for New Zealand is done and dusted very early in the game. Hazlewood brings his class into play. Sticks to his line around off, it's a bit short and he has run his fingers on the side of the ball. A 131 kph delivery reaches the batsman a bit late and Daryl Mitchell is shaping up to guide it down to third man by stepping back slightly. The ball though takes the outside edge and Matthew Wade dives forward to snap a terrific low catch. Josh Hazlewood has once again struck inside the Powerplay.
3.4 overs (0 Run) Another dot. Short of a length, but the punch by Mitchell goes straight towards cover. Josh Hazlewood is bowling really well here.
3.3 overs (0 Run) On a length, on off. Daryl Mitchell punches it to cover. Dot ball.
3.2 overs (1 Run) Full one, on the pads. Guptill flicks it to deep square leg and crosses over.
3.1 overs (4 Runs) FOUR! Top stroke! Josh Hazlewood serves a length ball, just outside off. Guptill stands up tall and punches it through covers for a boundary.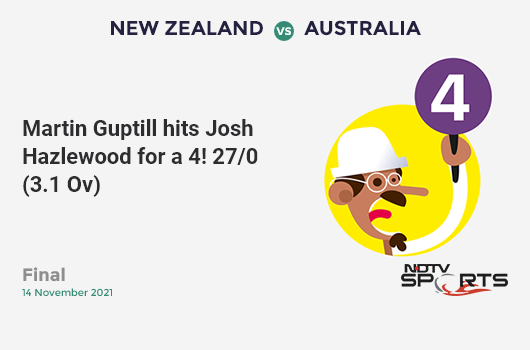 2.6 overs (1 Run) Around middle and leg, Guptill fails to work it around and it rolls off his pads. They cross for a leg bye. A good comeback by Maxy after conceding a biggie on the first ball.
2.5 overs (1 Run) Shortish and on middle, Mitchell gets back and tucks it through square leg for one.
2.4 overs (1 Run) Quicker and on middle, it's eased down to long on for a single.
2.3 overs (0 Run) Is that a dropped catch? Flatter again, short and outside off, Guptill tries to cut but fails to middle it. Wade is unable to gather the ball. The replays detect an inside edge. Big miss.
2.2 overs (1 Run) Flatter and shorter on middle, helped behind square leg for a single.
2.1 overs (6 Runs) SIX! Stand and delivery! They would look to attack Maxwell. Floated and full around off, right in the slot for the batter, Daryl Mitchell wastes no time in going after it and smashes it handsomely over the bowler's head.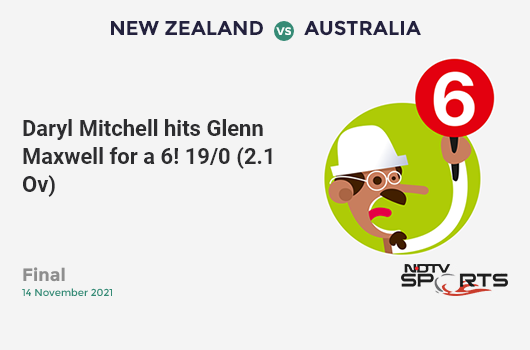 Time for some spin as Glenn Maxwell comes on. He, Stoinis and Marsh will make the 5th bowler so the Kiwis will look to target these overs.
1.6 overs (0 Run) Back on the money, around off and on a length, Guptill gets forward and pushes it to covers. Excellent first over from Josh Hazlewood!
1.5 overs (4 Runs) FOUR! Guptill ends the dry spell of four balls. Short in length and around middle, at 138 kph, Guptill gets on top of the bounce and pulls it to fine leg. The fielder in the deep is very, very square and the ball runs away to the fence.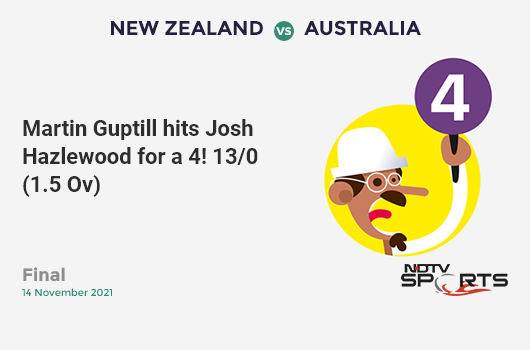 1.4 overs (0 Run) Shortish and around off, Guptill punches it from the back foot to covers where Mitchell Marsh makes a diving stop to his left. Good energy.
1.3 overs (0 Run) A hint of movement around off but the ball is not zipping through off the surface, Guptill stays on the back foot and helps it to mid-wicket.
1.2 overs (0 Run) A touch short and on off, at 142 clicks, Guptill eases himself on the back foot and pushes it to mid off.
1.1 overs (0 Run) On the money is Josh Hazlewood. Serves it on a good length around off, not offering much room, Guptill gets back and plays it down to mid-wicket.
Josh Hazlewood set to steam in.
0.6 over (1 Run) Edgy! Back of a length, around off and angling away, Martin Guptill stays back to push inside the line and edges it down to third man for a run. 9 from the first over of the final.
0.5 over (3 Runs) Starc goes leg side on this occasion. It's been a poor start from the speedster. On a good length and around leg, Daryl Mitchell uses his wrists and works it through backward square leg. Josh Hazlewood gives the chase to his left from fine leg and puts in a dive to stop the ball. He then back-flicks it in the direction of the square leg fielder inside the ring and that allows the batsmen time to pick the third run.
0.4 over (0 Run) Better line and length from Starc. He delivers it around middle and leg, Mitchell pushes it down the ground with a straight bat but finds mid on.
0.3 over (1 Run) Once again there is a little bit of width available outside off, no movement whatsoever for Starc, Guptill throws his bat at it and steers it down to the right of third man for a single.
0.2 over (4 Runs) FOUR! Leaves the first ball and smashes the second one. That's Guptill for you. It's slightly short and in the zone outside off, Martin stands tall inside the crease and slaps it through the gap at point for a boundary, first of the final.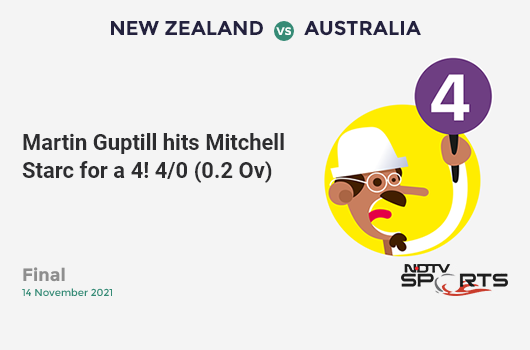 0.1 over (0 Run) Starc begins by hurling a full delivery across the right-hander, it's outside off and further angling away, Martin Guptill makes a watchful leave.
Done with the pre-match formalities. Aaron Finch has his team in a huddle and then leads Australia out on the field. Martin Guptill and Daryl Mitchell stride out to bat for New Zealand. Mitchell Starc will steam in with the new ball. But first, both the teams take the knee to support the Black Lives Matter movement. Here we go for the final time. Game on!
We are set for the finale! Both the teams and match officials walk out on the field for the national anthems for the final time. First, the anthem of Australia will be played followed by that of New Zealand.
Trent Boult is down for a chat. The Kiwi speedster says that they are looking forward to taking on the Aussies and they hope to keep adding to the trophy cabinet. Feels that bowling with the new ball is quite important and taking early wickets is the key. Further adds that missing Conway is a huge loss but that allows someone else to step up and perform.
Kane Williamson, the skipper of New Zealand, says that they would have bowled first as well. Says that they now need to focus on their task on hand. Informs that Tim Seifert comes in for Devon Conway and adds that Conway is a big loss. Finishes by saying that they do not want to look too far ahead and just do what they have done well so far.
Aaron Finch, the captain of Australia, says it seems a dry surface, it might skid with the new ball and then slow up. Informs they are playing the same XI. Adds they did well to hang in there in the last game and that win gave them a lot of confidence. Praises Adam Zampa and hopes that his form continues. Mentions history does not matter, it is a new game, a new competition and they are looking forward to doing well.
New Zealand (Playing XI) - Martin Guptill, Daryl Mitchell, Kane Williamson (C), Tim Seifert (WK) (In for Devon Conway), Glenn Phillips, James Neesham, Mitchell Santner, Tim Southee, Adam Milne, Ish Sodhi, Trent Boult.
Australia (Unchanged Playing XI) - Aaron Finch (C), David Warner, Mitchell Marsh, Glenn Maxwell, Steven Smith, Marcus Stoinis, Matthew Wade (WK), Pat Cummins, Mitchell Starc, Adam Zampa, Josh Hazlewood.
Toss - Aaron Finch and Kane Williamson are in the middle. Both shake hands and share a smile. Looking very relaxed. Up goes the coin, Finch calls Heads and it's Heads. AUSTRALIA ELECT TO FIELD!
PITCH REPORT - Shane Watson says that the wicket is quite dry with no real live grass. The Aussie feels that the middle overs with the spinners are going to be crucial. Watson further adds that it should be a good pitch for batting, although it could be a bit two-paced. So the toss will be quite interesting as batting first might be an advantage.
David Warner comes up for a little chat. The Aussie opener says that there is a lot of confidence in their team and as a collective unit, it is going to be all about producing the goods with both bat and ball. Adds that for him, it is about going out there and trying to put his team in a good position. Tells that the trend here in the Powerplay is about minimizing the damage and they will look to do that.
Win the toss, win the trophy? Well, that statement may sound unfair but that's the truth. Dubai has favoured the chasing teams in this edition of the T20 World Cup. In the 12 games played here so far, only once a team has defended a score. But, in the night games, no team has defended a score yet. Dew usually has played a major role but in the last semi-final, there wasn't much dew. Still, toss is going to be very critical as the captain winning it would prefer chasing.
The 'nice guys' of world cricket, New Zealand, surprisingly tend to find the tag of 'underdogs' attached to them at the start of many major ICC tournaments. But their performance paints a different picture altogether. Since 2011, they have reached the semi-finals of all the ODI World Cups and reached the finals twice. Their performance in the T20 World Cup hasn't been all that great, but given their talent, it is no surprise that they are here in the finale. The last time the Kiwis played in a World Cup final, the match went into overtime and New Zealand lost by the barest of margins and they would want to change that. The Kiwis won the World Test Championship a few months ago and would want to finish 2021 on a high by winning here. Will Kane Williamson lead the Blackcaps to their first-ever World Cup win? Time will tell.
The Australian team is a powerhouse of cricketing talent. They have won more ODI World Cups than any other team and had probably the strongest Test teams back in the day. But somehow, the T20 format is not the one where they have excelled. Their best performance in the T20 World Cup came back in 2010 when they reached the final but then lost against England. Given the quality of cricketers in Australia, their performance in previous editions of the competition was always a surprise. But that changed in this edition. This Australian team was not the favourites leading up to the tournament, but they have played like champions. The Aussies have done well in all three departments and they have found new match-winners in each of their clashes. Will Finch and co cross this final hurdle and become the first bunch of male Australian cricketers to lay their hands on this trophy?
Group stage - done. Super 12s - done. Two exciting semi-finals - done. Now, the next 40 overs will see a new team lift the T20 World Cup trophy. It is the trans-Tasman rivalry between New Zealand and Australia and one of these teams will be crowned the World Champions. We are more than excited and surely, you all are too for what promises to be an exciting finale. With that, a very warm welcome to our coverage and thank you for joining us.
Topics mentioned in this article