Story Progress
Back to home
India vs Scotland: ICC T20 World Cup 2021 Live Cricket Score, Live Score Of Today's Match on NDTV Sports
Live Updates of Today Match between India vs Scotland from Dubai International Cricket Stadium, Dubai. Check commentary and full scoreboard of the match.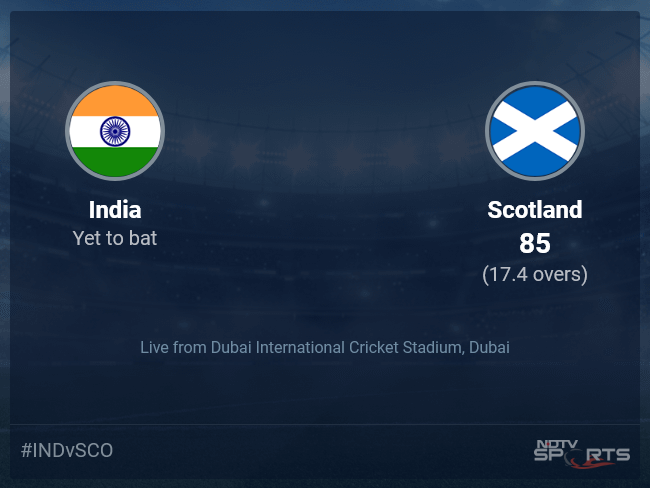 IND vs SCO Latest Score
A dedicated team of experts bring you live score, live cricket score, live match update on Sports.NDTV.com. After 17.4 overs, Scotland are 85. The live updates of India vs Scotland scorecard is also available. It is the perfect platform to follow your favourite teams in ICC T20 World Cup 2021. Keep a track on your favourite batsmen and bowlers through ICC T20 World Cup 2021 today match, ball by ball commentary, India vs Scotland, India vs Scotland live score, India vs Scotland scorecard. Follow the excitement of the ICC T20 World Cup 2021 on Sports.NDTV.com as you can follow live match updates and live cricket score through our platform.
Now India need to chase this down in 7.1 overs if they are to have a better NRR than Afghanistan after this game. There is no doubt, the openers are going to come all guns blazing. It is just a matter of how many overs are India going to take! Scotland, don't see any miracle from them, all they can do is delay the victory for India. The second essay in a bit.
Ravindra Jadeja is up for a chat. He says that they played really well and they planned to get them out as soon as possible. He was trying to bowl in good overs. Says that they were hoping to win the toss and it worked as planned.
Really can't write a lot about a team that has been bowled out for 85. 7 single-digit scores and no batter managed to cross the 30-run mark. Another poor display with the bat for Scotland, not a tournament to remember for their batters so far. India were brilliant though. They did not put a foot down here. All the bowlers except for Varun Chakravarthy took a wicket with Mohammed Shami and Ravindra Jadeja taking 3 each.
What an impressive bowling performance by India! Absolutely brilliant! It was the batters who lit the stadium up with their flashy stroke-making in the last game and now it is their bowlers who have given India an opportunity for a big win again.
17.4 overs (0 Run) OUT! BOWLED! There comes the last wicket! Watt shuffles to the off side but Bumrah fires a yorker at the base of the stumps. Watt looks to scoop but is beaten and the ball hits the stumps. Scotland are bowled out for 85!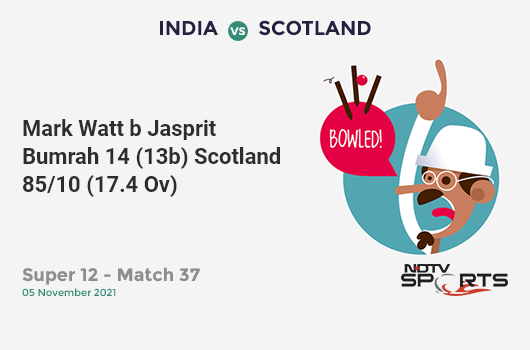 17.3 overs (1 Run) Yorker, on off. Wheal flicks it away to the leg side for one.
17.2 overs (0 Run) Fuller ball, outside off. Wheal looks to block but gets no bat on it.
17.1 overs (1 Run) Full ball, on off. Pushed to long on for one.
Jasprit Bumrah to end his spell here.
16.6 overs (0 Run) Short of a length, outside off. Wheal looks to cut but gets the inside edge. The ball hits the deck and goes back towards the keeper. What an over that was! 2 runs and 3 wickets from it.
16.5 overs (1 Run) A wide yorker, outside off. Watt carves it to deep cover for one.
16.4 overs (1 Run) A full one, on off. Pushed to mid off.
Brad Wheal is the last batter.
16.3 overs (0 Run) OUT! KABOOM! Yet another corker of a yorker and it is way too good for Evans who is a number 10 batter. A team hat-trick then for India! This is a toe-crusher. Evans is late in getting his bat down. It hits the toe and then deflects onto the stumps. Can the innings end in this over itself?
Alasdair Evans walks out to bat.
16.2 overs (0 Run) OUT! RUN OUT! Two in two for India! Safyaan Sharif was probably worried about the LBW appeal! This is full again and on the pads. Sharif looks to flick but misses. It hits the pad. A huge appeal but turned down. The ball rolls towards mid-wicket. Sharif takes off and he is ball watching. His partner is not interested at all. Sharif is halfway down. Kishan picks the ball up and calmly runs towards the stumps at the keeper's end and whips the bails off.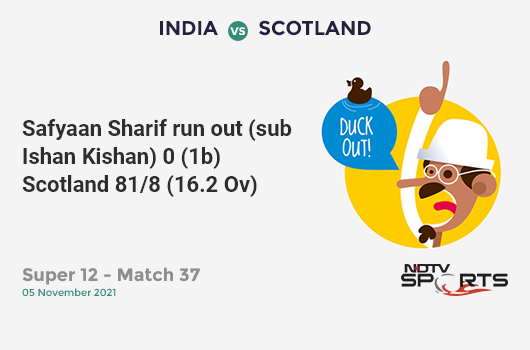 Safyaan Sharif walks out to bat.
16.1 overs (0 Run) OUT! TIMBER! Calum MacLeod is out of here and Shami gets his second with a corker of a yorker. Scotland would have loved for Calum MacLeod to hang in there till the end. He is arguably their last recognized batter. Full and on off. MacLeod looks to whip it across the line but misses. The ball hits the off pole.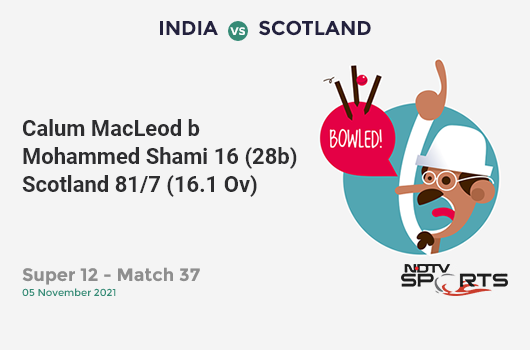 Change in bowling. Mohammed Shami (2-1-13-1) is back on.
15.6 overs (1 Run) A single to end! An expensive last from Ashwin. A full toss on middle, this is swept through square leg for one.
15.6 overs (2 Runs) A change goes begging! Pant was way too eager to whip the bails off there. Clever from Ashwin. He sees Watt come down the track and fires it quicker and outside off. Watt reaches out but misses. Pant fails to collect the ball cleanly. It goes towards the off side for a bye. Also, it has been signaled as a wide. Pant probably took his eyes off the ball towards the end.
15.5 overs (2 Runs) Just over! Two more! The reverse sweep comes out. Ashwin tosses it up around off. It goes off the top edge but over short third man for two.
15.4 overs (0 Run) Clever! Slows it up, enticing the batter to go big. Watt though defends it to covers.
15.3 overs (1 Run) The sweep comes out. It is played through square leg for another single.
15.2 overs (1 Run) Really hit well but only for one. Watt again steps out and hits it hard towards long off. Jadeja gets to the ball quickly and keeps it down to one.
15.1 overs (4 Runs) EDGY FOUR! Scotland won't mind how they come as long as they do. Watt comes down the track and Ashwin fires it outside off. Watt reaches out for it, it goes off the outside edge down to third man for a boundary.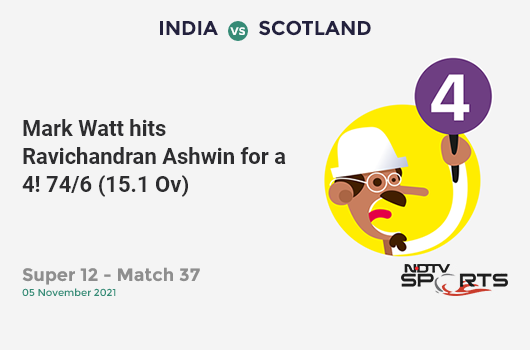 Match Reports
Topics mentioned in this article