Story Progress
Back to home
India vs Pakistan: ICC T20 World Cup 2021 Live Cricket Score, Live Score Of Today's Match on NDTV Sports
Live Updates of Today Match between India vs Pakistan from Dubai International Cricket Stadium, Dubai. Check commentary and full scoreboard of the match.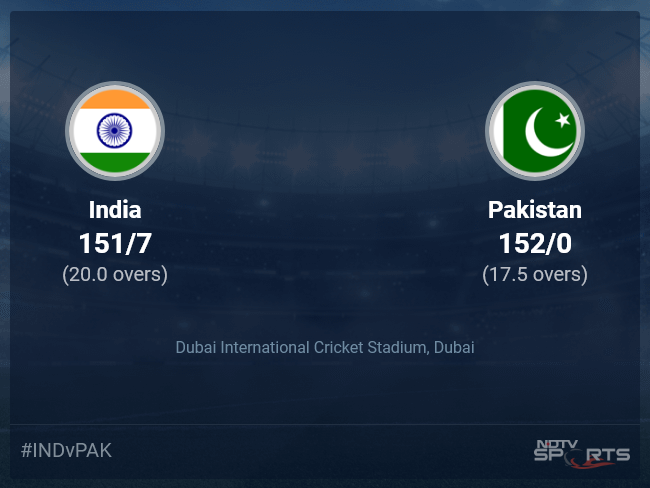 IND vs PAK Latest Score
A dedicated team of experts bring you live score, live cricket score, live match update on Sports.NDTV.com. After 17.5 overs, Pakistan, chasing a target of 152, are 152/0. The live updates of India vs Pakistan scorecard is also available. It is the perfect platform to follow your favourite teams in ICC T20 World Cup 2021. Keep a track on your favourite batsmen and bowlers through ICC T20 World Cup 2021 today match, ball by ball commentary, India vs Pakistan, India vs Pakistan live score, India vs Pakistan scorecard. Follow the excitement of the ICC T20 World Cup 2021 on Sports.NDTV.com as you can follow live match updates and live cricket score through our platform.
It's time to bring down the curtain on this highly anticipated clash. It turned out to be a one-sided affair, as unexpectedly, India were given an absolute hammering by Pakistan. From such a high-octane contest, we move to Monday and it will bring the match between Afghanistan and Scotland your way. The action will begin at 6 pm local (2 pm GMT) but you can join us in advance for the build-up. Signing off thinking about the blank cheque offered to the PCB chairman Ramiz Raja by an investor. Cheers!
Babar Azam, the skipper of Pakistan, says that the team executed the plans really well. Credits the bowlers for the way they bowled and mentions how well Shaheen Afridi bowled at the start. About the batting, Babar replies that he and Mohammad Rizwan look to keep things simple and that worked for them. Adds that once dew came into play, it got easier to bat so they wanted to bat till the end. Informs that winning this game gives them confidence but this is just the start of the tournament for them. Finishes by saying that they did not focus on the past before this game and had the confidence due to the way they played in the warm-up games.
Virat Kohli, the captain of India, says this is not the start they wanted and admits that Pakistan outplayed them. Mentions that Pakistan started really well with the ball and it was never going to be easy especially with the dew coming in. Adds that Pakistan were very professional in the chase and did not give them a chance. Feels that the batting got easier, driving on the up was easier, but they knew the conditions would change and favour the team batting second. States that they needed 15-20 runs extra but the early wickets did not help their cause. Also says playing an extra slow bowler may not have helped with the dew coming in. Tells that they are not the team that presses the panic button so early and shares that it's important to stay composed and there will be a chat around what they want to do in the next game.
SHAHEEN AFRIDI IS THE PLAYER OF THE MATCH! Says that the blessing of the Pakistani people was with them and they are feeling very proud. Mentions that he worked on getting the ball to swing. Feels that batting against the new ball was a bit difficult but credits Babar Azam and Mohammad Rizwan for the way they batted. Finishes by saying that they want to take this momentum forward into the tournament.
Shaheen Afridi set the tone for this victory. His early blows took the wind out of the Indian sails. Hunting down Rohit Sharma, KL Rahul and Virat Kohli in this high-octane contest can always be considered as a match-winning performance. Shadab Khan and Haris Rauf also contributed superbly with the ball to maintain the pressure and you cannot ignore their efforts. All in all, a great day in the history of Pakistan cricket.
India got outclassed completely. Bowling second anyway was a big disadvantage in Dubai, due to the dew factor, and the Indian batting flopping didn't help their cause. Virat Kohli and Rishabh Pant helped them to recover from early hiccups but the target they eventually set was not going to be enough. Still, India had hoped for early wickets to create some pressure but it never came and Pakistan thwarted the Indian bowling to achieve a historic win over them in a World Cup match.
Babar Azam and Mohammad Rizwan, two of the most successful batsmen in this format of late, planned this chase in the best way possible. They are known as the accumulators of runs and not a typical T20 batter and showed that it's possible to overhaul a target without doing anything extravagant. The pair played some classy shots, picked the gaps to rotate the strike and never allowed India any chance to get back in the game.
PAKISTAN HAVE DONE IT! They've ended the age-old dominance that India had over them across World Cups. They've grabbed the 'mauka' finally and their public can, at last, celebrate a win over India in the mega event. Babar Azam has done something that many legends of Pakistan cricket failed to do. This would be the greatest moment of his cricketing life. A feather in his cap that he will cherish always. Unimaginable achieved. The monkey is off their backs and the streak is over. Congratulations to them but this is just the start of the tournament and not the end.
17.5 overs (2 Runs) IT IS BABAR AZAM WHO HITS THE WINNING RUNS FOR HIS SIDE! Such a fitting end, his first game as skipper against India in a World Cup and it is him, who hits the winning runs and helps Pakistan beat India for the very first time across all World Cups! A beautiful shot. It is fuller and on middle, Azam works it through mid-wicket. They take one, go for the second. Long on runs to his right, picks the ball and fires it to the bowler but Rizwan is in. PAKISTAN WIN BY 10 WICKETS!
17.4 overs (1 Run) Two more needed! On middle, fuller, it is worked down to long on for one.
17.3 overs (4 Runs) FOUR! 3 in 3 needed now! To end the game in this over that is! Once again Shami bangs it short, Rizwan says thank you very much and pulls it through backward square leg for a boundary.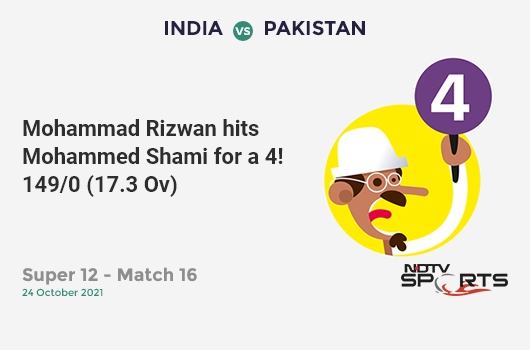 17.2 overs (4 Runs) FOUR! Runs needed in single digits now! A full one on off, Rizwan drags it through mid-wicket. The ball races away to the fence. Can he end it in this over itself?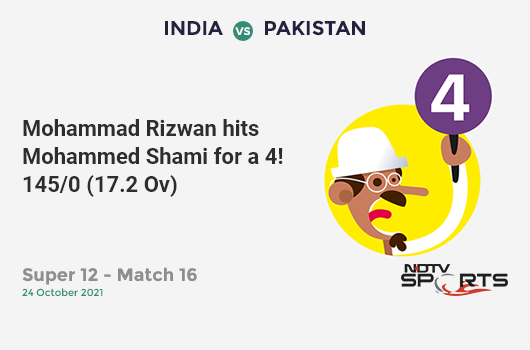 17.1 overs (6 Runs) SIX! BANG! 2 more of these and Pakistan will be home! That is a gift and Rizwan puts it away! A full toss on the body, it is pulled well over the fine leg fence for a biggie.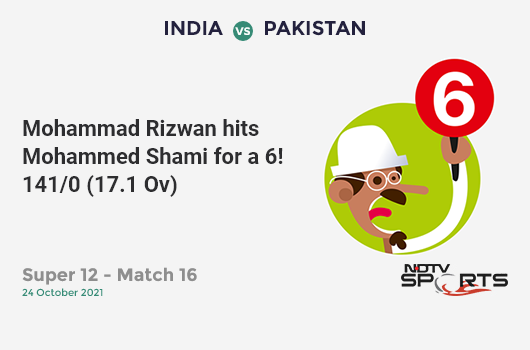 16.6 overs (0 Run) Azam wanted a wide now! Not given! Another one outside off, Azam leaves it alone. That is the end of the over.
16.5 overs (2 Runs) Brilliant running! Length and on off, this is slapped down towards long off. Couple. This is now also the highest opening stand against India in T20Is.
16.5 overs (1 Run) WIDE! Yet another wide! It was a marginal call but a right one. Well outside off, Azam lets it be. Wided. Can't give such bonus runs.
16.4 overs (1 Run) Creamed! Fuller and outside off, Rizwan times it wonderfully but towards long off for one.
16.4 overs (1 Run) WIDE! This one has been given as a wide! Well outside off again, Rizwan slashes but misses.
16.3 overs (0 Run) A dot! This is full and wide outside off, Rizwan reaches out for it but misses. He is surprised that it has not been called a wide.
16.2 overs (1 Run) On middle, Azam hits it down to long on and gets to the other end.
16.1 overs (1 Run) Outside off, on the shorter side, Rizwan throws his bat at it, it goes towards sweeper cover for one.
Bhuvneshwar Kumar (2-0-18-0) is back on.
15.6 overs (0 Run) A yorker now on middle, Azam jams it back to the bowler. A dot to end.
15.5 overs (1 Run) Goes fuller again and targets the pads of Rizwan. He tries to flick but gets an inside edge onto the pads. It rolls on the leg side. One taken.
15.4 overs (1 Run) Now Azam gets to the other end by working it through mid-wicket.
15.3 overs (1 Run) Singles will do it for them! On middle, fuller, Rizwan eases it down to long on and takes one.
15.2 overs (0 Run) On middle, this is worked through mid-wicket for one.
15.1 overs (4 Runs) FOUR! CRACKED! India have not learned! They continue to bowl the short ball to Rizwan and he continues to feast on it. On the body, this is pulled hard through backward square leg. Races away.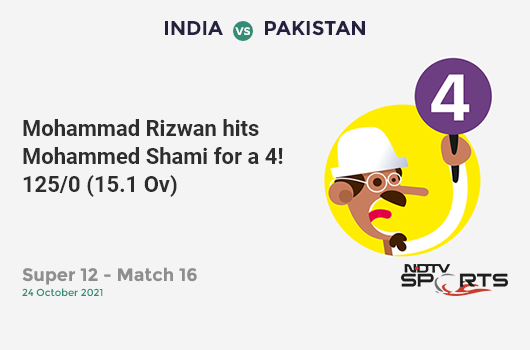 Match Reports
Topics mentioned in this article