Story Progress
Back to home
India vs Pakistan Live Score Ball by Ball, ICC T20 World Cup 2021 Live Cricket Score Of Today's Match on NDTV Sports
Live Updates of Today Match between India vs Pakistan from Dubai International Cricket Stadium, Dubai. Check commentary and full scoreboard of the match.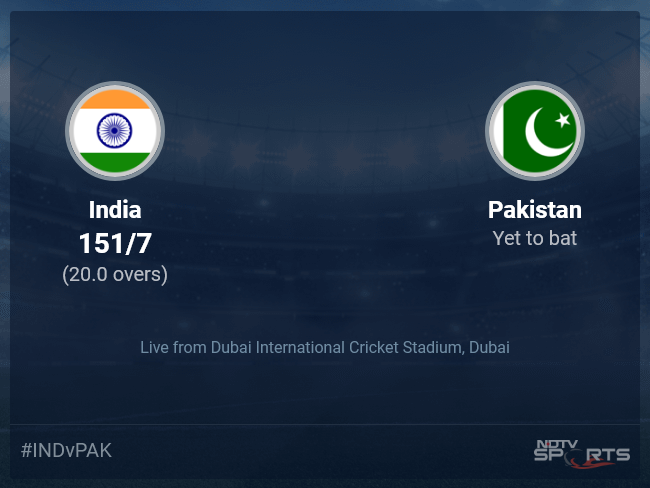 PAK vs IND Latest Score
Follow the ICC T20 World Cup 2021 live cricket score on Sports.NDTV.com. After 20.0 overs, India are 151/7. Get live score, ball by ball commentary and much more. Keep track of ICC T20 World Cup 2021 today match between India and Pakistan. Everything related to India and Pakistan match will be available on Sports.NDTV.com. Stay updated with India vs Pakistan live score. Do check for India vs Pakistan scorecard. You can get scorecard updates, match related facts. Get quick live updates with ads, Sports.NDTV.com, which is the perfect destination for live cricket score.
Right then, can India defend the total to keep their streak intact? Will dew play a factor? How will both teams fare in the Powerplay? We will find all the answers in a short while. Stay tuned...
Shaheen Afridi says that getting the big wickets makes him happy. Adds that he worked on getting the ball to swing here as it gets easy for the batters if it doesn't swing. Further adds that batting against the new ball will be a little difficult, but apart from that, it is a good pitch to bat on.
Pakistan's bowling was brilliant in the first 10 overs as they had their rivals on the mat. But they failed to deliver the knockout punch. India found a way to recover as apart from Shadab Khan, no other bowler managed to exert any pressure in the middle overs. Virat Kohli's presence made sure that the strike was getting rotated and India managed to build a decent launching pad for the death overs. The Indian skipper scored a valiant fifty before getting out to Shaheen Afridi who picked the top three of the Indian batting line-up. Here he is for a quick chat...
It was a shocking start for India as they lost Rohit Sharma for a golden duck and then KL Rahul followed his opening partner soon. Shaheen Afridi showed ruthless form with the new ball and put India in an early spot of bother. Hasan Ali joined in and removed Suryakumar Yadav to make it three down inside the Powerplay. The early nerves for India though settled down after that and Rishabh Pant joined hands with Virat Kohli for a partnership. After a period of consolidation, Pant injected fresh blood into India's recovery and attacked the Pakistan bowlers.
A fantastic last over by Haris Rauf but a couple of overs prior to that has allowed India to breach the 150-run mark. A really good comeback from India after early setbacks and this game is set up nicely. The scorecard reads 151 but it's India versus Pakistan and you can easily add 15-20 runs to the target due to the pressure this clash brings.
19.6 overs (1 Run) A bye to end! A superb last over then by Rauf! INDIA END WITH 151 FOR 7! Kumar walks right across to play the paddle scoop. Rauf bowls it short and well outside off. Kumar misses. They sneak a run which is a bye. Not wided as Kumar had moved across.
19.5 overs (2 Runs) Two more! 150 up for India. Really smart batting from Kumar! Not easy to hit boundaries here. He once again with soft hand works it through mid-wicket and runs two more.
19.4 overs (2 Runs) NOT OUT! Shami is in! These are vital runs! A slower one on middle, this is worked through mid-wicket. Two is the call by Kumar! Shami goes for it, the fielder from long on runs to his right, picks the ball up and fires it to the bowler who takes the bails off and appeals. It is referred but the replays show that Shami is in.
Is that a run out? Mohammed Shami seems to be safe. Yup, he is inside the crease.
Mohammed Shami walks out to bat now.
19.3 overs (0 Run) OUT! TAKEN! The cool and calm Babar takes a really good and important catch! The man who India would have been relying on to strike boundaries in this last over walks back. A good slower one, on off, Pandya looks to go over long off but is way too early into the shot. He does not pick the slower one. Ends up hitting it high up in the air towards mid off. Long off also runs in but it is Babar who moves towards the ball from covers and takes it. Can Pakistan now keep India under 150?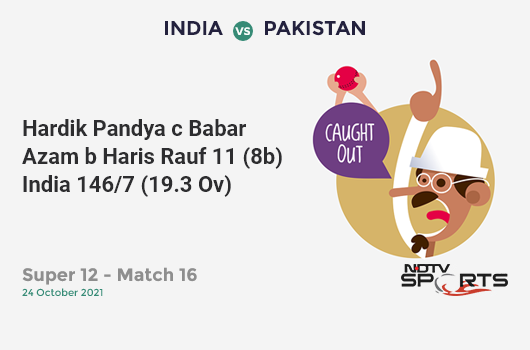 19.2 overs (2 Runs) Two! This time Pandya is waiting for the short ball, he pulls it through mid-wicket. It is in the gap. Two taken.
19.1 overs (0 Run) A really good start to the last over by Rauf! A slower one, shorter and around off, Pandya looks to pull, this one stays low. Pandya looks to pull but it goes over the off pole.
18.6 overs (5 Runs) FIVE BYES! That is poor from Pakistan. That should have been just the one. 10 from the last two balls of the 19th. 150 is well and truly possible now! This was a good ball on the Free Hit. It is short and outside off, Pandya misses the pull. They look to sneak a bye. Rizwan throws it to the bowler who turns and has a shy but misses. No one backing up and it's a boundary at long off. End of a huge over in the end.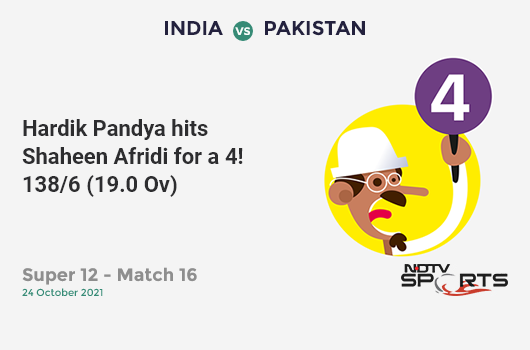 Haris Rauf (3-0-19-0) to bowl the final over. Can India get to 160 here?
18.6 overs (5 Runs) NO BALL AND FOUR! That is not what Pakistan wanted! Not sure for what it is, maybe for height! A high full toss outside off. Pandya guides it through point and this one races away to the fence. The replay shows that it's a no ball for overstepping. Free Hit time...
18.5 overs (1 Run) Fuller and on middle, Kumar jams it back towards the right of the bowler for one.
Bhuvneshwar Kumar is the new man in.
18.4 overs (0 Run) OUT! EDGED AND TAKEN! Shaheen Afridi is the man for Pakistan in this big game. Gets the big fish and this could very well stop India from scoring over 150. A really good slower bumper, it lands on middle and moves away at 79 mph. Kohli looks to pull but the tennis-ball like bounce means, it takes the top edge and Rizwan takes a good catch jumping to his right. Excellent with the new ball, impressive at the death, Shaheen is leaving a big impact on this match. Also, this is the first time Kohli has been dismissed against Pakistan in a T20 World Cup game.
18.3 overs (1 Run) That is sharp! Really sharp. A short one, Pandya is beaten for pace as he tries to pull. It goes off the gloves but lands on the leg side between the keeper and the bowler who runs towards the ball. One taken. Kohli is back on strike.
18.2 overs (4 Runs) FOUR! That is a beauty of a ball but Shaheen is very unfortunate that it has gone to the fence. A yorker around off at 90 mph, Pandya looks to jam it out but it goes off the bottom edge, runs fine towards third man for a boundary. India will take it!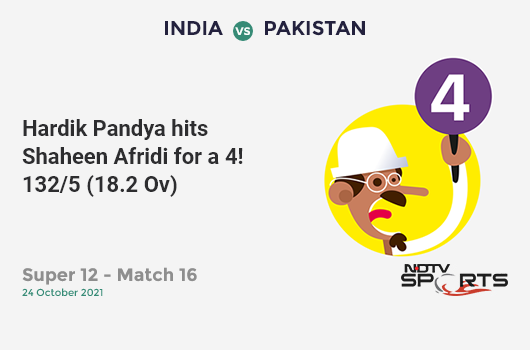 18.1 overs (0 Run) Swing and a miss! Pandya swung really hard there! A good cutter, length and on off, it lands and then moves away. Pandya looks to flat-bat it but misses.
18.1 overs (1 Run) WIDE! The idea was not bad but the execution was not right! He goes for a full and wide ball outside off but serves it way too wide. Pandya goes after it but misses. Wided.
Who will bowl the penultimate over? Shaheen Afridi (3-0-19-2) is back on. He provided Pakistan with a dream start. Can he finish well here?
17.6 overs (2 Runs) Two to end! Jadeja's wicket in it but still 13 from the over. Hasan Ali ends with figures of 4-0-44-2. A slower one on middle, this is worked through mid-wicket for a couple. Two more overs to go, can India get to 150?
Hardik Pandya walks out to bat now. The platform is set for him to provide India with late fireworks.
17.5 overs (0 Run) OUT! TAKEN! Hasan Ali strikes back! Big wicket as Jadeja could cause real damage in the last few overs. A really good slower one at 123 kph. Fuller and outside off, Jadeja is early into the whip across the line. He ends up hitting it high up in the air towards deep mid-wicket. Mohammad Nawaz, the sub, runs in and takes a very good catch.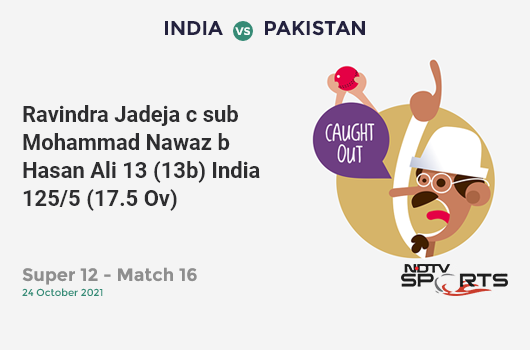 17.4 overs (4 Runs) FOUR! That is yet another poor delivery from Hasan Ali! He is under pressure here! With fine leg up, he bowls this short and on the pads, it is pulled up and over the fine leg fielder for a boundary. Two balls to go in this over, how many more can India get?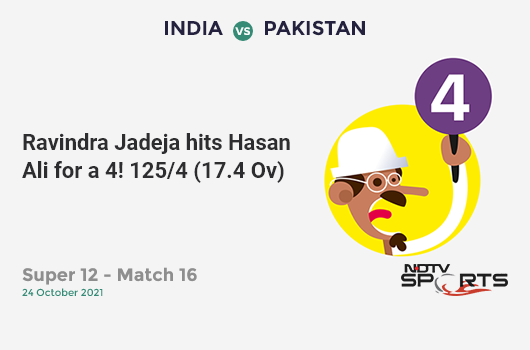 17.3 overs (1 Run) Cramps Kohli for room this time by bowling it on the middle pole, Kohli drops it towards covers and takes one.
17.2 overs (4 Runs) FOUR! Up and over! Stand and deliver! Not the best of nights for Hasan Ali! Short in length and sits up to be hit around off. Kohli smashes it over covers for a boundary.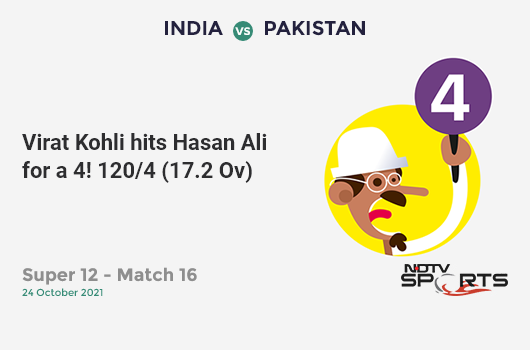 17.1 overs (2 Runs) Two! Fifty for Kohli! Captain's innings! Do not look at the strike rate here. This is a quality knock. He had wickets falling at one end and needed to stay there and that is what he has done. Can he help his side finish well now? He gets there by playing this ball on middle towards mid-wicket for two.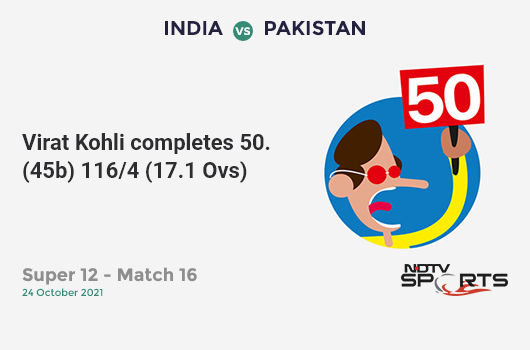 16.6 overs (1 Run) He does, just the 4 from the 17th. That is brilliant! Bowls the 4th slower one in a row. Kohli works it through square leg and retains strike. Three overs left, can India get to 150?
16.5 overs (0 Run) Make that three in a row! Two dots out of it! Another slower one, this is on a length and outside off, Kohli guides it to point. Can Rauf end this over well now?
16.4 overs (0 Run) Two slower balls in a row now! Really clever from Rauf! Maybe the Indian batters are not expecting slower ones from him. He has bowled two in a row now. This is outside off. Kohli is early into the slash. Misses.
16.3 overs (1 Run) A very well-disguised slower one, it lands on leg, Jadeja is foxed by the lack of pace, he pushes it to mid off for one.
16.2 overs (1 Run) Kohli now gives himself room! Rauf once again bowls it full. Kohli lofts it but towards sweeper cover for one. He wanted to get that a lot straighter than he did.
16.1 overs (1 Run) Jadeja now looks to go big as he clears his front leg. Rauf bowls it quite full and on off, Jadeja only manages to push it to mid off and gets to the other end.
Shadab Khan is done with his quota of 4 overs. Change of ends for Haris Rauf (2-0-15-0) as he is back on.
15.6 overs (1 Run) 10 from the over then! A welcome good over for them! Back of a length and on off, Jadeja waits and then guides it to point for one.
15.5 overs (1 Run) Now follows the boundary with a single as he pushes this back-of-a-length ball through covers. 9 from the first 5 balls.
15.4 overs (4 Runs) FOUR! Caressed! Once again a dot is followed by a boundary! This is trademark Kohli. That is a beautiful shot. Fuller and outside off, Kohli leans into it and strokes it past the diving cover fielder. The man at mid off gives it a chase but he has no chance. Top class timing and placement.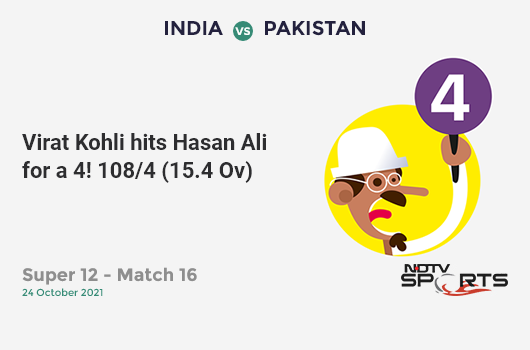 15.3 overs (0 Run) BEATEN! Good comeback! Shorter and outside off, extra bounce on this one. Kohli looks to guide it down to third man but is beaten. So a boundary in between two dots in this over so far.
15.2 overs (4 Runs) FOUR! Not a good ball, just not the ball Babar would have wanted. A slower bumper with the fine leg up. Kohli pulls it, he plays it with a lot of control past short fine leg and into the boundary. He is into the 40s now.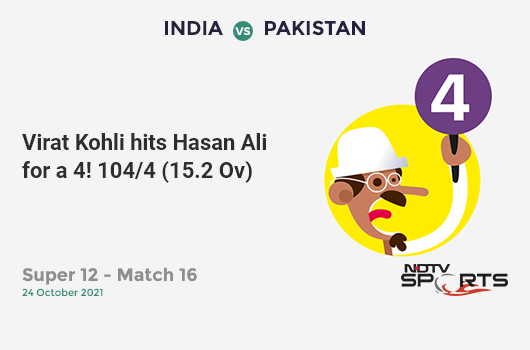 15.1 overs (0 Run) Just short! Hasan Ali almost outsmarted Kohli there. He saw Virat coming down the track and bangs it short. Kohli looks to fend it away but it goes off the splice and lands just short of the bowler, to his right.
Match Reports
Topics mentioned in this article